Some days are just so busy around here. I have good intentions of getting a freezer meal in the crock pot, but then the day gets away from me and it just doesn't happen.
Busy days like those can make me want to just grab something out to eat instead of making dinner. But if I've planned ahead a little I can have dinner ready in no time with cooked chicken I've prepared ahead of time.
To get my freezer stocked, I do a freezer cooking, chicken at the ready session.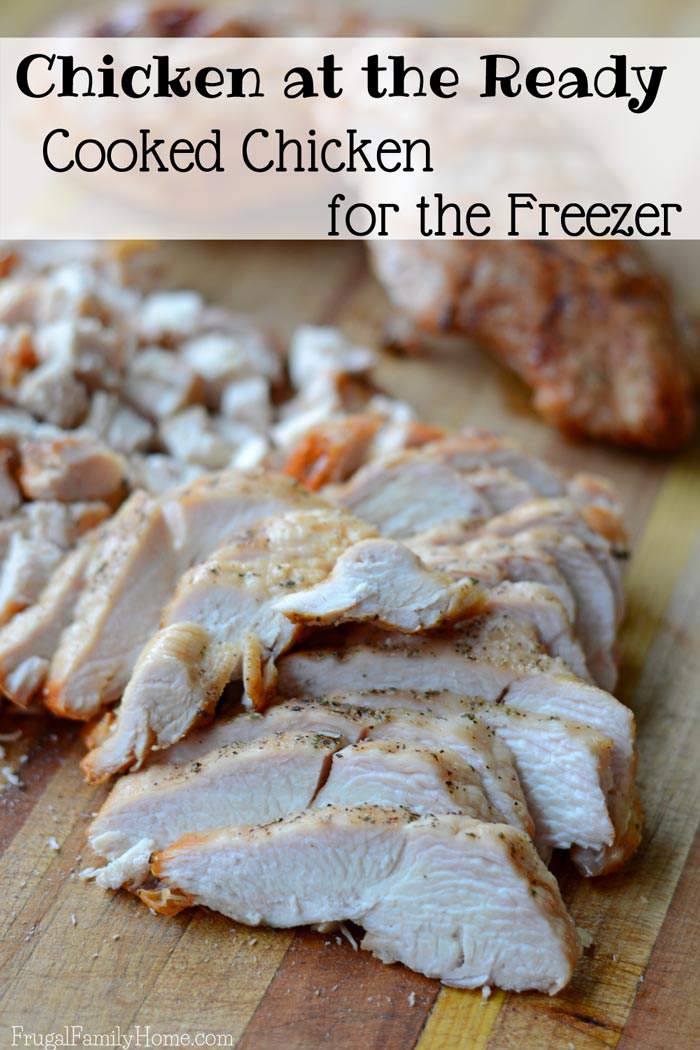 Whenever I find a great deal on chicken at the store or I pick up a 40-pound box of chicken from Zaycon Fresh I make a few packages of cooked chicken for the freezer. Having the cooked chicken ready to go in meal sized packages makes for a quick and easy meal even on those busy days.
How to Prepare the Chicken Before Cooking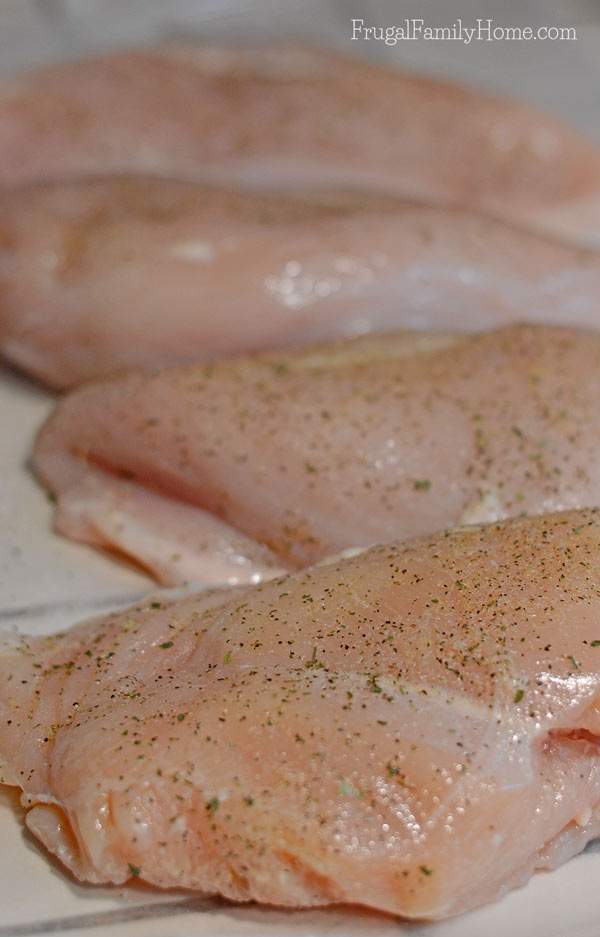 I like to keep the seasonings to a few standard ones. That way the chicken can be used in almost any recipe. I sprinkle the chicken breasts with salt, pepper, garlic powder, onion powder, and parsley. I don't usually measure I just sprinkle each of the chicken breasts with each of the seasonings on both sides.
How I Cook the Chicken for the Freezer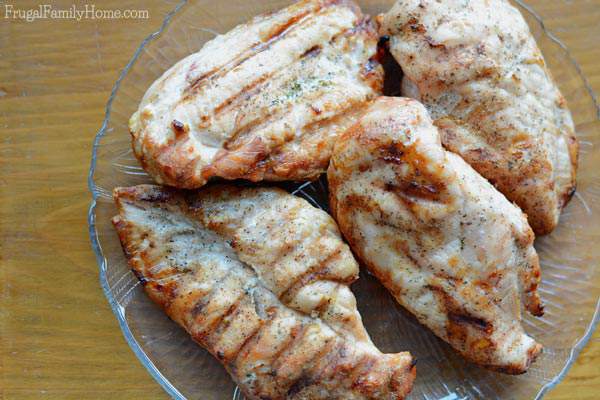 My favorite way to cook the chicken is on our wood fired grill. It gives the chicken a nice smokey flavor that only intensifies after being in the freezer for a bit. But if you can't grill year round, you can also bake the chicken to cook it.
After the Chicken is Cooked
Once the chicken is cooked I cover it and let it rest about 10 minutes. Letting the chicken rest helps to keep all those delicious juices in the meat instead of all over the cutting board.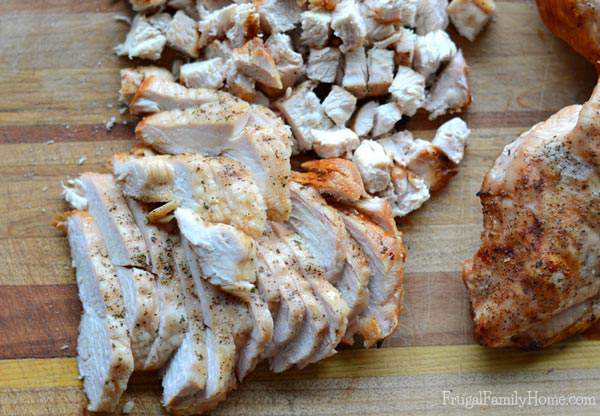 After the chicken has rested I cut up some of the chicken into slices and some into cubes. I've found for the recipes I usually prepare having the chicken cut up in these two ways works best. But if you have recipes you use shredded chicken in you might want to prepare some shredded chicken packages too.
How Much in Each Chicken Package
Most of the chicken breasts I purchase are close to 1 pound of chicken per breast. Since a pound of meat is good for our family of four. I cut up one chicken breast per package. If the chicken breasts are a little small I'll add one and half to two in each chicken package.
Because most of the recipes I use the prepared chicken in are casseroles or mixed with vegetables, I find one pound of meat is adequate for our family. If your family likes to have more meat-heavy meals, you might need to add more to each package.
After the chicken is cut up I add the amount we need for each meal to pre-labeled freezer bags. I like to place the chicken in the refrigerator to finish cooling in the bags before I place it into the freezer. I usually add all the smaller bag of cooked chicken into one big gallon size freezer bag. It helps to better protect the chicken and keeps the smaller packages together making them easier to locate in the freezer.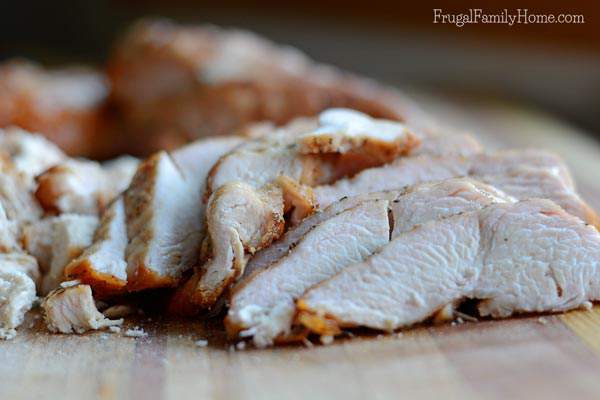 Then I can grab a package of cooked chicken out of the freezer and quickly thaw it in the microwave to make dinner when needed. Or if I'm thinking ahead I'll take it out in the morning to thaw in the refrigerator during the day.
Here're a few recipe ideas for using the cooked chicken packages,
Chicken and Bean Burritos
I mix the chicken with a package of frozen refried beans or a can of refried beans and a little salsa. Place the bean mixture in a tortilla and roll it up. Bake on 350 on a lightly greased cookie sheet for 15 minutes or until brown and heated through.
Chicken Soup
Add a package of the cooked chicken with a package of frozen vegetables to a pot. Add in chicken broth and let simmer for about 15 minutes. I like to add a few herbs too, like thyme, garlic powder, onion powder, and parsley. Serve with some french bread and it's a yummy soup. You can also add in noodles or potatoes too.
Chicken Fajitas
Stir fry a pepper and onion, until slightly softened. Add the chicken and cook to heat through. Stir in a little cumin and chili powder. Serve in tortillas, with sour cream and cheese.
Chicken Tossed Salad
Make a big salad with lettuce and other vegetables. Heat the chicken and place on top of the salad. Add a little shredded cheese and serve with your favorite dressing. This is one of our favorite meals in the summer, but it's great any time of the year.
A few other recipes that I use the chicken packages in,
Chicken Pot Pie Soup
Artichoke Chicken Casserole
Chicken and Bean Enchiladas
Save More by Using Whole Chicken
To save even more money, you can cook ahead a couple of whole chickens in a roasting pan or a crock pot and pick the meat off the bones, to package up for cooked chicken. This is great if you have some family members who prefer the dark meat instead of all white meat.
Don't forget to save the bones and make a yummy chicken broth with them you can see how I do this in the crock pot here. I will also add about a cup of chicken to a quart of chicken broth and freeze it for a soup starter kit, like the turkey soup kits I make after Thanksgiving.
Having ready cooked chicken in the freezer can be as easy as barbecuing or baking a few chicken breasts ahead of time when you find them on a great sale. By doing this every once in a while, I can keep my freezer stocked with pre-cooked chicken ready at a moments notice and all without too much extra work on my part.
What kind of pre-cook meat do you like to add to your freezer for those busy days?
If you've found this post helpful, I would love to have you share it with others. You can scroll down just a little to use the social media buttons for super easy sharing. Thanks so much.