My family loves a good burger and fries every now and then. It's the most requested item from my son when we are going to eat out. He just loves his hamburgers. They are easy to get at almost any restaurant but do you know how much you can actually save by making burgers and fries at home for your family.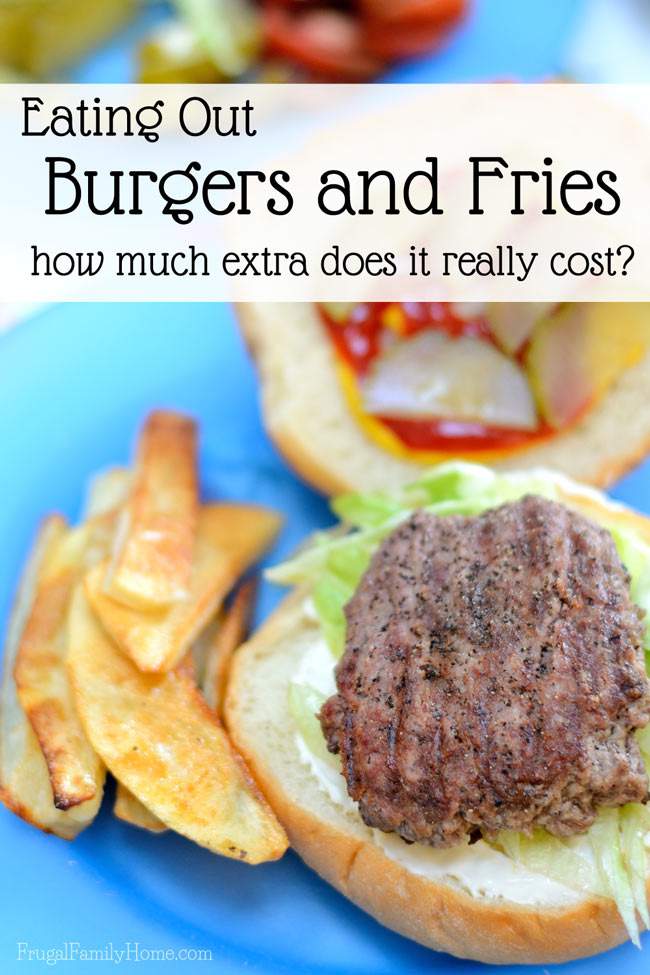 Now I'm not talking about beating the cheap price of those thin, cardboard-tasting hockey puck burgers you can get at the fast food chains. Those are fine once in a while when you need a quick lunch. Although you might be shocked at just how inexpensive you can make burgers at home. It might be really close to the same price as those thin puck burgers depending on where you live.
I'm talking more along the lines of a 1/4 pound burger with the regular fixings and a side of homemade thick cut fries. I know when we eat out at places like Applebee's or Red Robin a burger and fries can cost around $10 plus then you have the tip too. We don't buy drinks we just drink water instead but that brings our dinner to around $40 with 3 regular burgers and a child's meal too.
Making that same meal at home can be so much less expensive, even if you don't shop at a discount grocery store or find the items on sale. Let's break down the cost and see how much saving you can really get by making your own burger and fries at home.
The Cost Breakdown for Burgers and Fries at Home
One Pound of Hamburger
I purchased ours from Trader Joe's the day I did this price comparison. The cost of one pound of ground beef, we like 80% lean for burgers, was $3.99. Often I get 80% lean ground beef for just $2.99/lb but I wanted to make sure to use a regular everyday price for this comparison.
Hamburger Buns
Now you could use this hamburger bun recipe to make the buns for the burgers but if you don't have that kind of time, like myself the day I did this comparison you can purchase them. I picked up an 8 pack of buns for just $1.29 making the 4 buns we needed for dinner just $.65.
The Condiments
This is where it got a little trickier to figure out the price. Since we only use a very small amount of each condiment I just figured $1.00 for the mayonnaise, mustard, ketchup, and relish. Which are my family's favorite topping and what comes on most restaurant burgers. In reality, it's probably less since a whole bottle of ketchup or mustard is a dollar. I just make it easy and figured it at the dollar.
Vegetable Toppings
My husband likes onions and I purchase onions at $.50 a pound or less. For a slice of onion, I figured about $.10 which would be quite a bit for him. I purchased a tomato at $.50 and a head of lettuce at $1.00. I actually get lettuce for around $.25 a head at a local discount grocery store but I wanted to keep with the most mainstream prices in our area. I figured half a head of lettuce which was more than enough at $.50.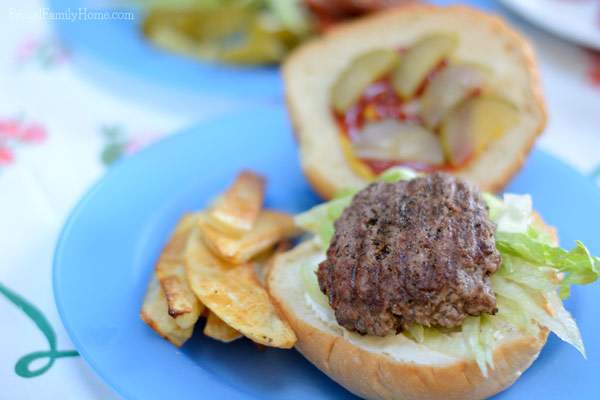 For the Fries
I used 5 potatoes which worked out to be a little over a pound. At $.25/lb the potatoes were just $.30. Add in a couple tablespoons of oil and salt that brought the fries to $.50 for enough for all four of us.
That brings the supplies to just $7.24 for four 1/4 pound burgers and fries with the normal burger toppings. If you want to figure in a generous $2 for cooking the fries and burgers at home that still only brings the total to $9.24 almost one-fourth the cost of eating the same meal out.
It's like saving $30.76 each time you make burgers at home instead of eating them out at a regular sit down restaurant. If you compare it to eating out at fast food prices of $5 a meal per person you are still saving $10.76. So you could make burgers at home twice for the same amount of money spent to eat at a fast food restaurant.

Why I Do These Cost Comparisons
Often I think it's just easier to go out for dinner or pick something up and maybe you do too. But when I have the actual price difference right in front of me and I see that I can save, between $10-30 by making burgers at home, it makes me really think about it.
What could you do with the extra $10-30 each time you decide to eat a burger at home instead of eating out? Maybe put it towards debt you are working out of? It could go towards a vacation fund or towards retirement.
When you look at just one time of eating out, it doesn't seem like a huge difference. But let's say you make burgers at home once a month instead of eating at a sit-down restaurant, you could save $360. If you didn't grab a drive through burger meal for a quick lunch twice a month that works out to be $240 a year. Combine this one small change with others and soon you have thousands of dollars saved over the course of a year.
Now that you know how much you can save by making burgers and fries at home. What changes do you think you'll make? Will you be eating burgers at home more often? I know since I've started keeping ready made burgers in the freezer and picking up hamburger buns to keep in the freezer too, we are eating burgers at home more often.
[signoff]
See more price comparisons for homemade versus store-bought or eating out,
Homemade Pizza compared to Eating Out or Take and Bake
Brownies, Box or Homemade
Burritos, Packaged or Homemade
Loaf of Bread, Purchased or Homemade
Breadsticks, Canned Breadsticks or Homemade