Are you a repairer or a purchaser? I know early on in my marriage if something broke I was more apt to purchase a new one than try to repair the old one myself. But now I am more apt to try to repair an item before purchasing a new one. That's what this week's Ways to Save Money post is about.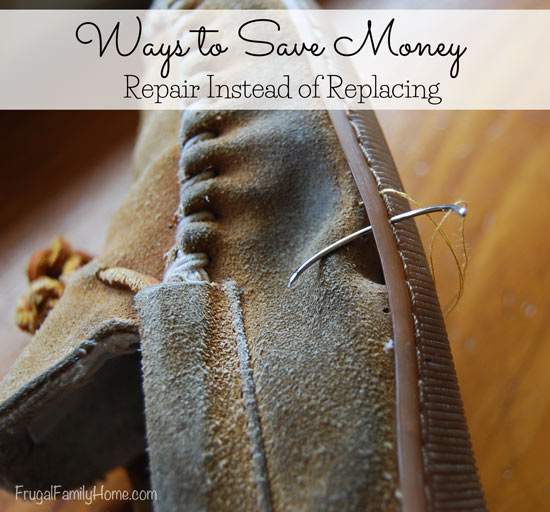 You don't have to be super talented to be able to repair an item yourself. It just takes a little patience and willingness to give it a try. After all if it doesn't work out, what have you lost, but a little time.
Mending Clothing
I know around our house buttons will fall off of shirts or pants. When this happens, I got to my big jar of buttons, some from my mom, some from my grandma and some from my husband's grandma to look for a new button. Whenever we have a button go missing I just grab a new one from the jar and sew it on.
It may not always be a great match but it is usually close enough. If the button is missing right in the front and I can't find a perfect match. I will move a button up from the bottom of the shirt and put the mismatched button at the bottom. It's less likely to be noticed there.
I also try to mend any holes in pants too. My kids wear out the knees in their pants often before they outgrow them. So I will get cute patches or keep older jeans to make patches for the knees. It helps to extend the life just a little longer.
If I can't seem to repair the hole then I make them into shorts for the summer. We seem to have a steady supply of shorts this way.
Mending Slippers or Shoes
We have hardwood floor throughout most of our home and in the winter those can get fairly cold. So we all have slippers or slipper socks to wear.
Recently my husbands slipper had a thread failure on the side. I was prepared to just purchase a new pair. Until I realized if we could get by with the current pair for a few more weeks, a new pair would be on sale for half price.
So I broke out some heavy duty thread and a curved needle and stitched them up. They are still holding together quite well. Slipper sock are even easier to repair. I will use a needle and thread to sew any holes shut.
For shoes that need some help you can, use super glue or hot glue to attach the padding back inside. I use thread and a needle to stitch up a hole that has formed. Even glue can work well on a sole that is loose. These might not be long term fixes for shoes but it can help extend the life until the next sale.
Repairing Appliances
My husband and myself have taken on repairing some of our own appliances in the past. Our dishwasher which is now almost 14 years old, yes it's lasted well for us, has been repaired twice by my husband. Both times it was a minor repair, once a hose to replace and another time a switch.
My husband did a quick search online to see if he could pinpoint the problem. Did you know there are lots of forums out there for help, not to mention You Tube? He figured out what was most likely the problem, ordered the part and it was able to fix it. It did take some time but I'm sure it saved us a bundle.
If taking on a project like this seems like too much for you on your own, ask for help from a handy friend. I know we have a few great friends that help us out.
Repairing Furniture
Sometimes, little things just come loose on furniture but the whole piece is still in good condition. If there is a fabric piece hanging off you might be able to repair it with thread and a curved or straight needle. Just try to keep the stitching near a seam to make it less noticeable.
Recovering padding on chairs isn't really hard. Usually you can remove the pad by removing the screws that hold it to the chair. Cut a piece of fabric a little larger than the pad and then using a heavy duty stapler or staple gun to attach the new fabric. Be sure to stretch it tight and smooth out any wrinkle.
That's just a few ways to repair some items around the house. If repairing is out of the question, maybe you can find a way to repurpose the item. I know I try to repurpose if I can't repair.
What is something you will try to repair before purchasing a new one?
Other Posts in this Series
Ways to Save Money on Clothing
Ways to Save Money on Heating Costs
Ways to Save Money, Make a List and Stick to It
Ways To Save Money, Use the Library