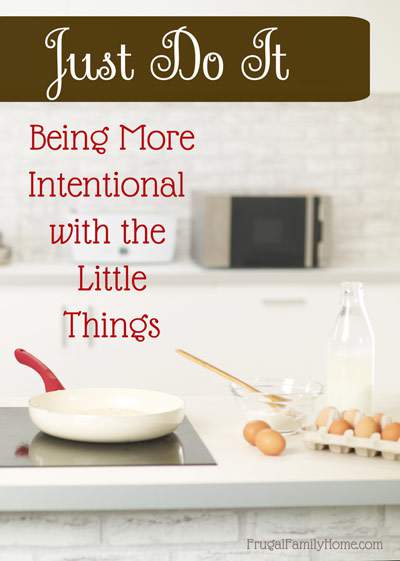 I'm one of those people who can walk by a piece of string on the floor and tell myself,  "I'll get it when I vacuum". I can walk past the pile of laundry and say, "I don't have enough time right now. I'll get it later." But recently I've noticed this creeping into my children's attitude.
They will put off things until they really need to get them done or they just don't see things that need to be done. I'm sure I'm partly at fault for this attitude. This past week it hit me, why don't I just be more intentional with the little things to help show my kids how to not procrastinate.
It's really not easy for me to make this change, but I know in the long run, it will really help keep my house in order and give my kids a good example to follow. What changes will I be making, you might be asking?
The Little Things I Will Be Changing
If the laundry needs folding, I'll take the few minutes it takes  to just get it done. Instead of letting it sit until I need to run another load through the dryer.
If I see clutter where it shouldn't be, I will put the items in their proper place. Instead of walking past those items three or four times before I put it away.
If the soap is almost empty in the dispencer, I will take the time to refill it right away.
I will get my housework out-of-the-way early in the day so I don't want to put it off. That way I can enjoy a nice clean house all day long. 🙂
If there is lint or string on the floor I will pick it up as I'm going past. Instead of letting it lay on the floor for the vacuum. Because really it only takes a second it get it done.
Are there little things you intentionally put off so you can "do them later"? I would love to hear that I'm not alone in leaving things for later. Please share in the comments below, the tasks you like to put off for later.
[signoff]