When money is tight these 7 cheap breakfast ideas for under $1 a serving can help you save money and still make a delicious breakfast to get your family's day off to a great start.
It's time to plan your meals for the week. You sit and stare at your empty piece of paper hoping to come up with ideas, as your mind races thinking of what you can buy for the little bit of money you have.
It's hard to balance feeding a family and staying within budget.
You want to feed your family well, but it's hard on a tight budget.
If only you had a list of easy to make meals that are cheap to make you could stay within your budget and feed your family well.
These 7 cheap breakfast ideas below can help you stretch your budget and feed your family well at the same time.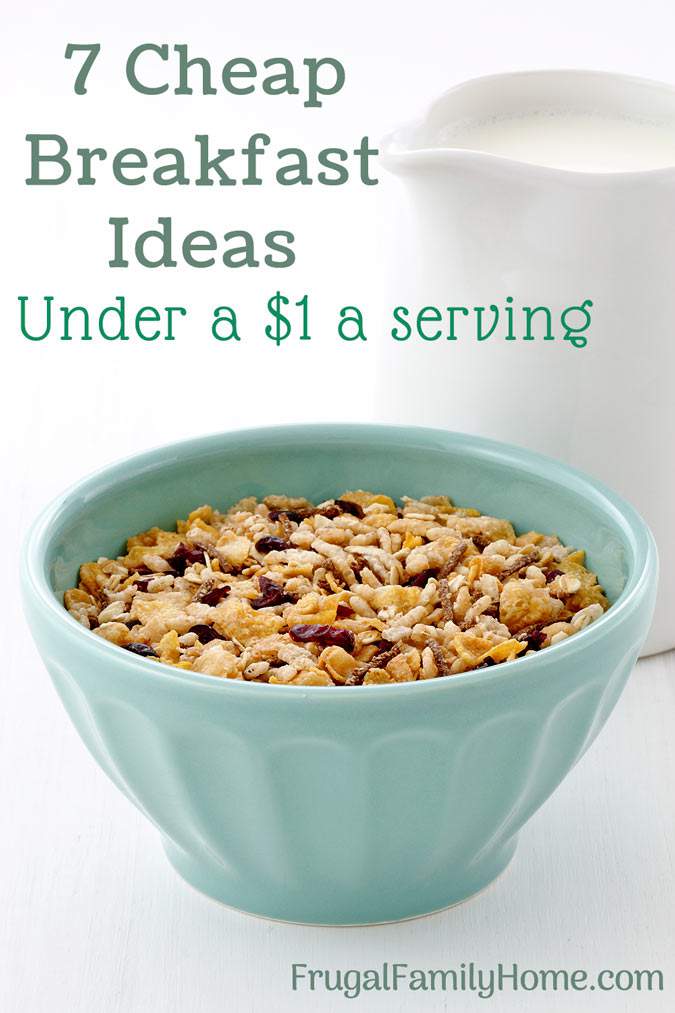 I know it's easy to grab a box of cereal and milk to serve for breakfast but those boxes of cereal seem to be getting smaller and the price just keeps climbing. Unless you can match a sale with a coupon, those boxes of cereal can be more expensive.
Another alternative is to make a hearty breakfast that's cheap. Most of these breakfast ideas can be made ahead the night before. Or made in advance and frozen for when you need a quick cheap breakfast to serve your family.
Best of all, all of these cheap breakfast ideas are under $1 per serving, most under $.50, now that's a budget-friendly breakfast.
If you're a family of 4 and make these 7 breakfasts below for your family you can feed your family a delicious hearty breakfast each day for around $2 or less. Which works out to be $14 a week. Now that a good deal.
Check out these 7 Easy Cheap Breakfast Ideas for under $1 Each
1. Oat Groats with an Egg
Have you heard of oat groats? It's whole oats that haven't been rolled into oatmeal. Oat Groats are a hearty warm breakfast on a cool fall or winter morning. If you purchase the oat groats in bulk at a Winco Foods or in the bulk section of another store they can be super economical.
A serving of Oat Groats costs only $.22 with 1/2 cup milk, add an egg for $.10 more and you have a hearty breakfast for just $.32.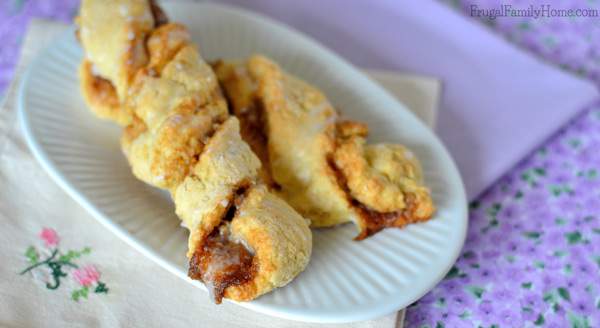 2. Cinnamon Twist Scones with Eggs
If you crave something sweet in the mornings these cinnamon twist scones will really hit the spot without breaking the bank. You can make them ahead and store them in the freezer for when you are ready to have a couple for breakfast, but they never make it to the freezer in our home. They are just too good!
A couple cinnamon twist scones cost just $.20 add an egg to round out the breakfast for $.10 and this sweet and satisfying breakfast is just $.30 a serving.
3. Egg and Potato Hash
If sweetness isn't what you crave in the morning. Try making egg and potato hash. I like to dice a potato really small, cook it up in a little bit of oil and season with garlic powder, onion powder, salt, and pepper.
Once the potatoes are almost done cooking whip an egg and pour over the potatoes. Stir and cook until the egg is cooked through.
You can also add onions, peppers, or any other vegetables you might have hanging out in the refrigerator. It's also great to include a few cooked vegetables from the night before.
The cost of this quick and easy breakfast is just $.27 a serving.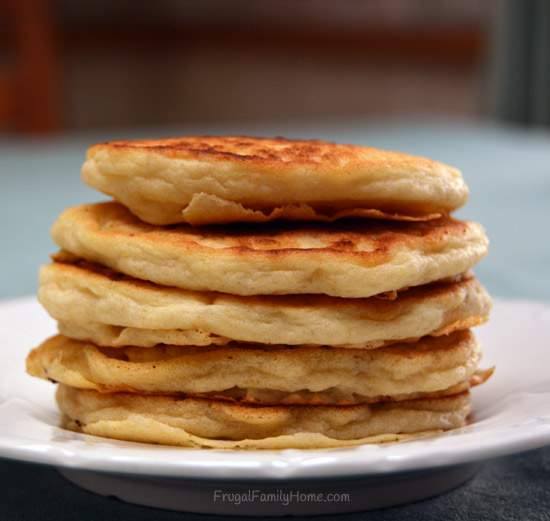 4. Pancakes, Sausage, and Egg
We love to have this 15 minutes breakfast on the weekends. It's easy to make pancakes from scratch. While cooking those pancakes you can make the sausage and eggs too. In a short 15 minutes, you can have enough for everyone to have breakfast at a great price too.
This full breakfast costs just $.53 a serving which includes the homemade pancake syrup too.
5. Egg and Sausage Scramble on a Corn Tortilla
Another low sugar breakfast that's high in protein is this egg and sausage scramble served on top of a corn tortilla. To make this delicious breakfast take a link of sausage and cut it up.
Place in a skillet and brown. Once the sausage is almost cooked through add a whipped eggs and cook until cook through.
Place your scrambled eggs and sausage on two corn tortillas and enjoy! If you like crisp corn tortillas, place them in the oven or toaster oven and heat until crisp.
This protein-packed breakfast costs just $.40 a serving.
6. Toast and Eggs
Toast and eggs are our go-to breakfast during the week. It's easy to make toast and scramble an egg for breakfast for each person. If you make your own bread with this frugal bread recipe it's just $.44 a loaf. But if you purchase bread at $1.50 loaf it will be a bit more.
Add peanut butter and jam to your toast and make an egg to complete the meal.
If you buy your bread this meal will cost $.32 a serving, if you make your own bread it will be $.29 a serving.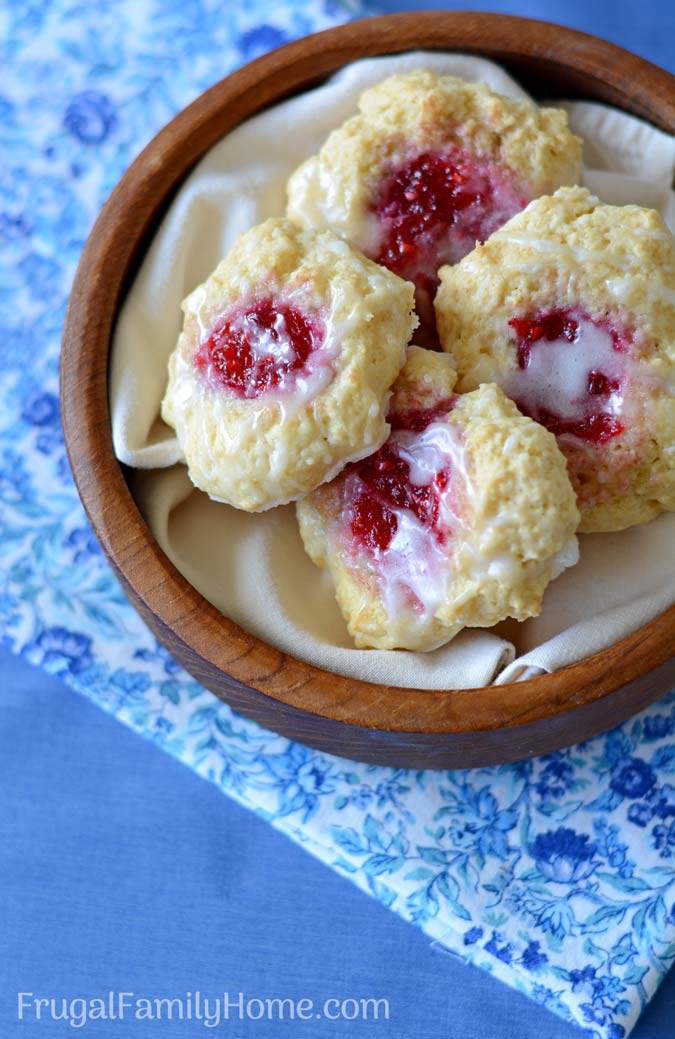 7. Jam Danish with an Egg
This is another sweet breakfast treat that can be whipped up in a hurry in the morning. Or even the night before or the week before and grab a couple out of the freezer. Use your favorite jam in this Jam danish recipe to customize them. You can even use different jam in each danish if you want.
To make a sweet breakfast of 2 Jam Danish with a fried egg will cost you just $.36.
As you can see you can really make delicious and filling breakfast for under $1 a serving and they don't have to take a long time to make and it doesn't have to be processed food to be cheap.
Which of these cheap breakfast ideas for under $1 each would your family love to have?
More Breakfast Ideas
Chocolate Donuts (dairy free options included)
Chocolate Chip Scones
Baked Maple Bars
Pumpkin Pecan Overnight Oatmeal
Pin it for Later….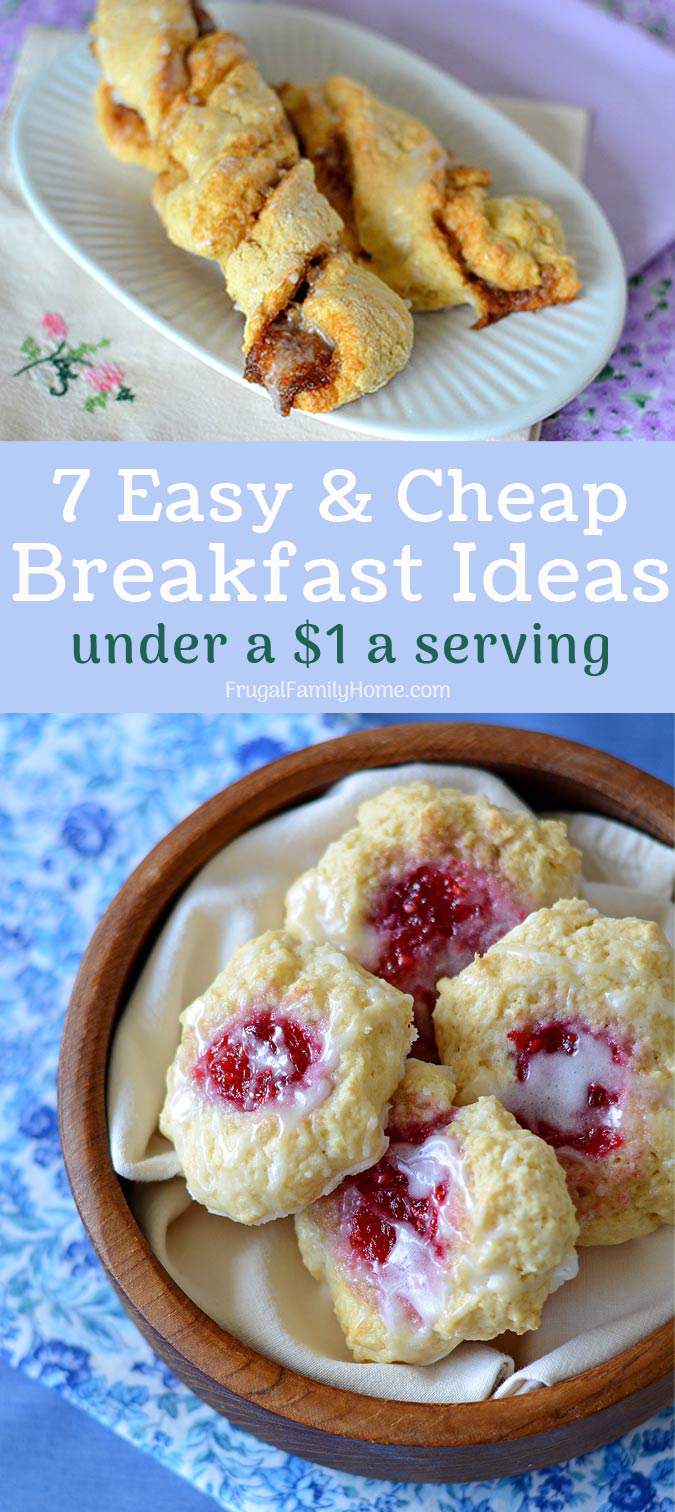 SaveSave
SaveSave
SaveSave