One more day to go on the challenge. I changed up our menu a bit today as I usually do on the weekends. I like to make something special for breakfast on the weekends for my family. So today I prepared pancakes with eggs and sausage. I also made the pancake syrup. Since we have switched from the store-bought syrup to homemade none of us can stand any store-bought except for the pure maple syrup. So we usually have homemade pancake syrup on our pancakes.
Breakfast breakdown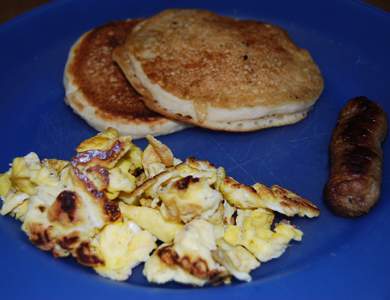 Pancakes (for this meal and all the snacks for the kids today and tomorrow) $1.20
Eggs $.48
Sausage $.70
Total for breakfast today $2.86
Lunch
Today we ate leftover pizza pinwheels for our lunch, along with a salad and fruit.
Pizza Pinwheels, sandwich for my son, salad and fruit
Total $3.14 for all of our lunches
Dinner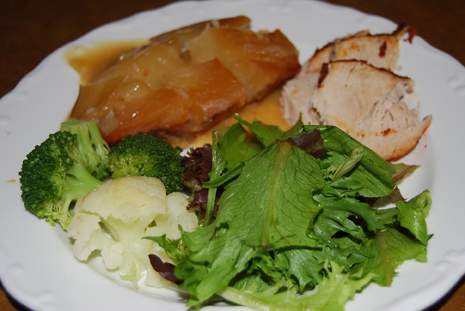 I made a pork roast with potatoes in our crock pot. I cooked up some green beans from the garden with the rest of the broccoli and cauliflower. I made some gravy from the broth in the crock pot and we also had a salad too. We ate the rest of the cinnamon roll biscuits for dessert. We had an extra person at dinner tonight, my sister stopped by for dinner
Total for the five of us for dinner $5.11
Snacks
Kids snacks during the day (I used some of the leftover pancakes to make peanut butter pancake sandwiches) Total $.57 for all
After dinner snacks
Kids, cereal $.20 crackers $.12
Me, granola bar and cheese stick $.24
Total for snacks $.56
Total for today meals $11.67 and that is with one extra person for dinner.
We have enough leftover pork roast I think tomorrow I will make that into sandwiches for us for dinner. If I don't use it right away it will be forgotten about and go bad. I hate to waste food.
[signoff]
Other Posts in this Series
Food Stamp Challenge Day 1
Food Stamp Challenge Day 2
Food Stamp Challenge Day 3
Food Stamp Challenge Day 4
Food Stamp Challenge Day 5