Making jam is a great way to preserve the flavors of the summer for those long winter months. But if you haven't made jam before freezer jam is the way to go. Not only are the flavors so much fresher and closer to the fruit taste. Freezer jam is easy to make. No canning needed. Here's a step-by-step tutorial on how to make peach jam for the freezer.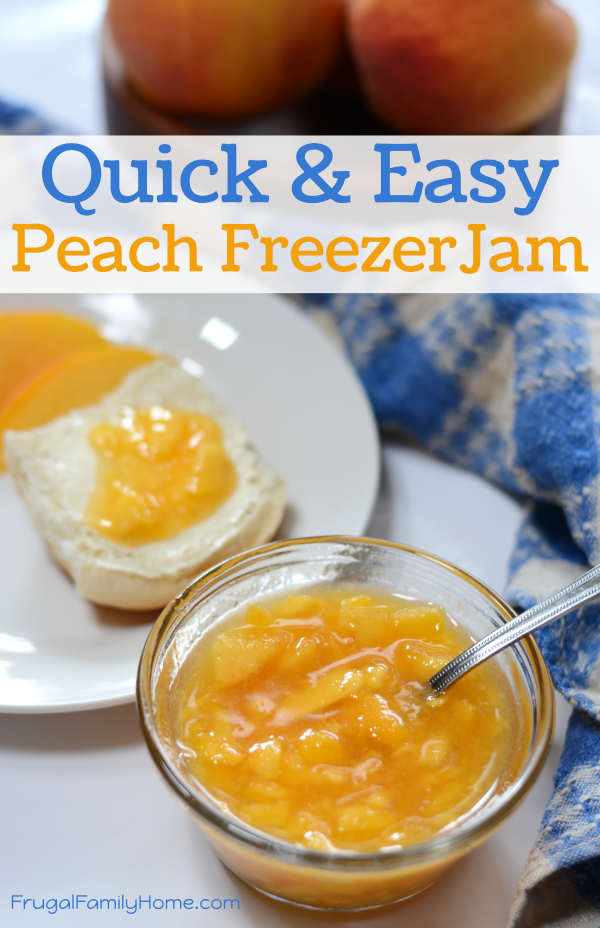 How to Make Peach Jam for the Freezer
Freezer jams are easy to make. No need to cook the fruit and sugar. It's as easy as chop, stir and put into the containers for the freezer. But these tips below will show you how to make peach freezer jam like a pro, even if it's your first time to make it.
Picking the Peaches
You can buy any old peach or nectarine from the store to make jam. But to make the freezer jam easier to make I'd suggest using a freestone peach.
What's a Freestone Peach?
It's a peach that doesn't stick to the pit. You might need to stop at your local farm stand to make sure you get a freestone peach but it's worth it.
I like improved Elberta peaches for canning, freezing and making jam. They are easy to remove from the pit and taste great too. They hold up well to freezing and canning.
If you can't find a freestone variety of peach to use, any peach will do. The only difference will be you may need to cut the peach off the pit.
What You'll Need to Make Peach Jam…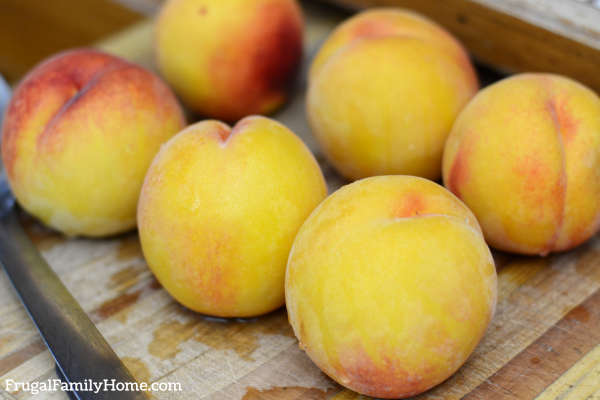 Some of the links below are my referral links. Which means as an Amazon Associate I earn from qualifying purchases and when you purchase through them I can make a little money at no extra cost to you. Thanks! See my disclosure policy for more information.
Peaches, about 2 pounds, we like Improved Elberta peaches, but any peach will work.
Sugar, we use regular granulated sugar from the store.
Lemon Juice, I use bottled lemon juice works great.
Instant Pectin, like Ball Instant Pectin I was skeptical at first because there is no cooking at all. But I've used this pectin a few times and the jam turned out great.
Now that you know what you'll need let's get started on how to make peach freezer jam.
How to Make Peach Jam for the Freezer
Let's get started by preparing the peaches first.
Preparing the Peaches for Freezer Peach Jam
You want to wash your ripe peaches. The next step will be to peel them.
To peel peaches you can use a knife and peel the skin off. But you can also use these techniques below to help remove the peach skin.
I've included how to peel the peaches in this quick peach freezer jam recipe. But I've written it out below in case watching a video isn't for you.  
Bring a pot of water to a boil. Add a peach or two at a time and leave it in the water until the skin cracks or about 30 seconds. You don't want to cook the fruit.
Immediately remove the peach from the pot of boiling water to an ice bath. Which is just a large bowl of cold water with ice.
Let the peaches sit and cool for a couple of minutes in the ice bath.
Remove the peach and using a knife start to peel the skin away. Once started the skin should slip right off.
That's how easy it is to peel a peach.
Measure Your Peach Jam Ingredients
Once the peaches are peeled, you'll want to chop it. It's best to use a knife but you can use a food processor. Just be sure not to process the peaches too long. The jam should have pieces of fruit.
Measure the fruit into one bowl. Add the lemon juice and stir.
Then measure the sugar into another bowl. Do this so if you get interrupted as you are measuring out the sugar, you can start over.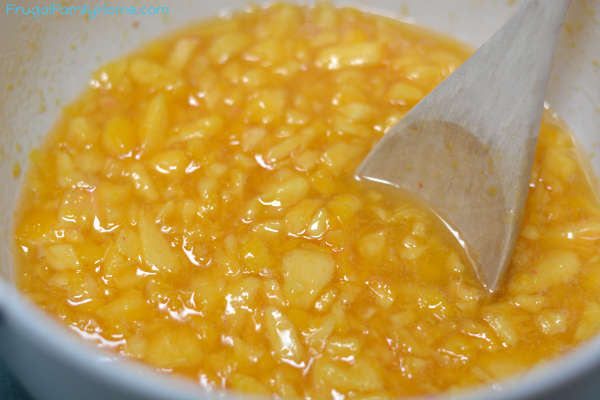 Mix the peaches and sugar together and let stand for 10 minutes. Stirring occasionally. So juices form.
After the 10 mins add the instant pectin a little at a time to keep it from clumping. Stir 3 minutes.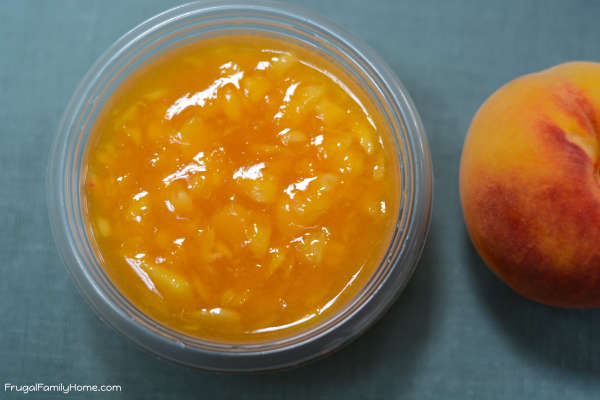 Spoon the peach jam into clean freezer containers and let sit at room temperature about 30 minutes to let it set.
That's how easy it is to make homemade peach jam for the freezer.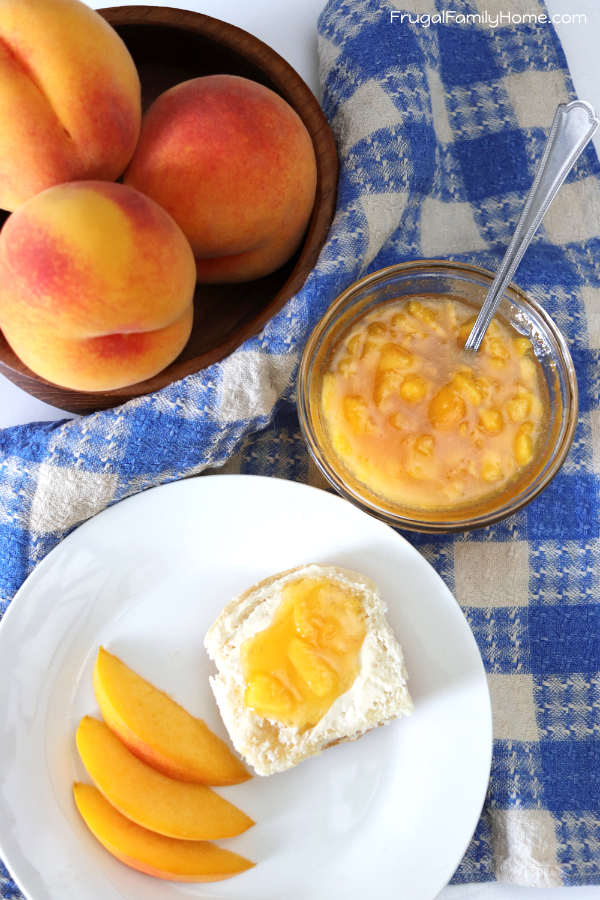 Get the printable recipe…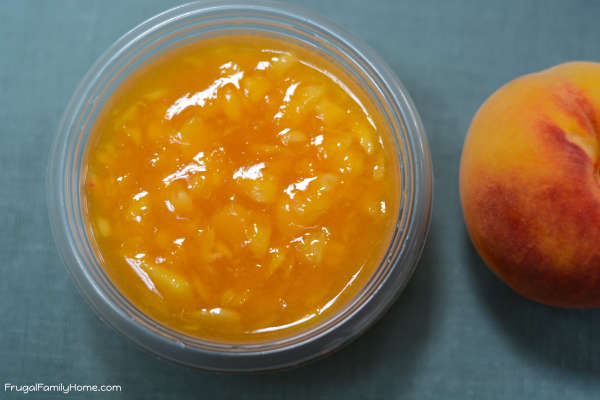 Easy Peach Freezer Jam
This simple and easy no cook peach freezer jam is so quick to make. Because you don't have to cook it at all. Tastes just like fresh peaches.
Ingredients
3 1/3

cups

Peaches

finely chopped

2

tablespoons

Lemon Juice

1 1/3

cups

Sugar

4

tablespoons

Instant Pectin
Instructions
In one large bowl, measure the finely chopped peaches into the bowl and add the lemon juice. Stir.

In another bowl measure the sugar.

Combine the sugar with peach mixture and stir to moisten the sugar.

Let stand 10 minutes for juice to form.

After 10 minutes, add the pectin a little at a time and stir until all pectin is added. This will help avoid clumping.

Stir the mixture for 3 minutes to dissolve the sugar.

Spoon into clean freezer containers.

Let sit at room temperature for 30 minutes until set. Then refrigerate up to 3 weeks or store in the freezer up to 1 year.
Video
Notes
This recipe only works with instant jam. I use Ball Freezer Pectin. If you are using a different pectin you may need to cook the pectin before adding it to the sugar and peaches.
Nutrition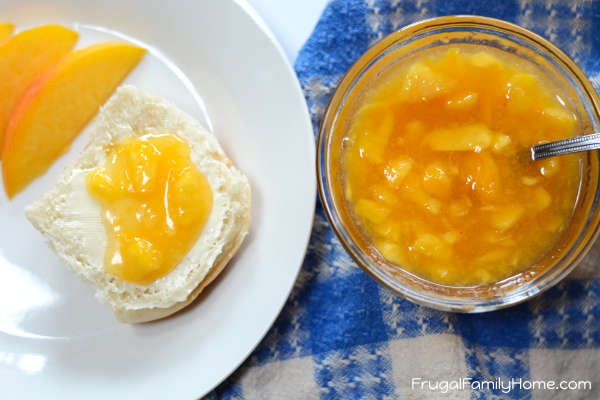 That's how to make peach jam for the freezer. It has a few steps but they are all easy. If you haven't made homemade jam before this is the perfect recipe to start with.
Find More Freezer Jam Recipes