Struggling with
What to Cook for Dinner?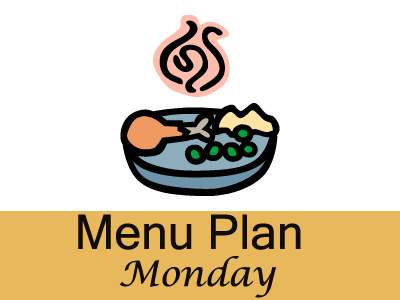 This week I am sticking to our regular recipes. I tried a few new ones last week and we really liked them so I am sure we will be making them again. I am trying to get a better schedule set up for our home school and cleaning. So I wanted to make sure our meals were easy to make so I would not have to think about them that much.
Dinners
Calzones and Salad
Spaghetti, Salad and French Bread
BBQ Meatballs, Mashed Potatoes and Green Beans from the garden
Fajita Bowls with Fruit
Poor Man's Steak, Mashed Potatoes and Green Beans from the garden
Sweet Asian Chicken, Rice and Stir fry vegetables
Grandma's Pork Chops, Roasted Vegetables and Fruit
Lunches
Sandwiches, fruit and chips
Corn Dog Muffins, cucumbers and peppers and fruit
Leftovers
Breakfasts
Pancakes, sausage and eggs
Toast, eggs and oatmeal
Muffins eggs and sausage
So what will you be cooking at your house this week?
[signoff]