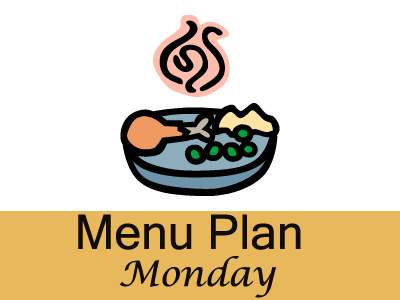 This week we are having a few meals from the freezer. The pineapple chicken recipe is a new one to me so if we really like it I will share how I made the freezer packages up. I linked to the original recipe below but I felt it had too much sugar in it so I altered the recipe when I made it. Here's hoping it turned out well.
I still haven't found any really good lunch recipes yet but I am still on the hunt.
Here's the plan for this week,
Dinners
Pineapple Chicken (freezer meal), Rice and Stir Fry Vegetables
Pan Fried Pork Chops, Mashed Potatoes and Corn
Fajita Chicken (freezer meal) Refried Beans, Chips and Salsa and Fruit
Spaghetti with Meat Sauce, Salad and French Bread
Stir Fry Chicken (freezer meat package) and Rice
Enchilada Shells, Salad and Fruit
Omelets, Toast and Hashbrowns
Lunches
Egg Salad Sandwiches, Chips and Fruit
Leftovers
Salad with Tuna on top and Fruit
Beef and Bean Burritos, chips and salsa
Breakfasts
Waffles, Eggs and Bacon
Toast, Eggs and Oatmeal
Mini Apple Muffins with Nut Crumble Topping, Eggs and Sausage
What's on your menu plan for this week?
[signoff]