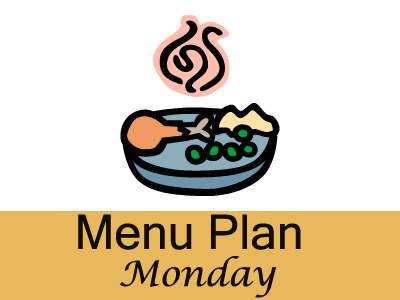 Menu Plan for Week of July 8th
I felt like we were falling into a menu plan rut. So I tried to add a few different recipes to our menu plan for this week. I try to keep my menu plans fairly easy in the summer so we can have time to do some fun stuff and I don't have to worry about spending a lot of time in the kitchen. Here's what I have planned for this week.
Dinners
Sweet and Garlicy Pork Chops, Baked Potatoes and Salad
Omelets, Toast and Hashbrowns
Hamburger Skillet Dish, Salad and Fruit
Garlic Lime Chicken (freezer meal), Rice and Veggies
Sloppy Joes, Potato Chips, Fruit and Veggie Sticks
Grilled London Broil, Baked Potatoes and Salad
Left over Grilled London Broil on a Salad with Garlic Bread
Lunches
Leftovers most days
Eggs Salad Sandwiches, Chips and Fruit
Pizza Rolls with Salad
Breakfasts
Toast, Eggs and Oatmeal
Waffles, Sausage and Eggs
Muffin, Eggs and Sausage
How do you break free from a menu planning rut? 
[signoff]