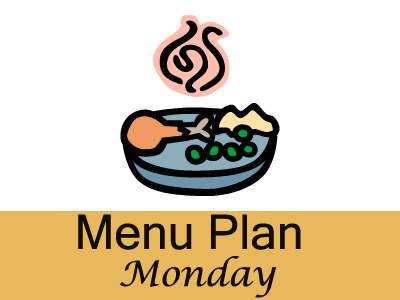 Wow, I can't believe the month of September is already gone. Where does the time go? Before you know it, it will be Christmas. This week is a mix of freezer dishes and  family favorites. Here's our menu plan,
Dinners
Pineapple Chicken, Rice and Vegetables
Pan Fried Pork Chops, Mashed Potatoes and Fruit
Hamburger Skillet Dish, Salad and Fruit
Chicken Soup Kit with Rolls and Fruit
Pizza and Salad
Beef Roast in the Crock Pot with Potatoes and Vegetables
Homemade Beef Noodles with Salad and Fruit
Lunches
Leftovers most days
Sandwiches and Chips
Homemade Uncrustables, Fruit and Vegetable Sticks
Breakfast
Eggs, Toast and Oatmeal
Waffles, Eggs and Sausage
Caramel Sticky Buns, Eggs and Sausage
What's on your menu for this week? 
[signoff]