If you're trying to eat healthier and cut out processed food like ready-made pancakes and waffles. These quick and easy banana bread pancakes are the perfect solution.
They taste just like banana bread and don't have any refined sugar at all.
Get the recipe, find out how much a batch cost to make (I think you'll be surprised) and watch the recipe video below…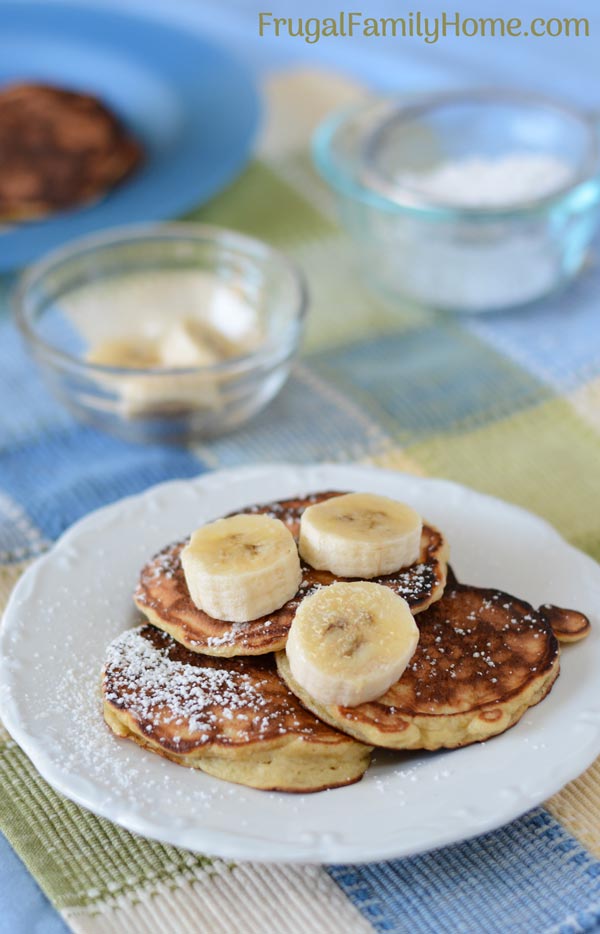 We love these banana bread pancakes. They are quick to make and so delicious too.
Plus, if you have bananas around that are getting a little soft, they will work great in this recipe. And keep your food waste down. Because we all know wasted food is just like throwing money away.
With only a few ingredients needed, that you probably have on hand at home, you can make a batch of these easy banana pancakes today.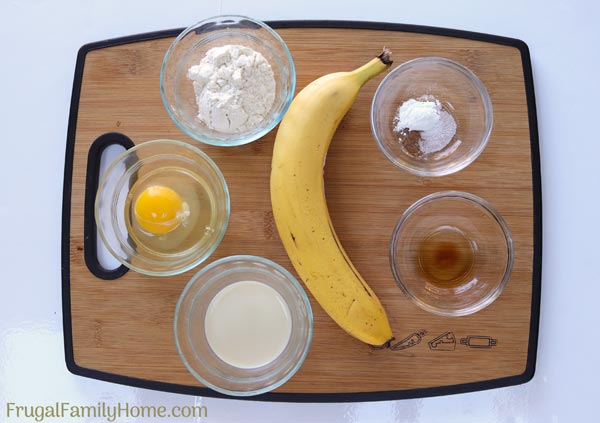 Ingredients Needed to Make Banana Pancakes
Eggs
Flour
Banana
Baking Powder
Salt
Milk or Milk Alternative
Cinnamon or Nutmeg
Vanilla
How to Make Banana Bread Pancakes
Even though these are simple to make, here's a quick recipe video for you. Be sure to keep scrolling for the printable recipe and recipe tips too.
Tips for Making These Banana Bread Pancakes Great
Just a few tips to help your easy banana pancakes turn out great.
Mashing the Banana
I find it's easier to mash the banana on a plate instead of inside the bowl. A plate works better instead of a bowl because it's flat. Be sure to mash the banana well unless you like chunks of banana in your pancakes.
Stirring in the Dry Ingredients
When stirring in the dry ingredients it's easier to use a spatula and fold them in. I tried using a fork, but the spatula works better.
Only mix until the dry ingredients are moistened. Stir too long and your pancakes can get tough.
Print the recipe…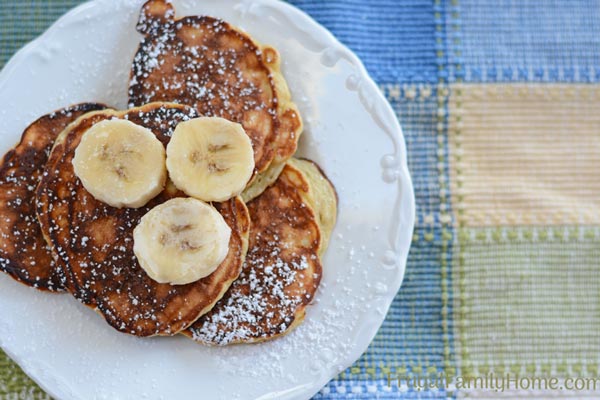 Banana Bread Pancakes
These yummy banana bread pancakes taste just like banana bread and at only $.14 a serving they are a frugal breakfast too.
Ingredients
2

large

Eggs

4

tablespoons

All Purpose Flour

1

medium

Banana

smashed

4

tablespoons

Milk or Milk Alternative

1/2

teaspoon

Baking Powder

1/4

teaspoon

Salt

1/4

teaspoon

Nutmeg

1/2

teaspoon

Vanilla
Instructions
Smash banana and then stir in egg and milk. Whip to break up eggs.

Add flour, baking powder, and salt. Mix until it moistens the flour

Spoon batter onto a hot griddle or skillet. Cook on one side until bubbles form then flip and cook on the other side until golden brown.

Repeat for the rest of the pancakes.
Notes
This recipe is weight watcher friendly. It's Weight Watchers SmartPoints is 5 Weight Watchers PointsPlus 3.
Nutrition
Serving:
3
pancakes
Calories:
121
kcal
Carbohydrates:
14
g
Protein:
4.2
g
Fat:
6
g
Saturated Fat:
3.9
g
Cholesterol:
82
mg
Sodium:
181
mg
Fiber:
1.3
g
Sugar:
4.3
g
How Much Does It Cost to Make Banana Bread Pancakes?
I love to figure out the cost of our meals. I'm continually shocked at how inexpensive it is to cook from scratch compared to eating out or ready made foods in the store. It blows my mind.
Now the prices I'm sharing below may be higher or lower than what you currently pay locally but it will give you a good idea of how much this recipe cost to make. A really frugal breakfast recipe.
2 egg, $1.30 per dozen, $.22 for this recipe
4 tablespoons All Purpose Flour, $3.96 for 10 pounds, $.04 for this recipe
1 medium Banana, smashed $.59 per pound, $.19 per banana
4 tablespoons Milk, Almond Milk or Soy Milk $1.56 per gallon, $.06 for this recipe
1/2 teaspoon Baking Powder $9.99 for $5 pounds, $.02 for this recipe
1/4 teaspoon Salt $.50 for 26 ounces, $.01 for this recipe
That brings the total cost of the full batch of these banana bread pancakes to just $.54. I mean can you believe it that's just $.14 per serving.
It's a good deal for a pretty healthy recipe too. And did I mention these are Weight Watchers friendly too.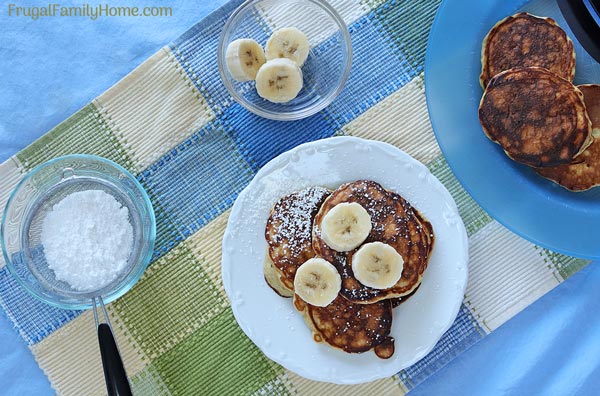 Adjusting this Banana Bread Pancakes for Allergies
Want to Eat More Whole Grains
Use whole wheat pastry flour instead of all purpose flour. Or grind your own oat flour in the food processor. Either of these flours will work in place of all purpose flour.
Gluten Free Banana Pancakes
Try using oat flour that is gluten -ree, almond flour, or coconut flour. in place of the all purpose flour With the almond flour or coconut flour ,you may need to mix and then let it sit for the flour to absorb the liquid. Oat flour should work just like wheat flour.
Milk Free Banana Bread Pancakes
Substitute regular cow's milk with your favorite dairy free beverage. We like soy, but you could also use almond or coconut milk instead. Or even try arrange or grape juice.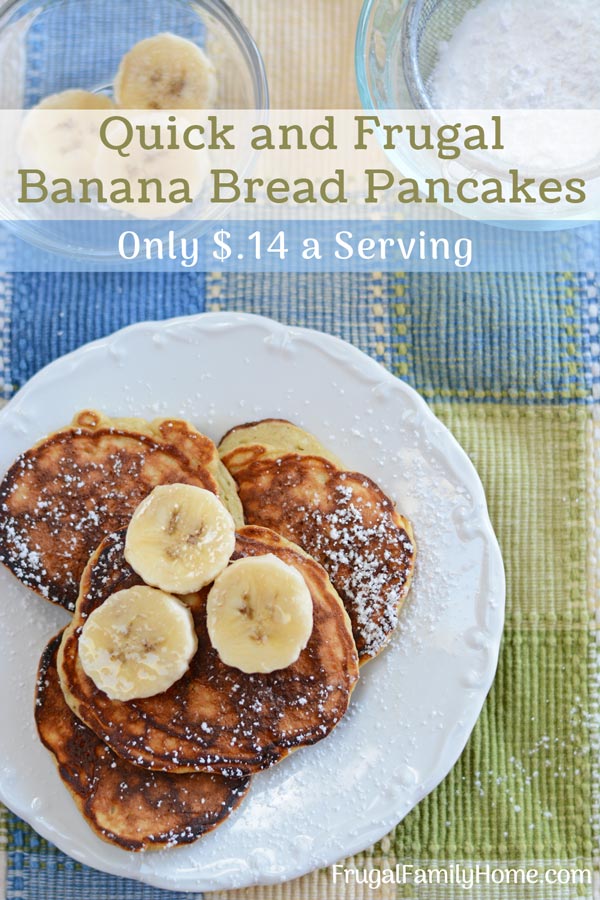 That's how to make banana bread pancakes, if you like banana bread you'll love these pancakes. You can adapt this recipe for people with allergies so everyone can enjoy them.
And if you're on Weight Watchers, they are Weight Watchers friendly too. Such an easy to make frugal breakfast
Find More Frugal Breakfast Ideas
Easy Oat Groats, a great alternative to oatmeal
Cinnamon Twist Scones
Easy Jam Danish
Subscribe and you'll get Recipes
sent right to your inbox!
Click the button below and fill out the form.