An easy way to make a decadent fudge brownie ice cream sundae at home and save money too.
Desserts are nice to have once in a while. But when you are going to have dessert, why not go all out and have a fudge brownie ice cream sundae.
If you love brownies and ice cream this will be the perfect dessert for you.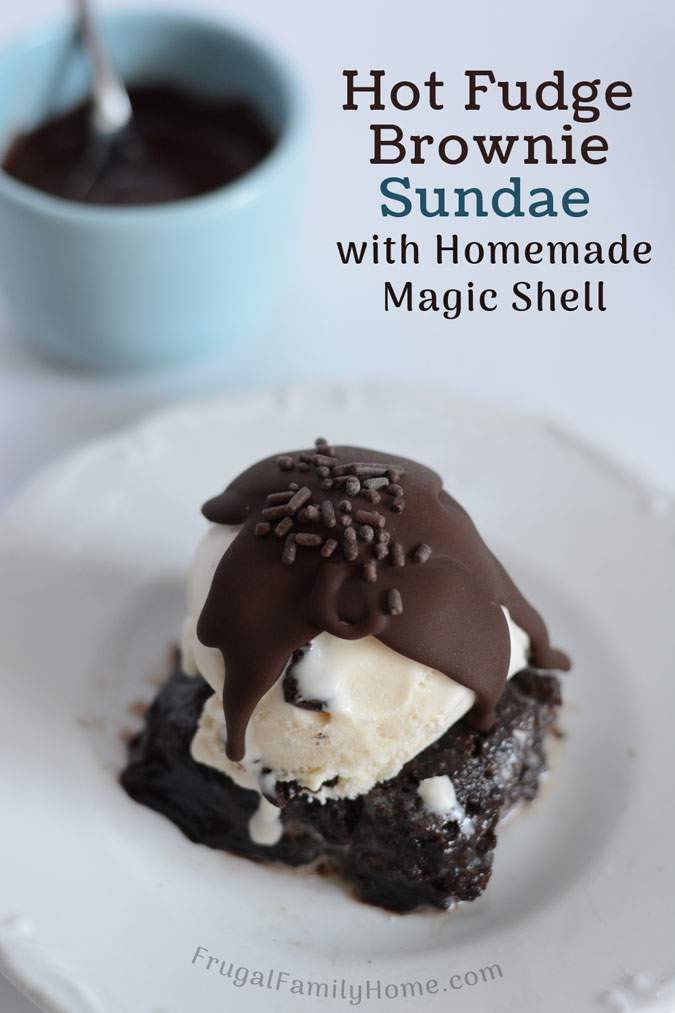 Ice cream sundaes can be so delicious. A cool and creamy ice cream topped with a smooth caramel sauce, hot fudge, or a fruity topping, what's not to love?
I know when eating out I love to look at the dessert menu. I think I could skip the whole eating dinner thing and just go out to enjoy a yummy dessert instead. But then I see the prices of the desserts.
Desserts out can be so costly. Not so bad if you split it with someone else but when you really think about what you are getting, making dessert at home can really save you money.
One of my favorite desserts to eat out is a brownie sundae with fudge topping. It's a simple dessert that is delicious. I love the ice cream mixed with the fudge topping and the richness the brownie adds to the mix.
That's why I decided to share how I make my favorite dessert to eat out at home and how much it ended up costing. When you see the difference (which I've figure out for you below) you might not want to eat a sundae out again.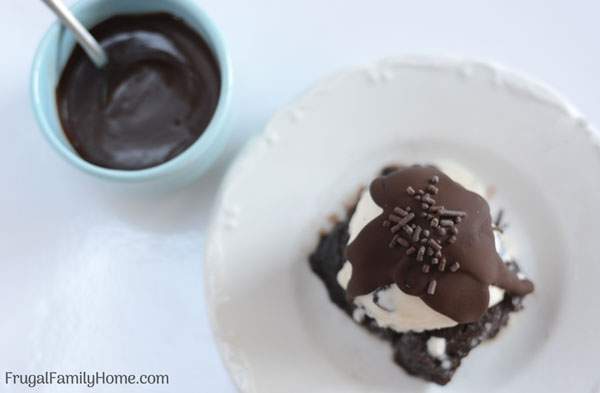 What You Need to Make This Brownie Ice Cream Sundae Recipe
Ice Cream, pick your favorite or make homemade ice cream ( a few recipe links at the bottom of this post)
Brownie, bake a pan of brownies or use a brownie mix
Homemade Magic Shell Topping (below) or Homemade Hot Fudge Topping
Sprinkles, Cherries, Whipped Cream (optional)
How to Make a Fudge Brownie Ice Cream Sundae at Home
Make the Brownies, You'll want to plan a little ahead so the brownies will have time to cool some.
Really hot brownies will melt your ice cream way too fast and you'll have a puddle of cream with a brownie swimming in it. Not pretty at all.
Once brownies are cooled you have two options when building your sundae, put the brownie on the bottom on a plate or place them on the sides of a bowl and drop the ice cream in the middle of the brownies.
It's up to you. I prefer the brownie on the bottom but if sogginess is a concern, you might try the bowl option with the brownies wedged into the sides to keep them up out of the ice cream.
Make the topping, Whether you'll be making hot fudge sauce or the homemade magic shell recipe (below) this is the next step. While you'll want your topping a little warm, if it's too hot, it will melt the ice cream.
Make your topping and set it aside until you are ready to assemble the sundae.
Assembling the Fudge Brownie Ice Cream Sundae
This is the fun part, building the ice cream sundae. Place the brownie on the plate or in a bowl and add a scoop of your favorite ice cream.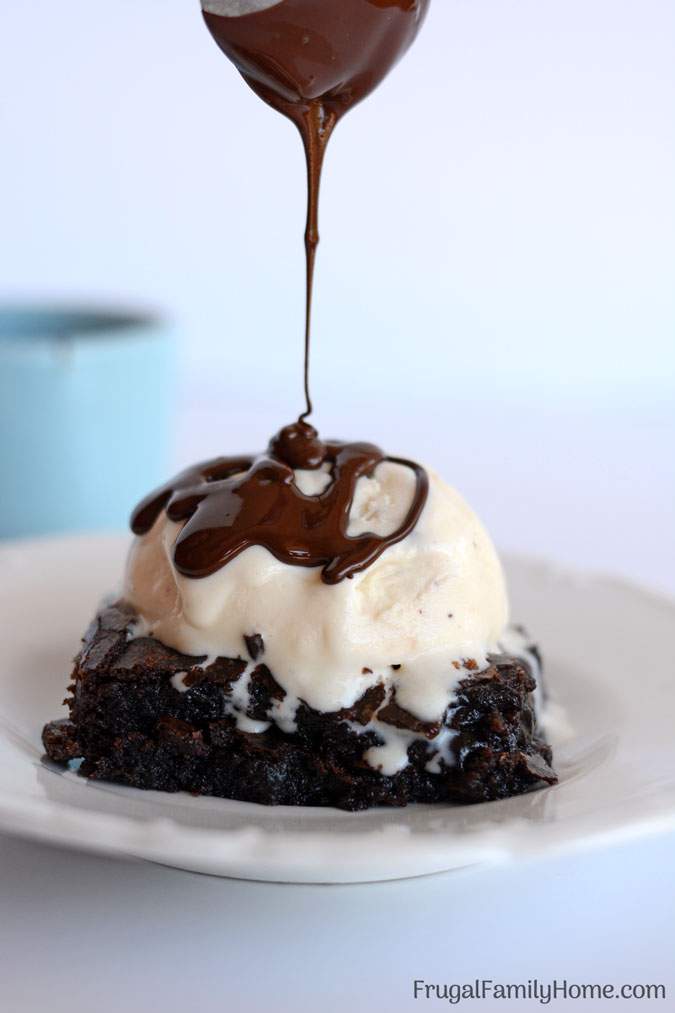 Drizzle the topping on top of the ice cream and add a few sprinkles if desired. Or a squirt of whipped cream and a cherry on top. Just like at the restaurant.
If you are using the homemade magic shell recipe place the sundae into the freezer for just a few minutes to harden the topping up all the way.
Then dig in and enjoy your homemade fudge brownie sundae. Keep going to see how much you can save by making this sundae at home.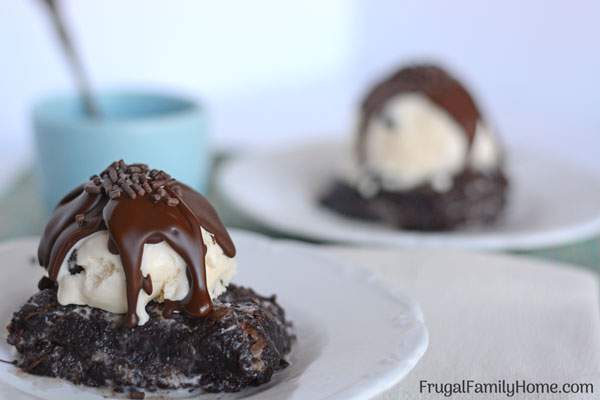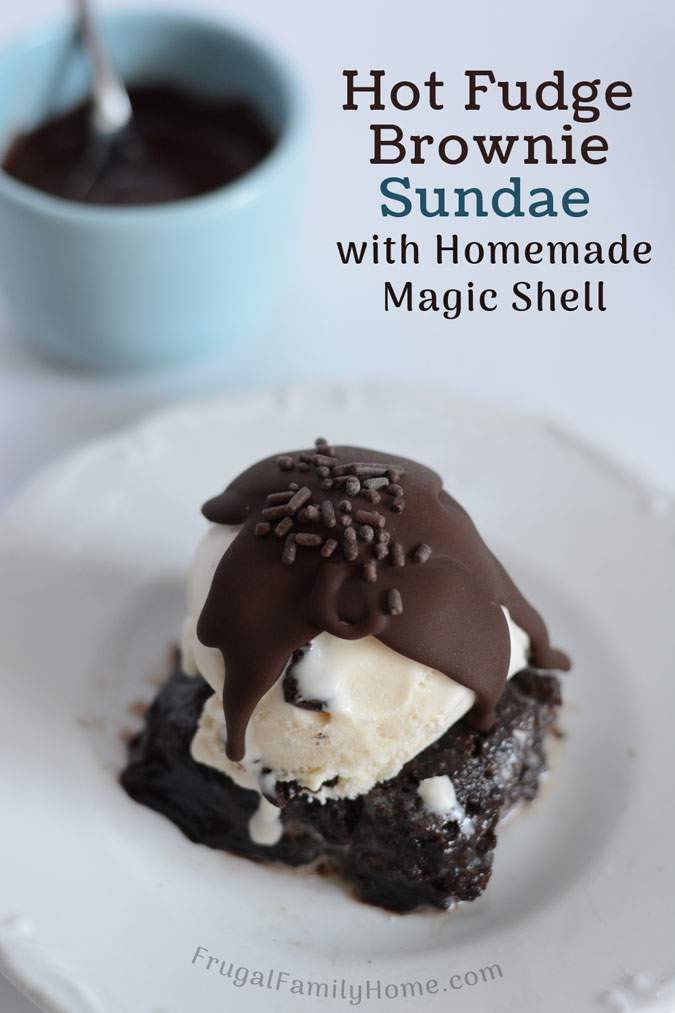 2 Ingredient Homemade Magic Shell Topping
Ingredients
1/2

cup

Chocolate Chips

1

tablespoon

Coconut oil
Instructions
Place chocolate chips and coconut oil in a microwave safe bowl.

Microwave for 1 minute or until the chips are softened. Stir until smooth.

Drizzle on ice cream sundae. Let sit to harden or place in the freezer for a couple of minutes to harden.

Enjoy!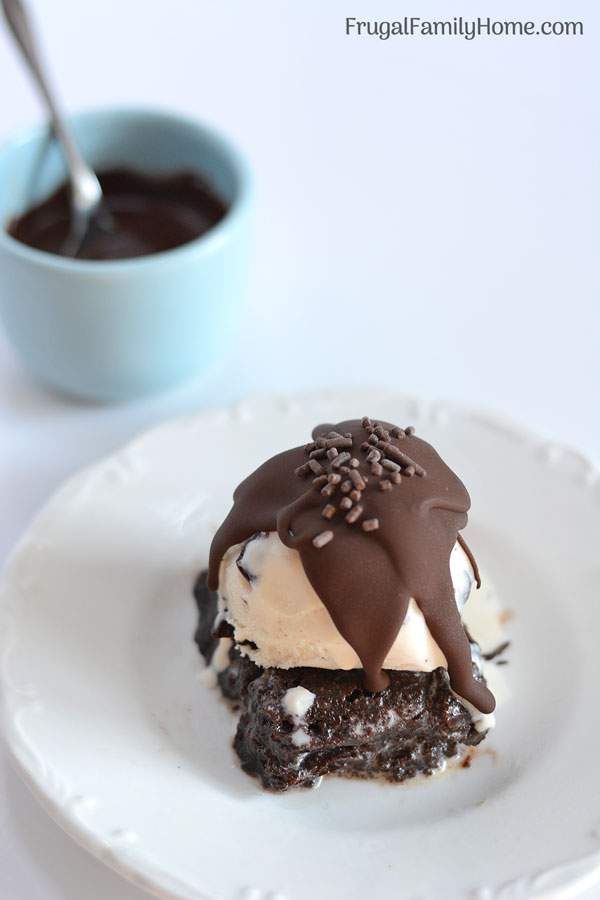 What the Cost of this Homemade Fudge Brownie Sundae
If you were to purchase a brownie ice cream sundae out at a restaurant you'd pay around $6 for one. The ones from the sit-down restaurant would probably serve two people if you are willing to share, so let's say the brownie ice cream sundae would be $3 per serving at a sit-down restaurant.
At a fast food restaurant for a brownie sundae, it will set you back about $4. Which is about the same cost as the sit-down restaurant item split between two people. Still quite a bit of money.
But you can make the brownie ice cream sundae above for just $.41 a serving! I know that is such a good deal, isn't it?
You can make 10 brownie sundaes at home for less than one fast food brownie sundae. Yes, that's right ten of them. Talk about a good deal for very little work on your part.
As you can see to make this fudge brownie ice cream sundae at home is pretty simple and with that kind of savings, a tenth of the price, you may never want to eat a brownie sundae out again.
What's your favorite dessert to have when eating out? How much do you think you could save by making it at home?
Other Ice Cream Recipes and Toppings
Strawberry Ice Cream
Roasted Rhubarb Ice Cream
Caramel Sauce
Pin it for Later…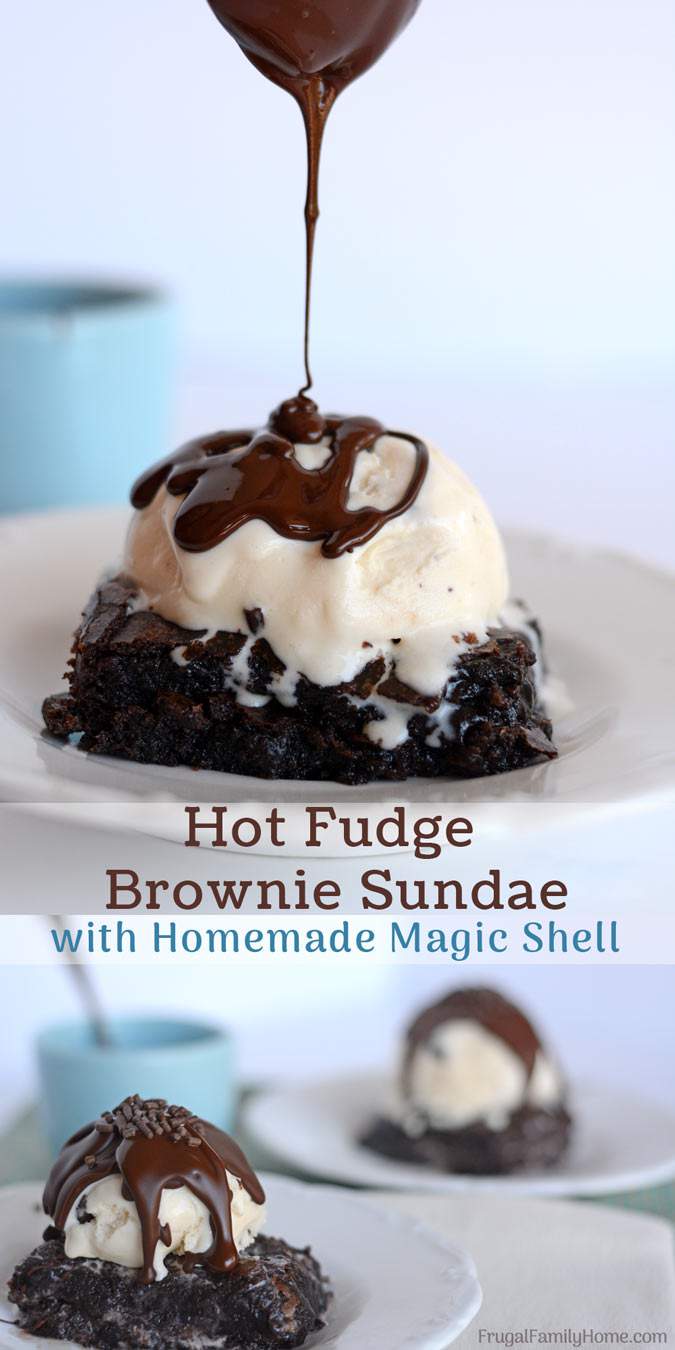 Subscribe and you'll get Recipes
sent right to your inbox!
Click the button below and fill out the form.