There is absolutely nothing better than homemade ice cream on a hot summer day. Or any day for that matter. And this homemade strawberry dairy free ice cream recipe is delicious.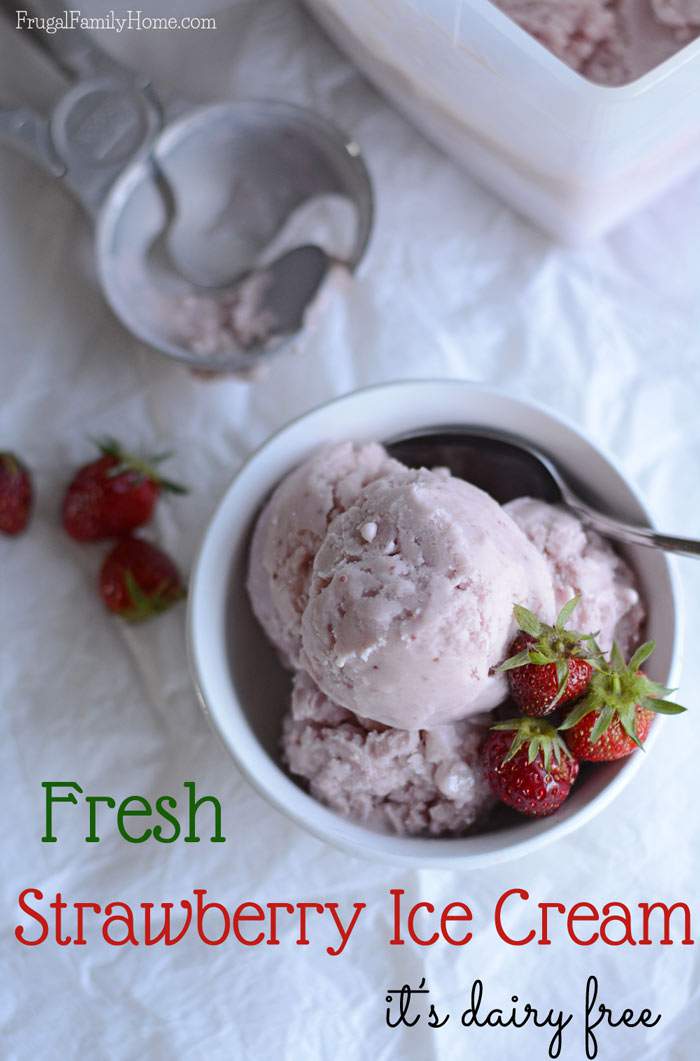 Since my birthday is in the summer, we always had homemade ice cream on my birthday. My grandpa would get out the old ice cream maker.
My grandma would make the ice cream base, always vanilla. And then came the real work, churning it by hand.
My sister and I would always jump right in to turn the crank early on, but then we would get bored or tired of turning and our grandpa would take over until the ice cream was done.
We loved the next step, taking out the paddle, so the ice cream could ripen. Taking the paddle out, meant we got to have the first taste of the yummy ice cream. It made it easier waiting for the ice cream to ripen.
Now that I have my own kids, I want to make homemade ice cream with them too. The only problem is, they are allergic to milk. So traditional ice cream is out.
I searched for a good dairy free ice cream recipe over the years. I've found a few I liked and changed them up a bit to make a perfect non-dairy ice cream recipe we love.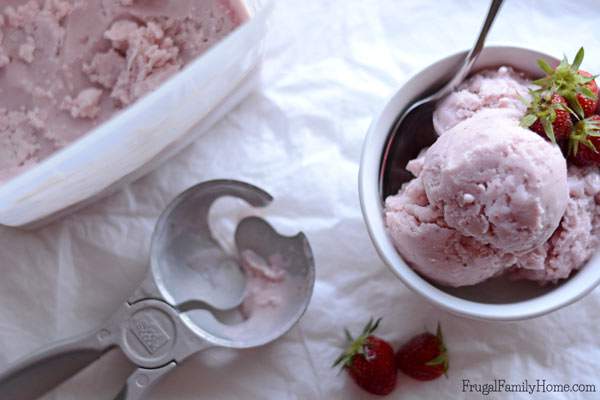 Now reading the ingredients you might think, how could this ice cream be good?
That's just what my neighbor thought until she tried it. She liked it so much I gave her the recipe and a some for her family to try. She was also surprised at how it didn't turn icy in the freezer overnight.
The ingredients might sound a little off to you but when they are combined they make a delicious ice cream, that's dairy free.
I made this yummy batch of strawberry ice cream with the berries from our garden. But if it's not strawberry season, you can use frozen berries in the recipe too.
Looking for more tried and true homemade dairy free ice cream recipes to try? Click here to find more recipes plus a few dairy free ice cream topping recipes too.
Just so you know some of the links below are my referral links. When you purchase through these links, I might make a little money, at no extra cost to you. Thanks for the support in this way.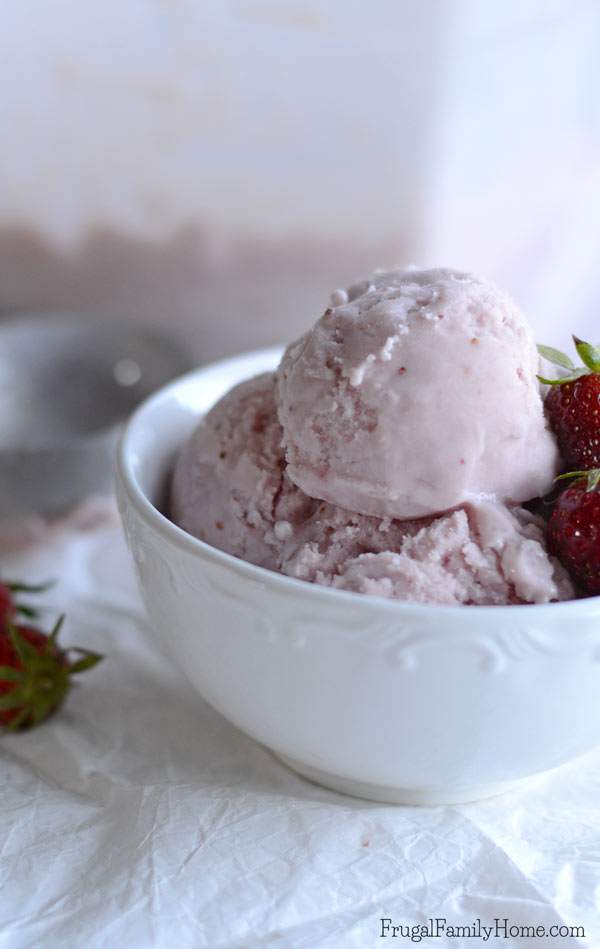 Ingredients You'll Need for This Dairy Free Ice Cream Recipe
Silken Tofu
Sugar
Oil, (I usually use vegetable or canola in this recipe)
Vanilla
Salt
Soy, Almond, or Coconut Milk (whichever milk replacement you prefer)
Strawberries, washed and stems removed
If you don't have to eat dairy free you can make this recipe with milk or cream instead of the milk substitute. It will be equally yummy.
How to Make this Strawberry Dairy Free Ice Cream
The ice cream base is easy to make. I place the milk with the strawberries in the blender and blend a little to break up the strawberries. Then I add the rest of the ingredients and blend until smooth.
I place the mixture into my ice cream maker and churn until the ice cream is frozen. I pack it into a freezer container and let the ice cream ripen for about 2-4 hours. Scoop and enjoy.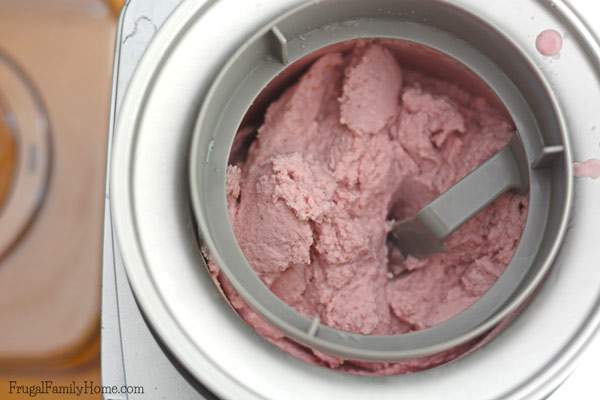 If you don't have an ice cream maker, you can freeze the ice cream mixture in a pan and let it freeze until firm.
You might need to let the mixture sit out a few minutes to be able to scoop it as the dairy free ice cream can freeze a little harder than regular dairy ice cream.
If you are looking at purchasing an ice cream maker, I've owned this one for at least 7 years now, maybe longer. I use it fairly often and it works great. I know it is worth every penny I paid for it.
I also own this one for larger batches of ice cream, but it takes rock salt and ice, but it is electric so no hand churning, like when I was young.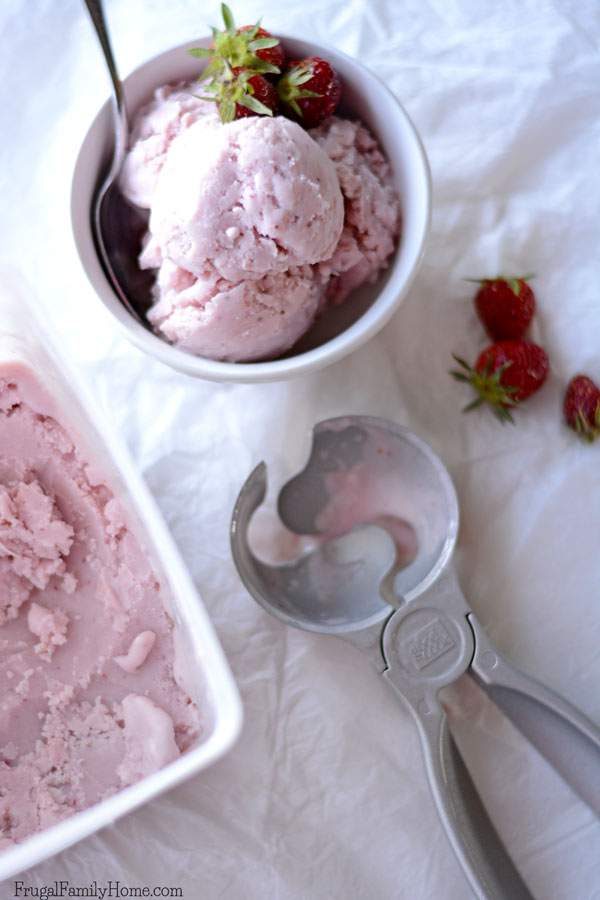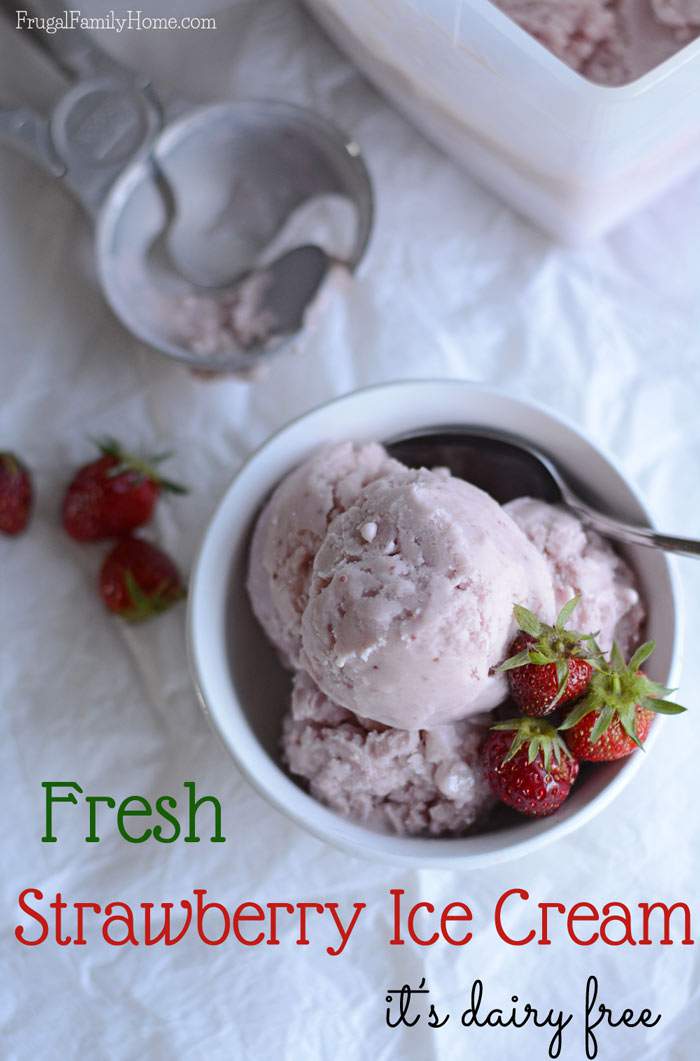 Strawberry Dairy Free Ice Cream Recipe
Ingredients
1

package Silken Tofu

1/2

cup

Sugar

1/3

cup

Oil

1

tablespoon

Vanilla

Pinch

of Salt

1

cup

Soy

Almond, or Coconut Milk (whichever milk replacement you prefer)

1

cup

Strawberries

washed and stems removed
Instructions
Place the berries and milk alternative into the blender and blend to break up the berries.

Add in the rest of the ingredients and blend until smooth.

Place ingredients into ice cream maker and freeze according to ice cream makers directions.

Pack finished ice cream into a freezer-safe container and ripen for about 2-4 hours.
What's your favorite flavor or ice cream?
See all my dairy free recipes by clicking here.
Other Dairy-Free Desserts You're Sure to Like
Roasted Rhubarb Ice Cream
Cherry Chocolate Chip Ice Cream
Dairy Free Raspberry Cream Pie
Subscribe and you'll get Recipes
sent right to your inbox!
Click the button below and fill out the form.