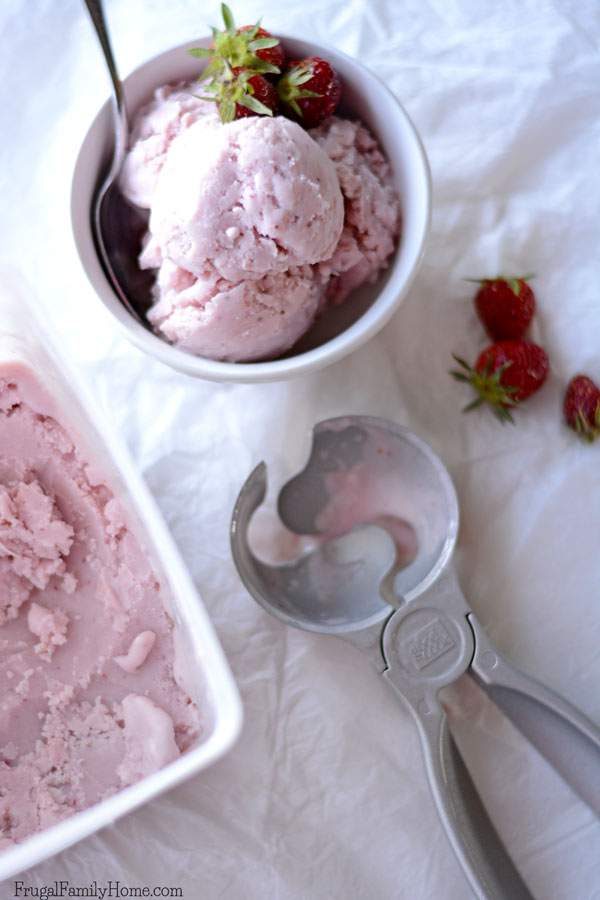 Do you love ice cream? I know I really love ice cream but when we figured out years ago that my husband and daughter were allergic to dairy we didn't eat ice cream much at all.
At that time dairy free ice cream was really quite expensive. Well, it can be really expensive still. I mean a little container of it can be $4. Which will give my husband and kids about two small bowls of ice cream. Which is fine for a treat but it's nice to have ice cream a little more often, than on special occasions.
As I learned how to make other items dairy free for my family and experienced some success. I decided to give a try at making ice cream. When I was young we always made our own homemade ice cream in the summer. So I had a basic recipe that my grandma used to use. But I didn't have a substitute for the cream so I couldn't make it.
Then I decided to do a search for dairy free ice cream recipes. I found that many of them used tofu in them. Since we used to purchase Tofutti ice cream I figured making an ice cream base with tofu would be a good idea.
I combined and altered a few recipes I found until I came up with a great ice cream base. I now use that base in all of my ice cream recipes and work off of it, to make dairy free ice cream flavors we love.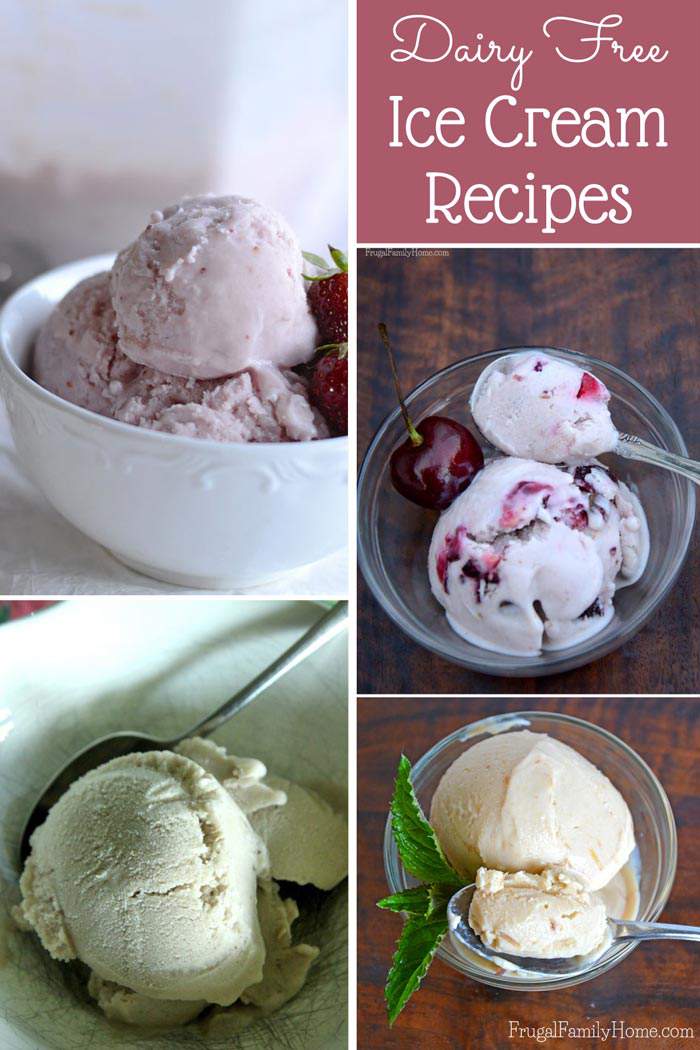 Homemade Dairy Free Ice Cream Recipes
If you want to give making your own dairy free ice cream at home a try, here's a few of the flavors I've made for our family.
Cherry Chocolate Chip Dairy Free Ice Cream, this recipe I created after trying the frozen soy cream from Trader Joe's with bits of cherries and chocolate pieces. When fresh cherries aren't available, I'll use my dried or frozen cherries in this recipe. It's so delicious either way.
Roasted Rhubarb Dairy Free Ice Cream, this recipe flavor came from a jam recipe I made with roasted rhubarb. Since we liked the jam so well, I decided to make an ice cream out of roasted rhubarb. It has a yummy kinda smokey sweet rhubarb taste from the roasting.
Fresh Strawberry Dairy Free Ice Cream, this recipe is one of my all time favorites. There is just something about fresh strawberries added to ice cream that makes it even more delicious. But don't worry you can use frozen strawberries in this recipe too and it will turn out delicious.
Those are my tried and true recipes but don't worry, I'll be making more yummy ice cream combinations to share. But in the meantime I found some interesting dairy free ice cream recipes that I just might try.
Banana Coconut Dairy Free Ice Cream, this recipe has just two ingredients. I bet you can guess what those two ingredients are by the name. 🙂
Chocolate Dairy Free Ice Cream, this recipe call for avocados. Now I don't like avocados but I've been told you can't taste them in the ice cream at all. So this is one I might have to give a try just to see. If I don't like it I know the rest of my family will since they all love avocados.
Need Toppings to Add to Your Dairy Free Ice Cream?
We love toppings on our ice cream. My husband loves to add jam on top of his ice cream. I like caramel sauce or hot fudge on mine. These recipes below will get you started on toppings you can make to top off your dairy free ice cream. They are all dairy free too.
Hot Fudge Sauce (recipe coming soon)
Chocolate Syrup (recipe coming soon)
My Favorite Ice Cream Makers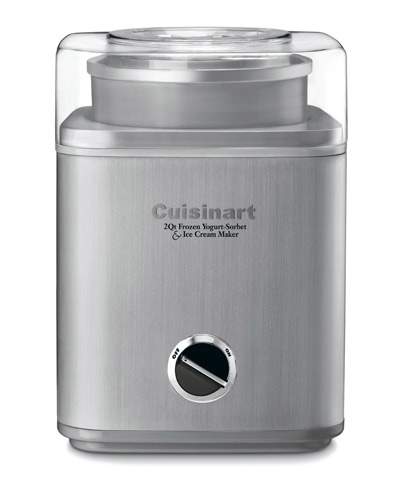 Now with all this talk about making ice cream you'll probably need an ice cream maker if you don't already own one. I know I love my Cuisinart 2-Quart Automatic Ice Cream Maker. (affiliate link) I've had it for years now and it has always been a great ice cream maker.
This model has an ice cream bowl that is frozen before you make the ice cream. No need to have ice and salt on hand to make ice cream with this ice cream maker. I usually just leave my ice cream bowl in the freezer so it's ready to go at a moments notice when we want to make ice cream.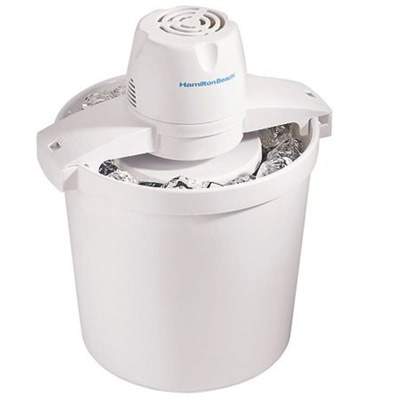 If I'll be needed a bigger batch of ice cream because we have company coming over I will break out my Hamilton Beach 4-Quart Automatic Ice-Cream Maker. (affiliate link) It's double the capacity of the Cuisinart ice cream maker, but you do need to use ice and rock salt with it. But it's nice to have when I need a lot of ice cream at one time.
Both of these ice cream makers have really performed for me well over the years and I've found them to be worth every penny I paid for them. If you are considering purchasing an ice cream maker I would really recommend looking into both of these.
What is your favor flavor of ice cream? I would love to have you leave a comment below and let me know.
Click here to find more dairy free recipes that our family loves.
Subscribe and you'll get Recipes
sent right to your inbox!
Click the button below and fill out the form.