Do you love truffles? I know they are so good. With their smooth and creamy filling surrounded by chocolate. And if you want to impress your family and friends with homemade truffles, this recipe would be perfect. This video tutorial on how to make butterscotch truffles is so easy.
You will love these truffles.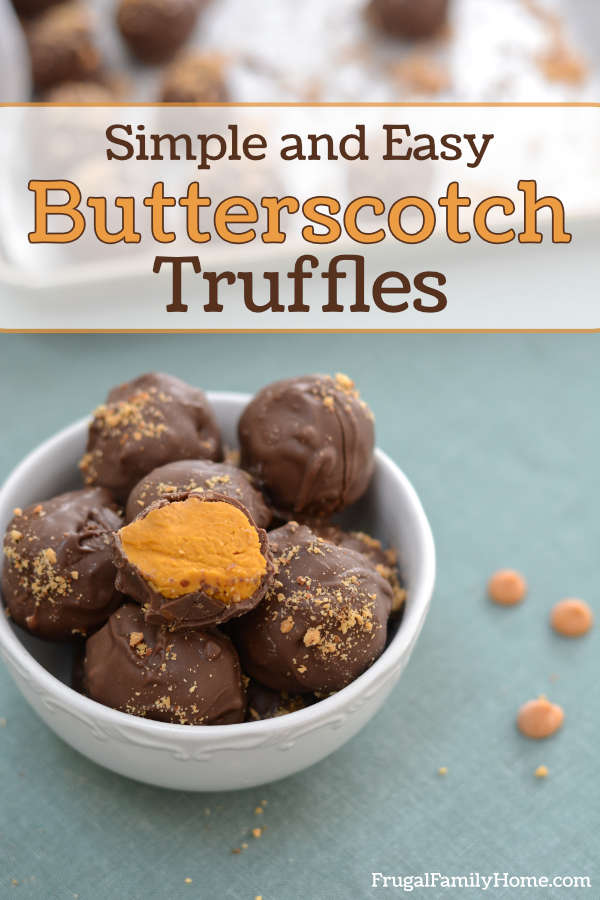 4 Ingredient Butterscotch Truffles
Truffles are so delicious, you probably think they are hard to make. Well, maybe the can be hard to make but not the way I make truffles.
They can be simple to make with 4 main ingredients.
What You'll Need to Make Butterscotch Truffles
That's right just 4 ingredients are needed to make your own homemade truffles. Well, actually 5 if you use the almond extract.
And while I love almond flavor, I also love these truffles without it. You can decide if you want to use it or not in your own truffles.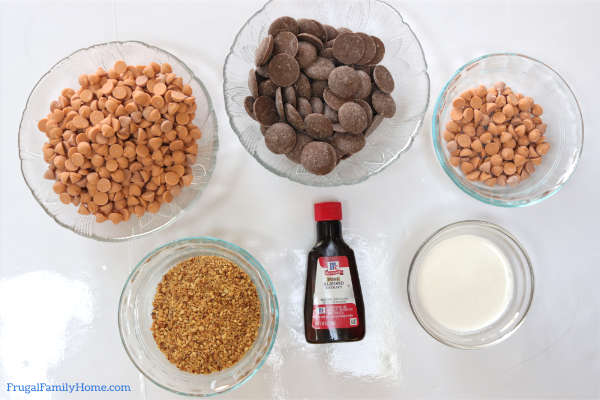 Ingredients List…
2 1/2 cups Butterscotch Chips
1/3 cup Whipping Cream
8 ounces Candy Coating
1/2 cup Finely Chopped Almonds
1/8 teaspoon Almond Extract (optional)
You'll only need two cups of butterscotch chips if you'll be dusting the tops of your finished truffles with almonds.
If you want to drizzle your completed truffles with butterscotch, then you'll need the extra 1/2 cup of chips to melt to drizzle.
When I made them for the photo and video, I just dusted them with extra finely chopped almonds and they looked great.
Butterscotch Truffles, Step-by-Step Recipe Video
I've made a video to show you each step of the truffle making process, but if watching videos isn't your think, go ahead and scroll down the written step-by-step directions and the printable recipe too.
Butterscotch Truffles in 6 Easy Steps
Making truffles is a process. Not a hard process but there are a few steps to follow. None of them are hard so don't let it deter you. The result is so worth the steps.
Step 1
Place 2 cups of butterscotch chips into a heavy saucepan with the whipping cream. Heat over low until the chips are melted. Then remove from heat and add the almond extract if using. Beat the mixture with a mixer until smooth.
You want to make sure to get all the lumps out so you don't end up with a chunk of butterscotch chip; you want a silky smooth filling.
Step 2
Transfer the butterscotch truffle filling to a covered bowl, and chill in the refrigerator until firm. It will need to cool about an hour.
Step 3
Once the truffle filling is cooled. Scoop into balls and roll the balls in the finely chopped almonds.
Then place on a wax paper or silicone lined baking sheet. Once all the truffles are prepared and rolled in the almonds. Place in the freezer for about 30 minutes.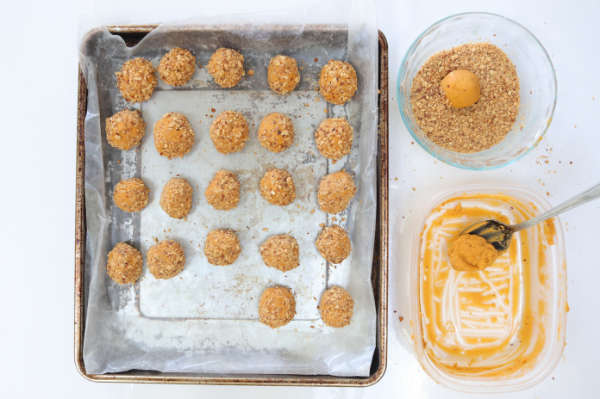 Step 4
While the truffles are in the freezer. Melt the candy coating over low heat until fully melted.
You can use chopped chocolate or milk chocolate chips instead of the candy coating. Just be sure to temper the chocolate so it doesn't turn spotty after it hardens.
Step 5
Dip each of the frozen truffles one by one into the melted chocolate. Then place back on lined sheet pan to harden. Sprinkle immediately after dipping with extra chopped almonds if desired.
If you'll be drizzling your truffles with the melted butterscotch chips, you can do this after they have hardened.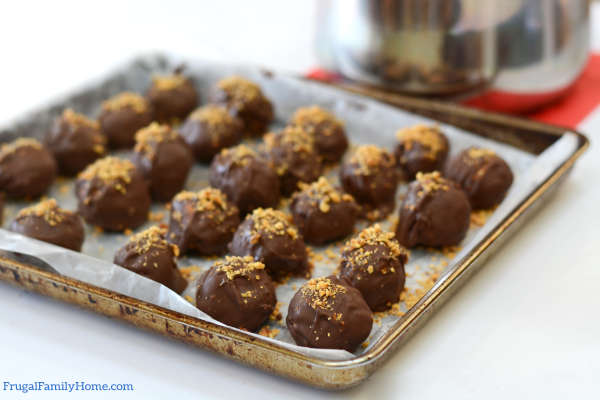 Step 6
Store in an airtight container at room temperature up to 2 weeks. Well, that is, if they last that long.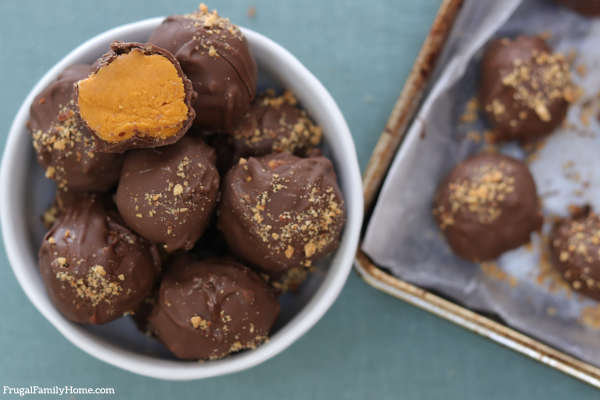 Get the printable recipe below…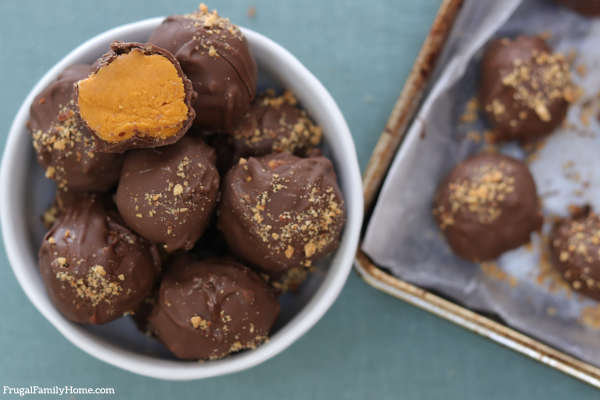 Easy Butterscotch Truffles
These smooth and creamy butterscotch truffles are delicious. And so easy to make too. Great for gift giving.
Ingredients
2

cups

Butterscotch Chips

1/3

cup

Whipping Cream

8

ounces

Candy Coating

1/2

cup

Finely Chopped Almonds

reserve a bit for sprinkling on top

1/2

cup

Butterscotch Chips

optional

1/8

teaspoon

Almond Extract

optional see notes
Instructions
Combine the package of butterscotch chips and whipping cream. Heat over low heat to melt chips. Takes about 5 minutes

Remove from burner and add in almond extract if using.

Beat with a mixer on low until smooth, then refrigerate until mixture is firm about an hour.

Roll the butterscotch filling mixture into balls and then roll into chopped almonds.

Place on a lined cookies sheet and freeze for 30 minutes

While truffles are freezing, melt the candy coating.

Dip the frozen truffles in the candy coating one at a time, then return to lined cookie sheet. Sprinkle with chopped almonds if desired or let the candy coating set.

Melt 1/2 cup of Butterscotch chips and drizzle over prepared truffles.

Truffles can be stored at room temperature in a tightly covered container up to two weeks.
Video
Notes
If you want pure butterscotch flavor, omit the almond extract. I tried this recipe both ways and actually like it without the added almond flavor. But the almond extract can be added if desired.
Nutrition
Serving:
1
Truffle
Calories:
162
kcal
Carbohydrates:
17
g
Protein:
2
g
Fat:
9
g
That's the six easy steps for how to make butterscotch truffles. None of the steps are difficult at all but there is about 90 minutes of chilling time.
But when you bite into the silky smooth truffle filling with the delicious chocolate coating, you'll know this bit of effort and waiting was all worth it.
More Homemade Easy Candy Recipes to Try…