Inside: An easy to make candy bark recipe that combines yummy toffee bits with chocolate and pistachios. It only takes 3 ingredients and about 5 minutes to make.
Have you tried making candy at home before? You might think it would be hard but there are many candy recipes that are easy to make, even for a beginner. This new recipe for Toffee Pistachio Bark is easy to make and turned out so well I had to share it.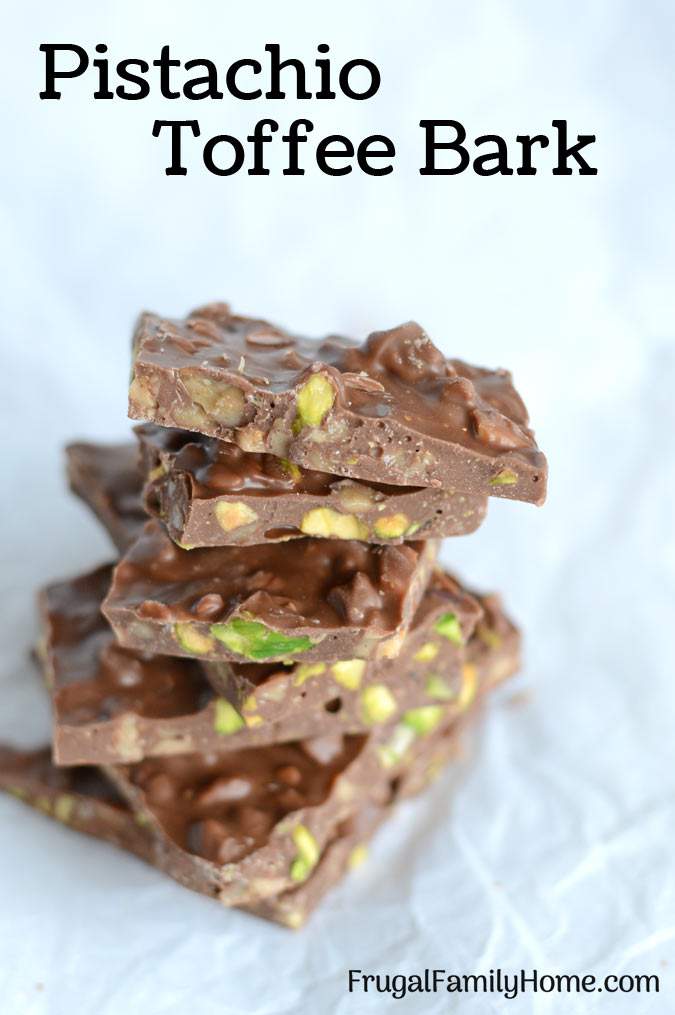 I've always made marbled mint bark and almond bark but over the years I've branched out and have come up with a few new recipes. This year I thought a pistachio toffee bark would be a great combination. I gave my recipe a try and it turned out to be delicious.
We make a variety of different candies and cookies each year to give to our neighbors at Christmas time. I try to expand out to new recipes when I can. I also try to make recipes the kids can help with and this Toffee Pistachio Candy Bark recipe is one they enjoyed helping make.
Like I mentioned above, even if you are new to making candy, making this toffee pistachio bark is really simple. With only three ingredients and about 5 minutes of time, you can have a homemade treat to give away as a hostess gift or to give to neighbors, family or friends.
I altered my almond bark recipe to make this bark recipe. I wanted to make it an easy candy recipe so instead of making the toffee pieces myself, which you could do, I purchased a bag of them from the store.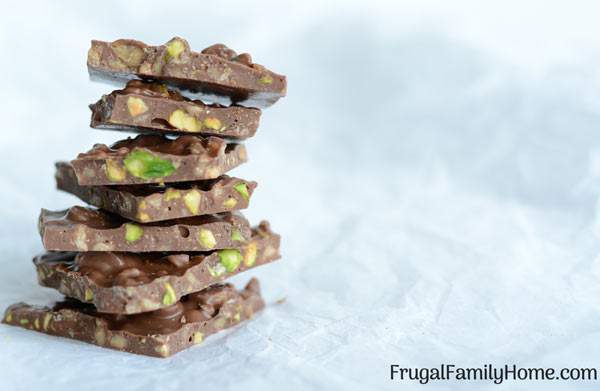 The combination of the crunching toffee pieces with the distinctive taste of the pistachios along with the chocolate bark makes for a delicious treat.
What You'll Need to Make Toffee Pistachio Candy Bark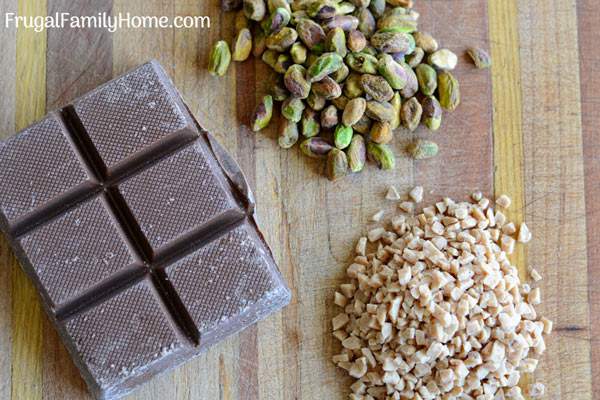 Chocolate Bark or Candy Coating
Pistachios
Toffee Bits
Saucepan
Cookie Sheet
Silpat
I made a quick video for this recipe if you want the written instruction and the printable recipe keep scrolling down.
Steps for Making the Pistachio Toffee Bark
Chop the chocolate bark into small pieces and chop the pistachios. You can vary the size of the nuts or leave them whole if you prefer. I usually do a rough chop and leave some pieces larger with some smaller pieces too. I like the texture it gives to the bark.
Place the chopped chocolate bark into a saucepan. Heat over medium heat until the chocolate is melted and smooth. Be careful not to overheat as the chocolate can become grainy.
Once the chocolate is melted and smooth add the chopped pistachios and toffee bits. Stir to mix well.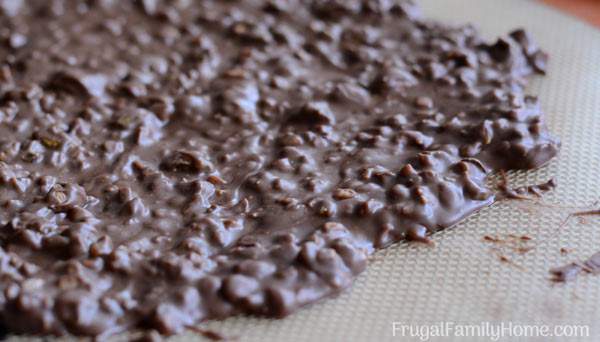 Smooth the chocolate mixture onto a Silpat-lined or foil lined cookie sheet and smooth to desired thickness. I like our bark pretty thin but you might prefer to have thicker bark. Smooth to the thickness you like best.
Let cool until the chocolate is firm. You can speed the cooling process by placing the cookie sheet into the refrigerator for about 10 minutes or until firm.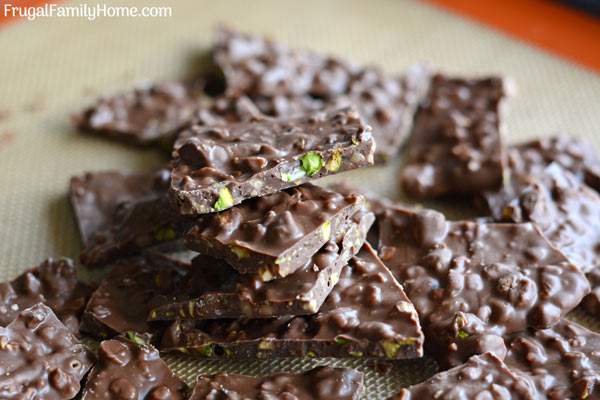 Once the chocolate bark is fully hardened, peel from Silpat and break into pieces.
Store in a sealed container. If you live in a warmer climate you might want to keep the bark in the refrigerator. I'm sure the bark would keep a week or two in a sealed container stored in a cool place. Ours didn't last long.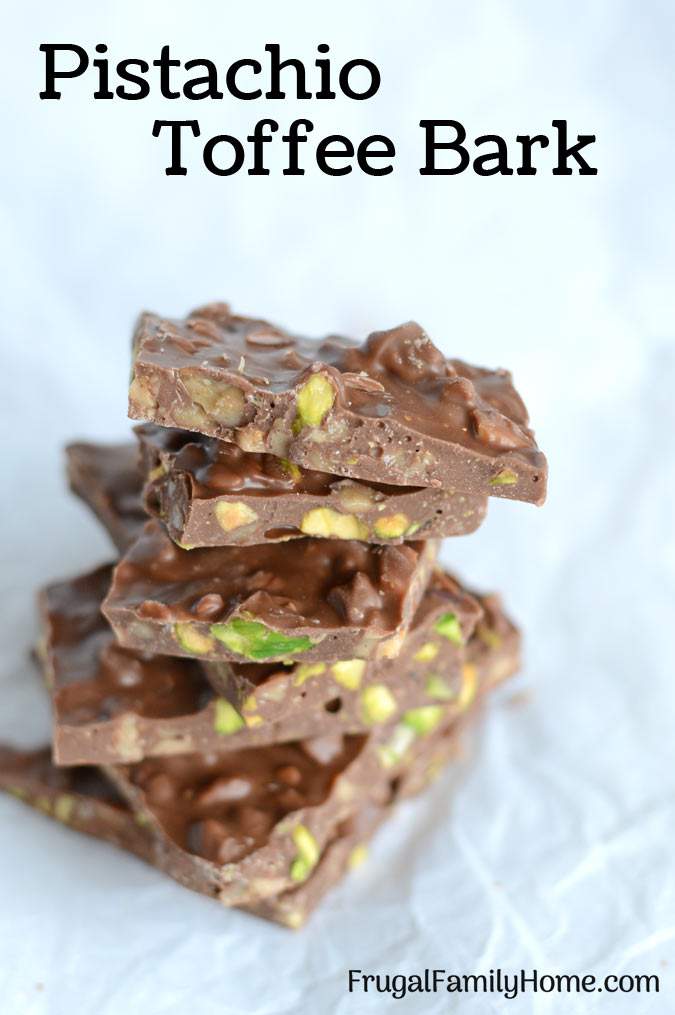 Easy and Delicious Pistachio Toffee Bark
Ingredients
1/3

cupToffee Pieces

1/3

cup

Pistachios

chopped

8

ounces

Chocolate Almond Bark

chopped
Instructions
Place the chopped almond bark into a saucepan and heat over medium heat until it's melted and smooth. Be sure to stir while melting so the chocolate doesn't burn. You can melt the bark in a microwave safe bowl at one-minute increments stirring between each heating cycle. Be careful to not overheat or it can become grainy.

Into the melted chocolate stir in the pistachios and toffee. Stir well to combine.

Quickly pour the chocolate mixture onto a Silpat or foil lined baking sheet. Spread to desired thickness.

Let cool and then break into serving sized pieces.

Store in an airtight container.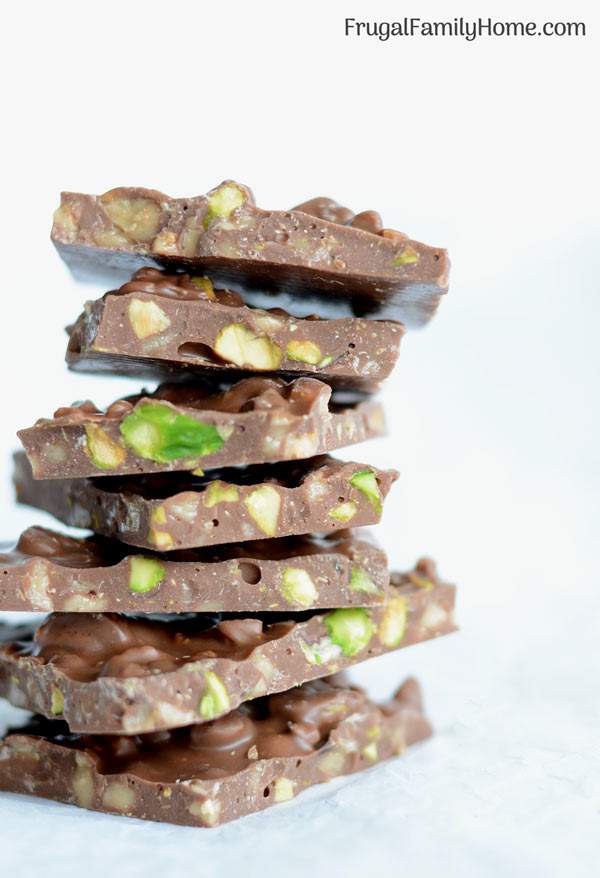 How Much Does it Cost to Make a Batch of Pistachio Toffee Bark?
I always like to see how much it cost to make recipes. It's good to know how much an item cost so you can make a decision if it's better to purchase it already made or to make it yourself. I used the prices at our local retail grocery store. You might be able to get better prices at a discount grocery store in your area.
Heath Toffee Pieces $3.29 per bag 1 1/3 cup per bag or $.83 for this recipe
Shelled Pistachios $5.99 for 6 ounces or $1.99 for the 2 ounces for this recipe
Almond Bark $3.19 for 24 ounces or $1.06 for the 8 oz for this recipe
Total cost comes to $3.88 for about 10 ounces of toffee pistachio candy bark. You could get the cost of this recipe even lower by using a less expensive nut in place of the pistachios. Pistachios are around $14 a pound in the bulk foods at Winco Foods but the peanuts are only $1.69 a pound so that would really reduce the cost of this recipe if it was made with peanut instead.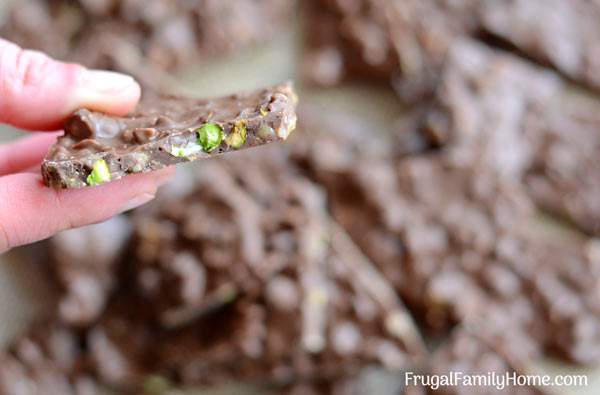 What's your favorite treat recipe to make at Christmas?
More Easy Bark Recipes
Peanut Butter Bark
Butterscotch Bark
Subscribe and you'll get Recipes
sent right to your inbox!
Click the button below and fill out the form.