Do you need a quick and easy dinner idea? Then this recipe for chicken stir fry with peas and pineapple is perfect.
It's quick to make, done in about 20 minutes. And so delicious too. So much better (and cheaper) than take out.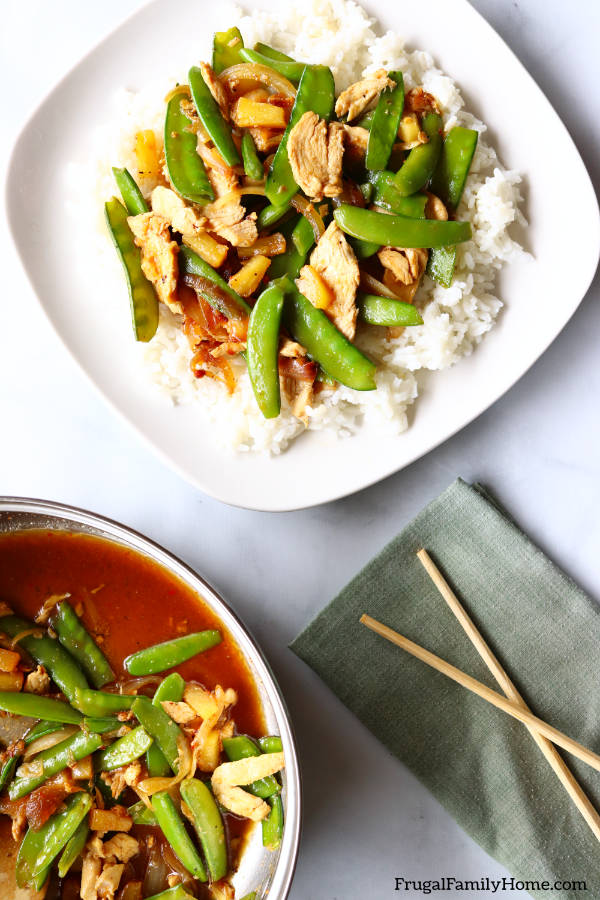 More Easy Chicken Skillet Dinner Recipes: Creamy Chicken and Mushroom | Chicken and Green Bean Stir Fry | Thai Chicken Stir Fry
We have sugar snap peas coming in from the garden, right now. When we have a whole bunch, I love to make a stir-fry dinner with them.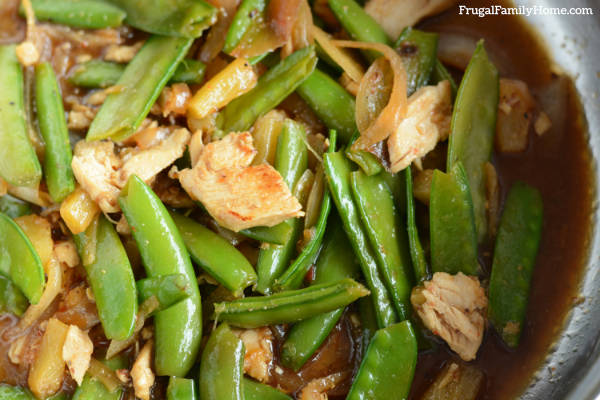 A stir-fry dinner is simple and easy to make. It helps you use up any vegetables you have hanging out in your crisper drawer.
Instead of letting them disintegrate into a mushy mess.
You can use them up, which can save you money. And give you a healthy dinner too.
Below I have the recipe video, step by step instructions, and the printable recipe too.
How to Make Chicken, Pea and Pineapple Stir Fry
Here's the recipe video for you but if watching a video isn't for you. No problem. Scroll down for the step-by-step instructions and the printable recipe too.
Some of the links below are my referral links. Which means as an Amazon Associate I earn from qualifying purchases and when you purchase through them I can make a little money at no extra cost to you. Thanks! See my disclosure policy for more information.
How to Make Chicken Stir Fry from Scratch (step-by-step instructions)
1. Prepare the Vegetables
When making stir-fry it's good to prepare all the vegetables first. You want to have them all prepared and ready to go, because this dish cooks up very quickly.
For the sugar snap peas you'll want to take off the ends and any strings on each side. (see video above)
You'll want to mince the garlic if using fresh garlic.
Cut up the pineapple chunks into a little smaller pieces. Smaller pieces of pineapple are easier to eat.
And thinly sliced the onions. If you have picky eaters that don't like onions you might want to slice them thicker so they are easier to remove.
2. Make the Stir Fry Sauce, How to Make Stir Fry Sauce from Scratch
Once you have all the vegetables prepared, it's time to make the sauce. The sauce is very easy to make, there's no cooking or anything.
To make the sauce, mix the lime juice, sweet chili sauce, soy sauce, water, and the powdered garlic (if not using fresh garlic) and pepper to a small bowl.
Blend with a spoon or small whisk to mix the ingredients and set them aside until you're ready.
Recipe Tip: If you want to thicker stir-fry sauce, add a bit of cornstarch as you are mixing the stir fry sauce. 2 teaspoons to 1 tablespoon will work.
And if you need to eat gluten-free, use gluten-free soy sauce.
We have the sauce and the vegetables ready. Now let's get the meat ready too.
3. Preparing the Chicken
Now before we get started cooking, we need to slice the meat.
I like to slice the chicken really thin. That makes it cook more quickly.
You'll need a sharp knife to get nice and thin slices of chicken.
Recipe Tip: if you are using frozen boneless, skinless chicken breasts, thaw them partially, and then slice into strips. I find if they're partially frozen it's easier to slice them thinly.
If you have bone in chicken breasts here's a video tutorial on how to remove the bones easily.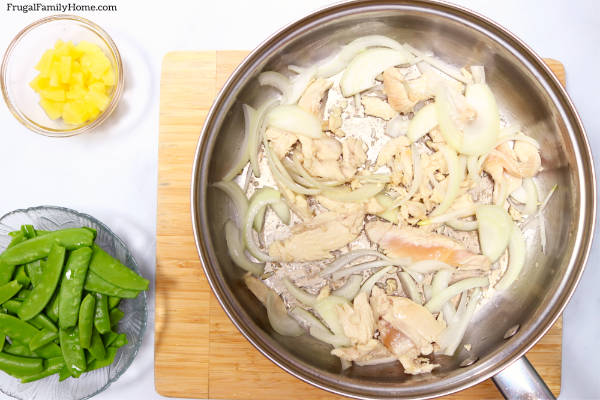 4. Cook the Chicken and Onions
Now it's time to cook. You'll add the oil into the skillet or wok and get the skillet really hot. You want that oil shimmering.
Then add the chicken, and start to stir-fry.
As the chicken turns white, you'll add the onions and stir-fry for a minute or two, until the onion softens.
5. Add Sugar Snap Peas and Garlic (if using fresh)
As soon as the onions are softened a bit, it's time to add our sugar snap peas and the garlic. If you're using fresh garlic.
You don't want to cook it with the peas very long. Only one or two minutes is all you need to cook these last items.
We want the sugar snap peas to be tender crisp and they cook really quickly plus the garlic can burn. You don't want it to turn brown, so keep it moving.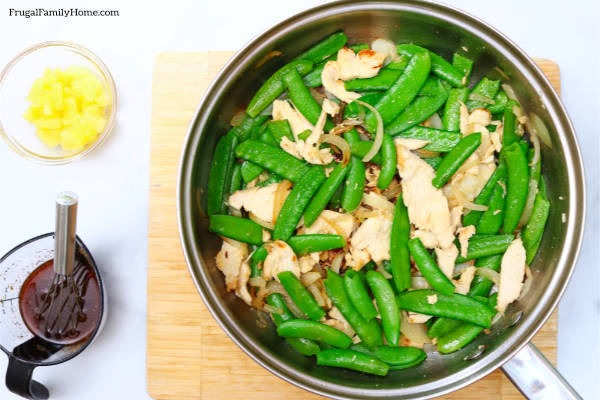 6. Add the Pineapple and Sauce
After the sugar snap peas are tender crisp, we want to add our sauce and the pineapple tidbits. You'll stir fry cook it for about a minute or until it's heated through.
Recipe Tip: if you added cornstarch to your stir-fry sauce, then it will thicken as you stir it in. If you didn't add cornstarch, the sauce won't thicken.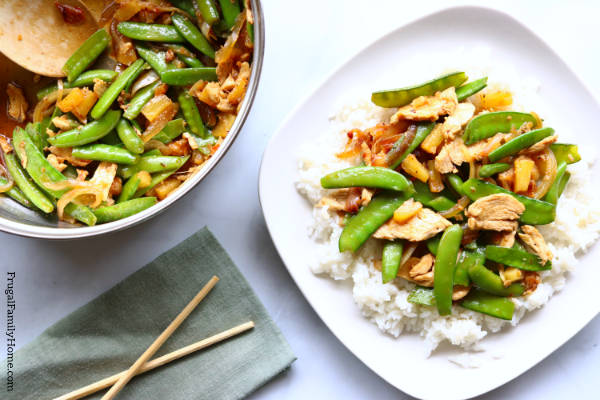 And the recipe is done.
I hope you and your family love this quick and easy healthy dinner as much as my family does.
What Foods go with Stir Fry?
This chicken sugar snap pea and pineapple stir fry recipe is perfect to serve with rice. We like sticky white rice.
Or you can serve stir fry over pan fried noodles. That is so good too.
For a side dishes you might considered serving pot stickers or egg rolls.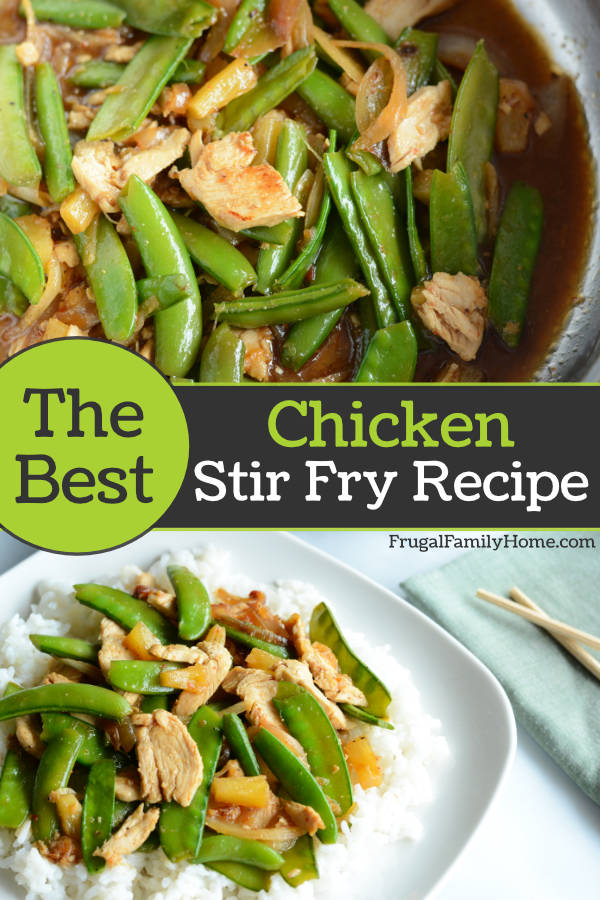 If you want the printable recipe. You can grab it below.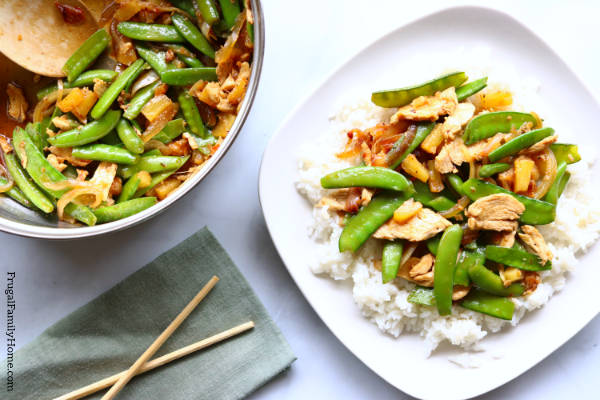 Chicken Stir Fry with Peas and Pineapple
This is a quick and easy dinner idea that's healthy too. Even my picky eater will eat this vegetable packed stir fry.
Ingredients
1.5

pounds

of chicken breast sliced thinly

2

Garlic Cloves

minced or 2 teaspoons Powdered Garlic

1

pound

Snow Peas or Sugar Snap Peas

1/2

cup

Pineapple Chunks or Tidbits

1

large Onion

thinly sliced

2

tablespoons

Oil

3

tablespoons

of Soy Sauce

3

tablespoons

of Water

3

tablespoons

Sweet Chili Sauce

2

teaspoons

Lime Juice

1/2

teaspoon

Pepper
Instructions
Mix the soy sauce, sweet chili sauce, lime juice and pepper to a bowl and stir to combine. Set aside.

To a hot skillet or wok, add the oil. Add the chicken and cook and stir until half cooked through.

Add the onions and stir-fry with the chicken until the chicken is cooked through and browned.

Add the snow peas and garlic. Cook 1-2 minutes. Keep the garlic moving so it doesn't brown or burn.

Add the sauce and the pineapple tidbits, cook 1 minute or until heated through.

Serve in a bowl or over rice or pan fried noodles.
Video
Notes
To thicken the stir fry sauce, you can add 2 teaspoons to 1 tablespoon or cornstarch to the sauce and stir it before adding the sauce to the skillet.
Nutrition
Calories:
361
kcal
Carbohydrates:
21
g
Protein:
41
g
Fat:
11
g
Subscribe and you'll get Recipes
sent right to your inbox!
Click the button below and fill out the form.