Pancakes are always a great breakfast. They are quick and easy to make and so delicious too. But add chocolate chips and they become extraordinary. If you want to make a special breakfast for your family here's a chocolate chip pancakes recipe, you need to try.
You can make them vegan without eggs or milk too. Perfect for the family with allergies.
And if your struggle to get your pancakes to turn out great, there are tips that can answer your questions and help you make perfect pancakes every time.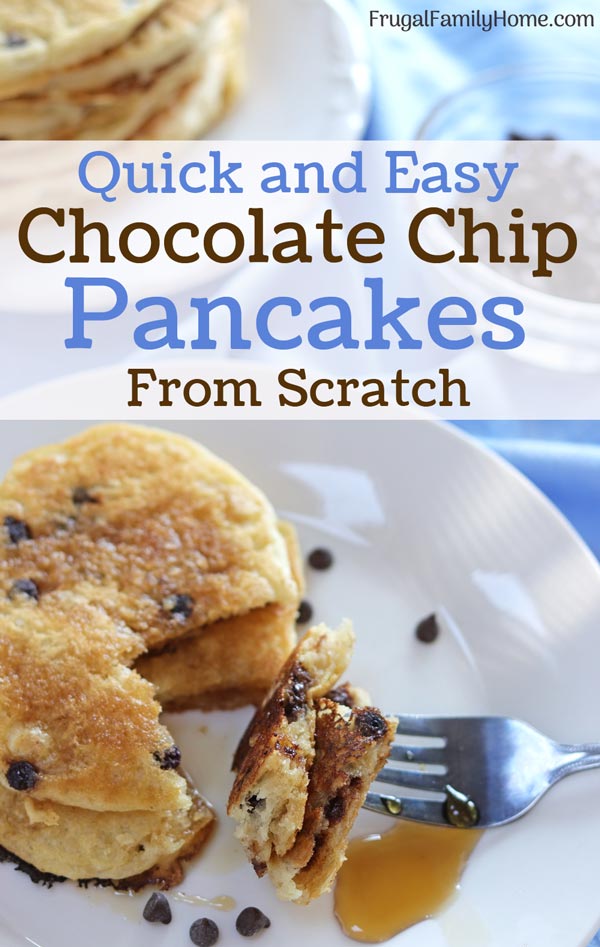 Pancakes, those beautifully browned cakes of breakfast.
The stack of pancakes with steam coming off of them calling out for butter and syrup.
It's a breakfast that almost everyone loves. And while you could make chocolate chip pancakes from a mix, it's simple and easy to make chocolate chip pancakes from scratch.
Making them from scratch controls the ingredients. And you can feel good about serving them to your family for breakfast. Plus cooking from scratch saves money too.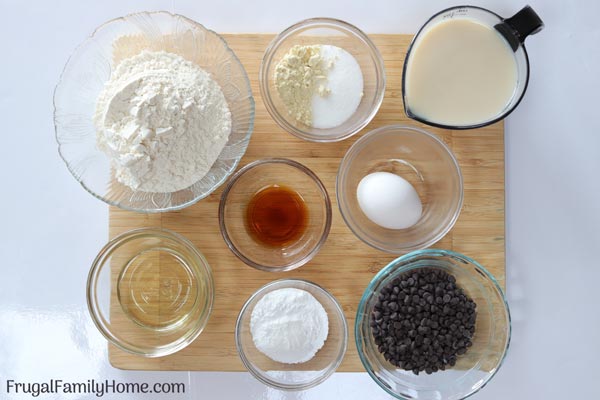 Just so you know, some links in this article are my referral links. Which means when you purchase through them I can make a little money at no extra cost to you. Thanks! See the disclosure policy for more information.
What You'll Need to Make Chocolate Chip Pancakes from Scratch
Before we cook let's gather the items, you'll need to make your own chocolate chip pancakes from scratch. Don't worry there aren't too many of them.
Flour
All purpose flour is great. I like unbleached flour. You can also use whole wheat pastry flour if you prefer.
Baking Powder
This will make the pancakes rise. I like to use an aluminum free baking powder.
Salt
Everyday table salt or sea salt is great. We also love this pink salt too in this recipe.
Sugar
Just regular cane sugar is what we use.
Oil or Butter
I use canola oil most of the time. But you can use olive oil or even coconut oil. If using coconut oil, melt it first.
If you don't have to eat dairy free melted butter is great to use too.
Eggs or Soy Flour
Just one egg is needed but if you need to avoid eggs, try using soy flour instead with a tablespoon of water. This will make your pancakes egg free.
Milk
Regular milk is great but if you need to eat dairy free, you can use soy milk instead. But any milk would work. Another dairy free option is to use juice like apple juice in place of the milk.
Vanilla
Because isn't everything better with a little vanilla added?
Chocolate Chips
In pancakes the mini chips work the best.
Chocolate Chip Pancakes Recipe Video
Now that we know the ingredients let's make this easy chocolate chip pancakes recipe. Here's the video for the recipe, if you'd like to see the pancakes made step by step.
Just want the recipe? Keep on scrolling but be sure to check out the pancake making tips below so your pancakes will turn out perfectly.
Now you've seen how easy it is to make chocolate chip pancakes from scratch, grab the recipe and try it. But be sure to read the pancake recipe tips below too!
Get the Printable Recipe…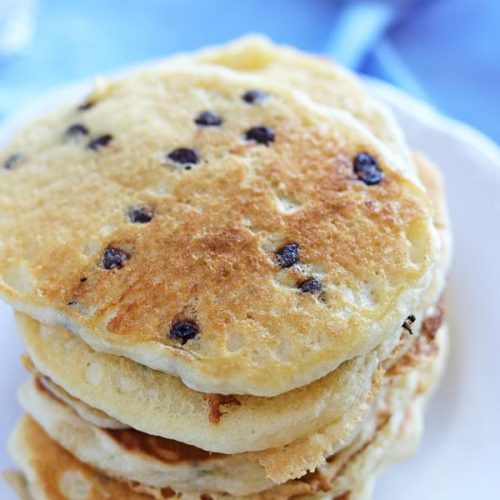 Easy Chocolate Chip Pancakes from Scratch
These chocolate chip pancakes are quick and easy to make from scratch. They turn out so light and fluffy too. There are options for making these egg free, dairy free, and vegan too.
Ingredients
1

cup

Flour

1

tablespoon

Baking Powder

1/2

teaspoon

Salt

1

tablespoon

Sugar

2

tablespoon

Oil or Melted Butter

1

Egg

or 1 tablespoon of Soy Flour

1

cup

Milk

or Milk Substitute

1

teaspoon

vanilla

1/4

cup

Mini Chocolate Chips
Instructions
Heat the skillet to 375 degrees on the stove or turn on your electric skillet to 375 and preheat.

In a large mixing bowl, place the flour, baking powder, salt, and sugar. If using soy flour, add it too.

Use a whisk to mix the dry ingredients well.

Add the milk or milk substitute, oil or melted butter, egg or 1 tablespoon of water if using soy flour. And mix well.

Add the wet ingredients to dry ingredient and mix to moisten all the dry ingredients. Some lumps will remain and that's ok. Don't over mix or the pancakes will be tough.

Sprinkle half of the mini chocolate chips on top of the pancake batter.

Grease your preheated skillet. And spoon batter onto the skillet. About 1/4 cup for an average-sized pancake.

Let cook until bubbles form on top and break.

Flip the pancake and cook until golden on the second side.

Remove and keep warm in a warm oven or serve immediately.

Once half the batter is cooked sprinkle, the remaining chocolate chips on top for the batter and continue cooking.

Enjoy with homemade syrup or powdered sugar sprinkled on top.
Nutrition
Serving:
3
pancakes
Calories:
238
kcal
Carbohydrates:
32
g
Protein:
7
g
Fat:
10
g
Don't leave yet, be sure to read the recipe tips below so your pancakes will turn out perfectly…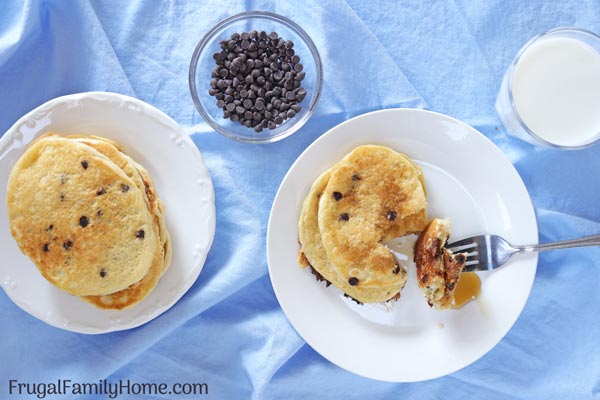 Chocolate Chip Pancakes Recipe Tips
A few tips to make sure your chocolate chip pancakes recipe turns out perfect!
How do you keep chocolate chips from sinking in pancakes?
There are two ways that work well to keep chocolate chips from sinking in pancakes.
The first way is to coat them with flour before adding them to the batter. This little trick will keep them suspended in the batter.
Or you can sprinkle the chocolate chips on top of the pancake batter. They will stay on top and when you scoop the batter they will stay suspended in the batter.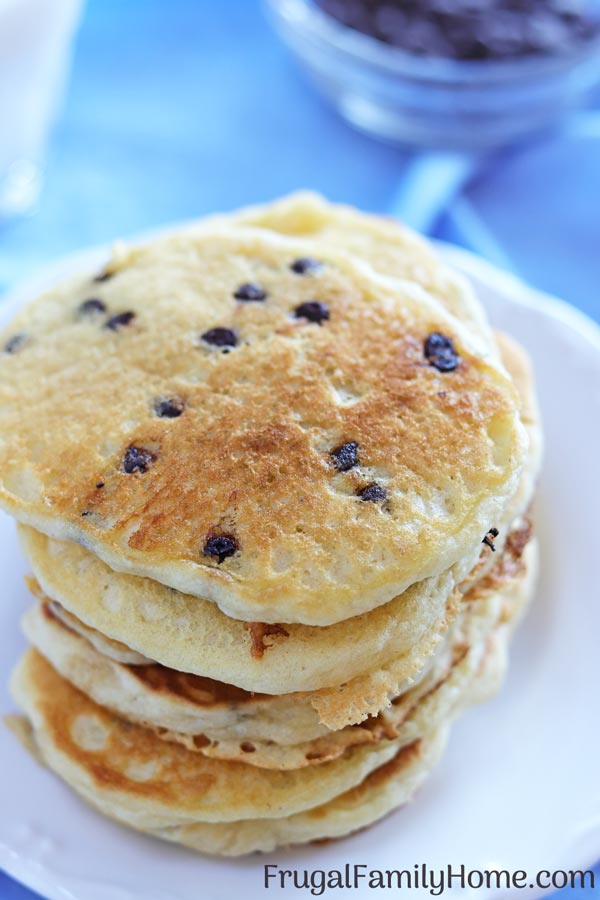 Make Chocolate Chips Pancakes without Milk
To make this chocolate chip pancake recipe with no milk, you can simply substitute any dairy free milk for the regular milk.
We like to use soy milk, but almond milk, coconut milk or even juice like orange, apple, or grape would work equally well.
Where to find Dairy Free Chocolate Chips
This was the hardest part for us when we started eating dairy free, finding chocolate chips without dairy in them.
After searching for a while, we found that the semi-sweet chocolate chips in bulk at WinCo Foods were dairy free.
But you have to be careful and check each time you purchase and read the ingredients on the bulk bin. On a few occasions I've seen the ingredients change, and they contained milk.
We also love this brand of chocolate chips that are dairy free. We've purchase the mini chips and mega chocolate chunks.
And they are so good.
They also have the morsels too. If you need to eat dairy free, I'd definitely recommend trying them.
Make Chocolate Chip Pancakes without Eggs
You can make this chocolate chip pancake recipe without eggs easily. You can leave the egg out and use a little more baking powder instead.
Use 1 teaspoon extra of baking powder in place of the egg.
Another option is to use 1 tablespoon of soy flour with 1 tablespoon of water to replace the egg. Here's where you can purchase soy flour.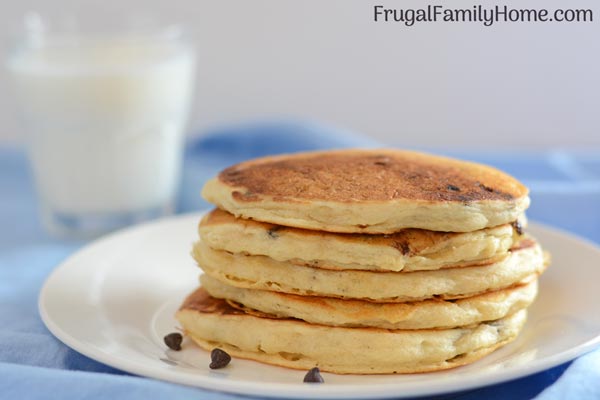 Pancake Making Tips for Perfect Pancakes Every Time
Making pancakes isn't rocket science but there is a little science behind making a perfect pancake. These tips below will make your chocolate chip pancakes or any pancake recipe turn out even better.
Here are a few common pancakes problems and how to solve them too…
What aren't my pancakes fluffy?
You follow the recipe and still your pancakes aren't light and fluffy. You may wonder what the heck happened.
To ensure your pancakes turns out fluffy every time for you don't over mix the batter.
Here's how to avoid over mixing..
When adding your wet ingredients to the dry ingredients only mix until the dry ingredients are moistened. There will be lumps in the batter and that's ok.
My favorite way to mix the liquid in is to whisk slowly while pouring the liquid ingredients into the dry ingredients. This technique moistens the dry ingredients quickly with only a few strokes.
Making for fluffy and light pancakes.
How Do You Know When to Flip a Pancake?
It's hard to know when to flip a pancake. Do you wait until a few bubbles form? Do you wait until the bubbles pop? When do you flip a pancake?
The best time to flip a pancake is when the bubbles are forming and popping. This is when you want to flip your pancake. If you flip too early before the bubbles start to break, then the inside might be wet or doughy.
If you wait too long and let all the bubble pop, your pancake can over cook on one side and not brown on the second side.
You want to watch the bubbles and as you notice the bubble are forming and popping, it's time to flip your pancake. (I have an up close view of when to flip a pancake in the video above.)
How many times should you flip a pancake?
When cooking pancakes you should only need to flip them once. This will cook both sides.
On rare occasions when you flip your pancakes and some batter splashes on the cooked surface of another pancake next to it, you'll need to flip a pancake twice.
If all goes well with flipping, you should only need to flip a pancake once.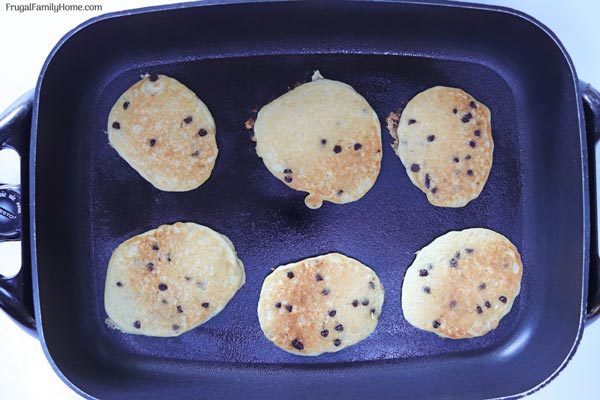 What heat do you use for pancakes?
We have all had those pancakes that don't cook well. It took me a long time to figure out what temperature to cook pancakes at so you get perfect pancakes each time.
After much trial and error, the perfect temperature for cooking pancakes is…
375 degrees. But you also want to heat your skillet to that temperature before you cook.
While you are mixing the batter turn on the burner with the skillet on it or your electric skillet and get it heating up.
How do you make pancakes brown evenly?
Getting evenly browned pancakes can be a challenge if you aren't using the right skillet.
To make sure your pancakes are evenly browned you could use an electric griddle. They have a temperature setting that is easy to set and the pancakes turn out evenly browned.
But if you are like me and want your appliances to be used more versatile, I'd recommending getting this kind of skillet to cook your pancakes in. It not only browns pancakes beautifully but you can also cook so many other things in this skillet too.
I make stir-fry, cook my skillet scones in this skillet and more. It's one of the most used appliances I own. I highly recommend owning one of these skillets.
If you use these tips above, you'll make the best pancakes ever to impress your family and friends.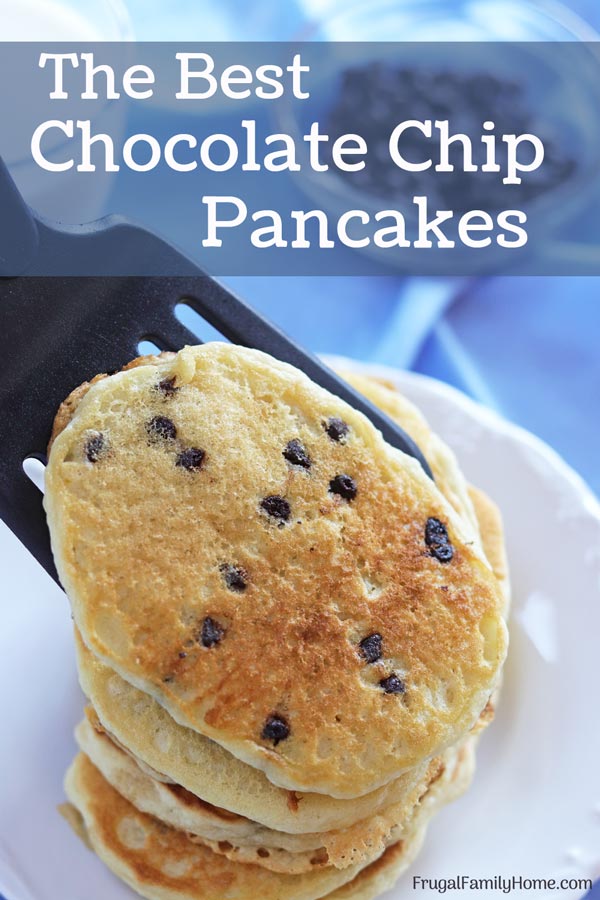 Give this easy chocolate chip pancakes recipe a try. It's easy to make and can be made without egg and dairy so it's vegan. Plus, with all the pancake making tips you'll have perfect pancakes your family can't resist. Yum!
Want More Pancake Recipes? Try These…
Easy Homemade Pancake Mix
Healthy Whole Wheat Pancakes
Homemade Pancake Syrup
Easy Blueberry Sauce for Pancakes and More
Subscribe and you'll get Recipes
sent right to your inbox!
Click the button below and fill out the form.