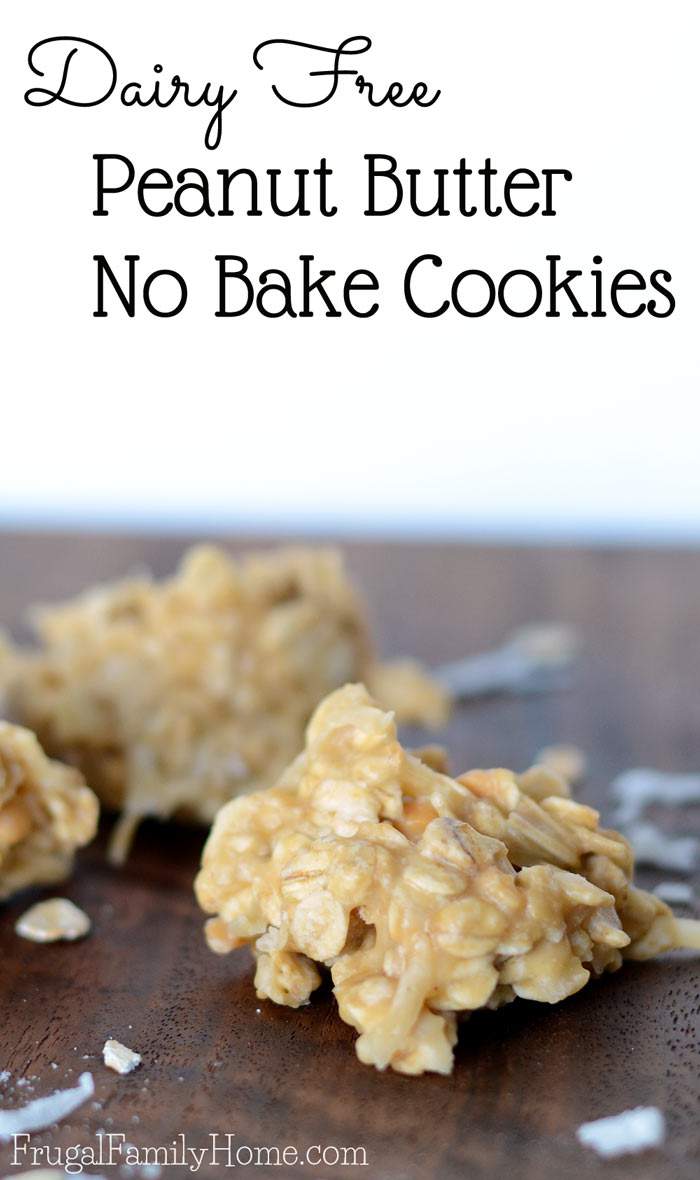 Have you seen my recipe for Dairy Free Chocolate No Bake Cookies? It took me a while to perfect that recipe, but I am so glad I kept trying. Since I was on a roll with altering recipes,  I decided to try my hand at making peanut butter no bake cookies dairy free too.
This recipe is similar to the chocolate no bake cookies but instead of chocolate, it has peanut butter. Sounds so yummy, doesn't it?
Now, I had never heard of peanut butter no bake cookies until a friend described them to me, as he didn't know what they were called. I realized he was talking about a no-bake cookie but with peanut butter. I thought how hard could it be to leave out the cocoa powder and add peanut butter.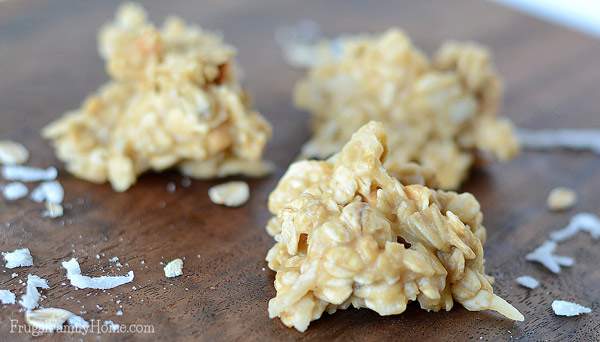 I found a few recipes online and altered them to match up more with my chocolate no-bake recipe, so I would be sure making them dairy free would turn out right.
I think the peanut butter must help to set these up, as they turned out great, the first time I tried making them. Now I have to warn you, these can be a little addictive. I know they don't last long at my house.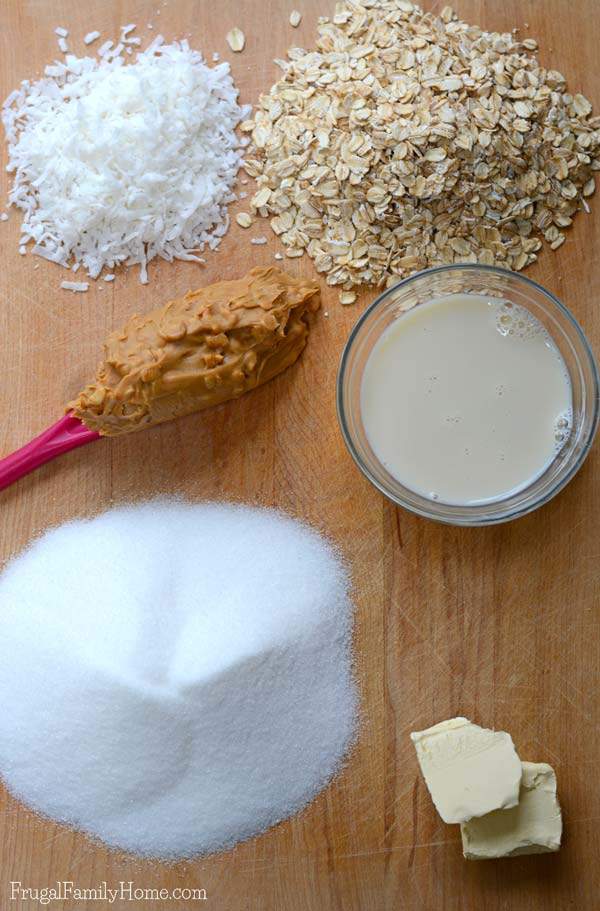 I make this recipe using soy milk. I haven't tried making them with almond or rice milk. My guess is that almond milk might work just fine, but I've had trouble with rice milk setting up in recipes.
Coconut milk should work well too but again, I haven't tried any of those dairy-free milk yet.
I think the main thing to remember when making this recipe is to make sure to boil the mixture for a long enough time. I wait until the mixture is at a full rolling boil before I start timing.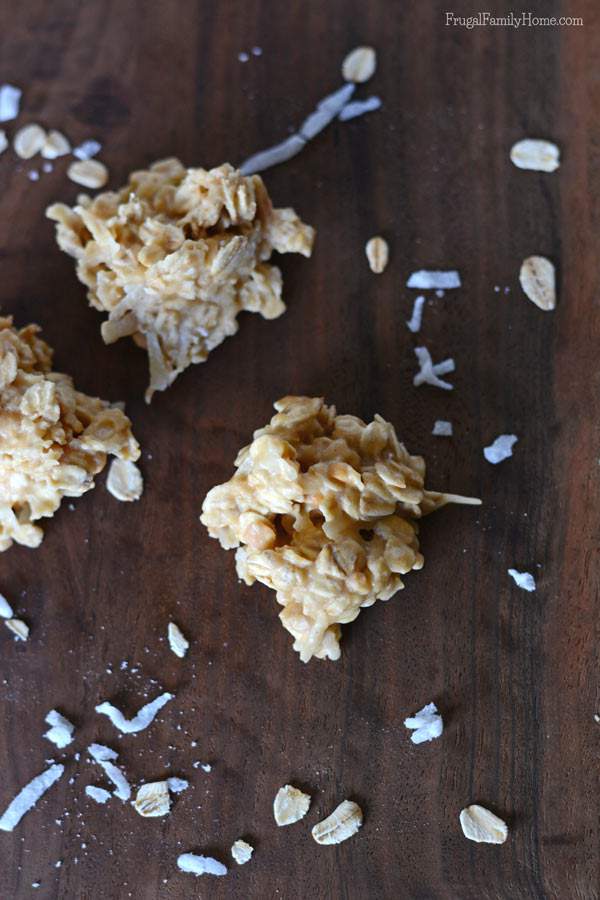 I know if I'm in a hurry and don't let them boil long enough,  these cookies just won't set up well. So take the time to really let them cook the full two minutes at a good full boil. It does make a difference.
If the cookies aren't boiled long enough they won't set up properly and will be a little runny. They will be edible but definitely sticky and gooey.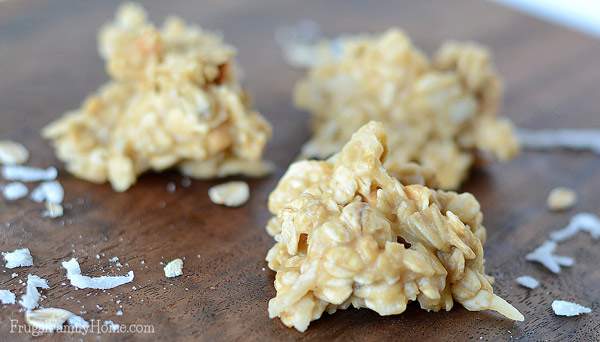 Dairy Free Peanut Butter No Bake Cookies
Ingredients
3

cups

Oatmeal

1

cup

Coconut

2

cups

Sugar

1/2

cup

Soy

Almond or Coconut Milk ( use regular milk if you don't need to eat dairy free)

1

cup

Peanut Butter

1/4

cup

Nucoa Margarine

you can you butter if you don't have to eat dairy free

1

teaspoon

Vanilla
Instructions
Mix milk, sugar, and butter together in a saucepan and cook over medium heat, stirring constantly.

Bring mixture to a full rolling boil and boil while you continue stirring for about 2 minutes.

Take the pan off the stove and stir in the peanut butter and vanilla until the peanut butter is mixed in well.

Stir in the oatmeal and coconut.

Drop by the spoonful on to waxed paper or a Silpat lined baking sheet.

Let cool.

Enjoy.
Have you ever tried making Peanut Butter No Bake Cookies before? Which do you like the best chocolate or the peanut butter?
You can see all the dessert recipes by clicking here.
More Cookie Recipes You'll Love,
Peanut Butter and Jelly Cookies
Pumpkin Chocolate Chip Cookies
Refrigerator Swirled Cookies
Double Chocolate Biscotti
SaveSave
Subscribe and you'll get Recipes
sent right to your inbox!
Click the button below and fill out the form.