Popsicles are such a yummy treat on a warm day. They are so cool and refreshing and so easy to make. Homemade popsicles are a great way to control ingredients, sugar and coloring. These strawberry mint popsicles are healthier, easy to make and fancy enough for adults too.
My kids love popsicles. Heck, I like popsicles. But the ones from the store are just sugar water and cost quite a bit for what you are getting.
I like to make our popsicles a little healthier by adding fruit and homemade sweeteners. Like using homemade mint syrup to sweeten these popsicles.
Making the mint syrup is easy to do when you know how. Plus, it adds so much flavor to these strawberry mint popsicles too. If you make a batch of mint syrup, you'll have enough for not only these popsicles but other recipes too.
I made a quick video to show you how easy it is to make a batch of these strawberry mint popsicles. Keep on scrolling for the printable recipe, how much it will cost to make this recipe, and popsicle making tips too.
How to Make Homemade Popsicles with Strawberry and Mint
How to make Mint Syrup, video tutorial
Just so you know some links below are my referral links. That means when you purchase through them I can make a little money at no extra cost to you. Thanks! See my disclosure policy for more information.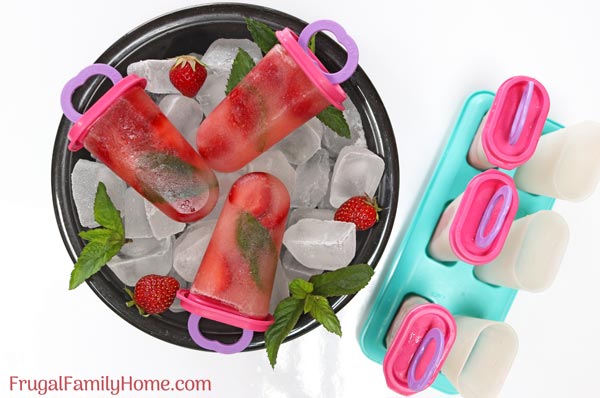 Kitchen Tools You'll Need to Make Homemade Strawberry Mint Popsicles
Popsicle Molds or Paper cups with Popsicle sticks,
We own two popsicle molds and we use them often. They are worth the cost because they can be used over and over.
I like the molds that come with the washable, reusable sticks. That way I don't have to purchase popsicle sticks and have them on hand.
But if you're not sure you'll be making popsicle regularly, you can use paper cups and popsicles sticks in place of the molds.
I have two of these little paring knives and love them. They are so handy and inexpensive too. They work great for coring and cutting the strawberries in half. I think these knives are a must-have item in any kitchen.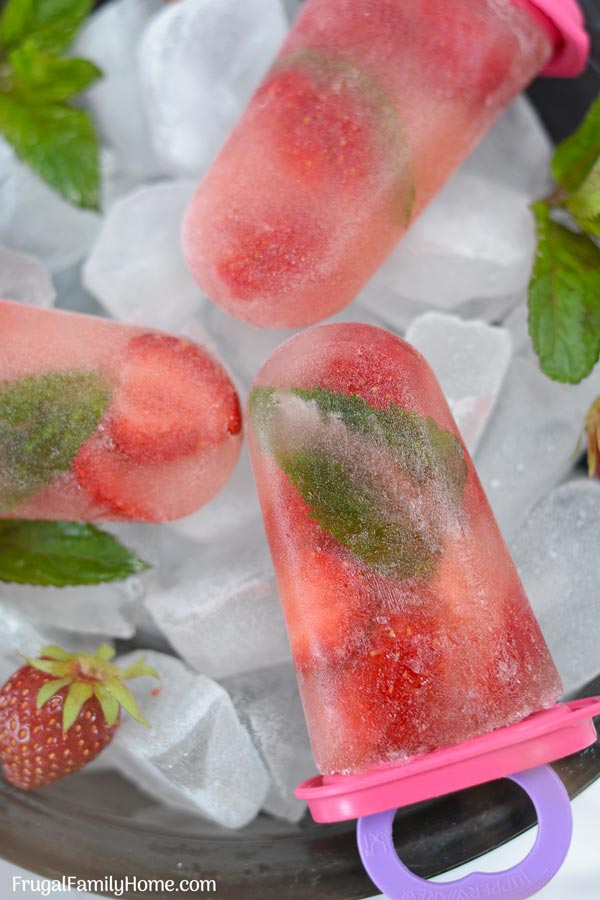 Tips for Making Homemade Popsicles
Slicing the Strawberries
To get the strawberries to stay in place and not float around too much in the popsicle, slice them to fit snugly in the popsicle mold.
I halved most of my strawberries since they were smaller homegrown berries. But if you have bigger strawberries, you might need to cut them into thick slices.
Adding Mint Leaves
If you'll be adding mint leaves, I found it's best to wedge them between the strawberries. I put a strawberry in. Add a mint leaf. Then more strawberries, another mint leaf. Finally, more strawberries at the top.
The berries help to hold the mint leaves in place. And keep them from floating up when you add the liquid.
Adding the Mint Syrup Mixture
When adding the mint syrup mixture pour it in slowly and then give the popsicle mold a shake or a tap. This will help to dislodge any air bubbles that might get stuck around the strawberries or mint.
If an air bubble are left behind, you could have a void in your popsicle.
Un-molding the Popsicles
When you are ready to enjoy your popsicles, it's good to heat the outside of the popsicles container to get the popsicle to release from the mold.
If you don't you could end up pulling the stick out and leaving the popsicle behind in the mold. And that's no good.
If you have individual mold, like mine, it's easy to hold them in your hand for a minute to help make it easier to get them out of the mold.
If your mold is solid, you might try running a little warm water on the popsicles mold area for the one you want to remove. This can help.
If you are using paper cups with popsicles sticks, you can slowly peel the paper cup away from the popsicle and enjoy it.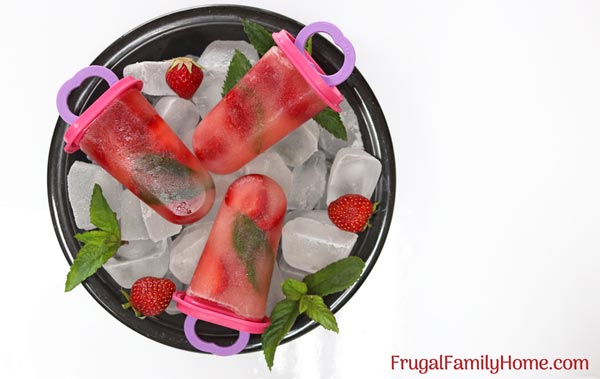 Here's the printable recipe for you. If you'd like to know the cost of making a batch of these popsicles keep on scrolling down.
Strawberry Mint Popsicles
Ingredients
3/4

cup

Water

6

tablespoons

Mint Syrup

8-12

Strawberries

6-12

Mint Leaves

optional
Instructions
Core, wash and cut strawberries in half or slices if large so they can fit into the popsicles molds.

Place strawberries into popsicles molds and add mint leaves if desired.

Mix water and mint syrup in a measuring cup.

Pour the mint syrup mixture into the popsicle molds.

Place in freezer until frozen.

Enjoy!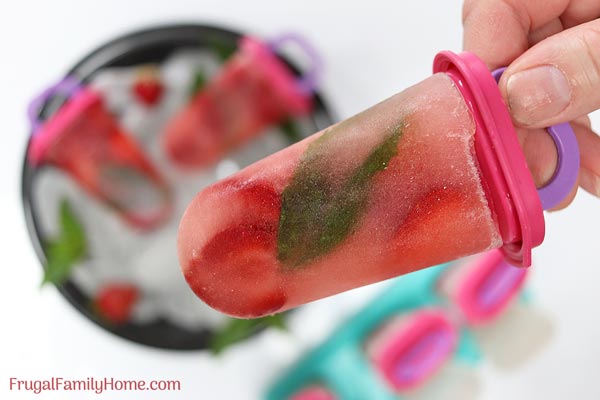 The Cost Breakdown for a Batch of Homemade Strawberry Mint Popsicles
I always like to know how much each recipe I make costs. If you're like me, then you'll love I've already done the math for you. I feel if you know how much it costs to make something at home, you can decide if it's worth your time and effort or not.
Plus it's fun to see how much you can save too. Sometimes it's a lot and other times not so much. But either way the knowledge is good.
A package of fruit popsicles from our local stores cost $3.50 for a box of 6 popsicles making them $.58 each.
The sugar and food coloring popsicles are less. But I wanted to compare the homemade variety with store bought popsicles that are close to the same ingredients as I could.
Cost Breakdown of the Strawberry Mint Popsicles
Strawberries about half a pound $1
Homemade Mint Syrup $.18 for 6 tablespoons
Which brings the total for 6 popsicles to $1.18 or just $.20 a popsicle.
By making these at home you could save almost half the price and that's with purchasing mint in the small packages at the store. If you grow your own mint, the cost would be even less.
There you have it how to make your own homemade strawberry mint popsicles for about half the cost of the store bought ones. They are so good, I'm sure your kids will love them and adults will love them too.
What's your favorite flavor of popsicles?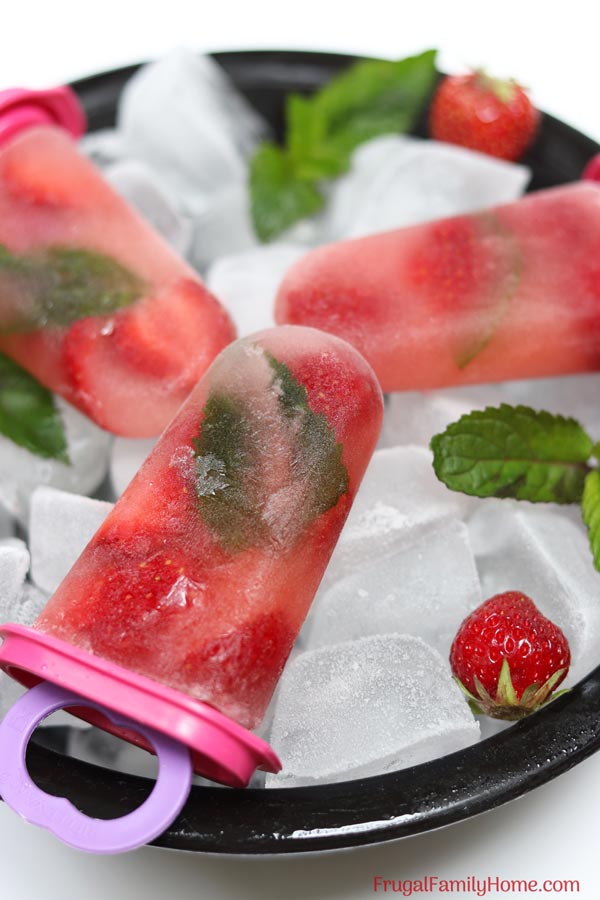 More Yummy Homemade Popsicles to Try…
Raspberry Cream Popsicles
Watermelon Mint Popsicles
Frugal End of the Jar Popsicles
Subscribe and you'll get Recipes
sent right to your inbox!
Click the button below and fill out the form.