Popsicles are a wonderful summer treat and when you make these mint watermelon popsicles they can also be healthier than the store bought ones too.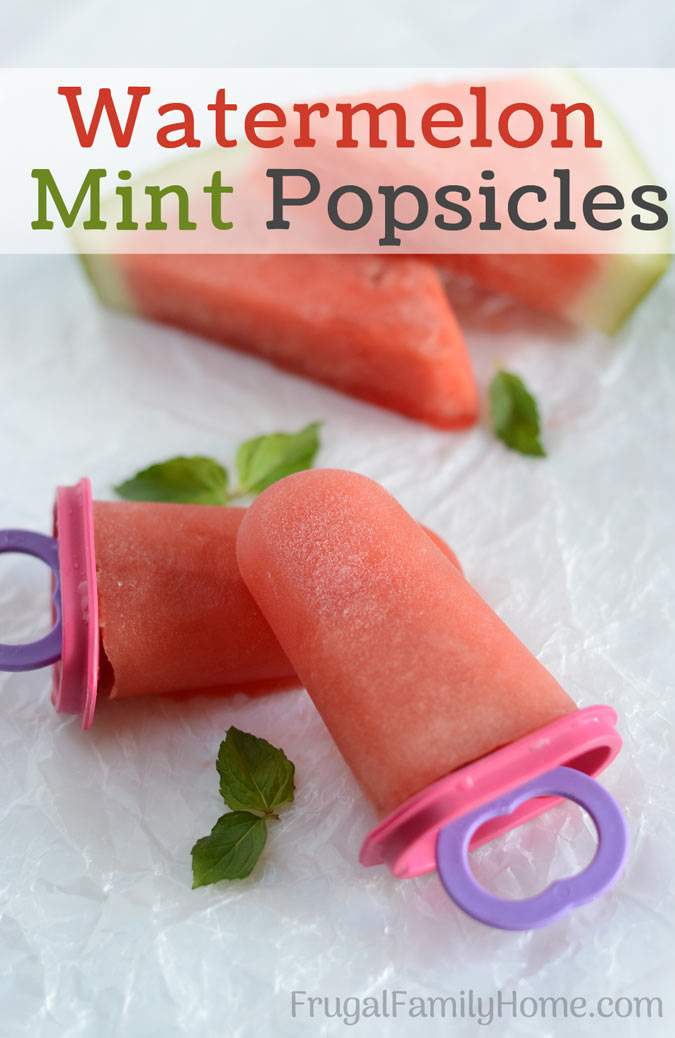 We like to enjoy a wide variety of popsicles at our home. Sometimes I'll use fruit juice and make them. Other times we are craving a cream popsicle like these raspberry cream popsicles with chocolate drizzle.
Then there are times I make popsicles when I don't want food to go to waste.
Making Popsicles to Stop Food Waste
I'm constantly trying to make sure we use up our fresh fruits and vegetables before they get past their prime. Because any food wasted is money wasted too. I hate to throw money away.
Ways to Enjoy Watermelon
When I purchase a whole watermelon we often struggle to eat it all before it goes bad. If it's not too hot out I'll dehydrate part of the watermelon to make watermelon candy. It's just like natural watermelon taffy and so sweet too.
I'll freeze some watermelon to use in homemade smoothie packs. And then sometimes I'll make popsicles out our watermelon.
Since watermelon isn't all that sweet, at least not the ones I seem to pick out, I like to add just a touch of sweetener to our popsicles. To add that sweetness simple syrup can be wonderful.
The sugar is already dissolved so no need to worry about sugar crystals not dissolving.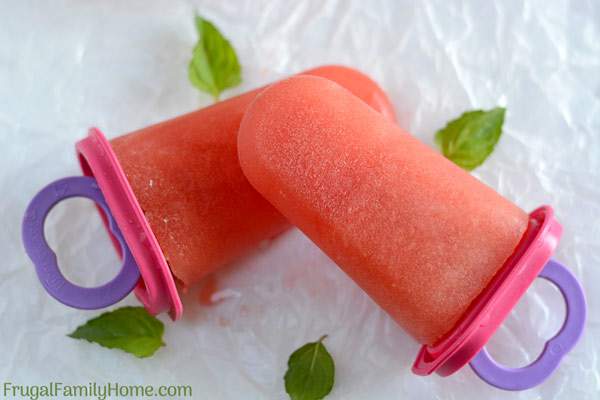 But I thought for this recipe it would be nice to have a little mint flavor added. So I started by making a batch of simple mint syrup.
This not only works great in this recipe but works great to flavor and sweeten lemonade, fruit water, or ice tea.
If you've never made simple mint syrup check out this quick video tutorial and recipe, only 3 ingredients needed.
Some of the links in this post are my referral links. Which means when you purchase through them I might make a little money at no extra cost to you. Thanks for your support in this way.
What You'll Need to Make Watermelon Mint Popsicles
Watermelon, cut into small chunks
Simple Mint Syrup
Popsicle Molds
Hand Blender or Blender 
How to Make Watermelon Mint Popsicles
1. Cut watermelon into cubes, smaller cubes of watermelon blend up faster with the hand blender if using a standard blender, larger chunks will be alright.
2. Blend the Watermelon Cubes, The smoother you blend the watermelon the better these popsicles are. Be sure to blend long enough to make the mixture smooth.
3. Add Mint Syrup, Add your mint syrup into the blended watermelon and blend for a few seconds to mix well.
4. Taste and Adjust, If your watermelon is pretty sweet you might not need too much mint syrup. If you want a sweeter and mintier popsicle, add more mint simple syrup.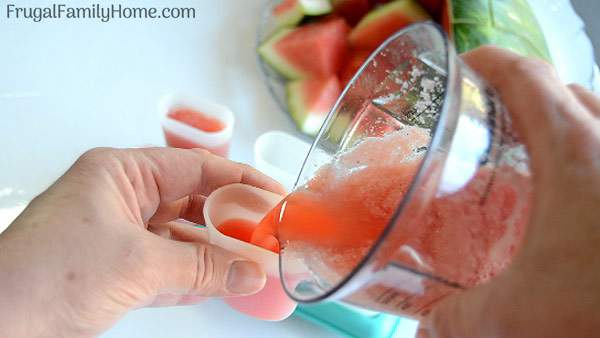 5. Fill the Popsicle Molds, pour your blended and adjust watermelon mint popsicle mixture into the popsicle molds and place lids on and add sticks.
6. Freeze, Freeze your popsicles until firm and enjoy.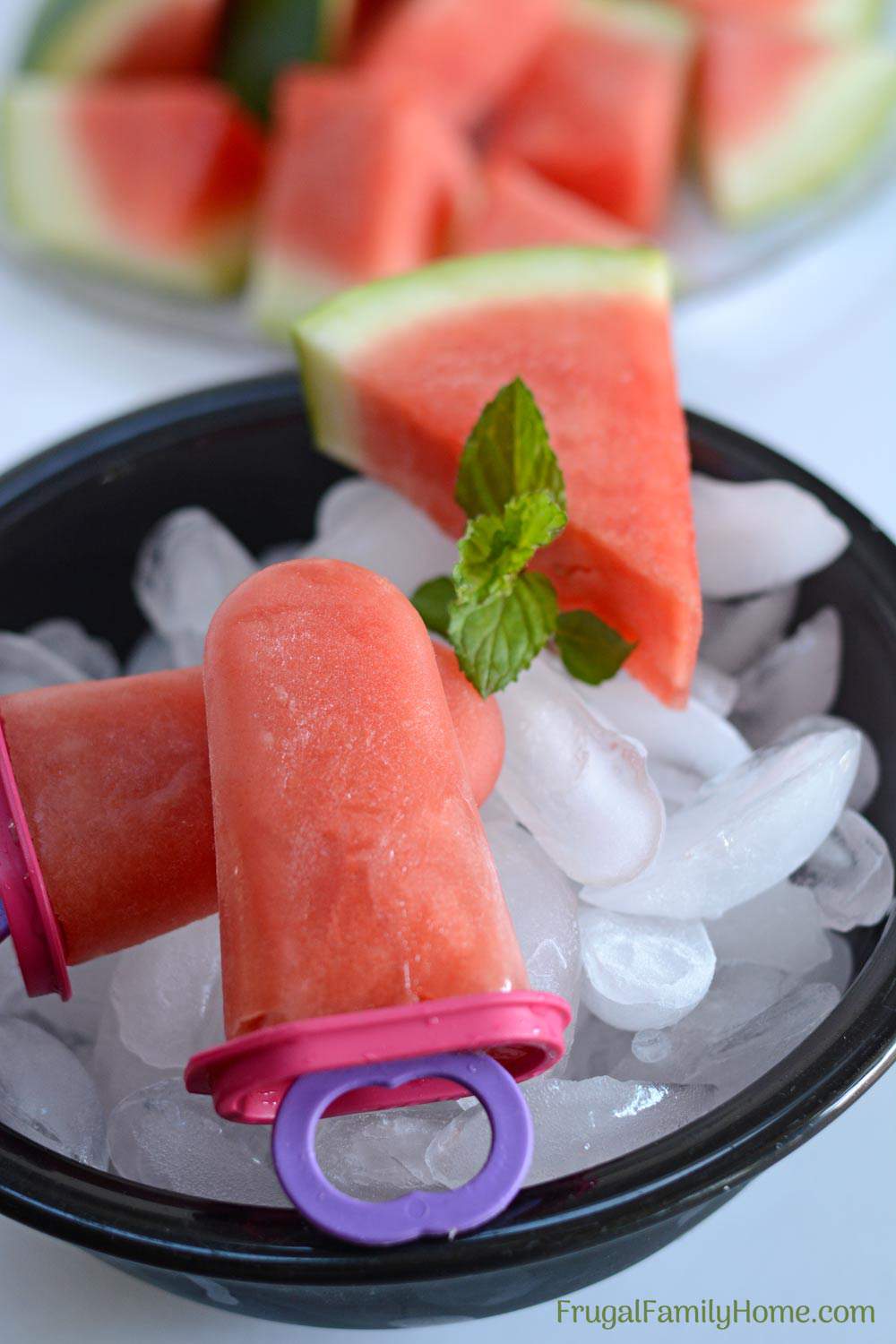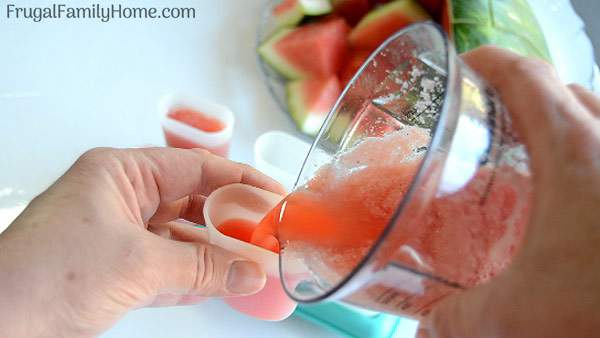 Mint Watermelon Popsicles
Ingredients
2

cups

Watermelon

2

tablespoons

Mint Simple Syrup
Instructions
Cut the watermelon into small cube and blend with a hand blender or in a blender until smooth.

Add mint simple syrup to flavor and sweeten the watermelon. Blend again to mix.

Taste mixture and add more mint syrup if needed.

Pour mixture into popsicle molds and freeze.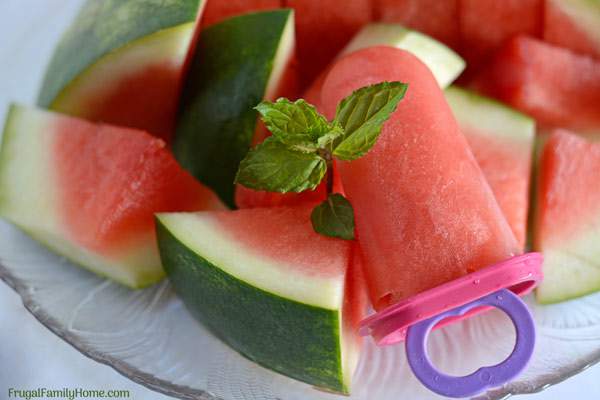 What to Do with Extra Mint Watermelon Popsicles Mixture
It's hard to gauge how much watermelon you'll need to fill your popsicles molds. But there are many different sized molds so it can vary. The recipe is written above for six 2 ounce popsicles molds.
I use the Tupperware brand ones. Here's an Amazon link to the newer version of the Tupperware molds. But these popsicle molds also look like a great option and they are less expensive too.
If you end up with too much watermelon mixture give this idea a try. Add a little ice to the mixture, blend with the hand blender and you have a watermelon mint slushie to enjoy until your popsicles are frozen.
That's how quick and easy it is to make your own watermelon mint popsicles at home. Definitely more flavorful and healthy than the store bought sugary ones.
What kind of fruit combinations do you like to add to your popsicles?
More Yummy Ways to Cool Down…
End of Jar Popsicles
Homemade Strawberry Ice Cream
Homemade Caramel Sauce
Pin it for Later…

Subscribe and you'll get Recipes
sent right to your inbox!
Click the button below and fill out the form.