Have you ever made simple syrup before? I like to make a batch during the summer to add a little sweetness to all those great summer drinks. I especially like it in tea. But I also like a little hint of mint in my tea too. That's why I love this recipe for mint simple syrup. It adds a little sweetness and a refreshing hint of mint flavor too.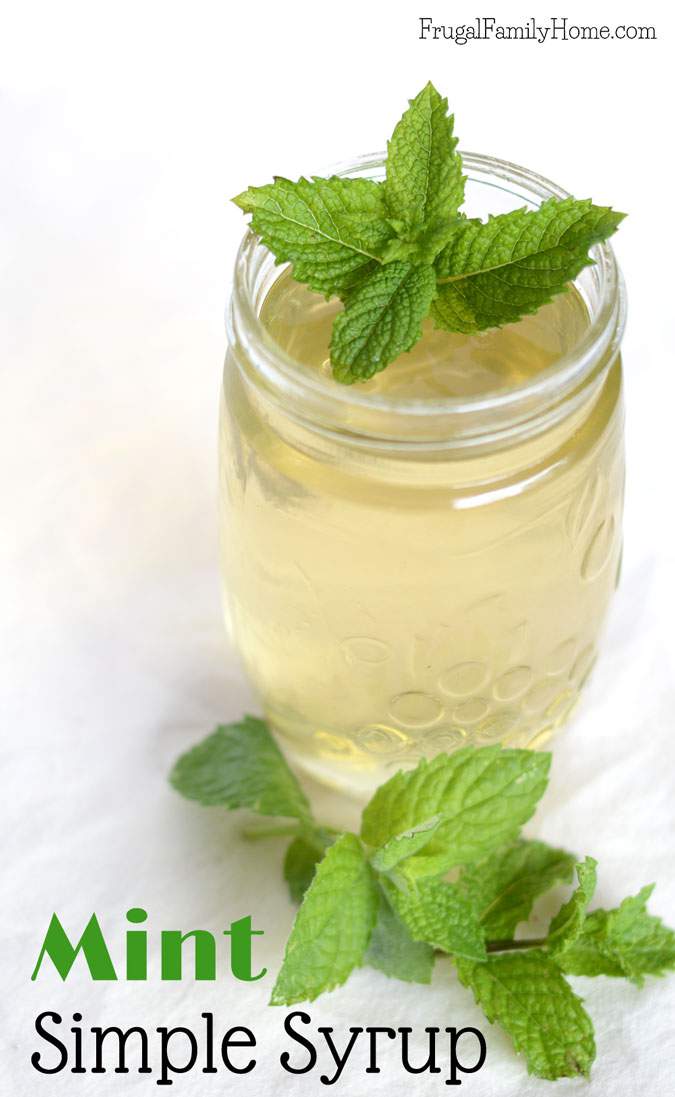 I don't' know why but I like to have a little sweetener added to my tea. I don't like tea plain. For some reason, I can taste a bitter taste to all of it but if I add a little sweeter it tastes so much better.
I usually add a little sugar to hot tea, it dissolves very quickly and is delicious. But that doesn't happen with cold tea as well.
Why Make Mint Simple Syrup?
When you add sugar to cold tea it doesn't dissolve as well. You have to stir and stir and stir to get it to all dissolve. Then after all the stirring, there still can be a sugar in the bottom of the glass.
When you get down to the bottom you get a big burst of sugar with a little tea and it can be gritty.
That's not how I like to finish my tea. I like the sweet flavor to be blended throughout the tea. To avoid the gritty sugar bottom, I make a simple syrup to sweeten all those cool and refreshing drinks during the summer.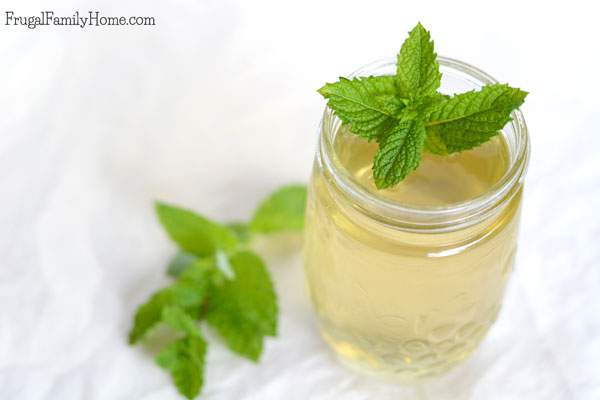 With simple syrup, the sugar is already dissolved. You can add a teaspoon or more to your cold drink, give it a stir, and enjoy it right down to the very bottom.
No gritty sugar sludge will be waiting for you at the bottom.
Plain simple syrup is great. It works in all kinds of drinks and is so easy to make.
How to Use Mint Simple Syrup
But for tea and a few other drinks, it's nice to have a hint of mint added. That's why I like to also make mint simple syrup. It's versatile like regular simple syrup but with a nice refreshing hint of mint too.
You can also use mint simple syrup in other drinks than tea. You can add it to water to make a delicious minty and slightly sweet refreshing drink.
Add a little mint simple syrup to sparkling water for a bubbly minty drink. And you can use mint simple syrup in drinks like mint julep cocktails too.
Now let's get to what you need to make your own mint simple syrup. Be sure to watch the recipe video below too.
Ingredients Needed to Make Mint Simple Syrup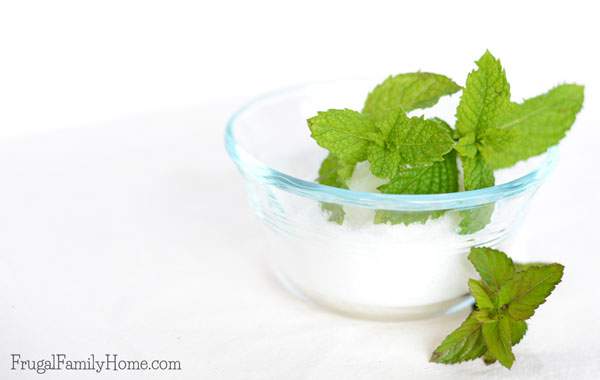 Fresh Mint, any variety you like
Sugar
Water
If you have mint growing in your garden you can make this recipe really easily. I have three varieties of mint.
I have peppermint, spearmint, and a chewing gum spearmint. I like the chewing gum spearmint the best, it has the strongest spearmint flavor. I prefer spearmint over peppermint.
You can use any type of mint you would like. There are so many varieties out that to choose from.
If you don't grow mint at your home, you can pick up fresh mint at the grocery store usually in the produce section.
Or if you have a gardening friend, ask if they have mint. If they grow it they are likely to have more than enough and be willing to share with you or maybe even give you a start so you can grow your own.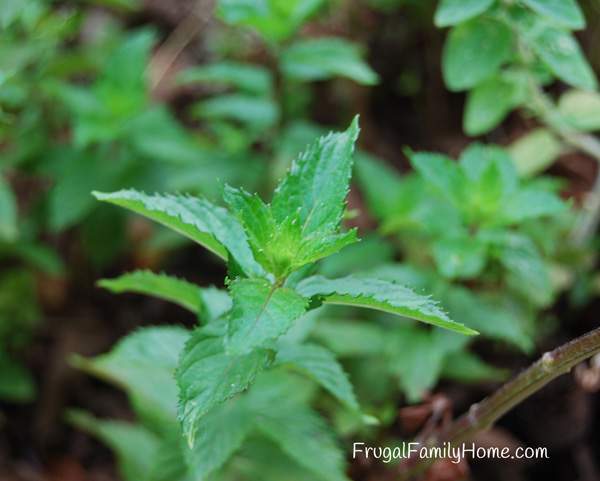 One Tip for Growing Mint in Your Garden
One word of caution for growing your own mint, plant it in a pot. It can really spread and take over, similar to bamboo.
Be sure to plant it in a pot to get it confined to where you want it. Otherwise mint can take over the garden.
How to Make Mint Simple Syrup (Step by Step Video Tutorial)
Written Directions for Making Mint Syrup
1. Place water and sugar into a pan.
2. Heat sugar mixture while stirring. Heat and stir until the sugar is completely dissolved.
3. Once sugar is dissolved add in the chopped mint and let steep covered until the mixture is room temperature.
4. Strain the mint leaves out of the syrup.
5. Store in a sterilized container in the refrigerator up to about a month.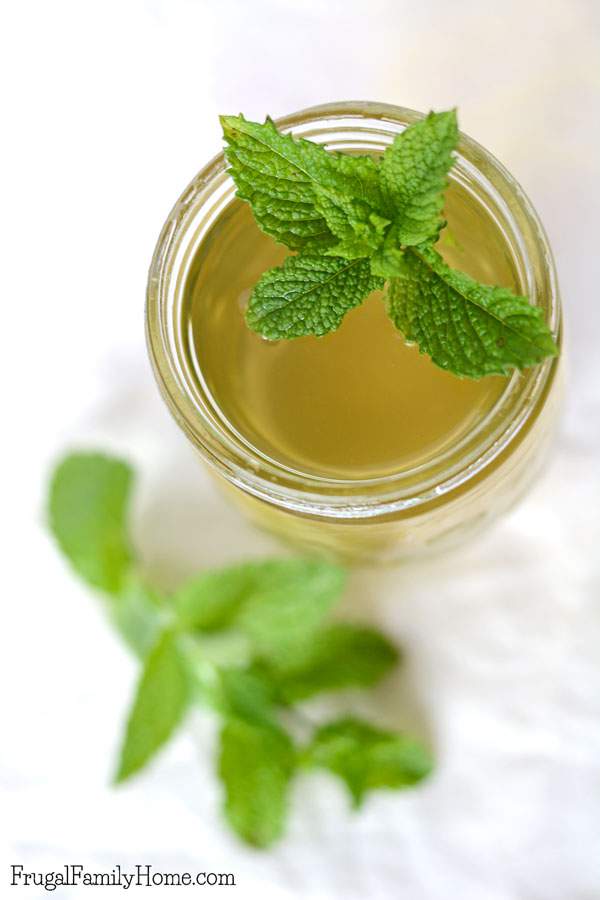 Tips for Making the Mint Simple Syrup
Start with Sugar and Water then add Mint
It's easier to tell when the sugar is fully completely dissolved if you don't add the mint until after cooking the syrup.
Chop the Mint for better Infusion
The mint syrup is mintier if you chop the mint. I chop the leaves and the stems.
Put a Lid on While it Steeps
Put a lid on the pot while it steeps. I've read this helps to keep the mint oil from evaporating out.
How Long Can You Keep Mint Simple Syrup?
If you use the process described in this recipe, your mint simple syrup will keep about a month in the refrigerator. Well, that is if it lasts that long.
Can You Freeze Mint Simple Syrup?
If you want to keep your mint simple syrup longer than a month, you'll need to freeze it and yes, you can freeze it. Place it in a sterile, clean container and freeze.
Your mint simple syrup will keep up to one year.
Grab the printable recipe below…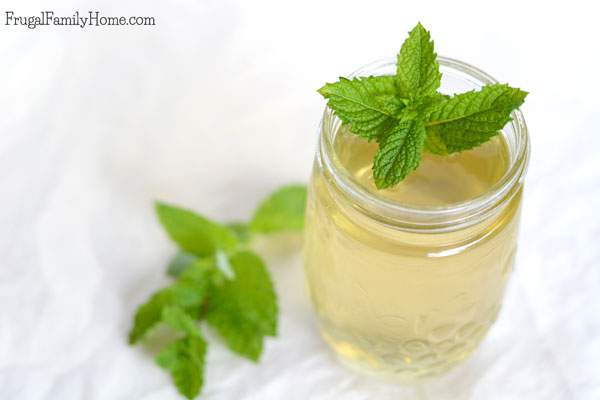 How to Make Mint Simple Syrup
A simple and easy recipe to make your own mint syrup in minutes. This syrup is great to add to all kinds of drinks to sweeten them and add a hint of mint flavoring too. So refreshing.
Ingredients
1

cup

Water

1

cup

Sugar

1/2

cup

Mint

chopped
Instructions
Add the water and sugar to a saucepan.

Heat on high heat while stirring until the sugar completely dissolves.

Remove from heat and add the chopped mint leaves.

Cover the pan and let the mint leaves steep until the syrup is at room temperature.

Strain the mint leaves from the syrup.

Store the mint syrup in a sterilized container in the refrigerator.
Video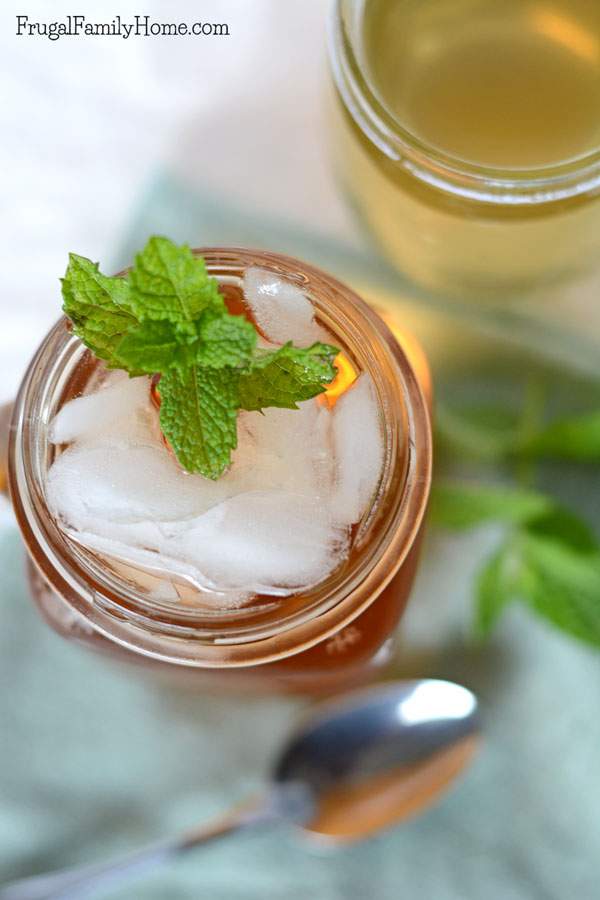 I love to use mint simple syrup in water, tea, and even in lemonade or limeade to add a fresh mint flavor. It's easy to make and last quite a while in the refrigerator. What would you add the mint simple syrup to?
Find More Refreshing Drink Recipes
More Beverage Recipes You'll Want to Try
Refreshing Mint Water
Raspberry Mint Lemonade
Strawberry Limeade
Subscribe and you'll get Recipes
sent right to your inbox!
Click the button below and fill out the form.