Lemonade is the go to summer thirst quencher. When it's hot out I like to make a deliciously refreshing drink to enjoy. Regular lemonade is great, but sometimes you want something special. That's when I like to make this recipe for raspberry mint lemonade.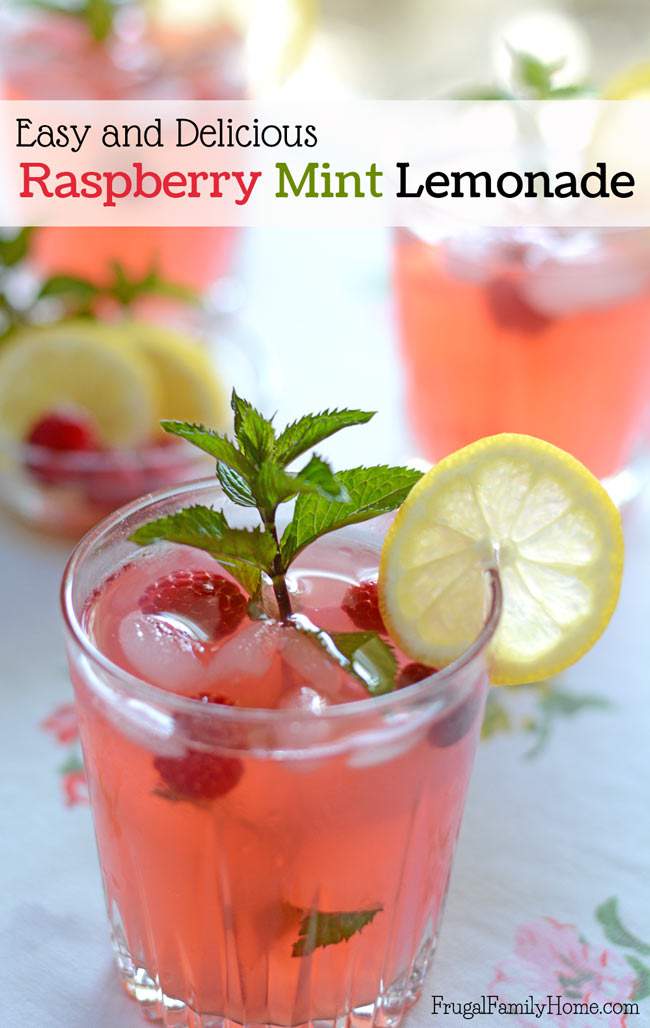 This recipe was inspired by my abundance of raspberries coming from my garden. They have been producing so well this year, which I'm really happy about. Plus for this week's Tuesday's in the Garden we are all sharing harvest to table recipes.
With summer's arrival and raspberries being abundant in my garden, I thought this recipe would be the perfect one to share.
Now even if you don't have a garden you can make this recipe or any of the other recipes shared by the Tuesdays in the Garden bloggers with produce you can find at your local farmers market or even your local grocery store.
This time of year when fresh produce is so abundant you might even find locally grown produce at the grocery store.
Not only are my raspberries producing well but the mint is growing great too. What can be more refreshing than a little mint? I can't think of much that could be. I often make mint water with the three kinds of mint that we grow in our garden and I knew I needed to include the mint in this recipe.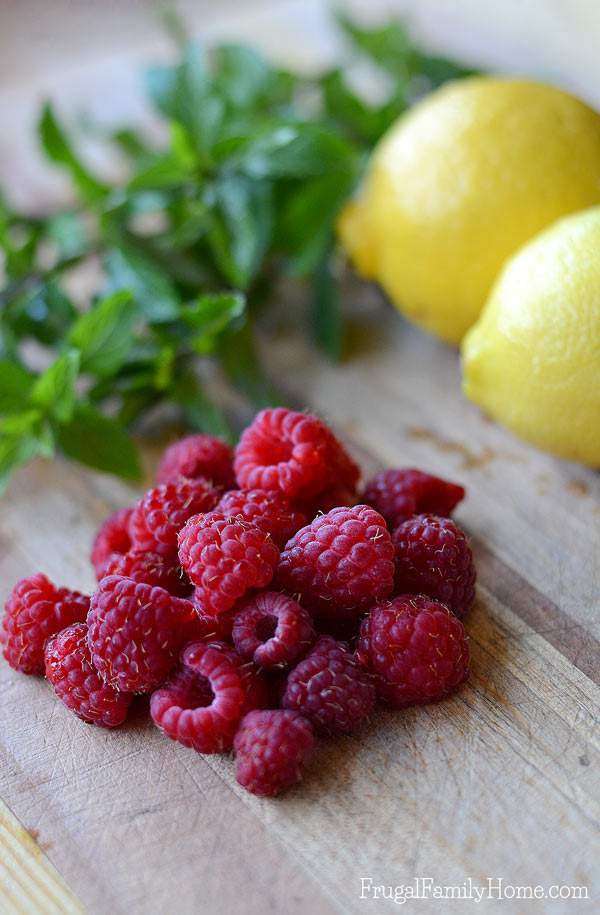 With the raspberries from the garden and the mint too, all I needed were a few lemons and I was ready to make the lemonade.
I wish I could grow lemons here but I'm not sure our cooler climate would be very welcoming to a lemon tree, but maybe someday, I'll give it a try. For now, I picked up the lemons at the store.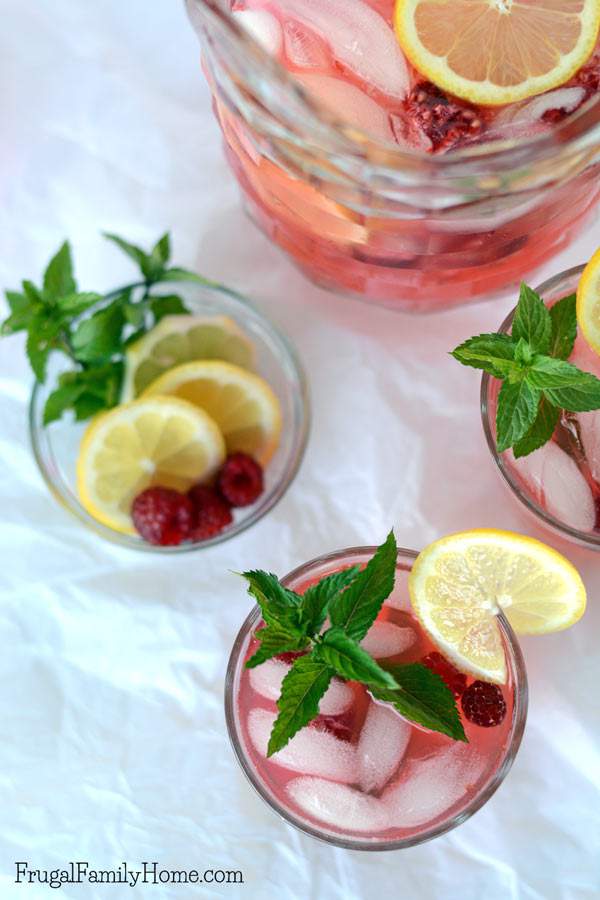 The resulting recipe is so delicious. I love the citrus blend of the lemon with the sweetness of the raspberries. The mint isn't overpowering at all, there is just a hint of it in this recipe.
I made a quick, less than 3 minutes video, on how to make this raspberry mint lemonade. If you would like to print the recipe keep on scrolling down. Plus below the video, I'm sharing tips for how to adjust this recipe to your own tastes.
Adjust the Raspberry Mint Lemonade to Fit your Tastes
This recipe is a little tart, if you like your lemonade more on the sweet side, add more sugar. Or you can make the recipe as is and when you serve it, serve it with sugar.
If you want a more intense raspberry flavor, make the raspberry mint lemonade a day ahead and let it sit. The raspberry flavor gets more intense as it sits.
If you would like more mint flavor, let the mint steep in the sugar water longer. I let mine steep for 15-20 minutes for subtle flavor but you could let it steep longer for a more intense mint flavor.
Or chop your mint instead of adding the sprigs to the pan to steep.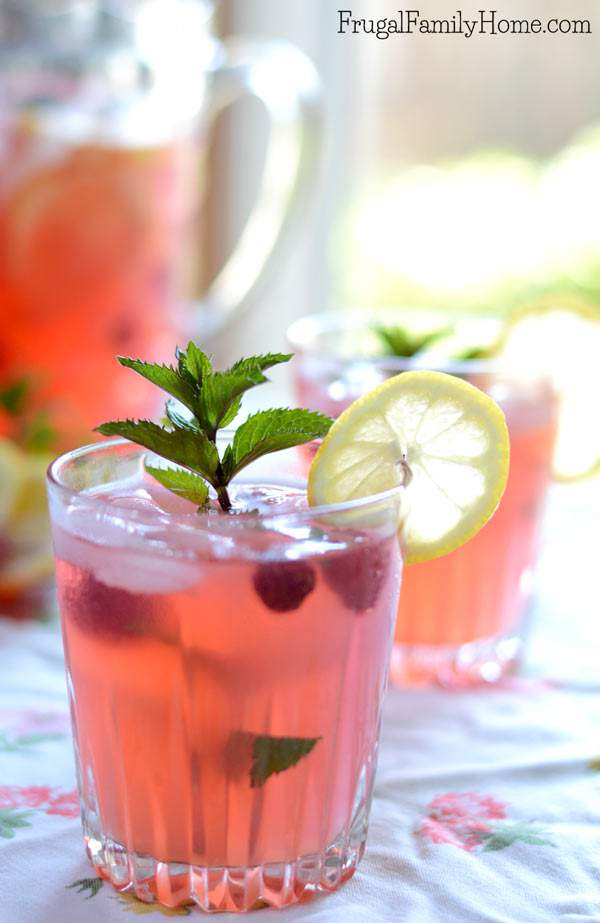 Garnishing the Raspberry Mint Lemonade
Garnishing the lemonade make is more special. If you are serving this lemonade for a party of special occasion dress it up with garnishes.
Dip the rim of the glass into water and then into course sugar for a nice sugar ring on the edge of the glass.
Add a few whole raspberries to each glass with ice before serving.
Add a sprig of mint to each cup
Slice an extra lemon thinly and add it to the side of the glass
These garnishes take this everyday delicious thirst quencher and transform it into a feast for the eyes as well as for the taste buds.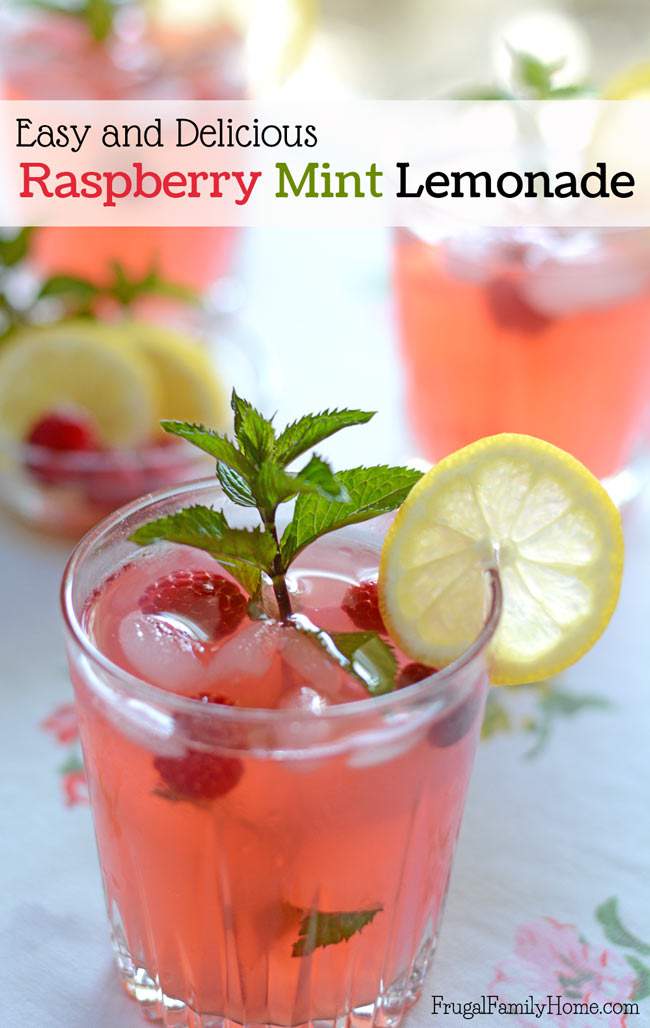 How to Make Raspberry Mint Lemonade
Ingredients
1

cup

Water

4

Sprigs of Mint

1/2

cup

Sugar

Zest of 1 Lemon

1/2

cup

Lemon Juice

2-3 Lemons

1/2

cup

Fresh Raspberries

3

cups

additional Water

Mint Spring to Garnish

optional

Lemon Slices to Garnish

optional

Raspberries to Garnish

optional
Instructions
To a small saucepan add 1 cup water, 4 mint sprigs, zest of 1 lemon, and sugar. Stir. Heat over medium heat to a simmer. Remove from heat and let steep 15-20 minutes.

Remove the lemon zest and mint from the sugar mixture and set aside.

In a pitcher add the raspberry and using a spoon crush slightly.

Add the lemon juice to the pitcher.

Add the cooled sugar mixture and the remaining 3 cups of water. Stir to mix.

Refrigerate until ready to serve.

Serve over ice with additional raspberries, a mint sprig, and a lemon slice, if desired.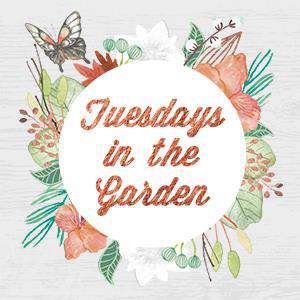 Want to more harvest to table recipes? Here're more recipes from the other Tuesdays in the Garden bloggers. Just click on the link or the photo to be taken to the next blog and the next recipe. All of these look so wonderful I'm sure you'll enjoy them.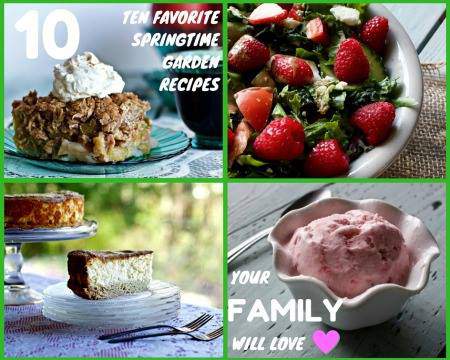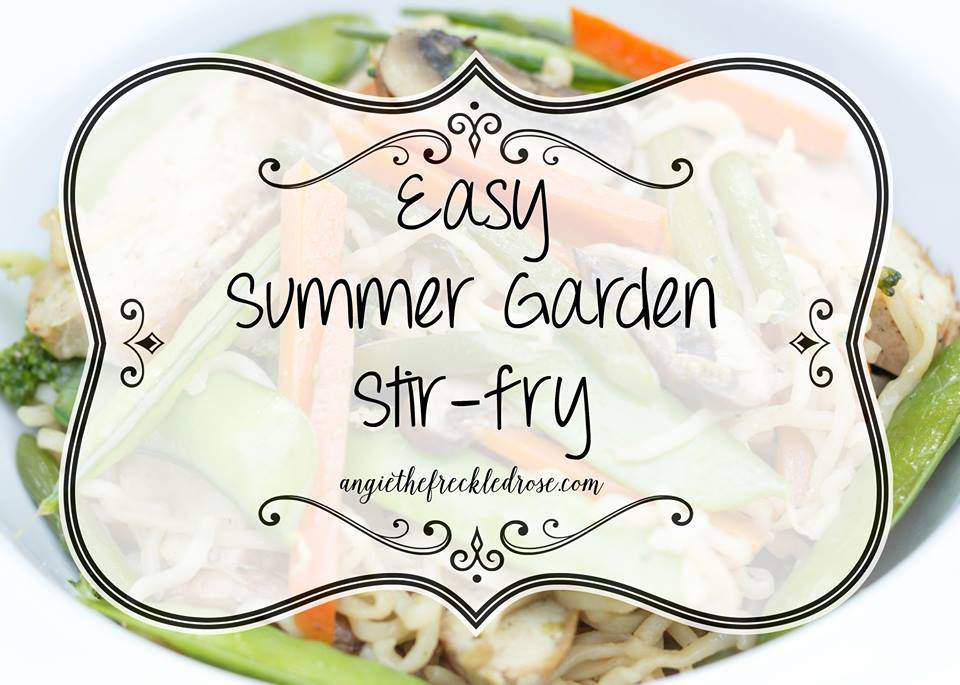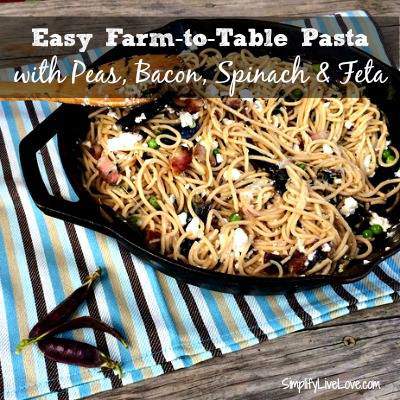 Michelle, Simplify, Live, Love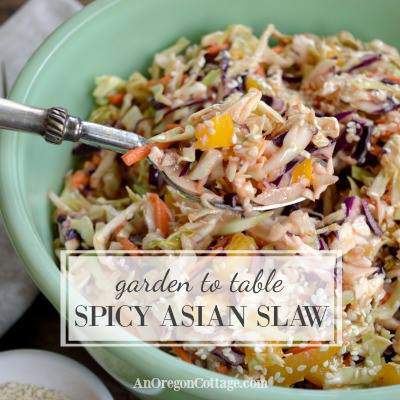 More Easy Drink Recipes
Lemon Mint Water
Root Beer Slushie
Make Your Own Root Beer Syrup
Subscribe and you'll get Recipes
sent right to your inbox!
Click the button below and fill out the form.