Soup is a good and satisfying meal, it can also be a meatless and a frugal meal too. If you haven't tried homemade potato soup before this one is our favorite. So creamy and delicious!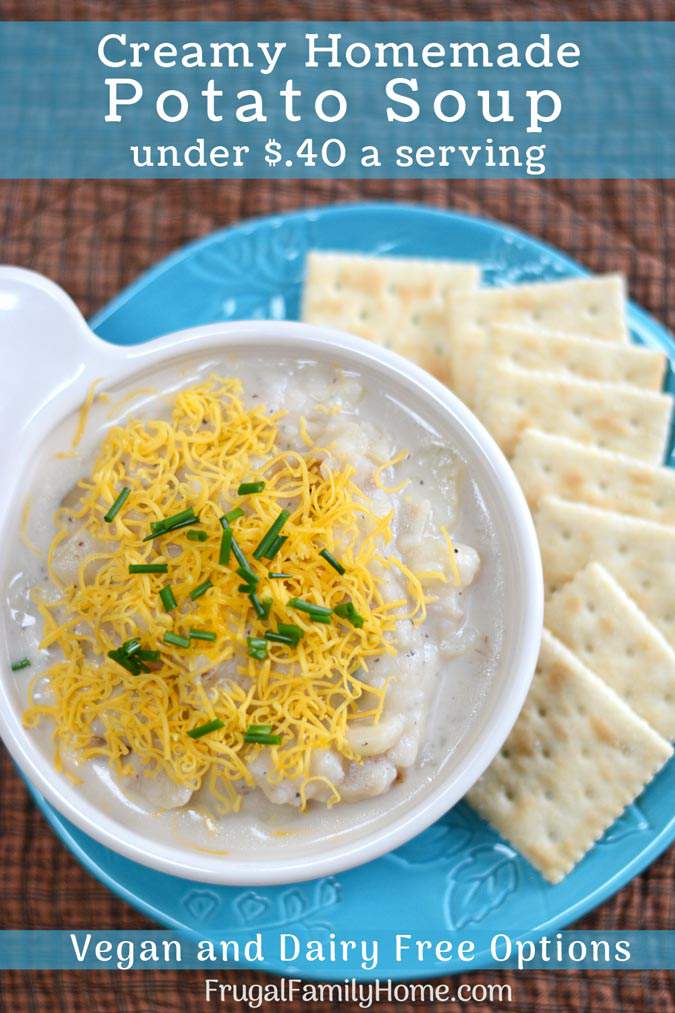 When it's cold outside a nice bowl of soup can warm you up from the inside out. But some soups need to simmer a long time.
When you are in a hurry for a yummy homemade soup, give this easy, creamy homemade potato soup a try.
When I was young, my grandma would make a batch of this homemade potato soup for us for lunch. It was a creamy and delicious simple potato soup I loved.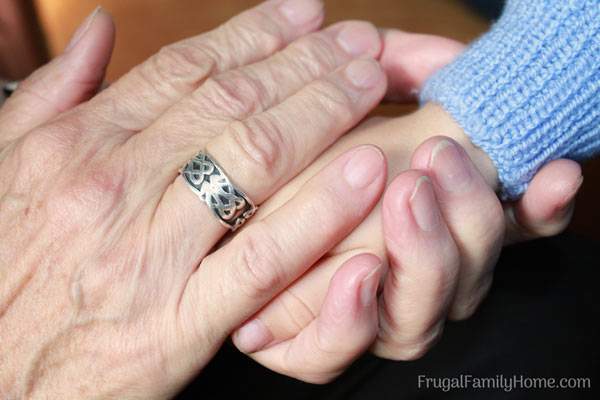 It was like a hug from my grandma from the inside.
I now make this yummy creamy potato soup recipe for my family. I love that even though my grandma never got to meet my kids, I can share special memories with them about her, through the food she used to make for me.
But more than that this soup is a great frugal soup to make too. No meat is needed. But if you want to beef it up, add a few strips of crisp crumbled bacon on top. Or cook sausage with the onions or even ground beef.
Those additions can make this soup even great for those who love meat in their soup.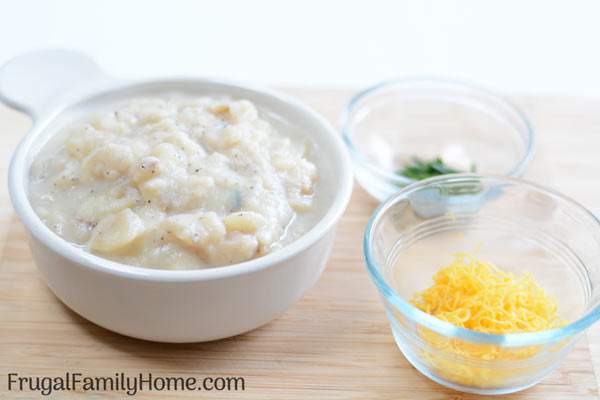 Ingredients Need for Creamy Homemade Potato Soup
With only 5 ingredients needed this truly is a simple soup to make. Keep on scrolling down for the recipe video and the printable creamy potato soup recipe too.
3-4 Potatoes
1 Onion
1 tablespoon Oil
1 cup Milk
1/2 cup Cheese, shredded (optional)
3 tablespoon Fresh Chives, chopped (optional)
If you like to see recipes made, take a peek at the recipe video. It's only about 2 minutes long. If watching a video isn't for you, no problem keep on scrolling for creamy potato soup recipe tips below the video.
Tips for Making this Creamy Homemade Potato Soup Recipe
The tips below can help when making this creamy homemade potato soup recipe. It's a few tips I think make the soup so fantastic.
✶ When cutting the potatoes cut them a little big if you want chunks of potato in your soup. If you like a smoother soup chop the potatoes small so they break up more.
✶ If you want to make this a vegan potato soup, use a dairy free milk in place of the milk. We like soy milk or the pea protein milk. They both work great. And use a vegan cheese to sprinkle on top or skip the cheese altogether.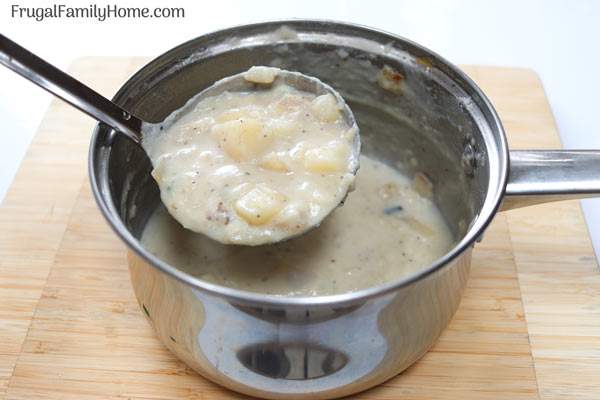 ✶ If onions are a problem for others in your family, you can chop the onions tiny before sauteing them. They will be less noticeable.
✶ If you have picky eaters who won't eat onions and can spot the tiniest speck in a dish, leave them out and add in a little onion powder instead.
✶ If your family really wants meat in the soup cook a few strips of bacon in the pan before adding the onions. You can use the bacon fat rendered to sauté the onions in instead of oil. Crumble the cooked bacon on top of each bowl of soup.
✶ If you like sausage cook it with the onions until browned and cooked through. Proceed with the recipe. I find a half of a pound is plenty in the soup but if you have real meat lovers, you might need closer to a pound.
✶ I kept this recipe super simple, but if you have leftover steamed vegetables, add them in when adding the cooked potatoes back into the soup. It will add a boost of vegetables and those little odds and ends of vegetables won't go to waste.
✶ If you don't have leftover vegetables and want to add other vegetables in the soup. You can cook them with the potatoes. Chop the vegetables and add to the potatoes before you cook them.
✶ If you prefer a smoother soup, use an immersion blender to blend the soup to the desired consistency. You can see the immersion blender I have and love on my Amazon page. (my referral link, see my disclosure policy for more information)
Here's the printable recipe,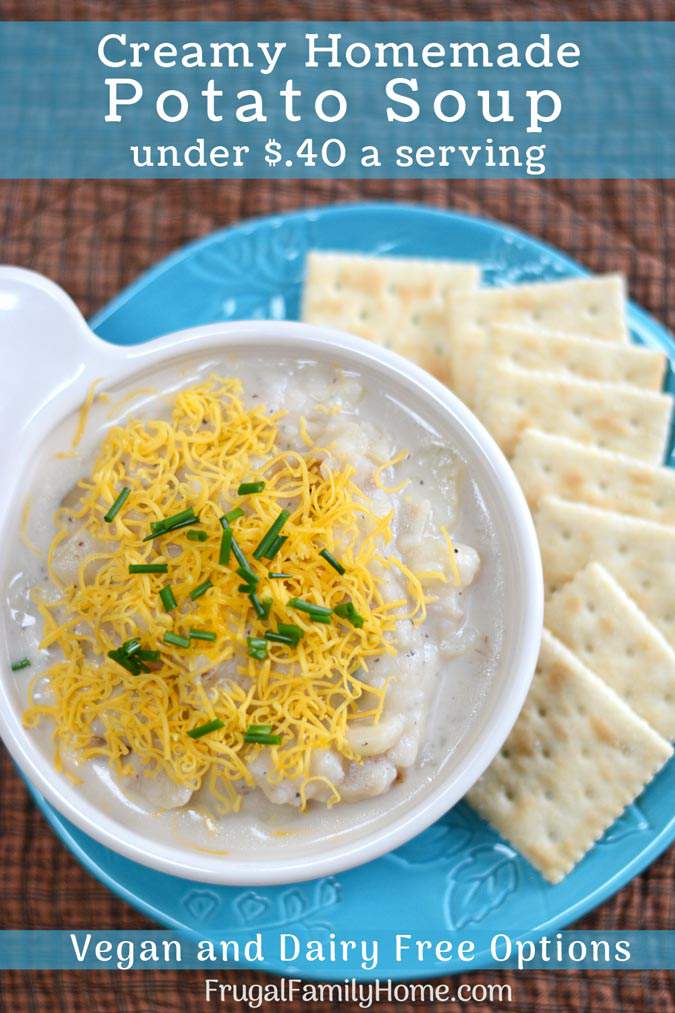 Creamy Homemade Potato Soup
Ingredients
3-4

Potatoes

chopped

1

Onion

chopped

1

tablespoon

Oil

1

cup

Milk

Salt and Pepper to taste

1/2

cup

Cheese

shredded

3

tablespoon

Fresh Chives

chopped
Instructions
Place chopped potatoes into a saucepan and covered with water. Boil until the potatoes are softened. Drain the water off and set potatoes aside.

Place the chopped onion in the same saucepan you cooked the potatoes in. Add the oil. Saute until the onions are brown and softened. You can skip this step but I think it mellows the flavor of the onions and adds more flavor.

Add the cooked potatoes back into the pan with the browned onions.

Add the milk and salt and pepper.

Heat and stir until warmed through. To make the soup thicker smash a few of the potatoes on the side of the pot and stir them in.

Place the soup into bowls and sprinkle with cheese and chives if desired.

Serve warm and enjoy!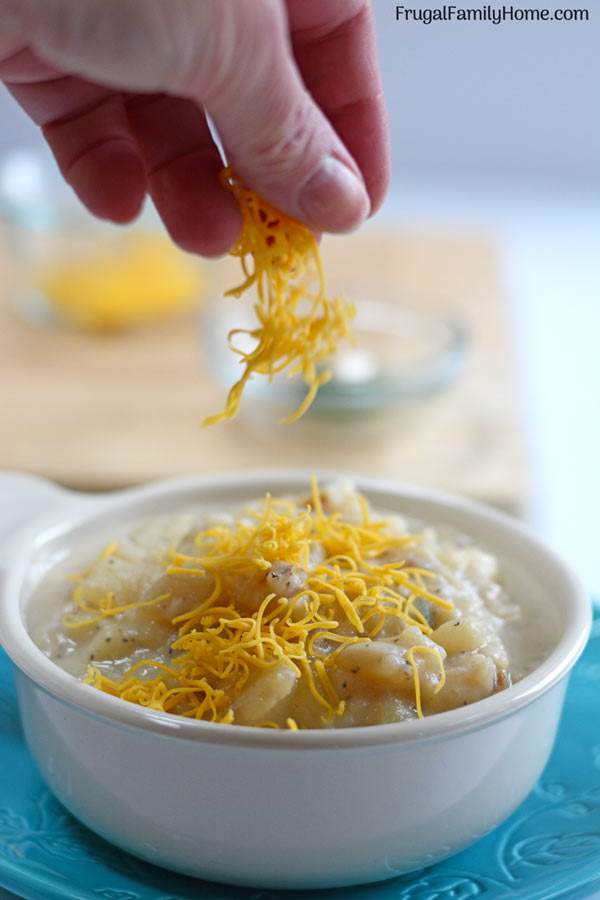 How much does a batch of Creamy Potato Soup Cost?
Knowing how much a recipe costs to make, can help you to fit it into your meal planning and keep your food cost lower. I've broken down how much this recipe will cost to make for you.
This recipe makes 4 average sized servings.
Below I've given the price for just the amount of the item called for in the recipe. But I also give the price paid at the store for a package or per pound.
Potatoes $.30 /$1.99 for 10 pounds
Onion $.10 /$1.99 for 15 pounds
Milk $.16 /$2.59 for 1 Gallon
Oil and Seasonings $.15
Cheese $.75
Which brings the cost of this whole recipe to $1.46. And just $.37 a serving. That makes for quite a frugal lunch or dinner.
If you add in bacon at $2.99 for 12 ounces or a pound of sausage for $2.99 a pound that brings this recipe cost up to $4.45 for 4 serving or $1.11 as serving. Still not a bad deal.
What to Serve with This Creamy Potato Soup
We enjoy having a side salad and breadsticks or homemade biscuits with this soup. They are so good and really round out the meal.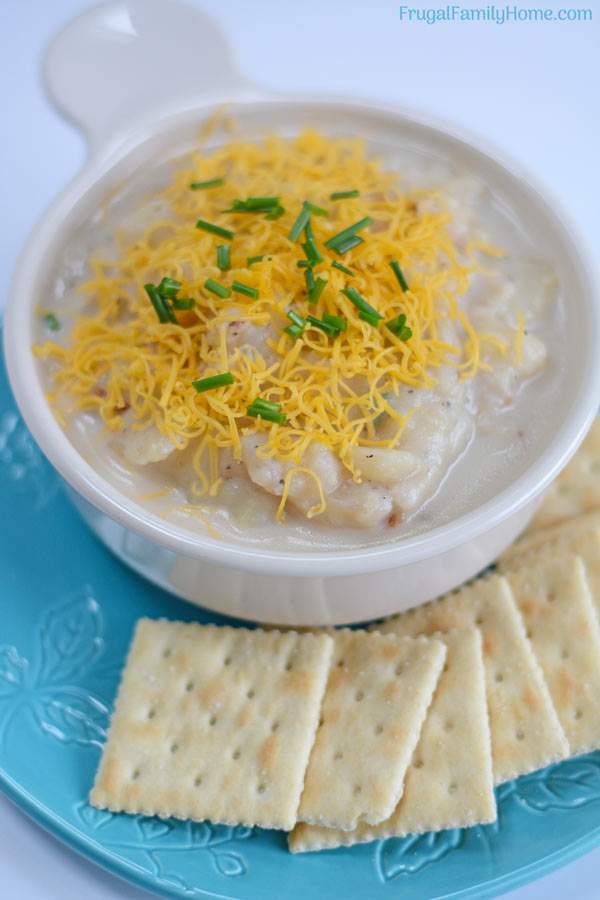 On the next cold and stormy day, make a batch of this homemade potato soup. I'm sure your family will love it and it will warm them from the inside out.
What's your favorite soup to make?
More Easy and Inexpensive Dinner Ideas
Cheap and Easy Sausage Sheet Pan Dinner
Freezer Friendly Meatballs
Chicken and Mushroom Skillet
Subscribe and you'll get Recipes
sent right to your inbox!
Click the button below and fill out the form.