Growing up broccoli wasn't my friend. I didn't like the way my mom prepared it or the tough, woody stalks. But it can taste good if you know how to prep and cook it. Here's how to make broccoli taste good.
I'm sharing 5 different cooking methods so you can decide which way you like it best.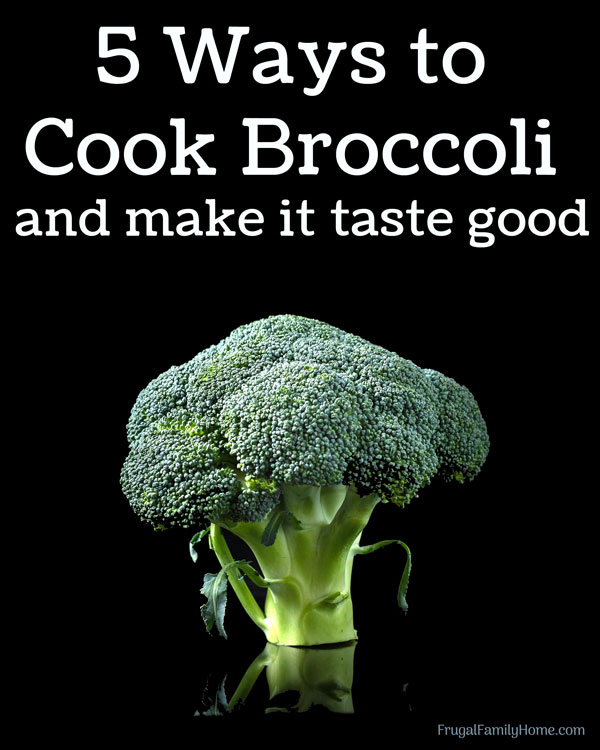 It seems you either love broccoli or you hate it.
I used to fall on the side of hating it. My mom would buy frozen broccoli, the broccoli cuts and boil them.
Can you say yuck? Not only did the broccoli taste waterlogged, but there were so many stalk pieces. The stalk pieces were tough and awful.
So that did nothing to help me love broccoli. I think for years the only way I liked broccoli was in cheddar broccoli soup and that was about it.
But if you know how to prepare broccoli, it doesn't have to be woody or tough at all.
Preparing the Broccoli to Cook…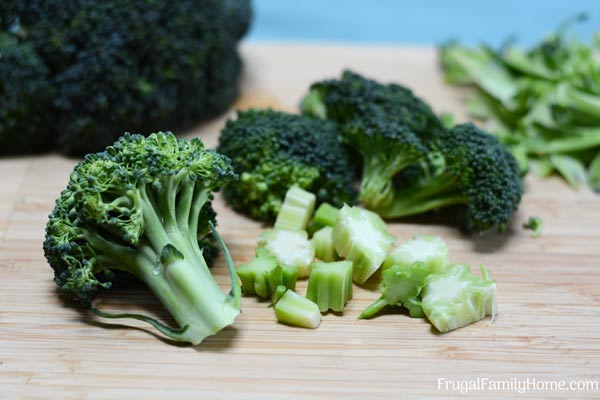 Don't Waste Any Part of the Broccoli
I used to think the only good part of broccoli was the flower or florets. I hated buying broccoli with the stalks on because I saw it as a waste of money but now I see it differently. Since now I can use the stalks.
Don't throw stalks away.
Instead, you can prep them so they will be just as delicious as the florets. By peeling and chopping them. See the video how here.
Now let's make the broccoli easier to eat too.
Cut into Bite-Sized Pieces
If you've ever purchase broccoli spears in the freezer section, you know how hard they are to eat. Cut your broccoli into bite-sized pieces. So much easier to eat and they cook faster too.
No more trying to elegantly stuff a huge tree like piece of broccoli in your mouth.
5 Cooking Methods for Broccoli To Make it Taste Good
Even if you don't like broccoli that much, I'm sure one of these cooking methods will make broccoli taste good to you.
You might need to experiment to see which one works best for you. I'd recommend starting with the first cooking method. It's the one that converted me from a former broccoli hater to a "it's ok" broccoli person, to finally a broccoli, dare I say it, lover.
How to Cook Broccoli in the Oven
If you really don't like broccoli, you need to roast it. It's just plain and simple this is the method for you if you are a broccoli hater. It mellows the flavor and gives it a hint of sweetness.
It's also the least hands on way to cook broccoli. And if you are baking your main dish, why not roast your broccoli right alongside of it?
If you are making a sheet pan dinner, then you can add the broccoli to one side and the main dish to the other.
See my whole post on how to roast vegetables, it my go to recipe for roasting broccoli or any other vegetable.
How to Cook Broccoli in a Pan
You can cook broccoli in a skillet when you are in a hurry. I like to add a little bacon grease to the skillet. It adds a nice flavor to the broccoli. No bacon grease? Use a little oil instead.
Then add the broccoli and stir-fry it. Just to get it started cooking.
After it's cooked for about 3 minutes, add 1/4 cup of water to the pan and cover. Let it cook/steam until tender crisp. Usually only a minute or two, you want it still tender crisp.
Then remove the lid and let it cook until the extra water has evaporated.
You can then add garlic powder, salt, pepper, or whatever seasonings you would like. You can even sprinkle a bit of cheese on top and let it melt.
How to Steam Broccoli
Keep it as simple as possible and steam your broccoli. Place a little water in the bottom of a pan. Add a steaming basket, then add the broccoli to the basket. Cover and let steam until tender crisp. Only steam it too tender crisp. You don't want mushy broccoli.
Test after 5 minutes but it can take up to 10 minutes if the broccoli pieces are large.
Be sure to add seasoning to it after it's done. Or even a little sprinkling or cheese. Need to go dairy free, try a sprinkling of nutritional yeast instead of cheese. It adds a cheesy flavor with no dairy.
How to Cook Broccoli in the Microwave
This is a simple and easy way to cook broccoli in the microwave. Prepare your broccoli then place it into a microwave-safe dish.
Add a little water, about 3 tablespoons. Then add any seasonings you'd like.
Place the lid on top of the dish or use a plate turned upside down if you don't have a lid. Microwave on high about 4 minutes. Carefully remove the plate, steam will come out, and check for doneness.
How to Grill Broccoli
In the summer grilling is a great way to prepare broccoli. Here's how…
Peel the stalks of broccoli, then slice lengthwise. I like to cut them as thin as I can manage.
Brush with oil or bacon grease. Add salt and pepper and then grill on each side until tender crisp.
This makes the broccoli taste so good. It's my second choice out of these methods, only second to oven roasting.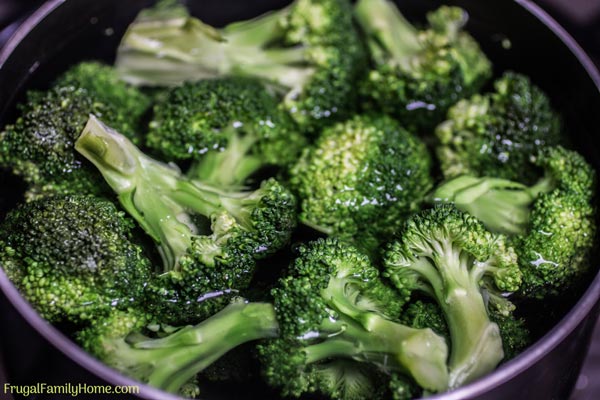 How to Boil Broccoli
This is probably the least favorite way to cook broccoli (so it's a bonus item on the list). Well, that is unless you add lots of flavor after cooking or your kids like softer vegetables.
My mom used to boil broccoli to death. And it would squirt water when we chewed it. If you use this method cook only until tender crisp and then season generously.
Place the broccoli into a pan, cover with water. Boil on the stove about 3 minutes or until cooked to desired doneness.
Drain the water off and then season well or add a sprinkling of cheese.
Eating Broccoli Raw and Making it Taste Good Too
And another bonus because raw broccoli is good for you too.
Skip the cooking process altogether and make nice sized rods of broccoli and dip it into your favorite dressing or dip.
Super easy to do and a great way to enjoy broccoli. But if broccoli doesn't taste good to you, then this method may not be for you.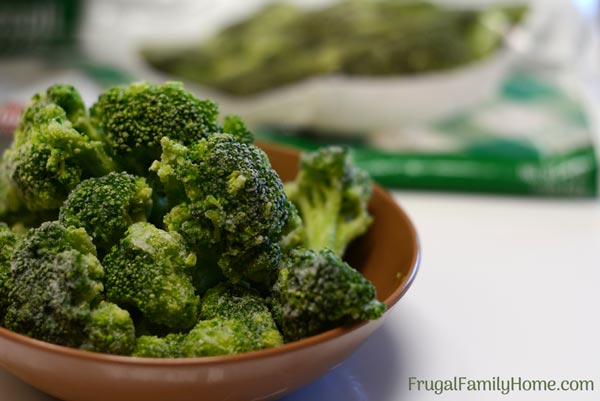 Saving Money with Frozen Broccoli
Frozen broccoli will work for all of these methods or cooking but I have a little warning about what kind of frozen broccoli to buy.
And when you should spend the money on florets and when to go with other cuts of frozen broccoli.
Purchasing Broccoli Frozen from the Store
I would only recommend purchasing broccoli florets. So much of the other broccoli has tough stems and pieces in it, it's really not that great.
I made the mistake of purchasing broccoli spears and oh my. The stalks were so tough because they weren't peeled and we ended up throwing them away. That is the stalks were thrown away, we ate the floret tops. But the stalks were almost impossible to chew.
Even though broccoli florets are more expensive, I believe for using as a side dish or in recipes they are the best value for the money. Because you can eat all of it. But….
When Chopped Broccoli from the Store is OK
Chopped broccoli is great frozen if you'll be pureeing it for soup. Or adding it to a casserole. And it's usually less expensive too.
But for stir frying or roasting, it has so many pieces of tough stem, it's better to just buy broccoli florets or use fresh.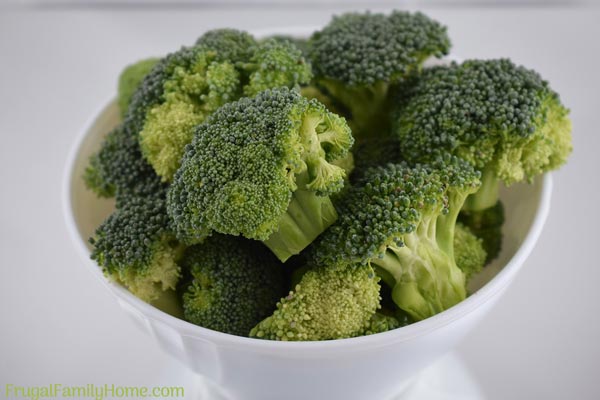 That's how to make broccoli taste good. I hope one of these methods will be perfect for you and your family to enjoy broccoli. It's good for you and can be delicious when you prepare it in a way your family will enjoy eating it.
More Vegetable Cooking Tips…
How to Cut Broccoli to Use all of It
How to Roast Vegetables in the Oven
How to Roast Asparagus
Pin it for Later…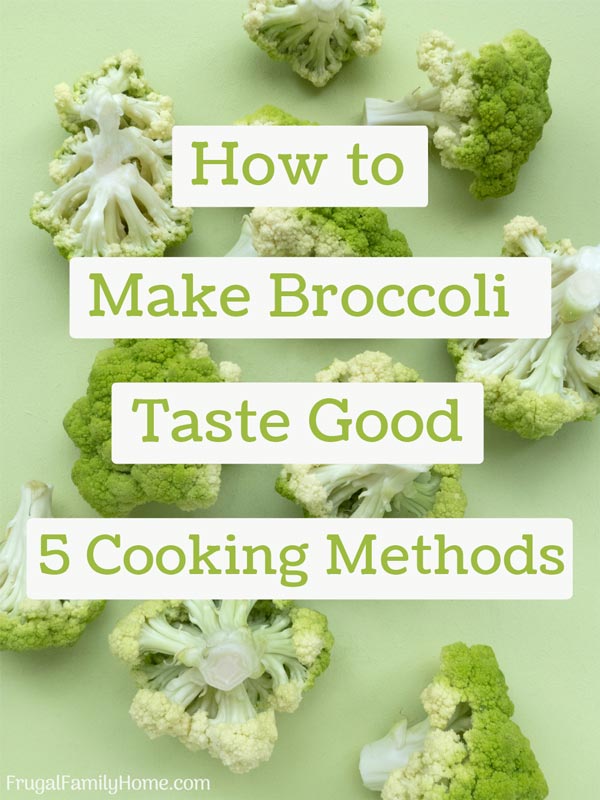 Subscribe and you'll get Recipes
sent right to your inbox!
Click the button below and fill out the form.