I'm not a coffee drinker. Please don't throw anything at your computer, I love the smell but just can't stand the taste. I know I'm probably in the minority with my option on coffee. But I do enjoy hot chocolate. In the summer hot chocolate is just well too hot, that's when I switch to making frozen hot chocolate. Have you tried it? It's just like a delicious cup of hot chocolate, just colder.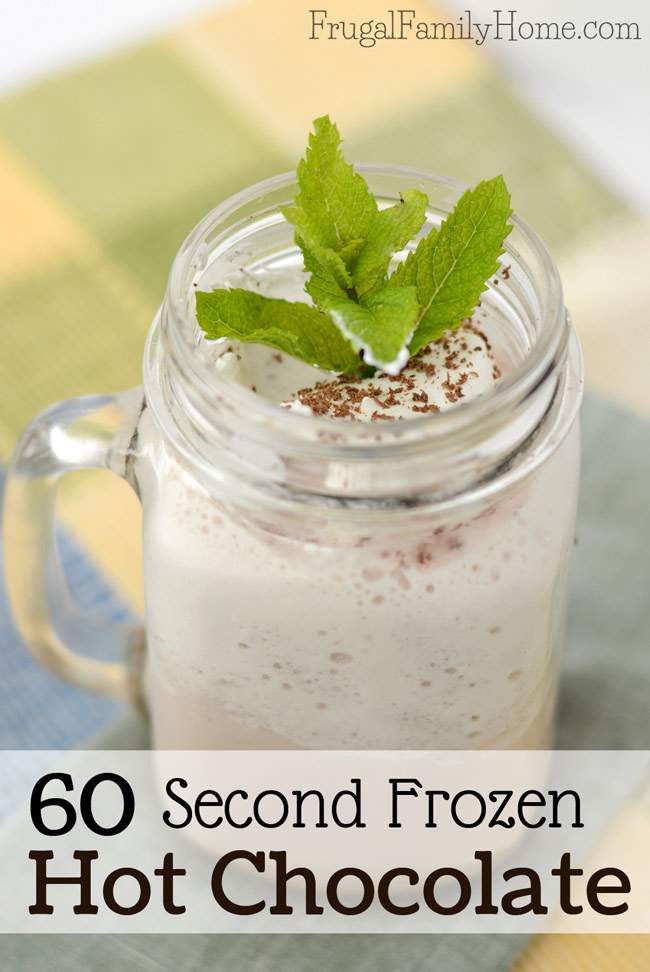 I've added links below and where appropriate, they are affiliate links. Which means when you purchase through them I might make a little money at no extra cost to you. Thanks, and you can find out more on my disclosure policy.
I heard about frozen hot chocolate  years ago while watching Oprah I think. I thought what is there not to like yummy cocoa blended with milk and whipped up with ice.
You could purchase the powdered mix  and make it at home. I never order any frozen hot chocolate mix and eventually forgot all about it, until recently.
With the early arrival of summer, in our area, I had a hankering for a nice cup of hot chocolate. But that day it was going to be in the 90's. There is something about drinking a hot beverage on a hot day that just doesn't appeal to me. I know this might be another area where I'm weird.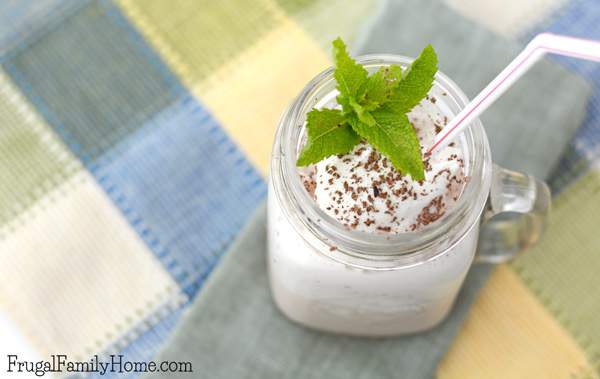 I know others who will drink hot beverages on hot days and think nothing of it but to me, it seems counterproductive. Why would you want to heat up your insides when you are trying to stay cool? Seems odd to me.
But getting back to the frozen hot chocolate. I decided since I make my own hot cocoa mix why couldn't I whip the hot chocolate into a frozen drink.
I made a video, that's less than a minute to watch to show the recipe. If watching videos isn't your thing just scroll down to get a few tips, learn the process I went through to make this recipe, and print the recipe.
My First Attempts at Making Frozen Hot Chocolate, There Had to Be an Easier Way
At first, I tried heating a little milk. Then I dissolved the cocoa powder and sugar into the hot milk. Then I needed to let it cool and finally I whipped it with a little more milk and ice.
But that seemed like so much work for a cup of frozen hot chocolate. Just reading the process was a long and drawn out right?!
I knew I needed a faster way to make my favorite frozen drink. It needed to be easier and faster too. After a few adjustments over a month, I figured out this easy way to quickly make a frozen hot chocolate in about 60 seconds.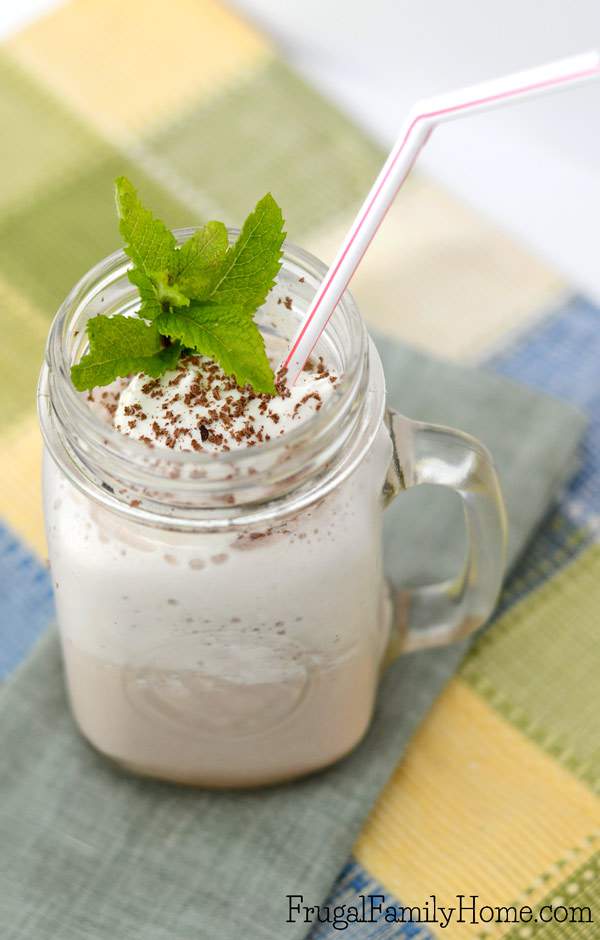 A Few Tips for Making Frozen Hot Chocolate in 60 Seconds
Use a good hand blender or blender. I had an old blender that did a good job of blending for most things but would leave chunks of ice behind no matter how long I blended it. That can happen with some full sized blenders.
If you have a blender that works great use it, if you have a hand blender that might work better.
I've found for the Frozen Hot Chocolate my hand blender works the best. It's great for single serving smoothies, blending soups right in the pan, or for making applesauce. The hand blender I have also has a chopper attachment and a whisk too. It's been a great hand blender over the last 2 years.
If you want more chocolate taste increase the cocoa powder. I like my hot chocolate to be a nice blend of chocolate and milk. But if you like a stronger chocolate flavor use more cocoa powder.
Don't leave the vanilla out. Adding the vanilla extract does add to the flavor of the frozen hot chocolate so don't leave it out. You could also try adding different extracts like coconut or almond.
The Frozen Hot Chocolate is best consumed right away. If it is left to sit it will separate a little just like hot chocolate can. Plus the ice will melt and water it down more. Be sure to enjoy the frozen hot chocolate right after making it.
I don't keep chocolate on hand since I would eat it all before using it on the frozen hot chocolate. For the grated chocolate garnish, I grated a chocolate chip. It works great and no temptation to eat candy bars calling my name in the cupboard.
If you don't eat dairy this recipe works well with soy milk or almond milk too. Just substitute the cow's milk with your favorite milk substitute instead.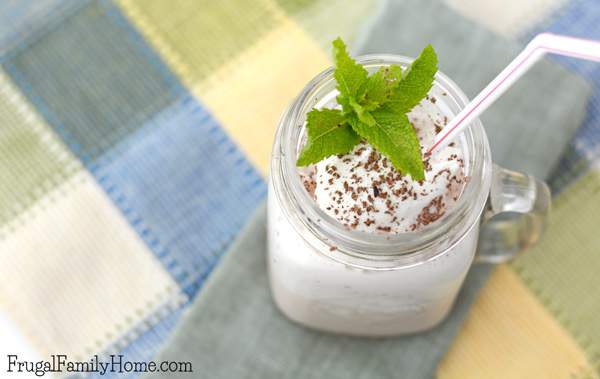 Frozen Hot Chocolate
Ingredients
2/3

cup

Milk

3/4

cup

Crushed Ice

1 1/2

tablespoons

Sugar

1

teaspoon

Cocoa Powder

Splash of Vanilla

Chocolate

to shave on top if desired for garnish

Whipped Topping

optional garnish

Mint Sprig (optional garnish
Instructions
Place all the ingredients into a blender or hand blender cup. Blend until smooth and no ice chunks remain.

Serve with whipped topping, grate a little chocolate on top, and garnish with a mint sprig if desired.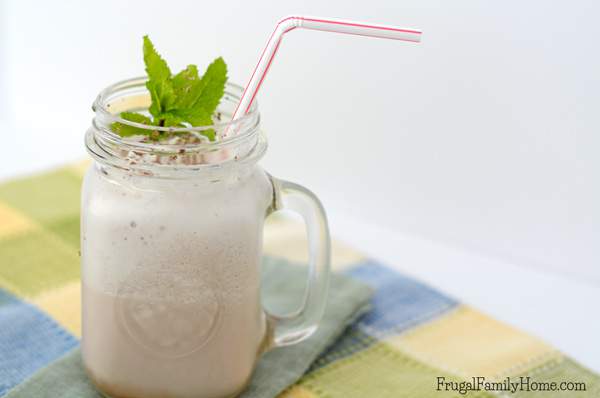 What one of your favorite summer drink to enjoy to stay cool?
Find more easy and delicious beverage recipes
Easy Summer Beverage Recipes to Try,
Summer Sun Tea
Refreshing Mint Water
Root Beer Slushie
Subscribe and you'll get Recipes
sent right to your inbox!
Click the button below and fill out the form.