A while back I made a recipe for chocolate swirl bread. It turned out really good, if you missed it be sure to click the link to get to the recipe. I was trying to come up with an easy to make cake for Valentine's day. Something with a little pink or red, but also something easy to make.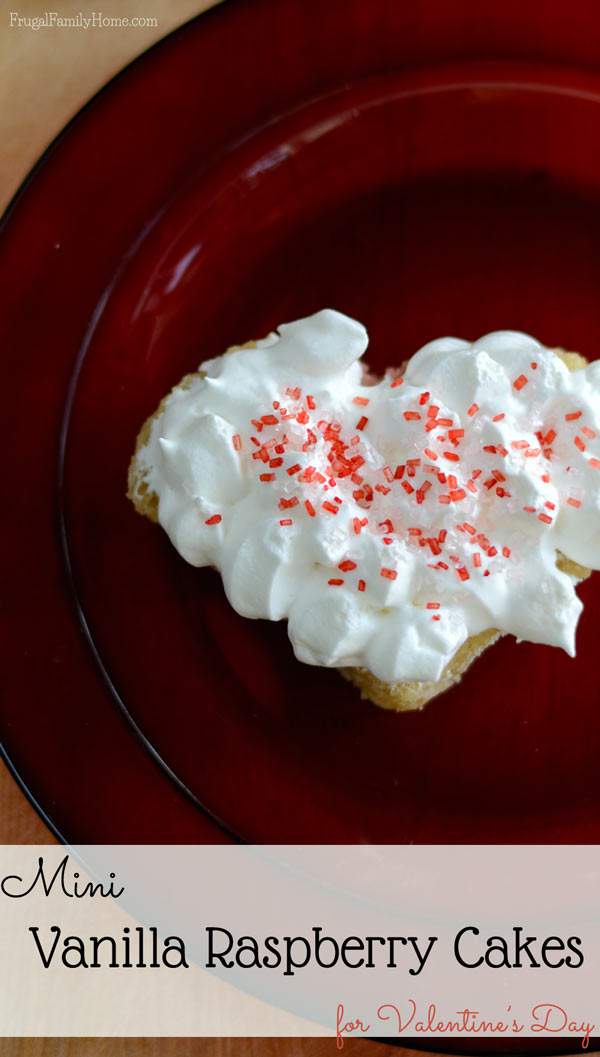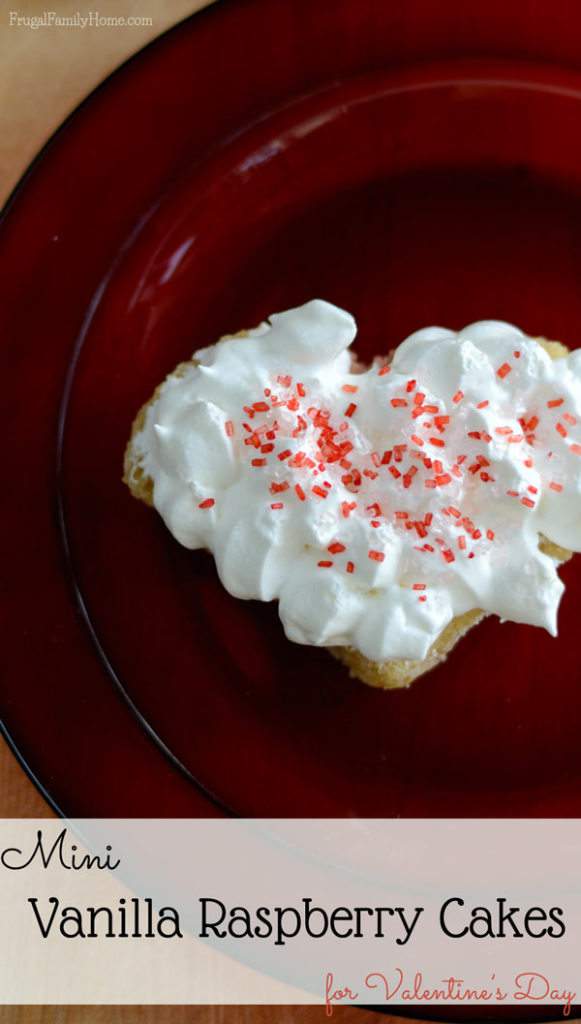 That's when I remembered the recipe for the swirl bread, I thought if I altered it just a little, it would be a perfect, Valentine's day treat. Not too heavy but really yummy.
I topped ours with a little whipped topping. A nice glaze would be good too, but I think the whipped topping makes them look a little fancier.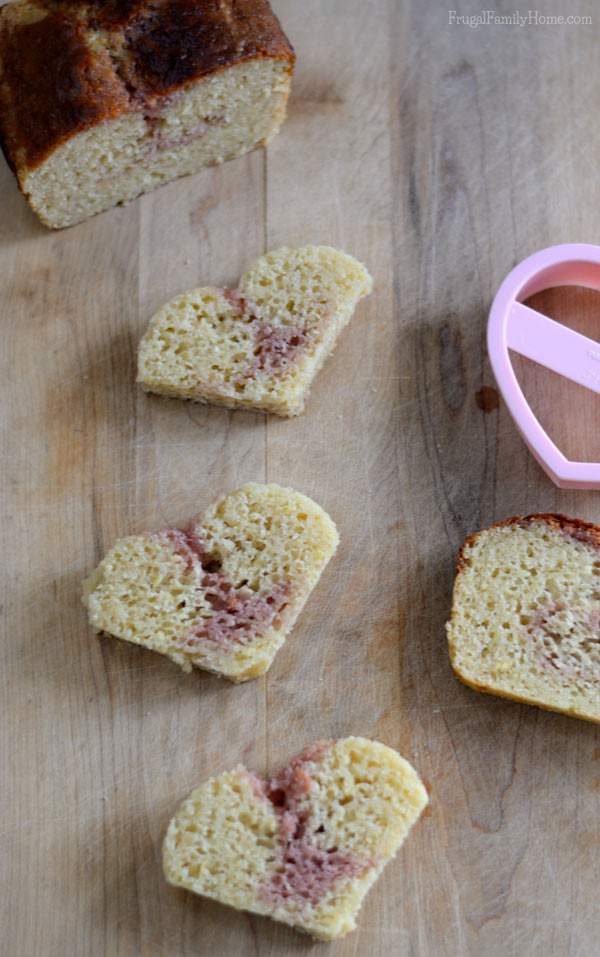 I didn't want big cakes, so I baked them in my loaf pan and then sliced the bread/cake a little thick. Then I cut out the cake in the shape of a heart. I used my heart shaped cookie cutter as a guide and it worked really well.
I would suggest to let the bread cool all the way before slicing it. When I waited the bread held together really well. I think if I would have sliced it while it was still warm, it would have fallen apart a little. So be sure to cool your bread completely before cutting.
How to make the Vanilla Raspberry Mini Cakes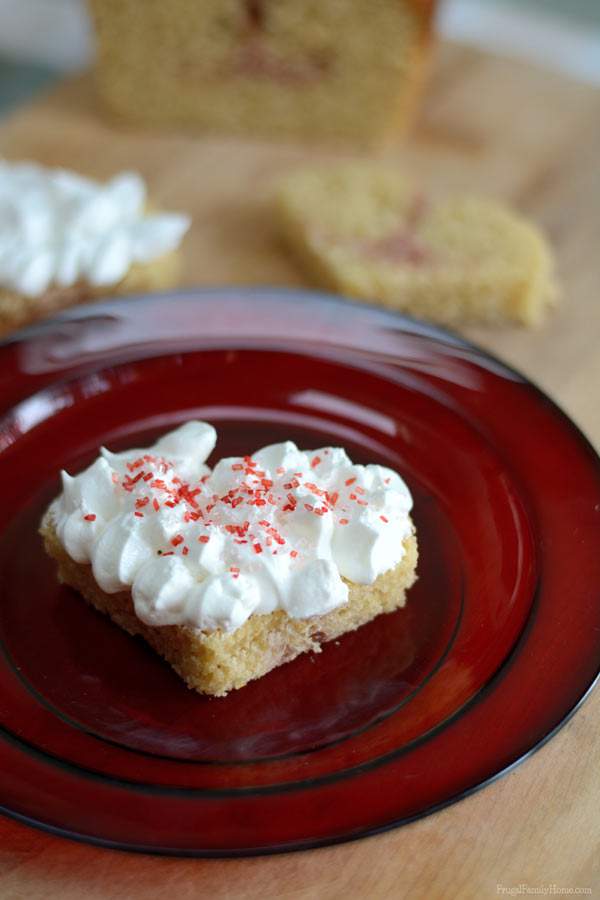 Mix the bread batter (see recipe below). Then remove 1/2 cup of the batter to another bowl.
To the 1/2 cup batter, I added homemade raspberry jam along with a drop of red food coloring. Then stirred the batter well.
Place half of the vanilla batter into the bread pan. Then place 4 dollops the raspberry batter on top. Then repeat with a layers of vanilla batter and raspberry dollops one more time. Using a knife, make a few passes to swirl the raspberry into the vanilla batter.
I made three passes each way, but as you can tell by the photos, I didn't get a very good swirl at all. It still was very yummy, just not as pretty as I had hoped. So, be sure to make a few extra passes just to be on the safe side.
Bake in the oven, until golden and baked through. I usually use a toothpick to test doneness. If the toothpick comes out clean, then it is done.
Be sure to let the loaf cool for about 5 minutes, in the pan. Then remove the loaf from the pan and let cool completely on a wire rack.
Slice into thick slices. Mine were about 1 inch thick. Using a heart shaped cookie cutter as a guide cut the slices into heart shapes. Place each heart on a plate and top with glaze or with whipped topping.
I used whipped topping on ours, then I sprinkled ours with a little colored sugar for an extra little splash of color.
That's all there is to making these cute mini raspberry swirled cakes. If you don't want to make them into mini cakes. Just serve it as a yummy breakfast or dessert bread. Either way it's delicious!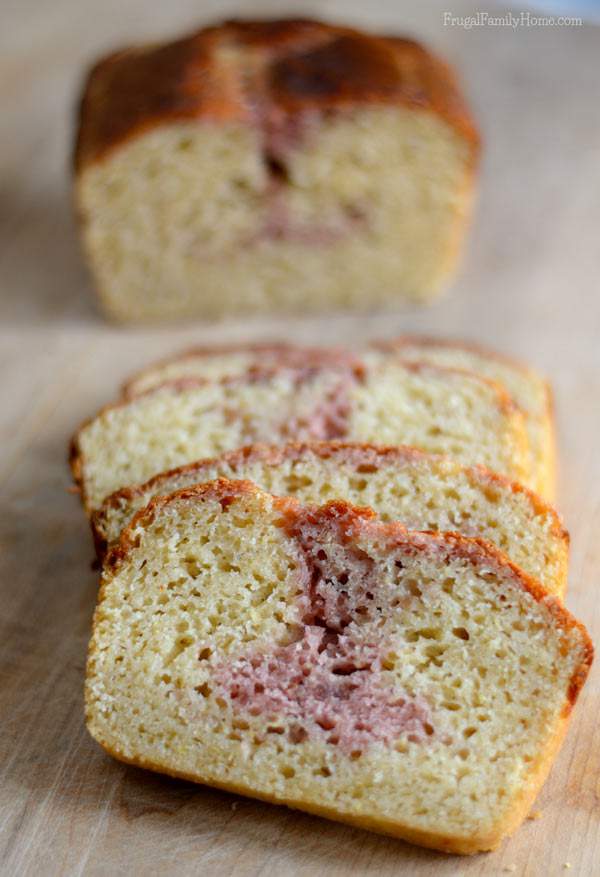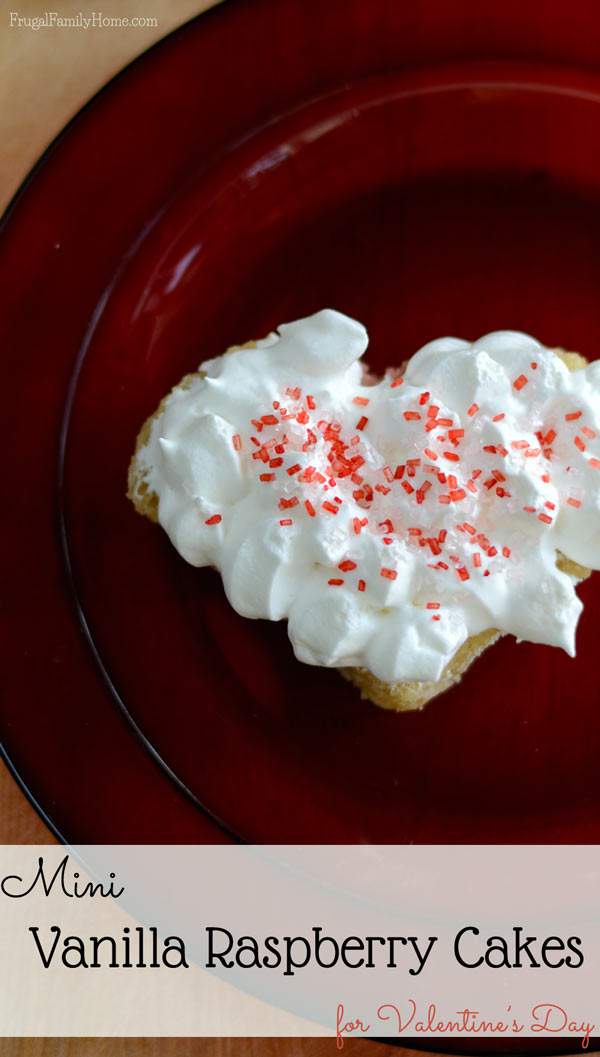 Vanilla Raspberry Bread
An easy dessert ideas for Valentine's day or for a light summer dessert.
Ingredients
2

cups

Flour

I used unbleached all purpose flour but soft wheat would also work well

1

cup

Sugar

1/4

teaspoon

Salt

3

tablespoons

Baking Powder

2

Eggs

1

cup

Milk

Soy Milk, Almond Milk or Coconut Milk

1/3

cup

Oil

1

tablespoon

vanilla

2

tablespoons

Raspberry Jam

1

drop Red Food Coloring

optional
Instructions
Mix all the dry ingredients in a bowl and whisk to blend well.

Add the wet ingredients, all except the jam and food coloring, to another bowl and mix well.

Combine the wet ingredients with the dry ingredients and stir until just combined.

Scoop out about 1/2 cup of batter into a small bowl and add in the raspberry jam and optional food coloring. Mix until well combined.

Add the half the vanilla batter to the buttered or oiled loaf pan. Then drop the raspberry batter on top of the vanilla batter with a spoon. Make about 4 dollops of raspberry batter.

Add the rest of the vanilla batter on top and dollop the rest of the raspberry batter on top.

Now with a knife make a few passes horizontally and vertically to swirl in the raspberry batter to the vanilla batter. I did about three passes each way but I think a few more would have worked out better. Mine did not swirl as well as it should have so make a few extra passes.

Bake in a 375 degree preheated oven 40 minutes or until golden and baked through.

Let the loaf cool about 5 minutes in the pan, then remove from the pan and let cool on a wire rack.
What one of your favorite things to make around Valentine's Day?
More Posts you'll like,
Conversation Heart Cookies
Free Printable Valentines
Hot Cocoa Mix