Thanks to Good Cook for supplying me with some great kitchen gadgets to review.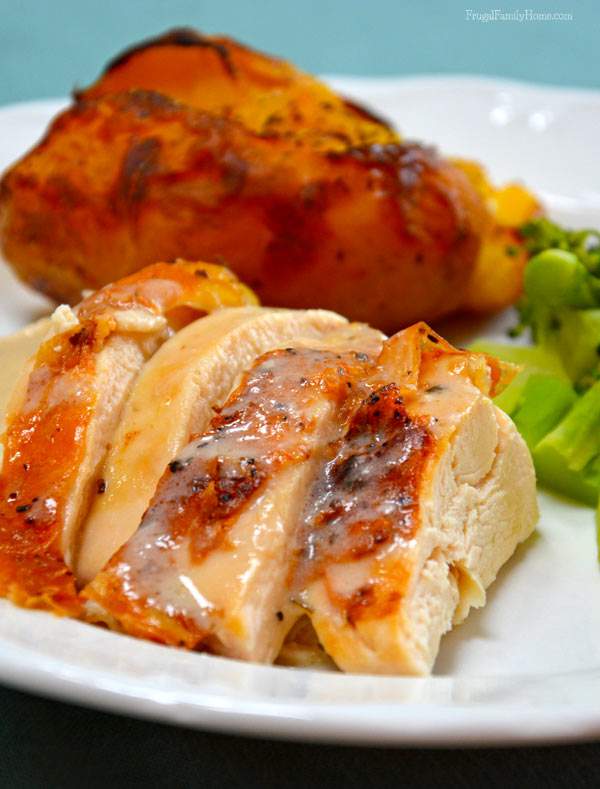 One Pot Meal, Coconut Lime Chicken
One pot meals are great to make. There are fewer dishes to wash, hello only one pot instead of who knows how many. I try to keep my cooking as simple as I can, and one pot meals really help to simplify my cooking.
This one pot meal I made is not only easy but relatively inexpensive too. Since it uses a whole chicken it can be made on the cheap. I can usually find whole chickens for under a dollar a pound, which is a great buy on meat.
Not to mention, after you eat the chicken, you can make a bone stock with the bones, that is oh so good. And you don't feel guilty since you have used every little bit up.
I found this recipe online and it was my inspiration in creating this dish. I had a little trouble browning the bird. Probably because one, I had never done it before, and two, I was using my roasting pan that had raised areas, on the stove top.
So there wasn't a whole lot of contact with the chicken. I'm on the hunt for a new roasting pan that has a flat bottom.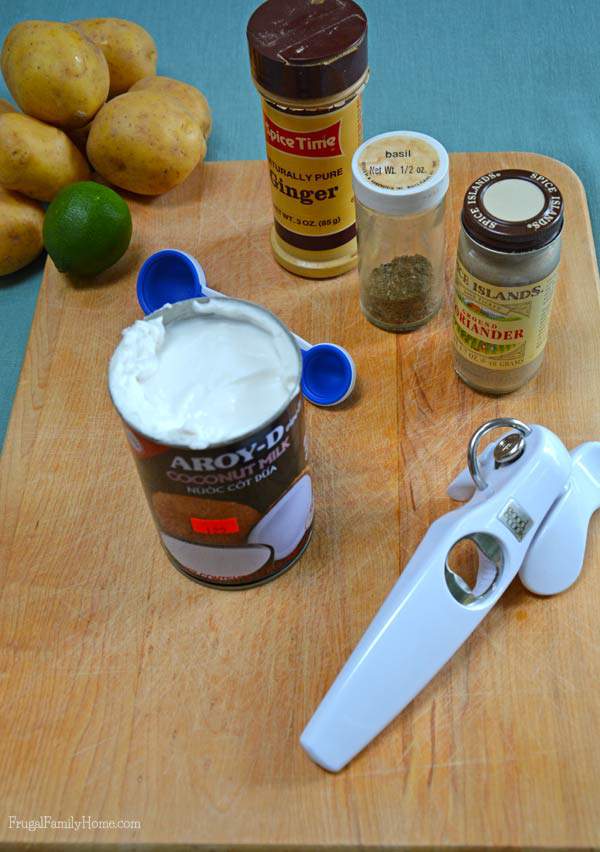 I had a can of coconut milk on hand and a couple of limes. So I thought I would make a Thai inspired, one pot chicken dish. This is how this recipe was born.
I took the technique from the inspiration recipe and tweaked it with my own flavors. I used my new Good Cook Can Opener to open the coconut milk. It worked great and no sharp edges to cut myself on.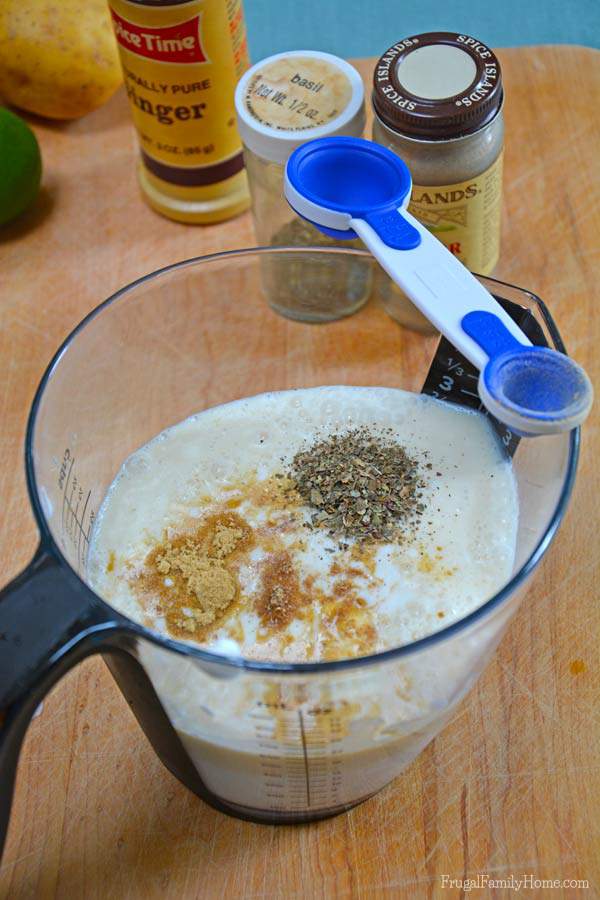 Other than having a little trouble browning the bird, everything else when really easy and I have to say the bird turned out oh so tasty.
Don't be tempted to skip the browning part as it did add some nice flavor to the dish with all the bits that were stuck to the bottom of the pan. Be sure to season the bird with salt and pepper before you brown it.
After the bird is nice and browned, it's time to add all the great spices and lime peel to the coconut milk. I used my new Double Sided Flip Measuring Spoon it was so nice to only have to have one measuring spoon out to measure the spices with.
I had full-fat coconut milk. So, I added just a little soy milk (my family needs to eat dairy free) to the coconut milk to bring it up to about 3 cups of liquid.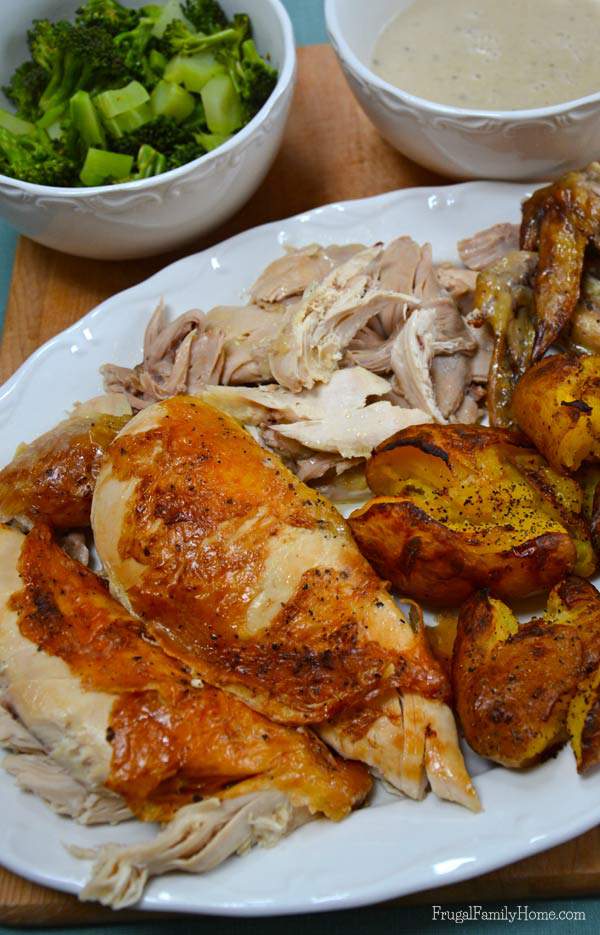 I added the coconut milk mixture around the beautifully browned bird. (Ok, I'm envisioning one because mine wasn't as beautiful or brown as I would have liked.) Placed the lid on the roasting pan and baked for about an hour.
My bird was almost 6 pounds, yes a really big chicken, but it was the smallest one I could find. If you have a smaller bird it will take less time to roast.
After an hour, I removed the lid and then roasted the bird, for another hour and this beautiful dish emerged from the oven.
Oh but wait, I forgot to say I also added some baby Yukon Gold potatoes to the roasting pan. After all, it's a one pot dish right!? Those little orbs of golden potato deliciousness baked right alongside the chicken.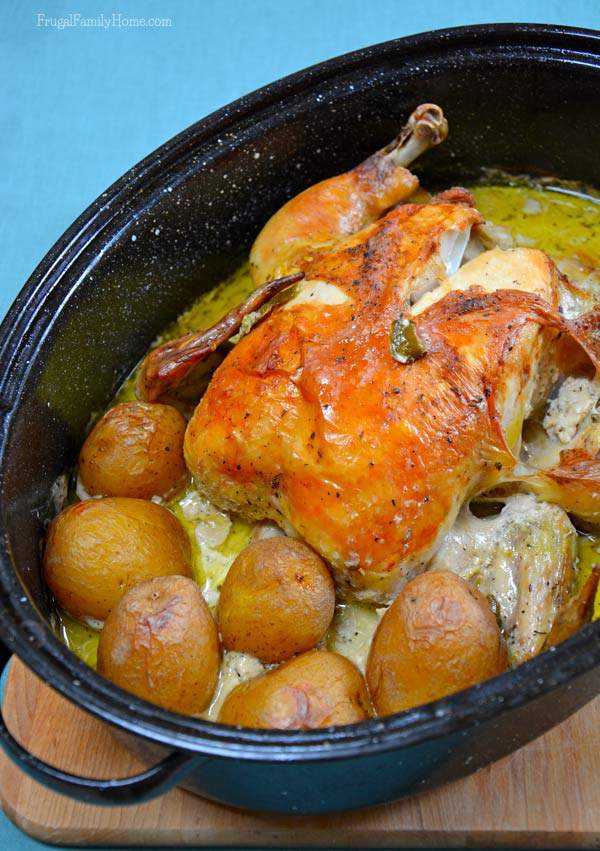 Once the chicken was done and cooked to perfection. I removed it from the pan to rest before I removed it from the bone. Which was really easy since it was so nicely cooked and almost falling off the bone.
While the chicken was resting, I took the potatoes out of the coconut milk and flattened them, just a little. Then I returned them to the oven to crisp up with a little salt and pepper sprinkled on them.
I used the wonderful coconut/lime milk that was left in the roasting pan as a gravy. I just needed to add a little salt and pepper and it was good to go.
It made a wonderful gravy for on top of the chicken, adding just a little extra flavor burst to the chicken. Did I mention this was super yummy?!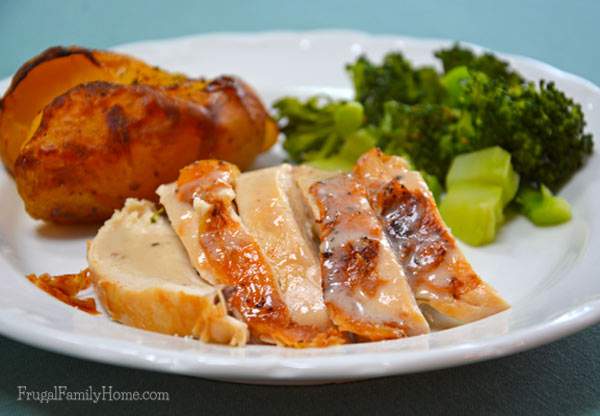 Since we had such a big bird, we ended up having leftovers. So, the next day the roasted coconut lime chicken went right into quesadillas. The light lime flavor blended nicely.
Here's the recipe just in case you want to make one for yourself.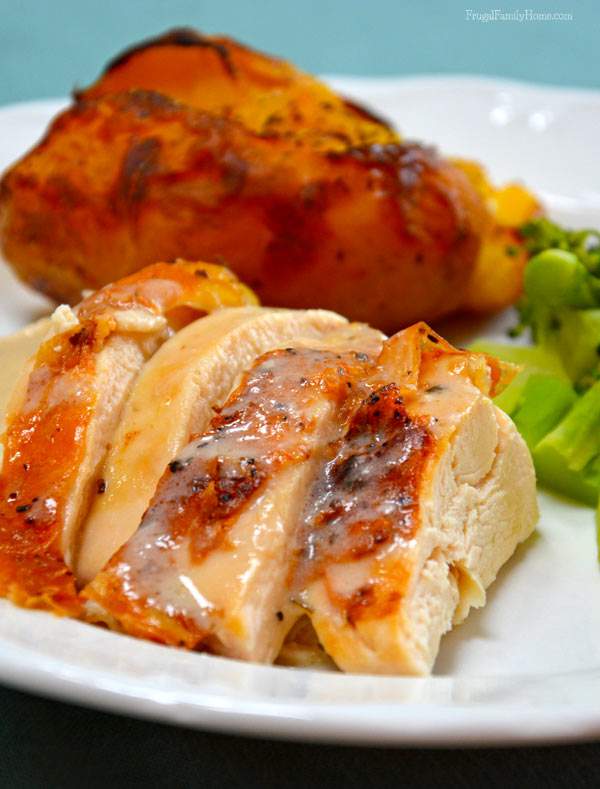 One Pot Meal, Coconut Lime Chicken
Ingredients
5

pound

Whole Chicken

Salt and Pepper to Taste

1/4

teaspoon

Ground Coriander

1

teaspoon

Ginger

2

teaspoons

Basil

Zest of 2 Limes

6

Garlic Cloves

3

cups

of Coconut Milk or 1 can Coconut Milk with enough milk to make 3 cups

8

baby Yukon Gold Potatoes

4

tablespoons

of Olive Oil
Instructions
Add the olive oil to the roasting pan and heat on the stove top. Add the whole chicken to the pan and brown on both sides.

While the chicken is browning. In a bowl add the coconut milk and enough milk (regular, almond, soy) to make 3 cups of liquid. Stir in the spices and the lime zest.

Once the chicken is browned add in the baby potatoes and garlic. Pour the coconut milk over the chicken. Cover the roasting pan with a lid and bake at 375 for one hour.

After an hour remove the lid and roast until done. Checking for doneness with a meat thermometer. My almost 6-pound bird took 2 hours total to roast.

Remove the chicken to a cutting board to rest. While the chicken is resting. Remove the potatoes from the coconut milk mixture and flatten each potato slightly. Just enough to break the skin.

Drizzle with a little olive oil and sprinkle with salt and pepper. Return to the oven and bake at 500 degrees for about 10 minutes or until the edges are slightly crispy.

Once the chicken has rested remove from the bones and place on a serving platter, along with the roasted potatoes.

Use the coconut milk mixture to drizzle over the chicken and serve.

Enjoy!
What's your favorite one pot meal?
More Easy Dinner Solutions,
Slow Cooker Cranberry Pork Roast
Slow Cooker Beef and Bean Enchiladas
Chili Cornbread
Subscribe and you'll get Recipes
sent right to your inbox!
Click the button below and fill out the form.