There is something about citrus desserts. Maybe it's how the sour punch of the citrus mixes with the sweet of the sugar, to make a perfect balance, of sweet and sour. Combine the sweet and sour cream top with a crunch crust and you have this perfect easy dessert of Orange Bars.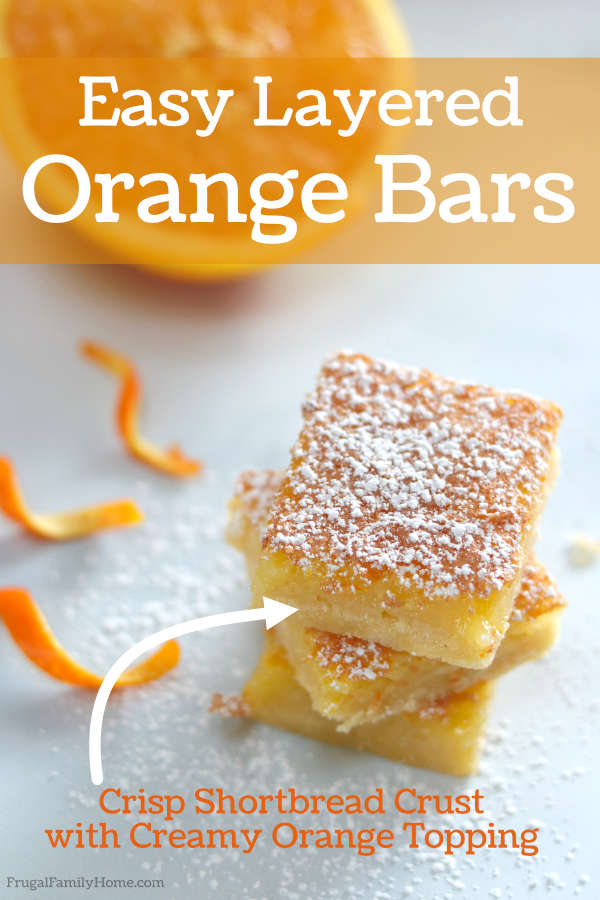 Bar cookie recipes are so easy to make. You put all the ingredients into the pan and bake all at once. No more setting a timer, taking the sheet pan out, unloading the cookies that are done to start all over again with another batch.
Oh no, bar cookies are perfect for the lazy baking baker. And some days I want to put those cookies into the oven and be done.
More Dessert Recipes: Homemade Brownies | Lime Bars | Apple Crumble Bars | Blondies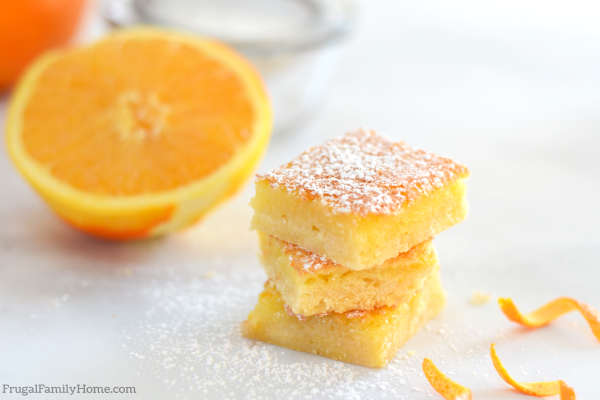 Orange Bars, Two Layers of Deliciousness
Now these yummy citrus cookies take two baking cycles but that's because they have two distinct layer. And they are worth it!
The crust layer is a crisp shortbread that is baked first. It's buttery and slightly sweet.
That is covered with a creamy sweet and sour layer of orange filling that is added on top. Bake it again for a delicious creamy topping with a ton of orange flavor.
If you've made lemon bars or lime bars before then you'll be familiar with this easy process. If not here's the whole cookie bar making process below in step-by-step photos.
Some of the links below are my referral links. Which means as an Amazon Associate I earn from qualifying purchases and when you purchase through them I can make a little money at no extra cost to you. Thanks! See my disclosure policy for more information.
What You'll Need to Make the Orange Cookie Bars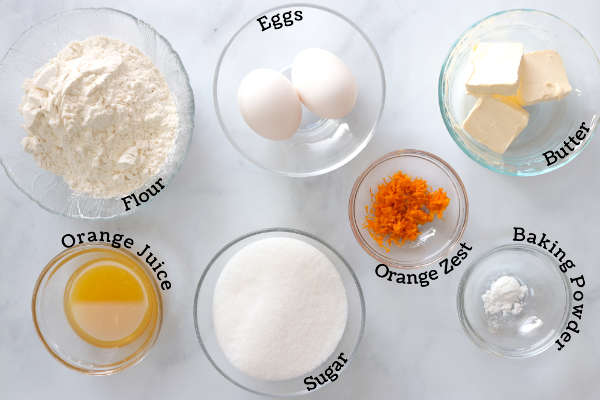 Only a few ingredients are needed and most are probably in your pantry or refrigerator if you bake at home. Here's what you'll need…
Flour, all purpose unbleached
Sugar, regular cane sugar
Eggs, size large
Orange Zest, grate just the orange part avoid the white part
Orange Juice, once the orange zest is removed squeeze the juice
Baking Powder, I like this aluminum free one
Butter, or make them dairy free with a dairy free margarine
Powdered Sugar, for dusting if desired
That's all that is needed for this recipe. To get just the zest off the orange, I recommend using a microplane like this one. It makes it easy to finely shred just the first layer off.
Let me show you how to make them.
How to Make Orange Bars
In just a few easy steps you can enjoy these citrus, sweet delicious cookie bars. It all starts with the shortbread crust.
Recipe Tip: You'll want to divide the sugar and the flour into the right portions for the crust and for the filling. If you measure it ahead of time, you are less likely to leave any portion out.
I know I almost missed adding the flour to the filling, but remembered at the last minute.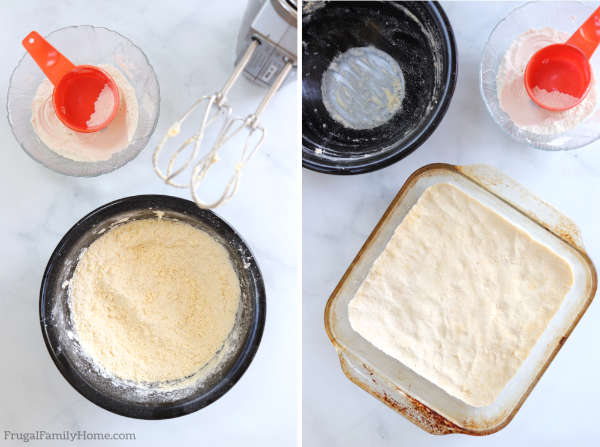 1. Make the Shortbread Crust
Beat the butter. Add the sugar and mix until combined. Then add the flour. Beat the mixture until it is crumbly. This dough won't come together you'll be pressing it into the pan. See the photo above.
2. Press in the Crust Layer
Now that the curst layer is mixed, it's time to dump it into your square baking dish and then press into place. Take it to the oven and bake until just golden brown.
Recipe Tip: Be sure to press the dough into the pan firmly and tap down the sides so they are even with the middle so you have a level layer of shortbread.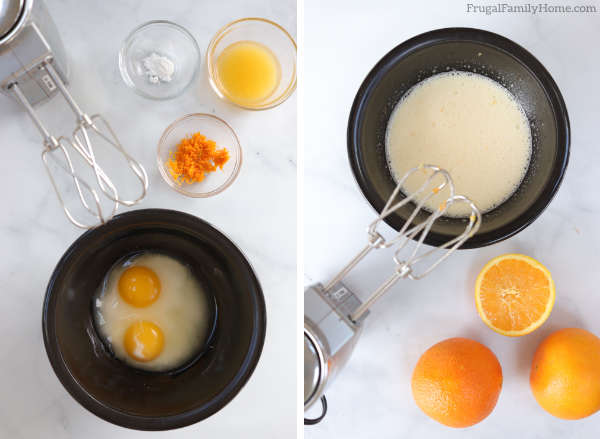 3. Make the Filling
While the crust is baking, it's time to make our filling. In a bowl we'll combined the eggs, sugar, flour, lemon peel, lemon juice, and baking powder. Beat for about 2 minutes or until combined.
Set aside until the crust is done.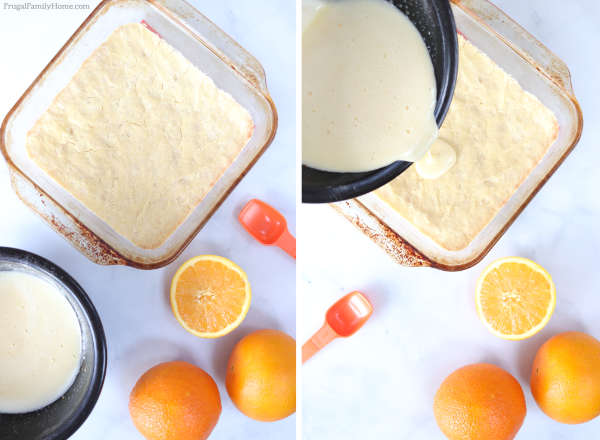 4. Adding the Filling
Once the crust is done baking, pour the filling over top of the hot crust. Then return to the oven to bake 20 minute or until lightly browned.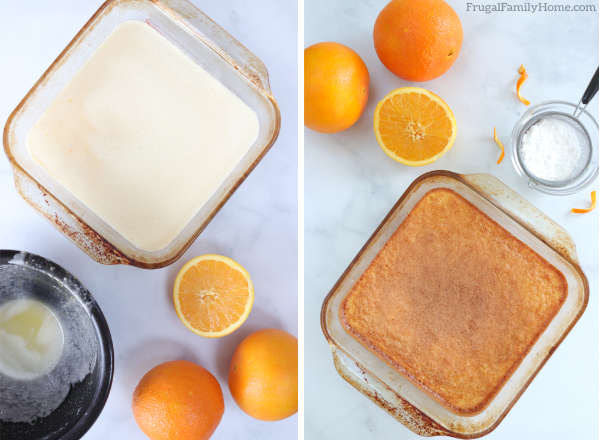 Once done baking cool on a wire rack. Once cooled sprinkle with powdered sugar if desired.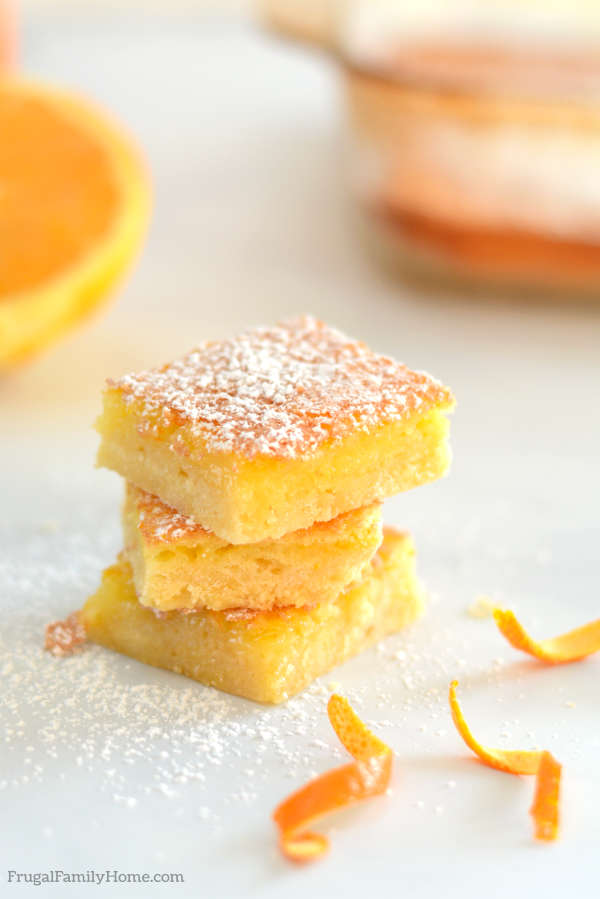 That's all there is to making these easy creamy orange bars. Just like lemon bars but with a great orange flavor. We make these when oranges are in season for the best flavor. But you can make them any time of year.
Desserts You'll Love: Apple Roll | Dairy Free Chocolate Pudding | Homemade Cheesecake Cupcakes
They are really refreshing on a hot summer day too!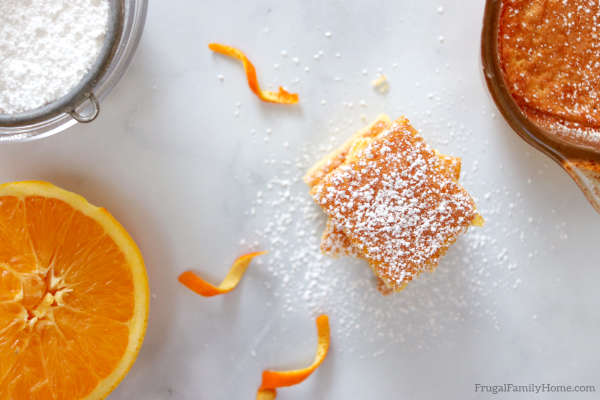 Get the printable recipe….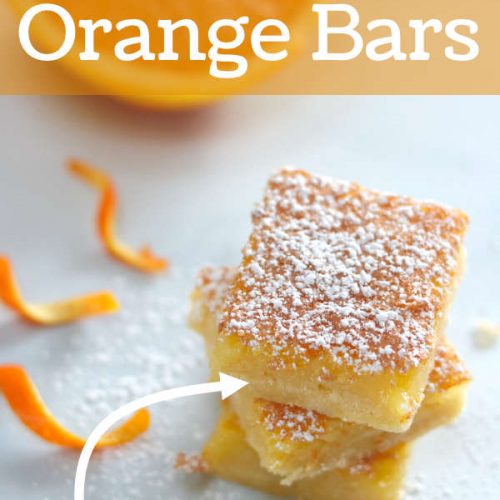 Easy Orange Bars
These orange bars have two layers. A crisp cookie layer on the bottom. And a creamy orange layer on top. They are so refreshingly good.
Ingredients
For Crust
1/3

cup

Butter

or Margarine to make dairy free

1/4

cup

Sugar

1

cup

Flour
For Filling
2

Eggs

3/4

cup

Sugar

2

tablespoon

Flour

2

teaspoons

orange zest

1/4

cup

Orange Juice

1/4

teaspoon

Baking Powder
Instructions
In a bowl beat the butter. Add the sugar and cream until well combined.

Add the flour and mix until crumbly. The crust mixture will not come together into a dough, it will be dry.

Dump the crust mixture into a 9-inch un-greased baking dish. Press down firmly and evenly.

Bake in a 350-degree oven until lightly browned about 16-18 minutes.

While the crust is cooking, add the filling ingredients into a bowl and beat until well combined.

Once the crust is done baking pour the filling on top.

Bake for 20 minutes or until the filling is browned on the edges and set in the middle.

Cool on a wired rack.

Sprinkle powdered sugar on top if desired.
Notes
To make these dairy free, you only need to use dairy free margarine instead of butter.
Nutrition
Subscribe and you'll get Recipes
sent right to your inbox!
Click the button below and fill out the form.