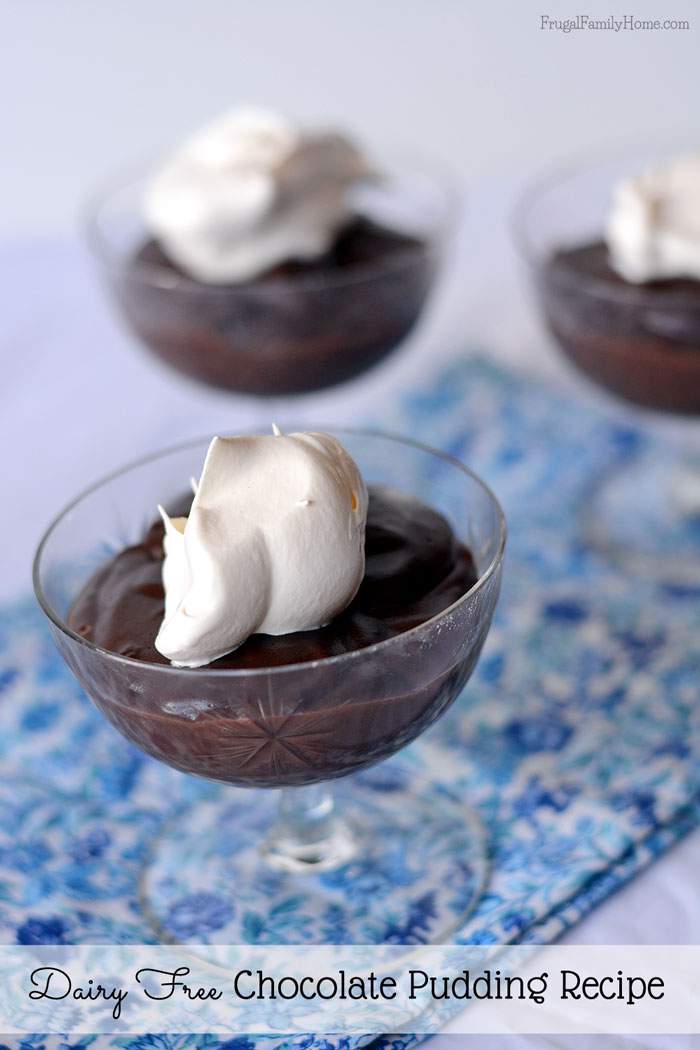 We like to have dessert around here. We all like our sweets. But since most of my family members are allergic to milk it really limits what I can purchase at the store ready made. My whole family likes pudding and I can purchase the dairy free kind at the store, but it is really easy and much less expensive to make pudding at home.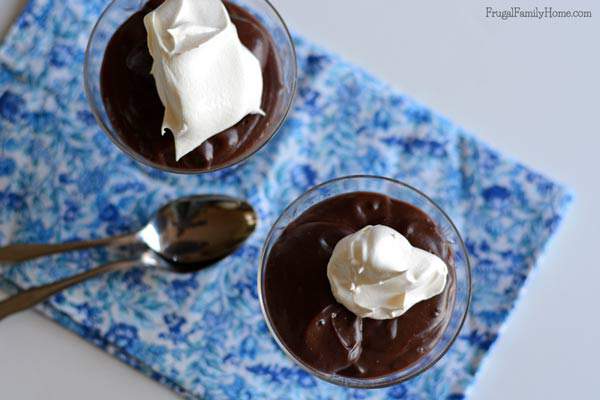 If you don't need to eat dairy free just use the regular milk and butter in the recipe below. This recipe works out to cost $1.27 for the whole recipe or $.21 per serving. Not too bad at all for dairy-free pudding.
Making Dairy Free Chocolate Pudding from Scratch
I start by adding the dry ingredients to a pan and giving them a whisk to combine. Then I drop in the eggs and whisk to combine.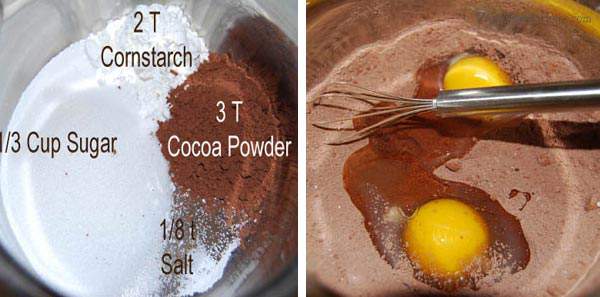 Slowly I add the soy or almond milk to the mixture. I know soy and almond milk work great in this recipe but if you use rice milk they pudding won't get as thick. I would avoid the rice milk, it just doesn't set as good. But coconut milk should work well too if you prefer it.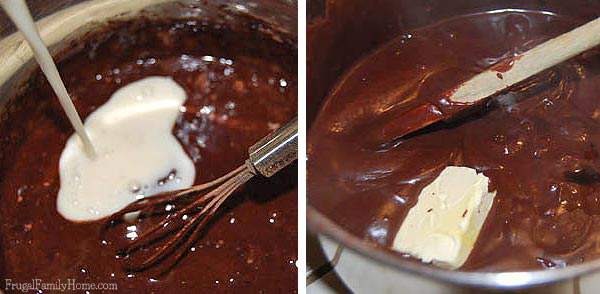 Once the milk is all incorporated in, I heat the pudding mixture and bring it to a boil. It's really important to keep stirring the mixture until it thickens. If you leave it without stirring, it will burn. I've had it happen to me before. So be sure to keep stirring.
Once the pudding has thickened, add the vanilla and dairy free margarine. Then let the pudding cool just a little.
After the pudding has cooled slightly I'll add the pudding to a casserole dish or into individual serving cups. I'll cover them and let cool in the refrigerator.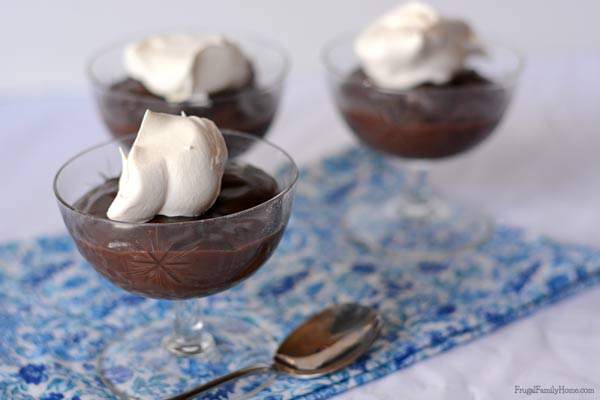 The pudding turns out thick and delicious just like regular dairy pudding. It only takes a few minutes to make and is almost as easy to make as the boxed pudding, but less expensive and dairy free.
Here's the printable recipe you can print and add to your recipe file,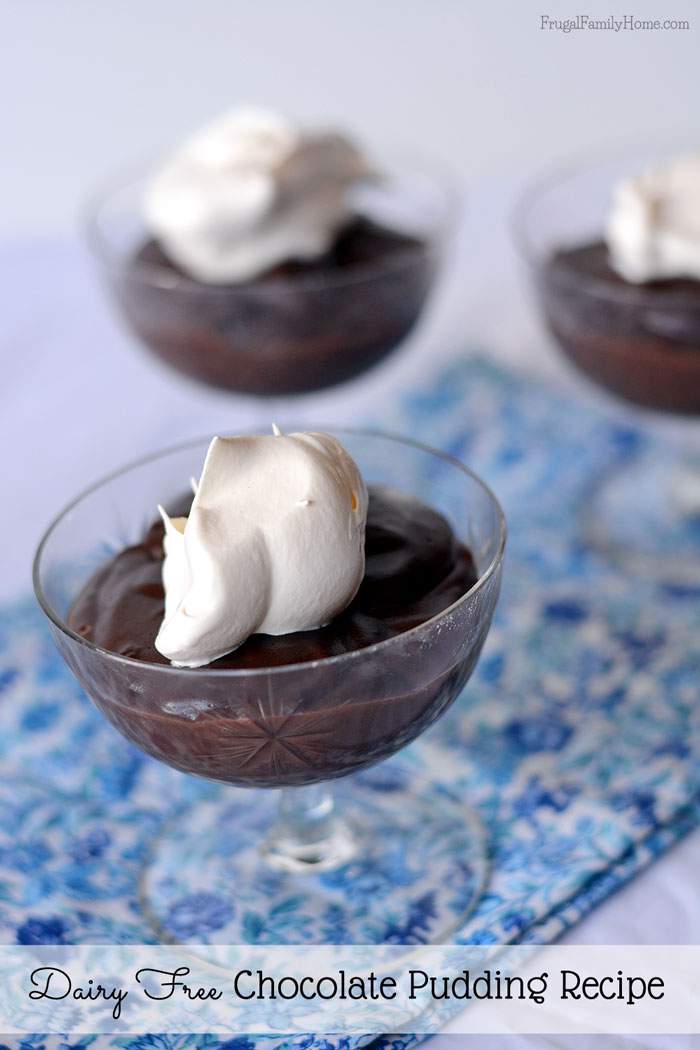 Dairy Free Chocolate Pudding
Ingredients
1/3

cup

Sugar

2

T

Cornstarch

3

T

Cocoa Powder

1/8

t

salt

2

Eggs

2

cups

Soy or Almond Milk

2

T

dairy free stick margarine

I use nucoa (Coconut Oil might also work, but I haven't tried it)

2

t

Vanilla
Instructions
Mix the sugar, cornstarch, cocoa powder and salt in a pan.

Add the eggs and mix well.

Slowly pour and mix in the soy or almond milk.

Cook over medium heat to a boil. Boil 1 minute then remove from heat.

Stir in vanilla and margarine.

Let cool a few minutes then pour into a casserole dish or into small single serving dishes.

Cool then enjoy.
Do you make pudding from scratch? What do you like to top your pudding with? Our favorite is a dollop of dairy-free whipped cream with a few sprinkles on top.
Other Posts in This Series
Day One, Oat Groats
Day Two, Rice Cereal
Day Three, Cinnamon Twists
Day Four, Jam Danish
Day Five, Caramel Sticky Buns
Day Six, Cheeseburger Muffins
Day Seven, Pinwheel Sandwiches
Day Eight, Pizza Cups
Day Nine, Crisp Bean Burritos
Day Ten, Twice Baked Taco Potatoes
Day Eleven, Crock Pot Whole Chicken
Day Twelve, Chicken and Bean Enchiladas
Day Thirteen, Cheesy Ham and Potato Crock Pot Dish
Day Fourteen, Hamburger Skillet Dish
Day Fifteen, Crock Pot Taco Soup
Day Sixteen, Kettle Corn
Subscribe and you'll get Recipes
sent right to your inbox!
Click the button below and fill out the form.