Did you grow up eating those soggy, squishy brussel sprouts that I did? They were pretty awful and squirted when you bit into them.
I can see why kids hate them. If you want your kids to eat their brussel sprouts you want to make this recipe of oven roasted brussel sprouts with bacon.
Because isn't everything better with bacon?!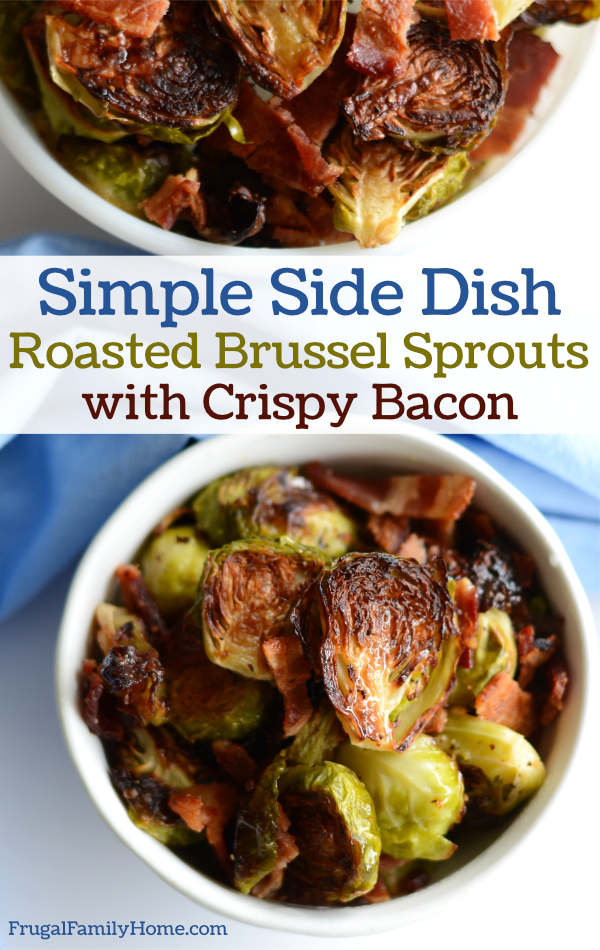 Making Oven Roasted Brussel Sprouts
You don't have to make brussel sprouts like your mom did. Oh no!
And if you want your family to actually enjoy their brussel sprouts, you need to try this recipe.
It's a wonderful mix of smokey bacon with the natural nutty sweetness of the roasted brussels sprouts in one dish.
You can keep this recipe simple with just salt and pepper for seasonings. Or you can add garlic if you desire.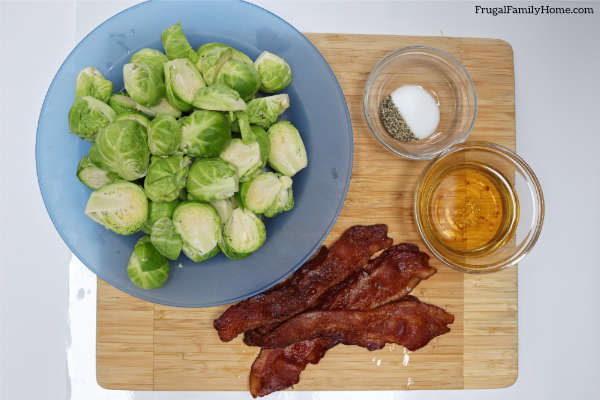 We keep it simple with just salt and pepper most of the time. But it's great either way.
The best part about this recipe is it's simple and easy to make in the oven. No watching a pot of boiling water so it doesn't boil over. And if you are roasting your meat for that night, it can cook right alongside the brussels spouts too.
Making for a one pan dinner. Easy to make and easy to clean up too.
How to Clean Brussel Sprouts
If you've never made brussels sprouts before you might be asking how do you clean brussel sprouts? You need to clean them before roasting. So here's how to clean brussels sprouts.
First peel the open or loose leaves off each of the brussel sprouts.
Then you can soak the brussel sprouts in a big bowl of water. Swishing them a bit. Or you can put them in a colander and rinse them well.
Finally cut the stem end of shorter and you are ready to cook with your brussel sprouts.
How to Make Roasted Brussel Sprouts with Bacon
I've made a quick video to show you each step of this delicious recipe. But if watching a video isn't your thing, I get it. Scroll down for cooking tips and the printable recipe too.
Oven Roasted Brussel Sprouts Cooking Tips
Don't Line Your Sheet Pan
When roasting you want the food to be in contact with the metal so they will crisp nicely. No need for a silicone liner or parchment paper when roasting vegetables.
Don't Overcrowd the Pan
Using a large baking sheet can help you avoid overcrowding of the pan. If the brussels sprouts are too close to one another in a smaller baking pan, they will steam instead of roast and become soggy.
Like those yucky brussels sprouts, you may have eaten as a kid. Yuck!
Keep the Brussels sprout Cut Side Down
You want as much of the surface area in contact with the sheet pan. Make sure the cut sides are down can help to insure browning takes place and adds a nice flavor.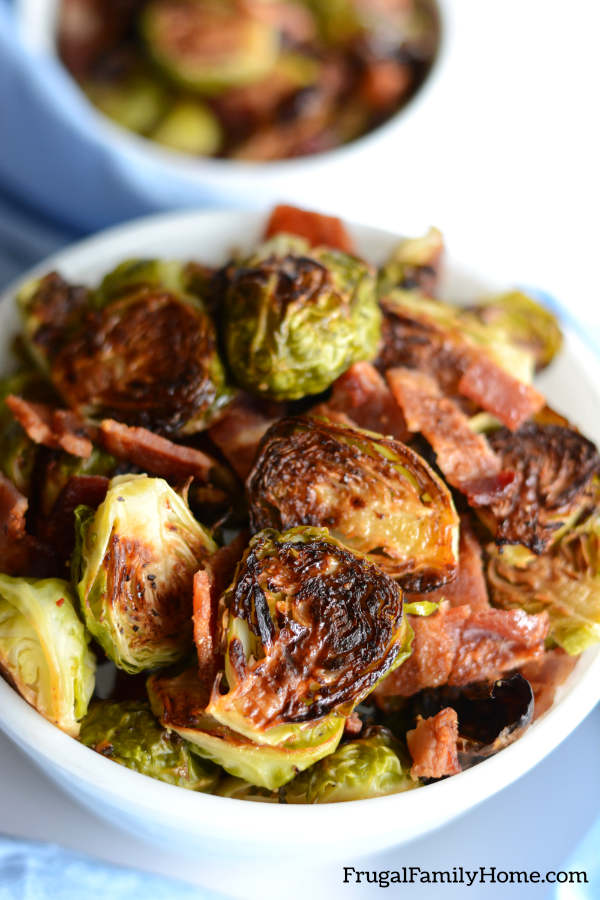 Keep the Temperature High
When roasting any vegetable you want to cook it quick and brown them. If you cook them on too low of a temperature, they will steam or bake and you won't get that crisp caramelized deliciousness of oven roasting.
Don't Mess with the Brussels Sprout
Let the sprouts cook and get a caramelized. If you stir them too often, they won't have time to brown and that would be so sad. Instead, let them cook on one side until nicely browned, about halfway through the cooking time.
Then give them a stir so you can get the other side crisp too.
Get the printable recipe…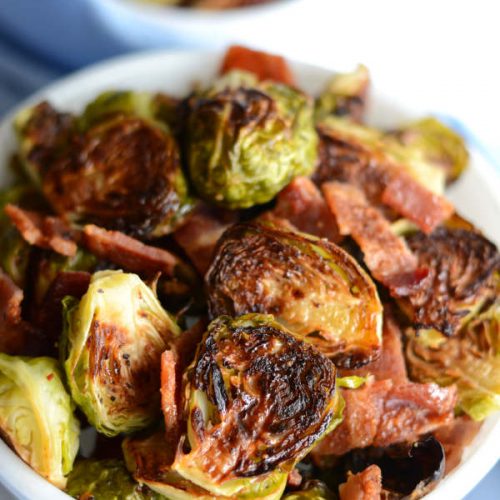 Oven Roasted Brussel Sprouts with Bacon
A delicious way to eat your brussels sprouts. When you oven roast the brussels sprouts it brings out the natural nutty sweetness. Add bacon and you have a perfect side dish.
Ingredients
6

slices

Bacon

1

pound

Brussels sprouts

cut in half

2

tablespoons

Bacon Fat

reserved from cooking bacon

1

tsp

Salt

1

tsp

Pepper
Instructions
Place the bacon on a large cookie sheet and bake at 400 degrees until crisp. About 15 minutes.

While the bacon is cooking, wash the brussels sprouts. Then cut in half.

Place prepared brussels sprouts into a large bowl.

Once the bacon is done cooking, remove it from the pan and drain on a paper towel or rack.

Reserve 2 tablespoons of the bacon fat.

Drizzle the prepared brussel sprouts with bacon fat, stir to coat.

Sprinkle with salt and pepper. And stir to coat the brussels sprouts well.

Place the brussels sprout cut side down on a sheet pan.

Bake 425 degrees until brussels sprouts are tender inside and crisp on outside for 25 minutes. Be sure to stir them about halfway through the cooking time.

During the last minute of baking crumble the bacon and sprinkle on the brussels sprouts to reheat it.

Serve.
Video
Notes
If you want to make these vegan, omit the bacon and use olive oil in place of bacon fat.
Nutrition
Calories:
176
kcal
Carbohydrates:
7.4
g
Protein:
9.7
g
Fat:
12.9
g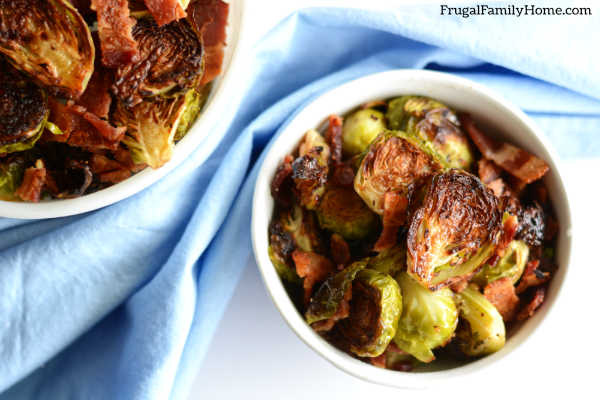 This is a simple but delicious side dish. Perfect for a weeknight dinners. But fancy and flavorful enough for your holiday table too.
Enjoy your brussels sprouts and get your kids eating them too with this delicious and quick recipe for roast brussels sprouts with bacon.
With the bacon added your family will enjoy their vegetables even more.
Find More Roasted Vegetable Recipes…