This is a super easy summer recipe for those hot days you don't feel like cooking. And it can easily be a main dish if you add extra pepperoni or a little leftover cooked chicken or beef. This is how easy it is to make pepperoni pizza pasta salad.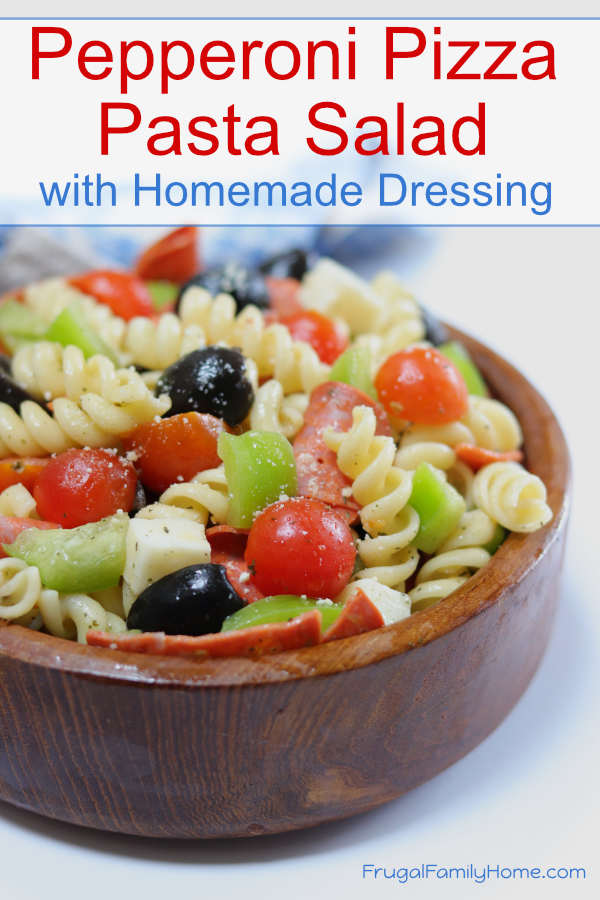 Pepperoni Pasta Salad
If you love pizza this easy recipe will be perfect for you to enjoy the taste of pizza on a hot day.
It's easy to make on the stove and gets better if it sits overnight. So you can make it the night before and have dinner ready and waiting in the refrigerator.
Which is so convenient on a busy day.
Plus, you can customize this pepperoni pasta salad to your family.
Can't stand peppers, not need to add them if you don't like them. If you love broccoli, add it in too.
But let's get started with what you'll need to make this Italian pizza salad.
Pepperoni Pasta Salad Recipe Ingredients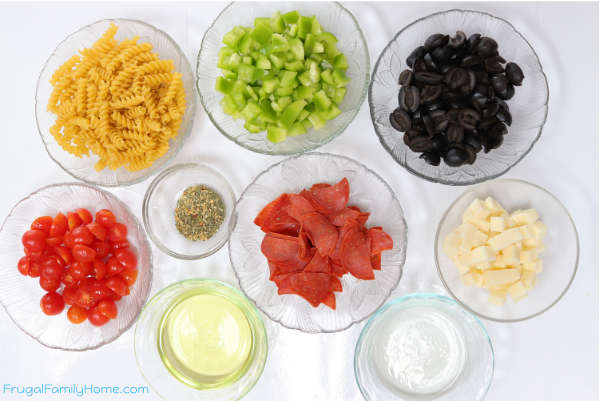 Ingredients:
Pasta
Use the spiral noodles but the medium shells work great too.
Pepperoni
Use the pepperoni you like best. The mini pepperoni is great for this recipe. If you are looking for less fat, try the turkey pepperoni, it's the one we always use.
Cheese
Mozzarella is great but cheddar would be good too, cubed the cheese, it gives you a nice bite of cheese in the pasta salad.
Olives
Canned olives are convent to use in this dish, cut them in half so you don't have to chase them around the plate.
Cherry Tomatoes
If you have the tiny cherry tomatoes, you can leave them whole. But if the tomatoes are bigger cut in half or into quarters.
Green Pepper
Using green pepper adds more color to the pasta salad and a nice crunch in each bit too. Dice them small to spread them out in the salad.
Pizza Seasoning, Vinegar, and Oil
This combination makes a great homemade dressing for this salad but if you don't have everything on hand Italian dressing will work too.
How to Make Pepperoni Pizza Pasta Salad
Here's a quick video to show you step by step how to make this pepperoni pasta salad, including the dressing. But if watching videos isn't your thing, I get it, keep going for the printable recipe and salad making tips too.
Make This Pepperoni Pasta Salad Great with These Tips
Chopping the Vegetables and Cheese
When cutting the vegetables and cheese make them into different sizes and shapes to add interest and to make sure they get distributed into the salad well.
For the cheese you can shred it but it's also nice cut into cubes. The cubes add a nice bite of cheese to each bite of the salad.
Shredding the cheese can spread it out more over the salad which you might prefer. Or if you can't decide, cube half of the cheese and shred the other half.
For the vegetables it's nice to have them in different sizes to add interest. We eat with our eyes you know.
The olives can be left whole but that can make it hard to fork them. Cutting them in half makes this salad easier to eat.
The same goes for the cherry tomatoes, cutting them in half or quarters if they are bigger makes them easier to eat. If you only have regular tomatoes, dice them and add them in instead.
The green peppers add a nice crunch to this pasta salad. You can dice them small or big depending on how you like them. I like them diced smaller so a little pepper gets into each bite.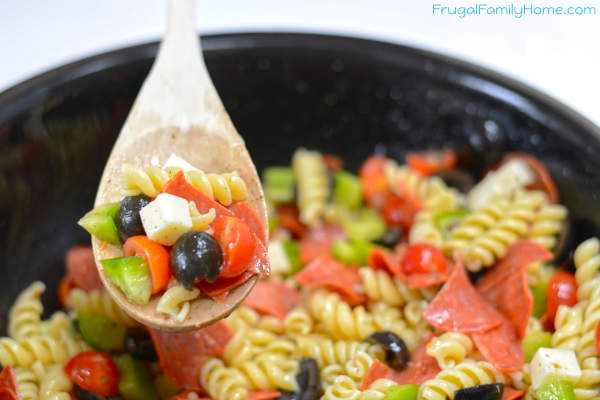 Cooking the Pasta Tips
You only want to cook the pasta to al delte. Which is a fancy way for saying cook until the pasta is firm to the bite but not soft.
If you cook the pasta too long, it can fall apart when you are mixing the salad. Cooking it until it is firm to the bite means it will hold up better in the salad.
Making the Pasta Salad Dressing
While you could use Italian dressing from the store, making your own pizza flavored dressing isn't hard at all.
It starts with pizza seasoning. This pizza seasoning recipe is easy to make and taste great used in homemade pizza sauce. And it's the perfect flavoring for our pepperoni pizza pasta salad.
You can use whatever kind of oil you like. I often use canola oil because I always have it on hand. But olive oil is a great choice too.
For vinegar, you can use white or apple cider vinegar in this recipe. But if you like a little milder vinegar flavor, try rice vinegar. We love it in dressings.
There are a few different ways you can make the dressing.
You can use a whisk to whisk all the ingredients together to blend well.
Or you can use a canning jar with a lid. Place all the ingredients into the canning jar, seal tight with the lid, and shake, It's that easy.
You could use a blender or food processor to mix all the ingredients together, but the other two ways are easier and less to clean up.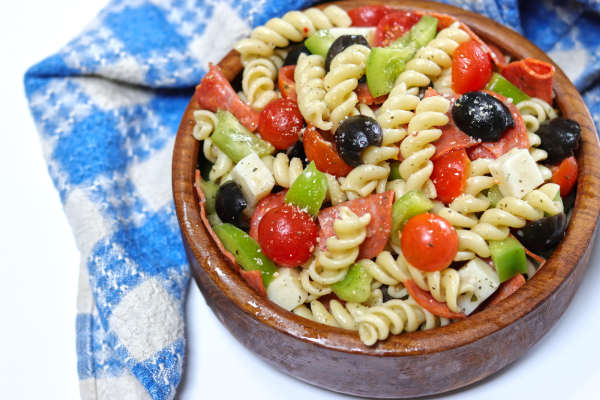 Make it Ahead
This pasta salad is best if it has time to sit in the dressing and marinate a bit in the refrigerator. If you can make it ahead at least 2 hours, cover it, and refrigerate it the flavor will be better. The more time it has to marinate the better the flavor will be.
Now you have all the tips for making this pepperoni pasta salad recipe, grab the printable recipe below so you can add it to your recipe notebook, or pin it for later.
Get the printable Recipe…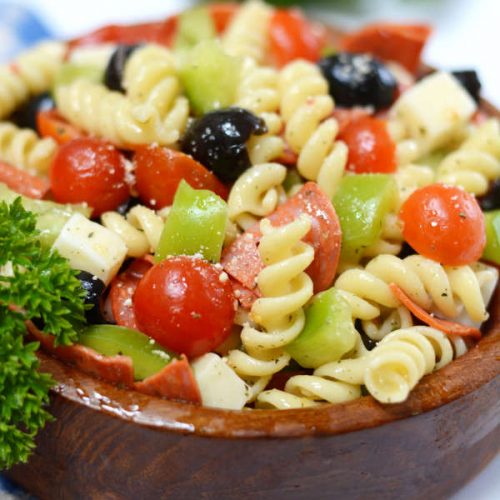 Easy Pepperoni Pizza Pasta Salad
A quick and easy pasta salad that tastes like pizza.
Ingredients
3

cups

Dry Pasta

cooked and drained

3

ounces

Mini Pepperoni

or Pepperoni Slices

1

cup

Mozzarella Cheese Cubes

1

can Olives

sliced in half

2

cups

Cherry Tomatoes

sliced in half

1

Green Pepper

diced

1 1/2

teaspoons

Pizza Seasoning

1

teaspoon

Salt

1/2

teaspoon

Pepper

1/4

cup

Vinegar

1/2

cup

Oil

Parmesan Cheese for serving

if desired
Instructions
In a large pot boil the pasta and cook until it's just al dente, which means cook until firm to the bite, but not soft. Drain and rinse with cold water. Set aside.

Add the pepperoni or mini pepperoni to the pasta. If using slices of pepperoni you can cut them into strips if desired.

Cut or chop the vegetables and cheese. Add to cooled pasta and pepperoni.

In a bowl or jar, add the vinegar, oil, and seasoning. Whisk if in a bowl or if added to a canning jar place the lid on top and shake to mix well.

Pour dressing over the pasta, cheese, vegetables, and pepperoni. Toss to coat.

Cover and place in the refrigerator to marinate at least 2 hours. You can eat it right away but the flavor will be better if it has time to marinate a bit.

Sprinkle with parmesan cheese when serving if desired.
Video
Notes
If you want this recipe to be dairy free omit the cheese altogether or substitute a dairy free cheese instead.
Nutrition
Calories:
327
kcal
Carbohydrates:
35
g
Protein:
4.6
g
Fat:
18.3
g
Sugar:
4.6
g
That's how easy it is to make the flavor of pizza into a pasta salad. This pepperoni pizza pasta salad is a quick and easy dinner when it's hot out or when you just don't feel like cooking much for dinner.
And it's even better when it's made ahead. So you can make it the night before and come home to dinner already done.
Serve it with a green salad and dinner is ready.
More Easy Salad Recipes
Subscribe and you'll get Recipes
sent right to your inbox!
Click the button below and fill out the form.