Summer is full of summertime fun and cool foods like these homemade raspberry cream popsicles.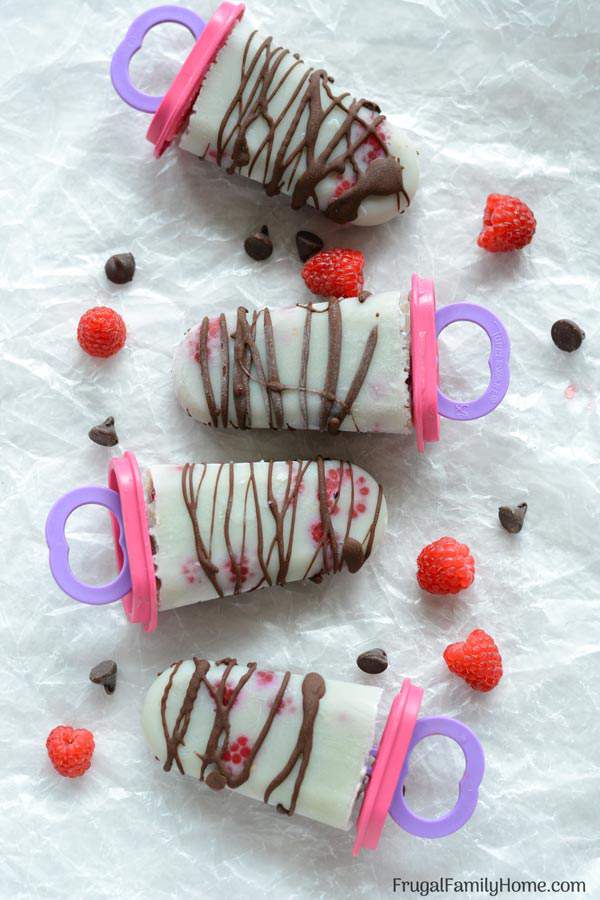 Summer is the perfect time to enjoy homemade popsicles. Now you can purchase the sugar water ones from the store, we enjoy them from time to time or make your own raspberry cream popsicles with fresh raspberries.
I've enjoyed popsicles forever. I remember sitting around in the summer waiting to hear the sound of the ice cream man coming down the street so we could beg our mom for money for a cool treat.
We do have an ice cream man that comes around every once in a while at our home now but my kids would rather have a homemade popsicle. Especially a creamy one like these raspberry cream popsicles.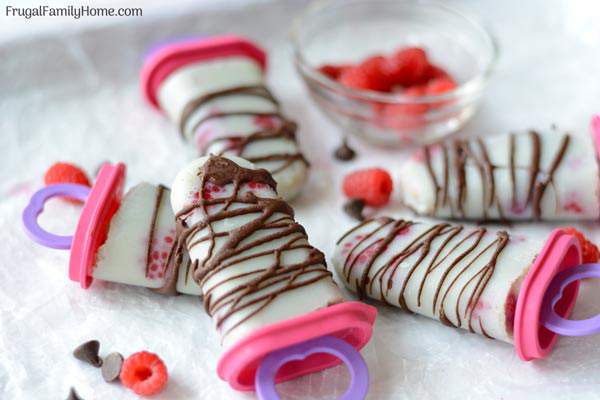 I love the combination of fruit mixed with milk to make a creamy and fruity summer treat. With raspberries in season it's a great time to make these raspberry cream popsicles. But you could also make these with frozen berries too.
Items You'll Need to Make Raspberry Cream Popsicles
Milk or Dairy Free Milk (Rice, Almond, Coconut, Soy)
Raspberries
Raspberry Jam
Popsicle Molds
I prefer to use raspberry jam in these raspberry cream popsicles. I like the color the jam adds and the sweetness too. But they aren't as sweet as if you added sugar so it a good balance of sweetness, creaminess, and fruit flavor.
How to Make Raspberry Cream Popsicles
Get your popsicle molds ready. I like to set them up ahead of time to make sure I have everything. There is nothing worse than pouring your popsicles into the molds and then having to find the sticks or lids to add.
Mix the raspberry jam with the milk or milk substitute if you are making them dairy free.
Add a few raspberries to each of the popsicle molds. It's easier to arrange them before the liquid goes in.
Give the raspberry cream mixture a good stir and then fill each popsicle mold. Add the top and stick.
Then place in the freezer and freeze until solid.
For an added treat melt a few chocolate chips with coconut oil and drizzle onto the raspberry cream popsicles before serving. The chocolate will harden add a yummy chocolate crunch to the raspberry cream popsicles.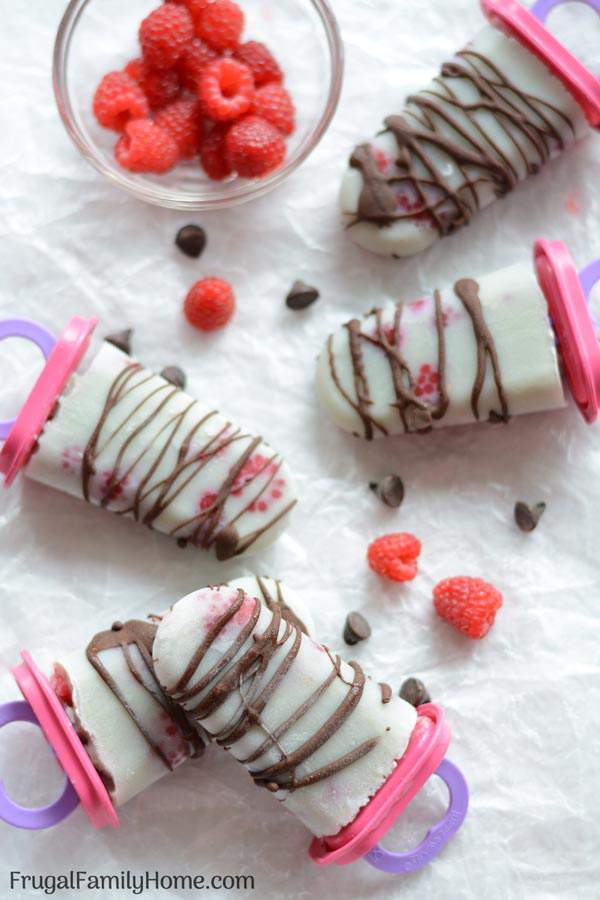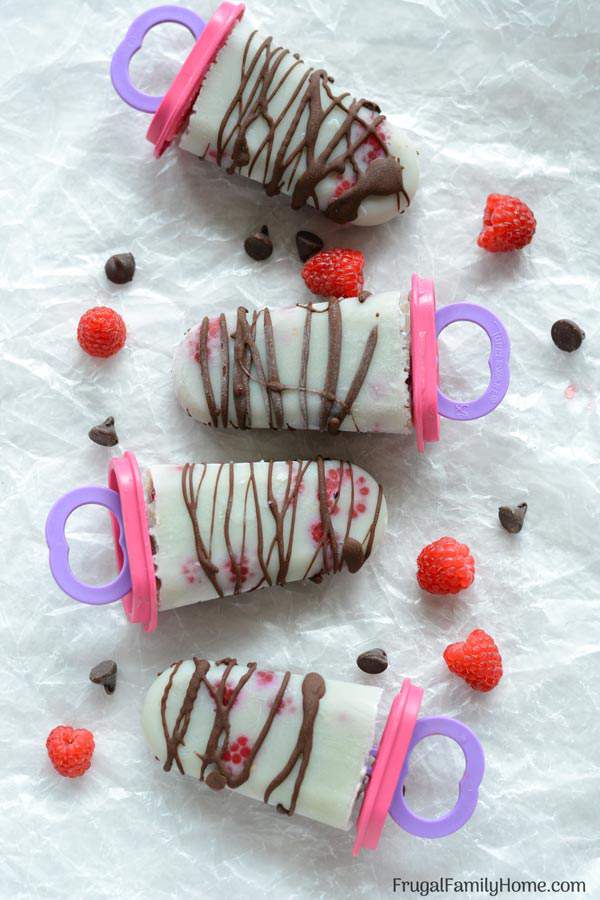 Raspberry Cream Popsicles
Ingredients
1

cup

Milk or Dairy Free Milk

Rice, Almond, Coconut, Soy

1

cup

Raspberries

1

tablespoons

Raspberry Jam

Optional Chocolate Drizzle

1/2

cup

Chocolate chips

1

tablespoon

Coconut Oil
Instructions
Get your popsicle molds out and place a few fresh raspberries in each mold.

Add the milk with the raspberry jam to a bowl or large measuring cup, whisk to mix well.

Pour the milk mixture over the raspberries in the popsicle molds. Add top and sticks and freeze until solid.

If chocolate drizzle is desired, melt chocolate chips with coconut oil and stir to incorporate well.

Remove the raspberry cream popsicles from the mold and drizzle with the chocolate sauce.

Serve right away.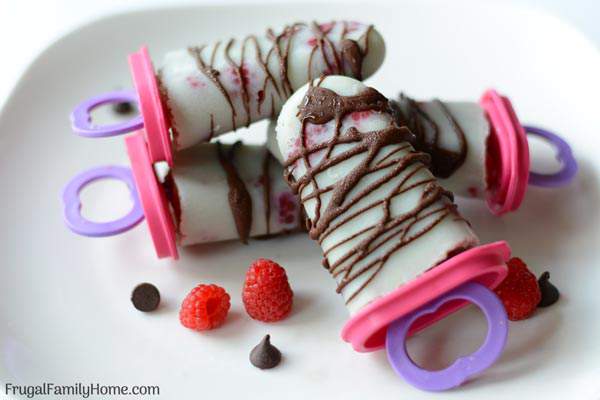 Different Options for these Homemade Popsicles
If you need to eat dairy free, use a dairy-free milk instead of the cow's milk in the recipe.
We like soy milk best because it tends to be a little thicker than almond or rice milk. You could also use soy creamer or coconut milk wth the cream from the can in this recipe too.
For reducing the sugar, use a low sugar jam. Or purchase more raspberries and crush or blend them into the milk instead of jam.
It will cut out the sugar of the jam and keep the raspberry flavor too. Be sure to reserve a few whole berries to add to each popsicle mold.
Mix different flavored jams with different fruit. Use whatever fruit you have on hand to add to your cream popsicles.
You don't have to use one flavor of jam with the same fruit. Mix and match with what you have on hand or what you've found on sale to make these even less expensive to make.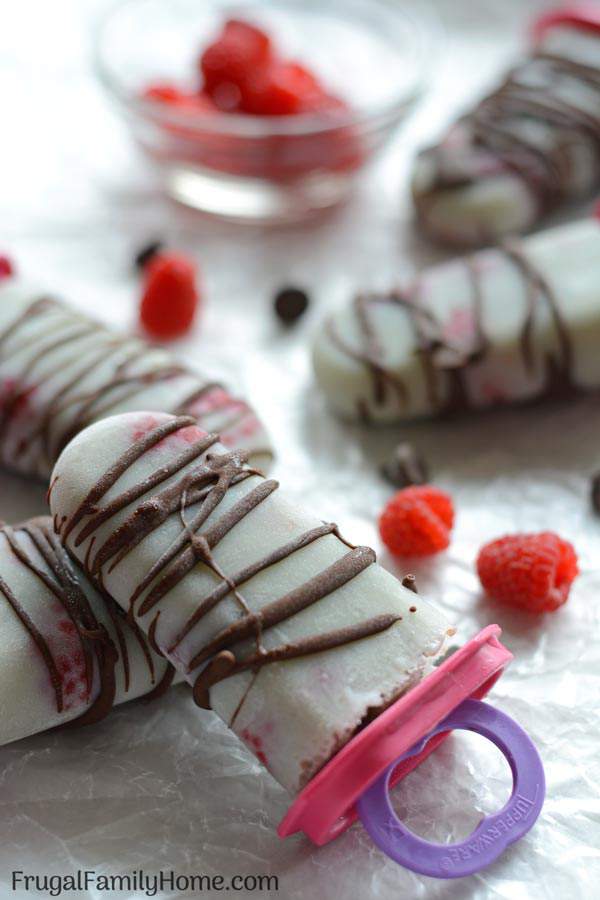 How Much Does Each Raspberry Cream Popsicle Cost?
These are the same price as the store bought popsicles and a little more expensive if you add the chocolate drizzle. But I think they are worth it because you'll be getting some calcium and fruit instead of just sugar water when you eat them.
But I think you'll be surprised at how little they do cost to make at home. I made 6 popsicles using my popsicle molds which make 2-ounce popsicles. These were really close to the size of the twins popsicles you can get at the store at 2.5 ounces each.
The cost of the sugar water popsicles from the store is $2 for 12 popsicles, making them cost $.17 each or $.07 an ounce. This homemade popsicle recipe works out to $.14 for each popsicle or $.07 an ounce.
The same price as the store-bought ones but you'll be getting a little calcium and fruit in a yummy popsicle and not just sugar and water.
As you can see these raspberry cream popsicles are simple to make and are comparable in price to the store bought popsicle but you get to control the ingredients.
You can enjoy these anytime the summer sun gets too hot and you need a delicious break without having to wait for the ice cream man or run to the store.
I hope you and your family enjoy them as much as we do.
More Summer Treat Recipes
End of the Jar Popsicles
Strawberry Ice Cream
Hot Fudge Sauce
Pin This Recipe for Later…

Subscribe and you'll get Recipes
sent right to your inbox!
Click the button below and fill out the form.