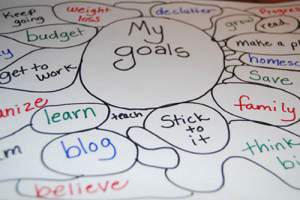 This week I had a really productive week. I have been getting up early for the Early to Rise Challenge and I have to say it is going so much better than I thought it would. I am really enjoying the extra quiet time for myself, which I didn't really realized I was missing. In turn I am getting so much more done each day. I am also feeling so much more peace each day which in turn make me a more patient and understanding mom to my two kids.
I was able to achieve most of my goals from last week with only leaving one behind to work on again for this up coming week. I hope you too had a great week and I would love to have you share what goals you have planned for yourself this week too.
Here is what I was able to accomplish this past week,
Write a note of encouragement or make a phone call ( I made some encouraging comments on a few blogs this week)
Work with the kids in making our garden plan for this year (I didn't get to plan with the kids this week)
Sprout peas for planting in the garden ( I was able to get the pole peas, bush peas, broccoli and kale planted this week, now if the birds will just leave them alone)
Get to bed on time, 10:30 (I was in bed each night this week on time)
Exercise each day (This week was a good week, I planned on exercising 5 days this week and I was able to get my exercise in each day)
Bible CD with kids each morning (we are almost done listening to the Book of Mark)
Good Morning Girls Luke Study (finished this study this week if you haven't tried one of their studies before you really should look into it, I am so glad my friend Erin shared this resource with me.)
Do a project with the kids (we made cupcakes with fondant frosting, recipe coming soon)
Goals for This Week
Plan out the garden with the kids
Continue with the Early to Rise Challenge this week and blog about it
Listen to the Bible on CD each morning with the kids, finish the book of Mark
Pick my next book to read off my reading list, see my review of Fear, Faith and a Fistful of Chocolates that I just finished.
Continue my exercising 5 days a week
Drink more water at least 6 glasses a day
Get to bed by 10:30
Plan next 9 weeks of our homeschool
Try a new recipe
What is your plan for this week?
[signoff]