How has your garden been growing this year? I've been so pleased with how great my berries have been doing this year. The last two years have been great years for berry growing around here. This week the Tuesdays in the Garden bloggers and myself are sharing about what's growing in our gardens and what we are harvesting in our backyard gardens too.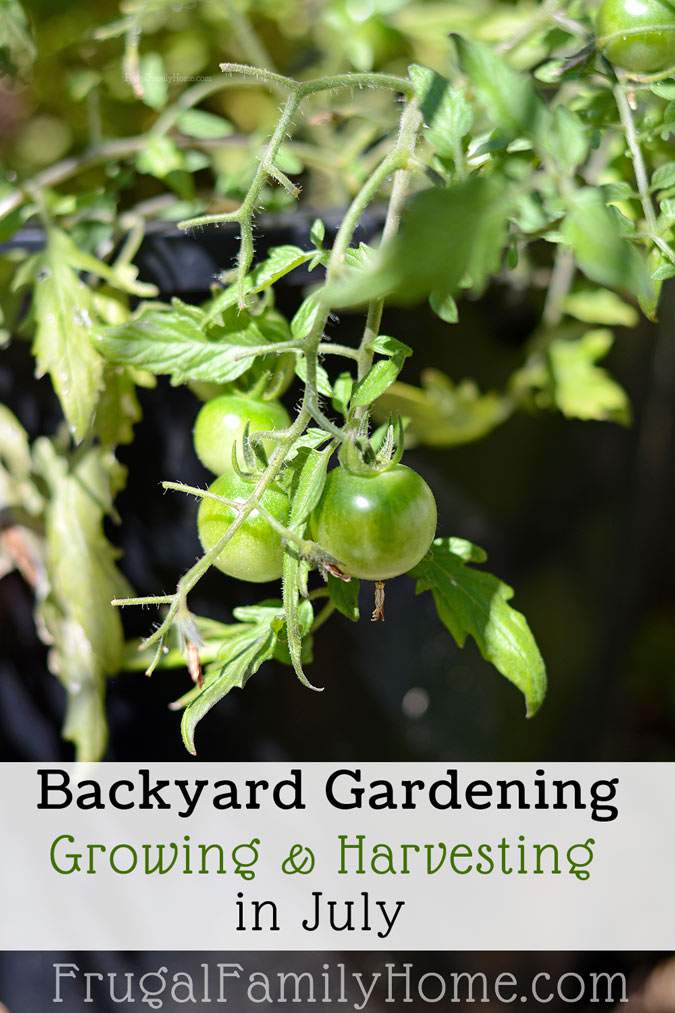 What We've Been Harvesting Lately in Our Backyard Garden
This past month our garden has been producing berries like crazy. The beginning of June started out with strawberries and by the end of the month, we had raspberries too.
Strawberries
At the first of the month, I was harvesting a quart of strawberries at a time. By about the second week I was harvesting pounds at a time. I'm pretty sure we ended up with about 20-25 pounds of strawberries out of our 3 by 11 feet long raised bed.
Moving the strawberries to their own raised bed worked out well. I was a little worried since I moved them in the middle of January. It was cold and dry and I wasn't sure how well they would do, but it didn't affect them much.
Their new raised bed is in the sun more hours than the old location and I think that had a lot to do with how well they ended up producing this year.
I made three batches of strawberry freezer jam with some of the berries we harvested. I froze a few quarts of berries for smoothies and to make jam with later in the year. Plus we ate our fair share of those sweet and delicious strawberries.
If you want to add strawberries to your garden be sure to check out my guide for how to grow sweet strawberries in your backyard garden.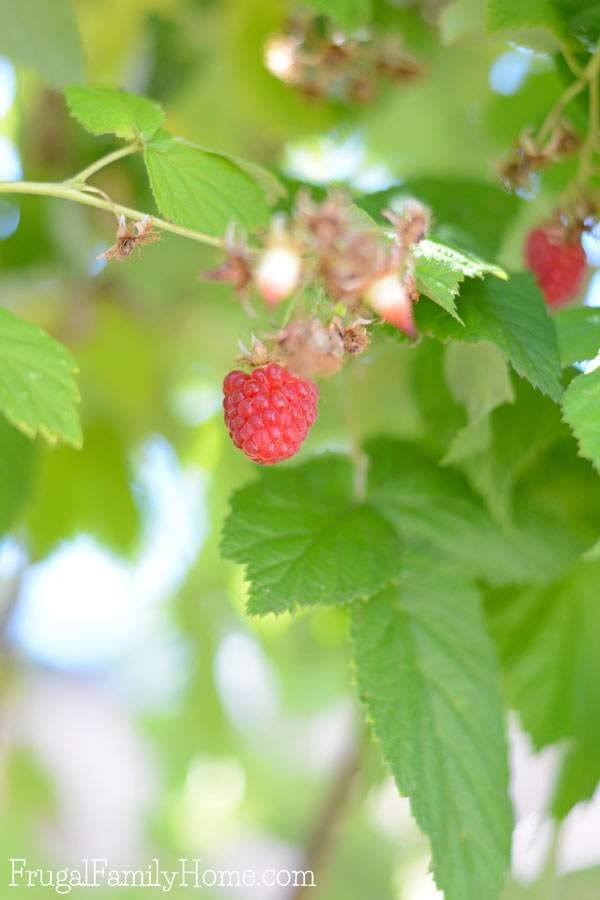 Raspberries
By the middle of the month, I was not only picking strawberries but the raspberries started to produce too. I was really hoping to have a little time between harvesting the strawberries and raspberries but it ended up they overlapped each other this year.
The raspberries are one of the reasons I moved the strawberries. Raspberries refuse to stay where they are planted and they wandered into the strawberry patch. Instead of fighting the raspberries I moved the strawberries and made a second run of raspberries instead.
With the two runs of raspberries, we ended up picking about 6-10 quarts of raspberries this year. There might be one more quart left to pick but they are definitely slowing down.
I made one batch of cooked raspberry jam and another batch of raspberry freezer jam this year. We froze a few quarts of raspberries for later use too. We passed some of the berries along to our neighbors to enjoy and enjoyed quite a few raspberries ourselves.
I think raspberries are my favorite kind of berry or at least second only to the marionberry.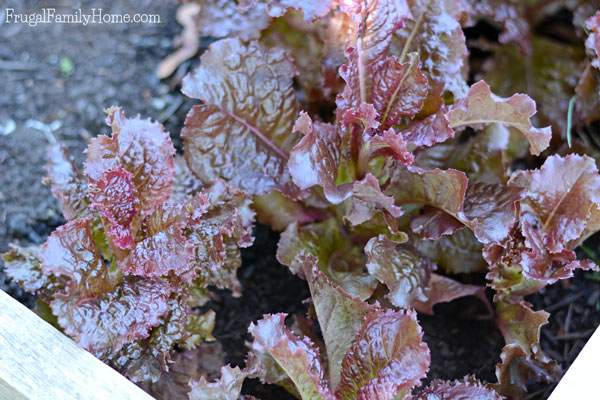 Lettuce
I planted quite a bit of lettuce over a few weeks. We love to have salads with dinners if you looked our my menu plans you already know this, and growing lettuce is really quite easy.
I've already harvested about 10 heads of lettuce and we probably have at least 20 more in the garden. We've been having off and on very hot weather for this time of year which can make the lettuce bolt. When I see a head of lettuce starting to grow a little tall I'll harvest it to eat.
I've been pretty good about staying ahead of the bolting lettuce but with the recent spike in heat again. I might be losing the battle. Hopefully, we will drop back into more normal temperatures for this time of year soon and slow down the lettuce bolting too.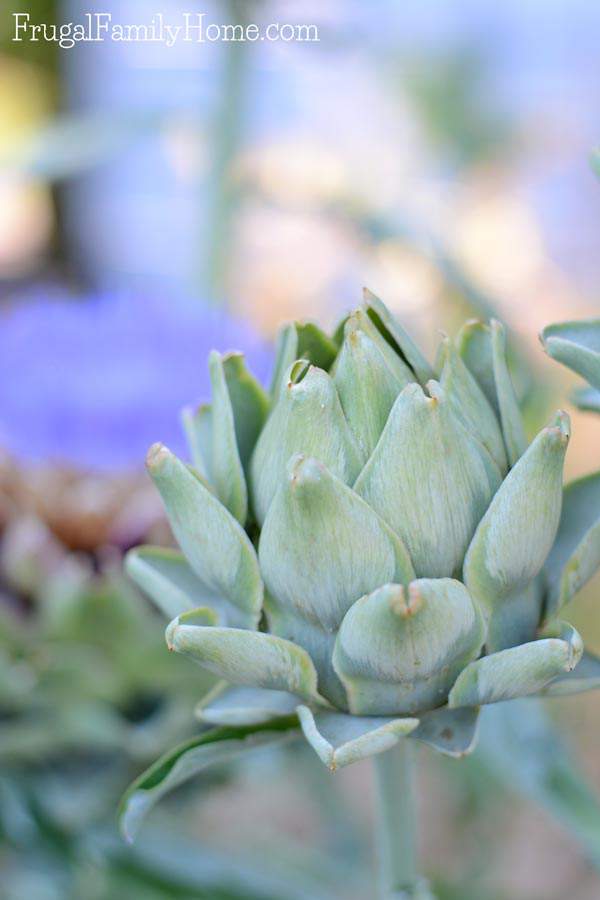 Artichokes
I've tried over the years with mix success in growing artichokes but this year was a great year for them. I start my artichokes from seed last year and they struggled along grew a little bigger but didn't produce even one artichoke. But this year I had two artichokes make it through the winter.
One artichoke plant remains very small. But the other one is huge. All the neighbors stop and ask what kind of plant that is towering in the middle of our garden. It's 5 feet tall and has 7 artichokes on it.
As soon as I saw so many artichokes forming I had a dilemma, would I harvest them to eat or let them flowers to bring bees to our garden? I decided on letting three artichokes flower and we are planning on eating the other four. There are two about ready to harvest. It's so exciting to be able to grow artichokes in our garden finally.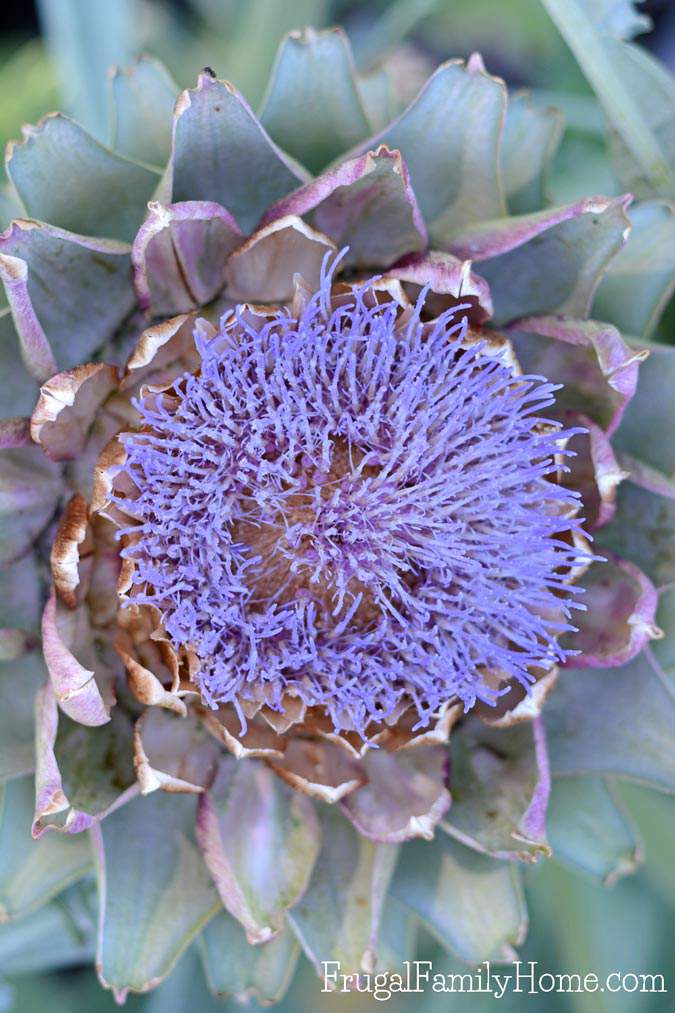 Out of the ones I left to flower, one started to bloom last week. It's such a beautiful purple color inside and the bees love it.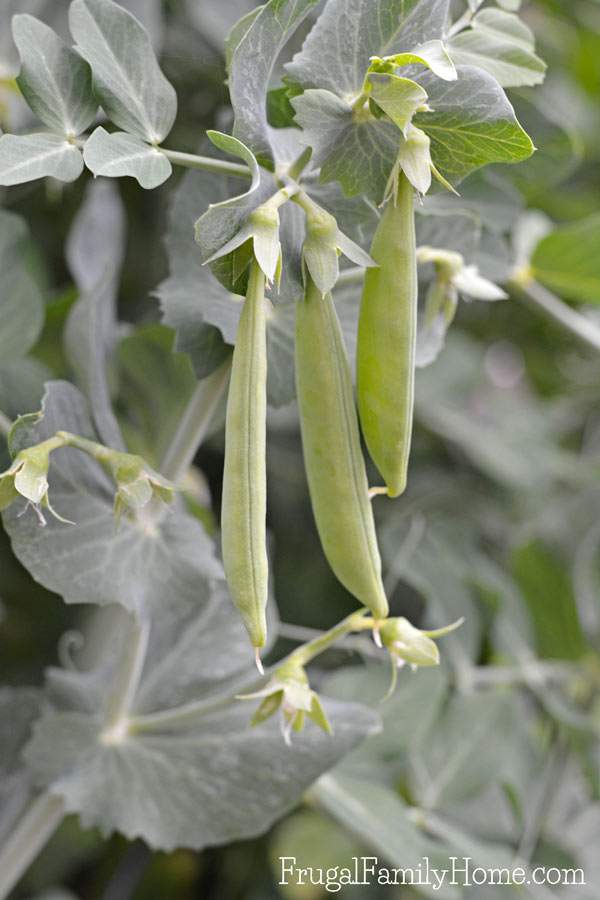 Sugar Snap Peas
The sugar snap peas have seen better days. With all the heat they are really starting to die off but we are still harvesting about a half a pound a week. Soon they will be totally spent and I'll remove them from the garden but we've had lots of delicious peas produced this year.
Last year my peas grew well about 5 and a half feet tall. This year they only grew to about 4 feet tall but produced many peas. I would estimate we picked about 10 pounds of peas at least.
Just Starting to Produce or Grow in Our Backyard Garden
With the strawberries done for this year and the raspberries starting to fade it's time for the blueberries to start. We have quite a good crop of blueberries waiting to ripen.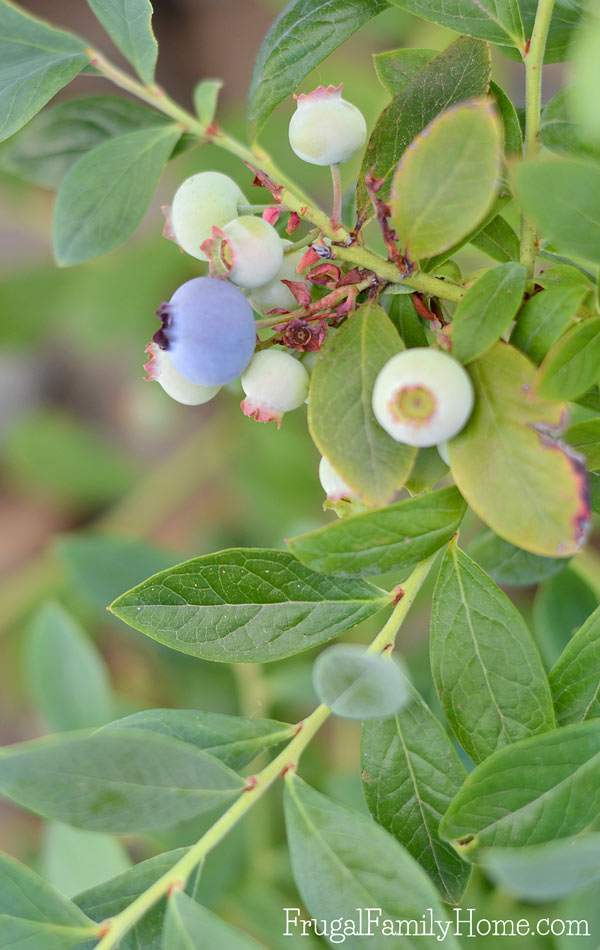 Blueberries
I think we will be eating blueberries regularly soon. But for now, we are just getting a small handful at a time. My husband is enjoying the snack of blueberries while out working in the yard.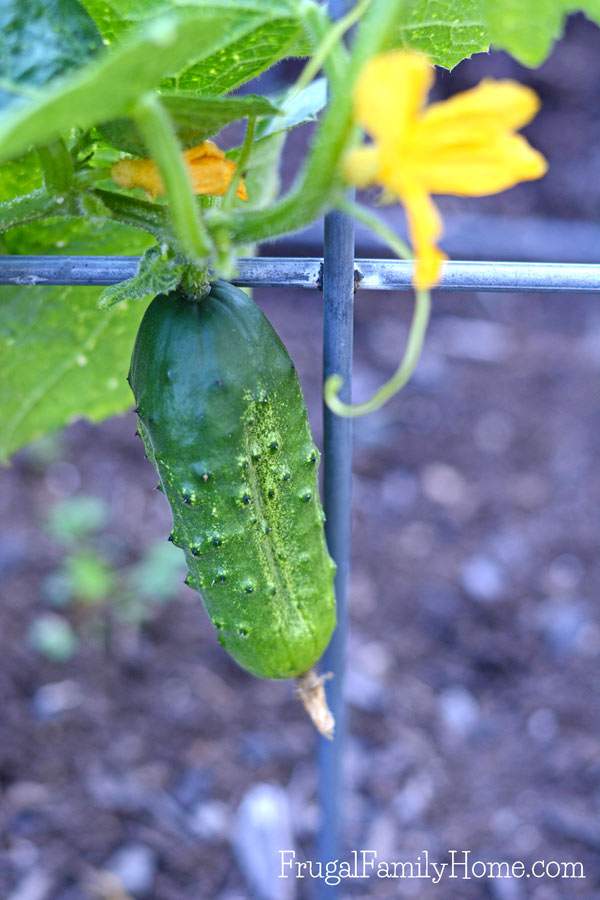 Cucumbers
Cucumbers are also starting to produce slowly. I'm not sure what's going on with them. They are in a new spot this year and maybe they have too much shade from the fence or from the peas, but they are slow to grow.
Even though the plants are not too big yet, we've already harvested 5 cucumbers from our plants. With lots more flower on the plants too.
I like to grow picking cucumbers instead of slicing cucumbers. I grow the vine variety on a cattle panel trellis. I also plant a few bush cucumbers which are more compact plants. They can even be grown in a container if your garden space is more limited.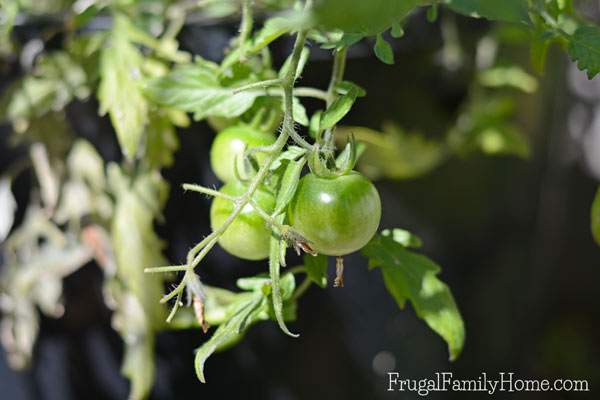 Tomatoes
Finally, we are seeing a few tomatoes forming on the plants. Last year I accidentally crossed a tomato with a bell pepper and we got the most delicious tomatoes ever.
The resulting tomatoes from the cross ended up being a compact tomato, about the size of a Roma tomato but a little rounder. The wall of the tomatoes were thicker with fewer seeds in the middle and more divided chambers.
My kids just loved them and we saved a few seeds to replant this year. We have a couple already forming on the plants.
We also have a few cherry tomatoes forming on the plants. I'm sure it won't be long before we are enjoying cherry tomatoes from the garden too.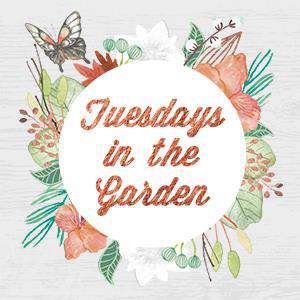 That's what been happening in our garden so far this year. To see what the other Tuesdays in the Garden bloggers have been harvesting from their gardens click on the links or photo below. We have gardeners from the Pacific NW, the Midwest and the East Coast too sharing about their gardens.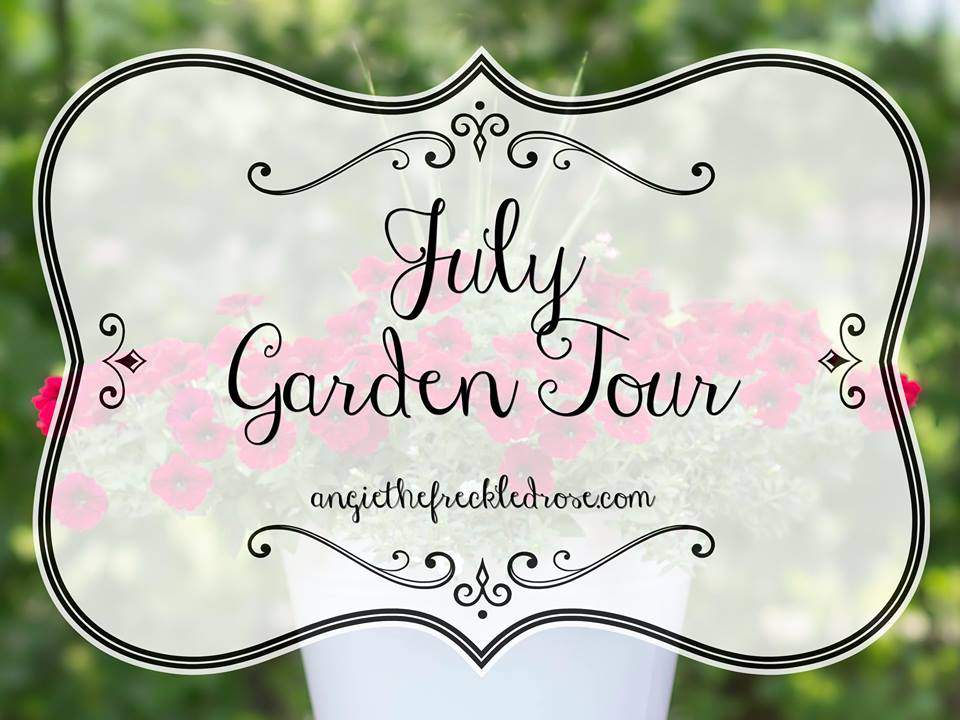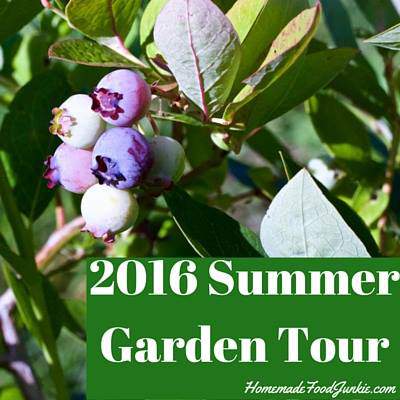 Diane from Homemade Food Junkie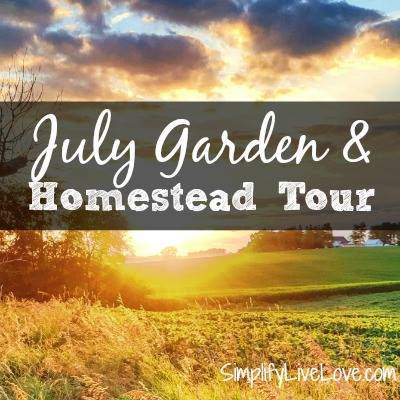 Michelle from Simplify, Live, Love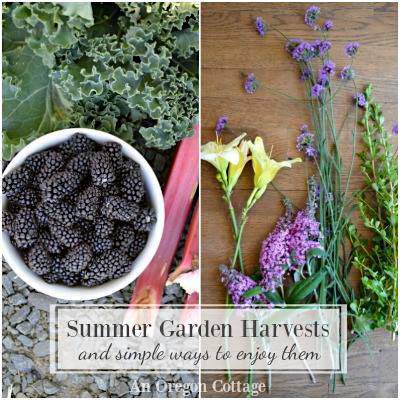 What are you harvesting from your garden this month? I would love to have your join in and leave what you've been harvesting in the comments below.
Get the Companion Plants List
When you join the gardening email list, you'll not only get gardening tips sent to your inbox, you'll also get the companion plants list too.