Pantry Mixes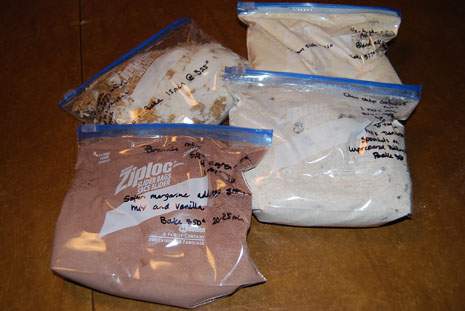 Making your own mixes give you the best of two worlds, convenience and from scratch baking. By making your own mixes you know the ingredients in your foods. By making the mixes ahead you can have the convenience of the box mixes but still have homemade items.
I have found you can make almost any recipe, well at least a baking recipe, into a pantry mix. All you need to do is to leave out the wet ingredients and mix the dry ingredients. I also leave out any butter/oil but you can add shortening if the recipe calls for it. I have found this works with most recipes if you use them within a few months of making them.
I also make instant oatmeal packages to have on hand. The ingredients cost so little so you can really save by making your own. Brownie mixes, cake mixes, muffin mixes, cookie mixes and bread machine mixes are just a few mixes I have made ahead in the past. If you have never made a pantry mix you might give them a try. Having the pantry mixes on hand can be a real time saver.
Here are a few different pantry mixes to try out for yourself.
Bread Machine Mixes from Thrifty and Thriving
Baking Mix
Muffin Mix
Instant Oatmeal Packages 
Have you tried making pantry mixes before?