I don't think most people associate frugal living with fun. Homemaking to most people sounds like a lot of work. But both of these can be fun. Today's list of You Might Be a Frugal Homemaker if.. points are all things I do or have done.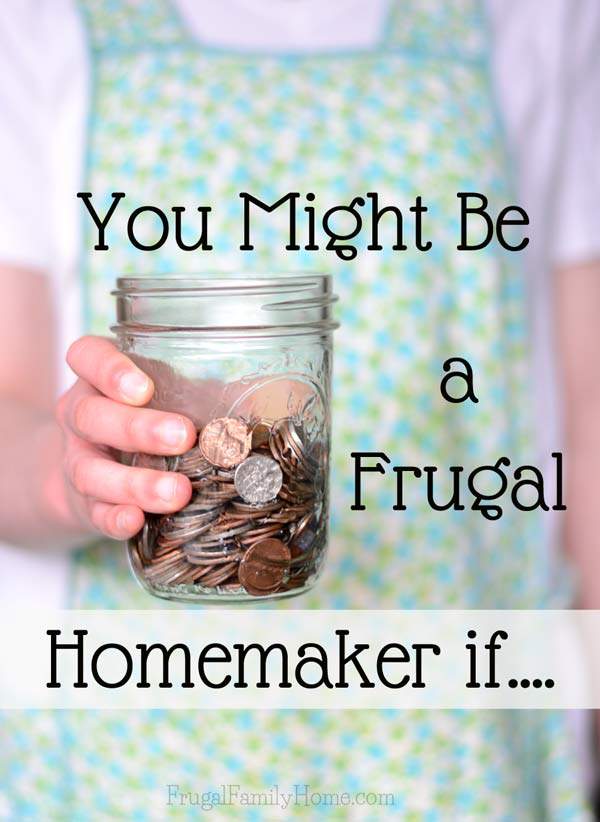 Sometimes you need to get a little creative to save money. Some of these might be things you already do. But I'm hoping they will get your thinking of creative ways and little tasks to help you save money in the everyday things you do.
You Might Be a Frugal Homemaker if…
1. Carefully flatten your aluminum foil so you can wash it and use it again.
2. You have a system for washing your plastic zippers bags so they can be reused.
3. You keep your old bread bags, so you have bags for your homemade bread and use them until the wording is almost worn off.
4. You can't bring yourself to purchase laundry detergent, but instead make a batch of homemade laundry soap that last a year.
5. You know how to darn a sock and actually get around to doing it.
6. You physically can't throw away a bottle with a little left in it, instead you water them down to make sauce.
7. You know how to make your own foaming hand soap.
8. You have the rock bottom prices memorized for the items you buy most often and comment to yourself about how you could get a better price at a different store while shopping.
9. Your not afraid to take apart a broken appliance to see if you can fix it.
10. You can read a schematic of broken appliance to order the new part and fix it yourself.
11. You've cut open the toothpaste tube just to get that little bit out you can see but can't quite squeeze out, even when you squash the tube against the counter.
12. Your bar soap looks like a masterpiece will all the layers of small leftover pieces of soap bars stuck together.
13. You'd rather shop an estate sale, garage sale or thrift store before setting foot in a mall.
14. You know the perfect route to hit all the discount grocery stores in your area in one trip.
15. You can turn a bunch of leftovers into a meal your family raves about.
Now it's your turn! What can you add to this frugal homemaker list? I would love to have you share your ideas in the comments below.
See all the posts in this series, 

More Frugal Living Ideas,