Inside: Find 10 tips for how to streamline your cooking process. In this episode of the Frugal Family Home podcast.
Making dinner every night can be hard. It's so easy to call for a pizza or pick up something in the drive through on a busy day, but the food isn't that tasty and it's not that great for you either.
But if you streamline your cooking process you can get dinner on the table even on a busy day.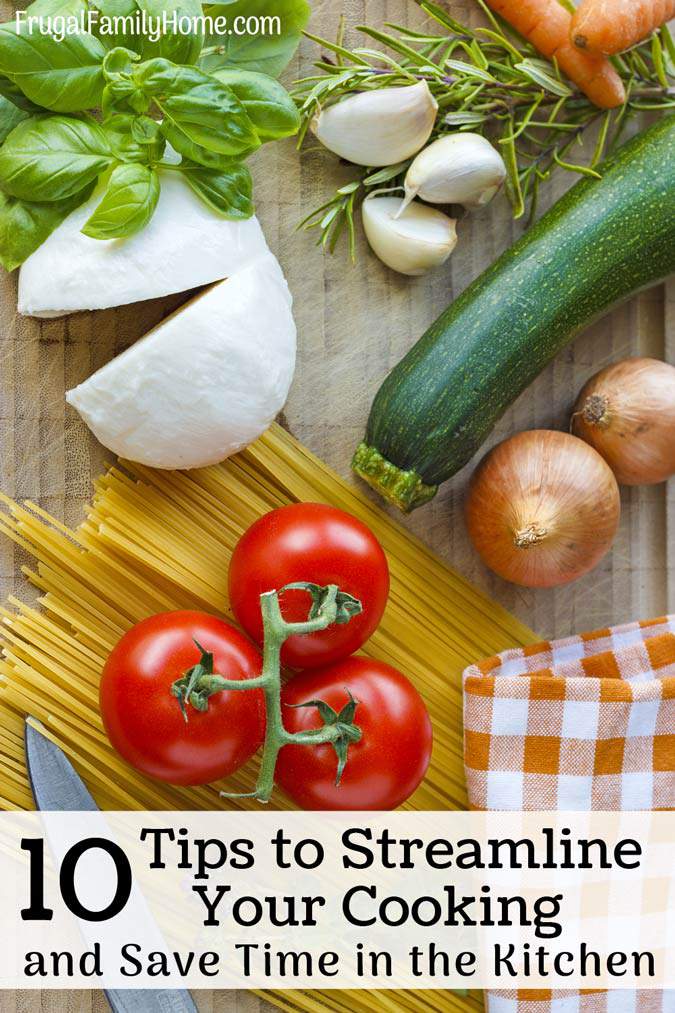 In this Frugal Family Home podcast, I'm sharing a few tips that help to streamline my cooking process. There are little tricks you can do from start to finish to make cooking easier even if you don't like to cook all that much.
Podcast: Play in new window | Download | Embed
Subscribe: Apple Podcasts | RSS
With a little preparation and a little planning, you can streamline your cooking process making it easier to prepare meals on days that are busy and avoid eating out. Which can save you quite a bit of money.
Show Notes,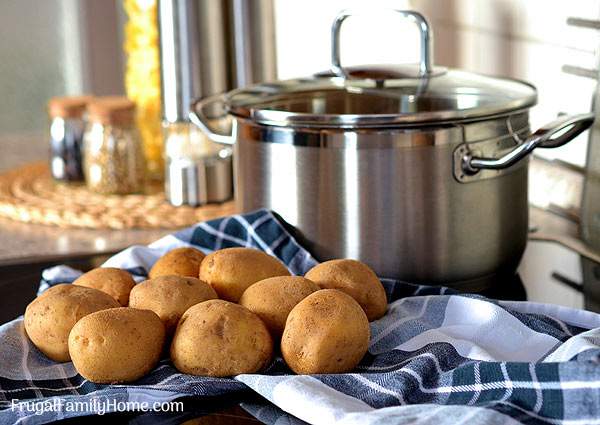 10 Tips to Streamline Your Cooking
1. Prepare to Cook, Pull back your hair, take off dangling jewelry, and put on an apron. Make sure to have comfortable shoes or slippers to cook in.
2. Get Familiar with Your Recipe, Read your recipe more than once so you know all the steps before you start.
3. Prepare Ahead of Time, Cut up vegetables, wash the fruit, get as much ready before you start cooking to make the process a little easier. If you have small dishes to put items in you can pre-measure the ingredients and have them ready to dump into the recipe at the right time.
4. Group Like Ingredients Together, when you keep items you normal use at the same time in one spot it can cut down on the amount of time it takes to cook. I keep all the baking items in the same cupboard above my mixer. All seasonings are in a cupboard too.
5. Clean as You Go, keep your counters wiped up and the counters cleared off. Place dirty dishes as you finished with them in the sink. Clean the dishes in the sink while you are waiting for items to cook or place them in the dishwasher. You'll be happy when you're done that you cleaned as you went along.
6. Prepare Simple Meals, Meals with simple whole ingredients can be really delicious. But they can also be easier to prepare. I try to keep most of our dinners simple. I might make the main dish of roasted chicken, add easy to make mashed potatoes and home canned green beans. It's a delicious meal that doesn't take much time or many ingredients.
7. Make a Good Plan, plan your meals for the week so you'll be sure to have all the ingredients you need when it comes time to cook. There is nothing worst than having to run out for items when you are just getting ready to make dinner.
8. Batch Cook, After shopping prepare as much of the items as you can for the week. Cook the ground beef if you'll need cooked ground beef for your recipes. Cut the chicken for the recipe and place it in marinade then freeze until needed.
9. Prep Sides Ahead, When you are looking over your menu plan look to see what sides you'll need for the week. Prepare them ahead or make extra when you make a batch early in the week.
10. Get the Family to Help, Have the kids and/or your husband help with the cooking and planning process. The more they are involved the less complaining you'll have when it comes time to eat, especially from picky eaters. They are less likely to complain about dinner if they helped prepare it.
Related Articles to Help Streamline Your Cooking
How to Make Cooking From Scratch Manageable
8 Chicken Freezer Meals for the Freezer in an Hour
8 Pork Loin Meals for the Freezer in an Hour
Make Simple Meals to Save Time in the Kitchen
Kitchen Tip: Dinner Prep
What's a tip you could add that helps to streamline your cooking? I would love to have you share it in the comments below.