Last year I did a post A Day in the Life..2013. It was a fun post so, I decided to join Simply Rebekah again this year. Here's a little glimpse into our life on the other side of the computer.
Morning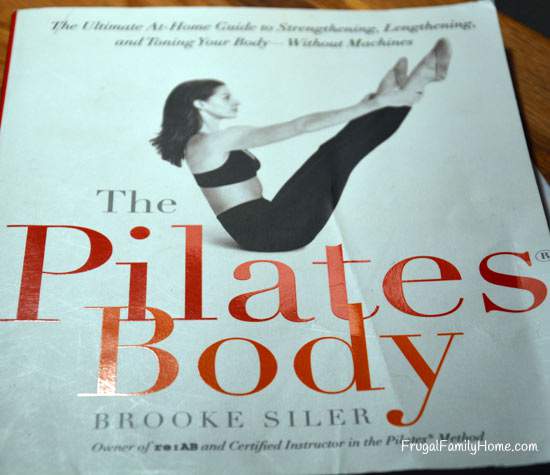 If you have been following along with the 12 Months to a Healthier You Challenge, you know I've been working on exercising each day. You also know I need to get my exercising in right after I get up before I can talk myself out of it.
This morning, I got myself out of bed, dressed and brushed teeth and hair. Then I did a Pilates routine right away for my exercise today.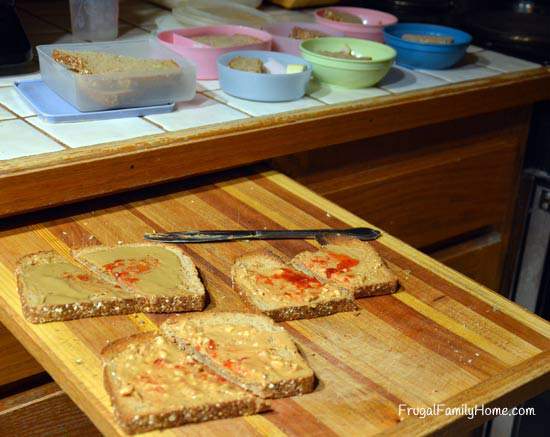 By this time my family was starting to stir awake. So it was time to get ready for the day. I made breakfast, which is never anything fancy on weekdays, just toast and scrambled eggs today.
I made my husband's lunch for him to take to work. I also made some snacks for the kids to have ready in the refrigerator when they were hungry.
After breakfast was cleaned up, it was time to start the laundry and school. My daughter did most of her work on her own. I worked with my son on his reading and math today.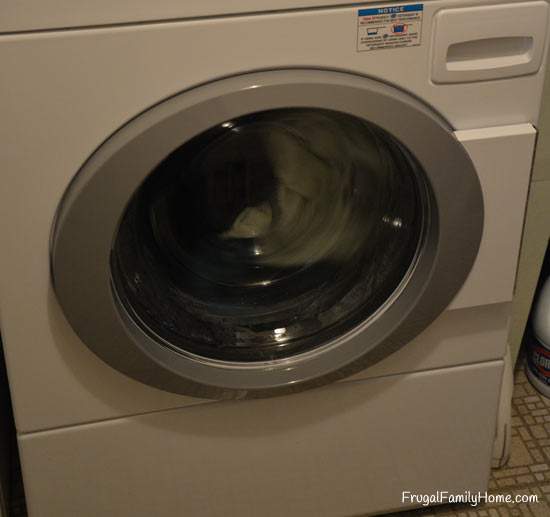 In the middle of working on school with my kids, I remembered I didn't start the roast in the crockpot. Then I realized I didn't take the roast out of the freezer, not very good planning at all.
So, I spent a little time thawing the roast in the microwave and then started it in the crockpot.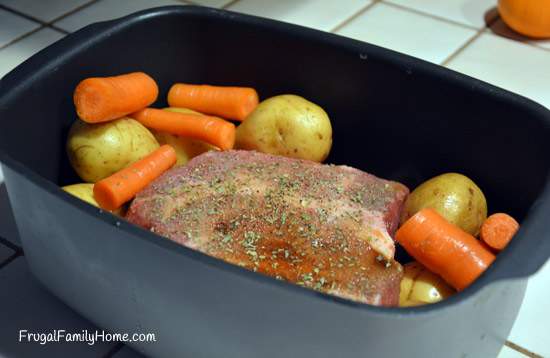 My daughter was excited to work on a sewing project for her Home Economics class. She is making good progress on her sewing kit to make a stuffed animal.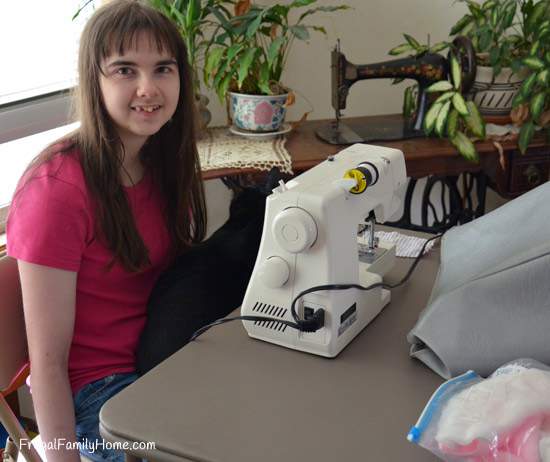 And yes that is our cat sitting on her lap while she was trying to work. She is always so very helpful. 😉
My son is done with his schoolwork and my daughter is working on her own, now it's time for me to do a little blogging.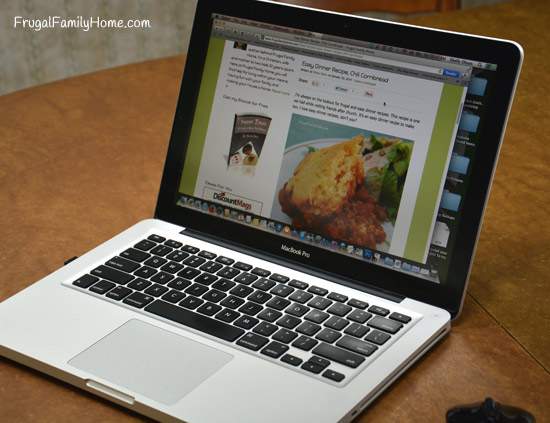 It was easier to work than the other day since the cat was occupied. I actually got a post written. 🙂
Midday
About the time I finished writing my post, I realized it was almost lunchtime. My son was begging for a grilled sandwich. So we had those with some cut up honey crisp apples I found on sale.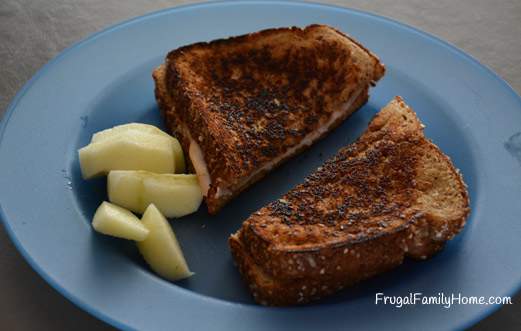 After lunch was all cleaned up and our tummy's were happy. It was time to load the laundry into the dryer, which I had forgotten about until now. I also helped my daughter finish here sewing project. Isn't it cute.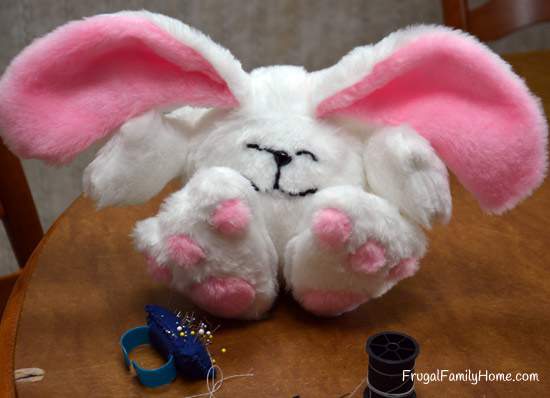 The roast by this time was smelling really good. So that made me think, fresh dinner rolls would be great to have with dinner. So I decided to try a make a quick dinner roll recipe since I didn't have time to let them rise very long.
Everything was going so well and I was making really good progress on the rolls. Then it hit me, just as I was going to put the roll dough into the oven it rise, I forgot the salt! Well, it was too late. I would just have to hope for the best.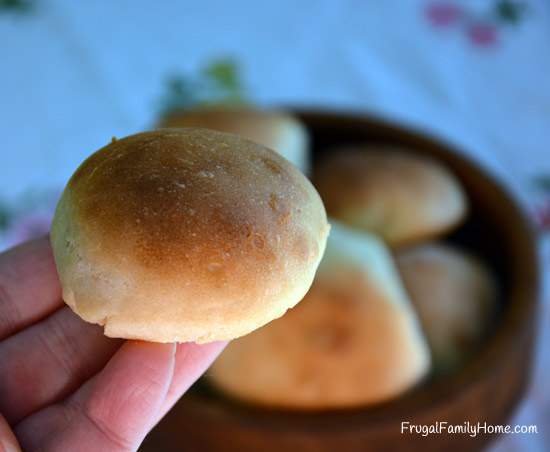 The rolls seemed to be just fine even without the salt. So I thought we will see how they taste at dinner. (I will be sharing the recipe for the rolls soon)
My laundry was beckoning me to come and fold it. So, I recruited the kids to help. As usual my son threw around some of the laundry only folding a few pieces while my daughter and myself folded the rest.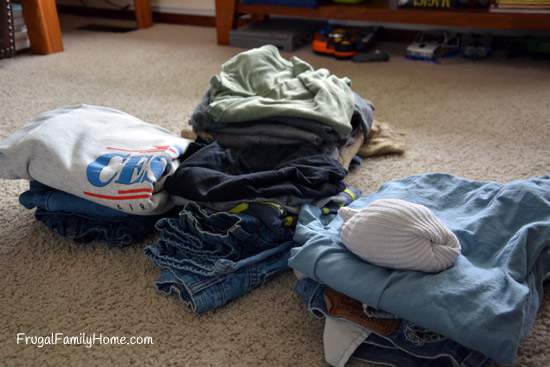 I folded the laundry in the living room so, I wouldn't be tempted to just let it sit. After all, I won't ever leave folded laundry in the middle of the living room but I would leave it for days in the laundry room. Does that ever happen at your house?
After laundry was put away, it was time to get some cleaning done. I needed to clean the bedrooms and upstairs bathroom. I was able to get the kids to help some so it went fairly fast.
Now it was time for quiet time at our house. My son wanted me to snuggle him in the rocking chair. He ended up falling asleep in my lap.
My son woke up just in time for me to get the roast out of the crockpot and get dinner on the table. I love it when dinner cooks itself.
Evening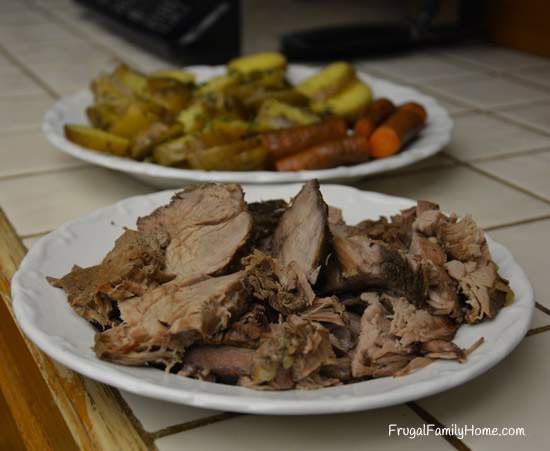 After my family had each scarfed down a roll, I told my husband I forgot the salt in them. He said they tasted good. I could tell the difference but the family was happy with them. That's what really matters, right?
After dinner was cleaned up, it was time to go out and get some grocery shopping done. I went to my local discount grocery store and found some good deals. Probably my best deal was 4 bunches of organic kale for just $1.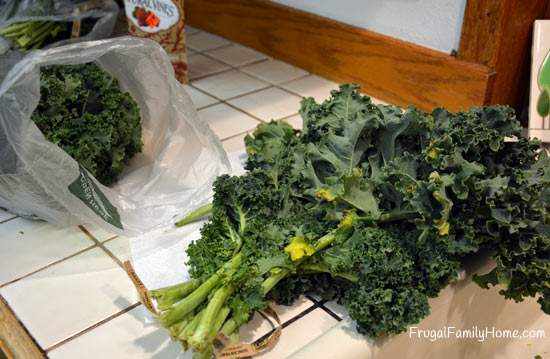 What was I to do with all that kale? Why make Kale Chips, of course. While the chips were baking the kids took their shower and then it was my turn to shower. My favorite time of the day.
After showering, the kids were ready for a snack and the kale chips were ready. I was curious to see if my son would try the kale chips this time, as he didn't the last time I made them. It was a no go for him, again.
Maybe next time, I think it's the green color that keeps him from trying them. Even though that's his favorite color.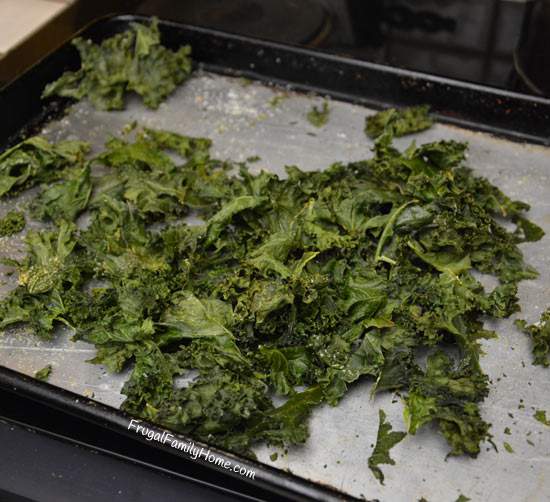 Don't they look good to you?
After having some television time, it was time to get to bed. While my husband was tucking the kids in, I ventured into the kitchen.
 As I went into the kitchen, I noticed the dishwasher was done and needed to be unloaded.
My first thought was to leave it for the morning but then I remembered I'm trying to "Just Do It" when I see things that need to be done. So I unloaded the dishwasher.
I even loaded the dirty dishes from the sink into the now empty dishwasher. I went upstairs and fell into bed ready for sleep after a wonderfully full day.
What's a typical day like at your house? I would love to hear about it. Leave me a comment below.
[signoff]