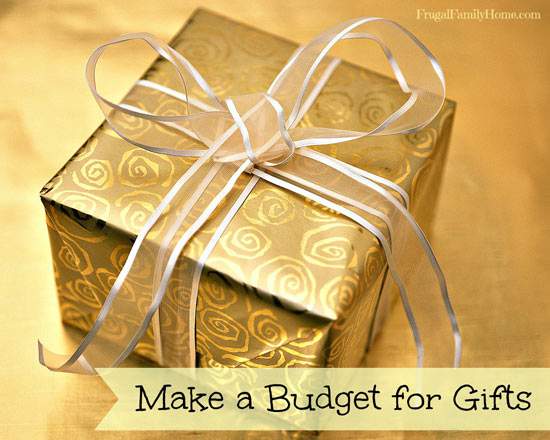 Budget for Gifts
Last time I talked about making a plan for your holiday meals and shared a free holiday menu planner sheet. Today I'm talking about saving money on gifts. We all love to give gifts and receive gifts but you don't want to break your budget to spread holiday cheer. So to keep your budget on track you need to make a gift giving budget.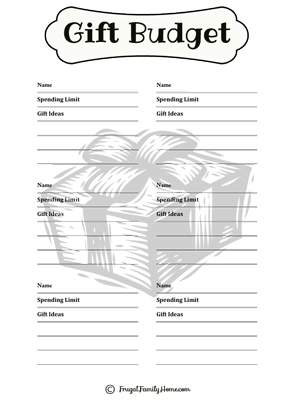 Make a List
First you will want to write down each person you will be purchasing a gift for, even if it's just a small gift. Then you will want to set a maximum amount you want to spend on that gift. Then jot down a few ideas of gifts you have in mind for that person. Once you have a dollar amount set and some ideas then you can be on the lookout for a good buy on that item. Here's a free gift budget printable to use. 

Consider Homemade Gifts
Be sure to consider homemade gifts for those on your gift list. Handmade note cards from the kids to grandparents can be a great gift and your kids could really enjoy making them. Gifts of food mixes or homemade candies can be a great gift too. A gift of your time, such as babysitting for a family member or friend who maybe can't afford a sitter can be worth more than any gift purchased.
Reduce your Gift List
If your budget just doesn't allow you to give a gift to everyone on your list, consider just purchasing gifts for the kids or giving a family gift instead of individual gifts. In our family the adults exchange names and we set a spending limit. So, instead of purchasing a gift  for each person in the family, each person only gives to one other person.
Be True to Your Budget
While it's nice to give a great gift to everyone on your list, it's more important that you stay within your budget and not overspend.  You don't want to come out of the holidays with a debt you will be paying for until March. A well thought out gift doesn't have to be expensive to touch someones heart. The holidays should be more about enjoying time with friends and family, instead of stressing about shopping and gifts.
Do you set a gift budget for the holidays each year?