Day 10 of 21 Days to a Simple Christmas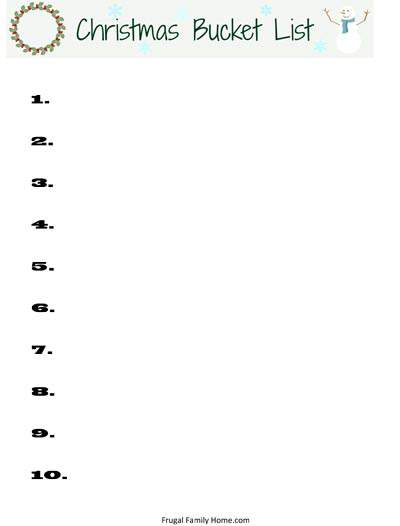 Day 10's challenge was to read chapter 6 of Celebrating and Savoring a Simple Christmas and to make a bucket list. I have to admit, I had never made a bucket list of any kind. But this one was fun.
We included, on our list, the activities that we always enjoy so much during Christmas time. I try to limit our activities around Christmas as much as I can.
I find if we have too much going on it just makes for cranky kids and stress out parents. So I'm really enjoying this Simple Christmas Challenge. It's helping me get things done and keeping my stress limited.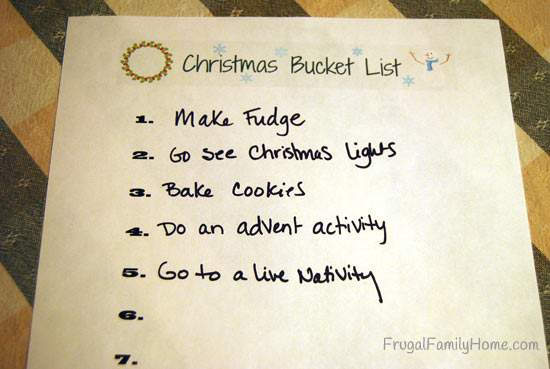 We included 5 activities on our Bucket list,
Make Fudge
Go See Christmas Lights
Bake Cookies
Do an Advent Activity
Go to See a Live Nativity
I think by keeping our list simple and easy, will help us to enjoy each one. I have a free Christmas Bucket List printable if you would like to make your own Christmas Bucket List.
Other Posts in this Series
21 Days to a Simple Christmas Challenge, Day 1
21 Days to a Simple Christmas Challenge, Day 2
21 Days to a Simple Christmas Challenge, Day 3
21 Days to a Simple Christmas Challenge, Day 4
21 Days to a Simple Christmas Challenge, Day 5
21 Days to a Simple Christmas Challenge, Days 6 & 7
21 Days to a Simple Christmas Challenge, Day 8
21 Days to a Simple Christmas Challenge, Day 9