Why buy fruit leather, when it's so easy to make at home. Below you'll learn how to make rhubarb fruit leather.
It's a simple and easy recipe to use up that rhubarb you have coming in from your garden or that you were given.
And it's a healthy snack too.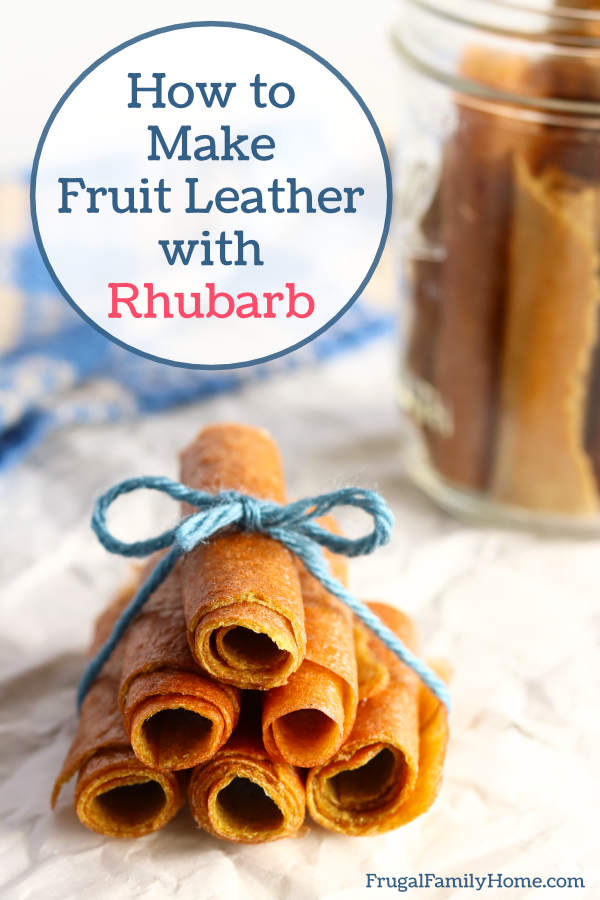 Every year I have so much rhubarb, we can't use it all. And giving away rhubarb can be like giving away zucchini. When the neighbors see you coming, they hide in their homes.
But rhubarb is great and I hate to have it go to waste. So I thought this year, why not make a batch or two of rhubarb fruit leather? Well, would you really call it fruit leather?
More Dehydrating Tutorials for Peaches | Cherries | Tomatoes | Plums | Celery
Is rhubarb a fruit?
First, you might wonder, is rhubarb a fruit or vegetable? Well, rhubarb is actually a vegetable. Although often we use it like a fruit in desserts and and fruit leather and recipes we would normally use fruit in. So I can see why it can be confusing.
But it is actually a vegetable.
One other thing you need to know about rhubarb is you don't consume the leaves. The leaves are poisonous. Don't eat the leaves, just eat the stocks.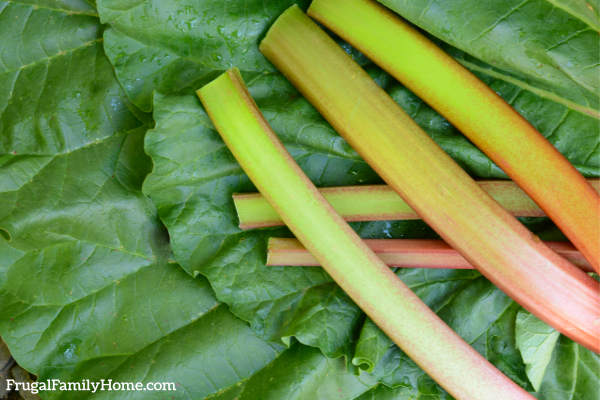 Is fruit leather healthy?
Well, fruit leathers are healthy, they are they're just made of fruit. That's dried into a yummy snack.
Making your own fruit leather help you control the ingredients. You can add sugar or you can leave it out whatever works best for you.
Because the rhubarb is so so tart. We add a little applesauce and sugar, just to make it a little sweeter.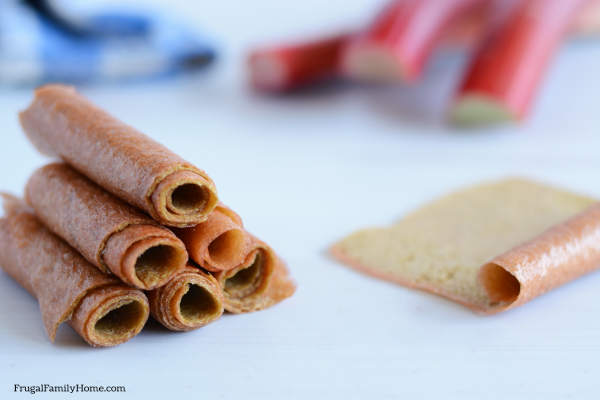 Why Make Homemade Fruit Leather?
Well, you could buy fruit leather at the store but most of them are loaded with sugar and corn syrup, and all these other additives, you probably don't want your kids eating, or you don't want to eat, either.
So when you make your own homemade fruit leather, you can use exactly the ingredients you want to use. And leave out those you don't want.
And that brings me to what ingredients we need to make our homemade fruit. Homemade rhubarb leather.
Rhubarb Fruit Leather Ingredients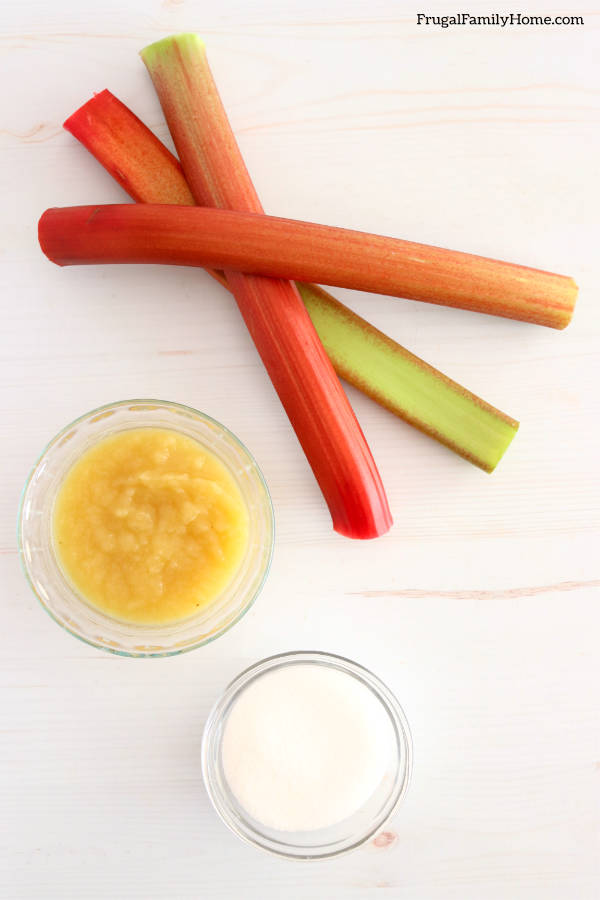 Rhubarb
You'll need two pounds of fresh rhubarb, you can use frozen rhubarb but drain the liquid off first.
Applesauce
We use applesauce because this helps to sweeten the rhubarb without having to use as much sugar. I use unsweetened applesauce in our recipe.
Sugar
You'll want a little of sugar to taste. Start with a three tablespoons to a half a cup, and you want to taste it before you dry it.
If it's a bit tart. That's perfect because it will sweeten up a bit, as it dries.
Some of the links below are my referral links. Which means as an Amazon Associate I earn from qualifying purchases and when you purchase through them I can make a little money at no extra cost to you. Thanks! See my disclosure policy for more information.
Kitchen Tools Needed…
Dehydrator with Fruit Leather Sheets or Cookie Sheets Lined with Parchment Paper
Large Pot
Knife
Hand Blender or Food Processor
So now you know what we need. Let's get started.
How to Make Homemade Rhubarb Leather
I've made a video to show you all the steps in making this fruit leather recipe, but if watching a video isn't your thing, I understand. I've also have the recipe steps in photos and written out below. Just scroll on down if watching the video isn't your thing.
Step 1 Cook the Rhubarb
First you need to cook the rhubarb. You want to dice your rhubarb into about half-inch pieces, put it into a pot.
Add just enough water to keep the rhubarb from burning about a cup or so, and then turn it on medium and let it simmer for about five minutes, or just until the rhubarb is soft.
We're just softening the rhubarb here.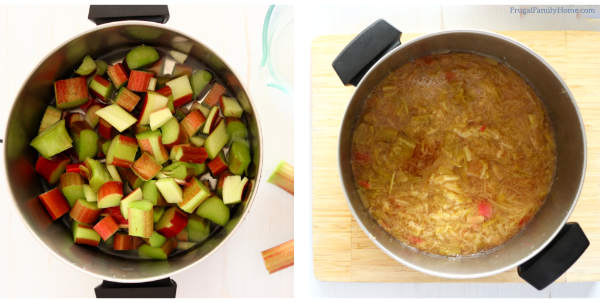 Step 2 Drain Rhubarb, Add applesauce and Sugar
You want to drain the extra water off the rhubarb if there's still a little water left. Once we drain our rhubarb we will add applesauce, and our sugar. Start with the smallest amount of sugar. After you puree the mixture, you can taste it and add more sugar if needed.
Recipe Tip: Don't throw the water from the rhubarb away. Keep that water, it is fantastic to drink. You can add a little sugar to it, then dilute it with some water, or sparkling water it's so good.
Step 3 Puree
You're going to take a stick blender or move all of our rhubarb, applesauce, and sugar mixture into a food processor and just process it till it's smooth.
This is why I love my stick blender or immersion blender is what some people call it. It works great for jobs like this.
After your puree the mixture be sure to taste it.
It shouldn't be sweet at this point, but it should be just a little tart because it'll sweeten up as it dries. If it's really tart, add a little more sugar to your taste.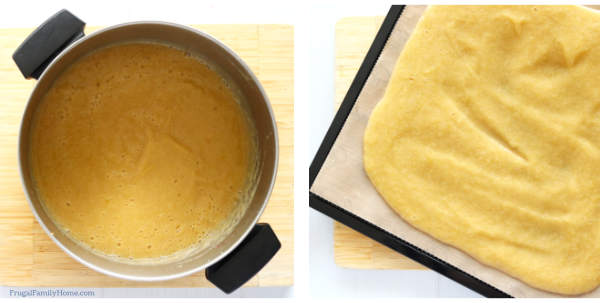 Step 4 Spread on Your Dehydrator Sheets
Now if you don't have the dehydrator sheet for fruit leather, you can use parchment paper on your dehydrator tray. But dehydrator sheets are great if you have them.
You'll want to smooth the puree onto the dehydrator sheet.
Recipe Tip: You want to spread the puree thicker on the edges and thinner in the middle. This will help it dry at the same rate.
So you don't have really crisp edges and a center that isn't set up. Make sure when you're spreading your rhubarb puree, you spread it thicker on the edges thinner in the middle.
Step 5 Dry Your Fruit Leather
You'll put the prepared trays into the dehydrator, and dry for about four to six hours at 135 to 145 degrees. Total drying time can vary.
Recipe Tip: To dry your fruit leather in the oven, set the oven to the lowest temperature. Line a cookie sheet with parchment paper, and spread with puree. Dry at the lowest temperature for 4-6 hours or until fully dried.
Step 6 Peel, cut, roll, store
Once it's done, you just want to peel the fruit leather off your dehydrator sheet.
Then you'll want to cut it into lengths, or you can roll it and then cut it into lengths. Either way will work. Store it in an airtight container room at room temperature, or you can freeze it for longer storage.
Now here's a few fruit leather tips for you…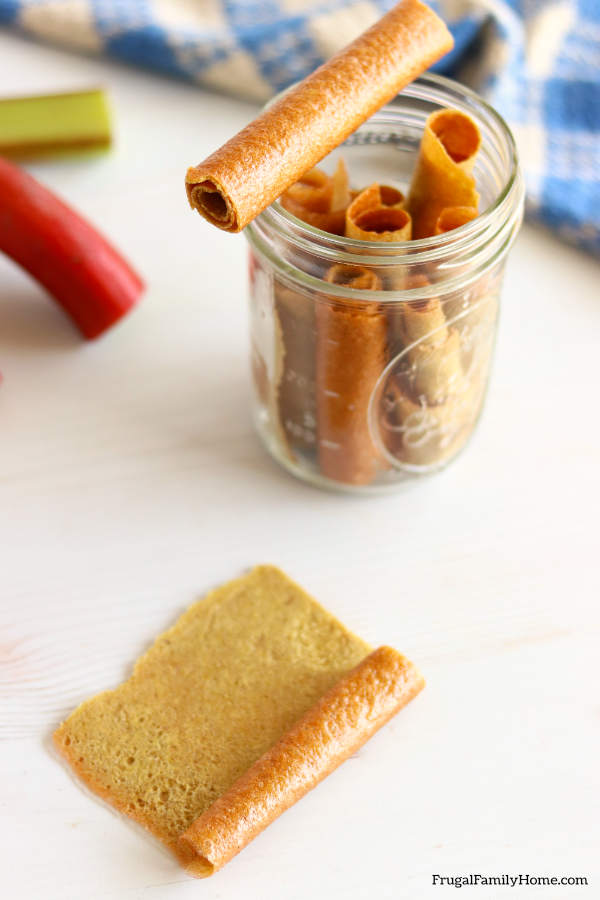 Fruit Leather Tips
Can I use parchment paper in my dehydrator for fruit leather?
Yes, you can. The parchment paper is perfect, it holds up to the heat, just cut it to fit your tray, and then place your rhubarb puree on top.
How do you know when the fruit leather is done?
When you check your fruit leather, you want to look to see if there's any wet spots or any spots that aren't set up.
Look if it all looks dry on top, touch it. It might be a little sticky or tacky and that's okay.
We're looking for dryness here, not stickiness because sometimes the sugar and fruit leather will make it sticky. You also want to look at the edges and make sure they are dry.
If it looks and feels dry, then try to peel back. As you peel it back, look for any portions that's sticking to the sheet.
If there're some areas sticking or you can't peel it back, it is not done.
And it's always better to have it a little more dry than needed, then to have it not dry enough and have it mold while storing it.
How Long with Fruit Leather Last
Fruit leather will last in an airtight container, about one month at room temperature. Ours never lasts that long, we gobble it up pretty quickly.
If you want to store it longer, you can wrap it tightly and store it in the freezer for up to one year.
Find more tips on drying fruits and vegetables.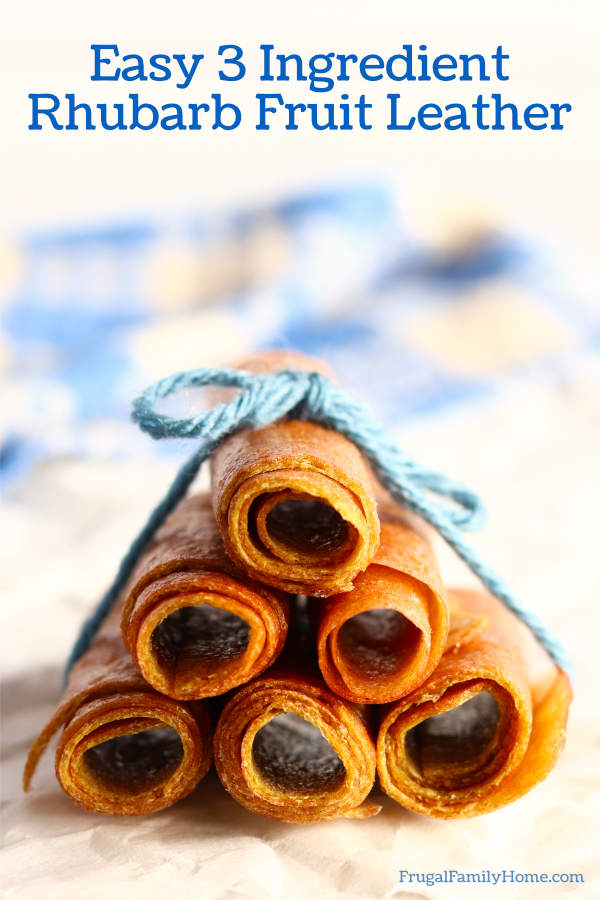 And that's it. That is how easy it is to make your own rhubarb fruit leather. It's super simple and easy to make, but it's so good.
And it's a healthy snack for you and your family.
So if you have rhubarb rolling in from the garden, it's time to harvest a bundle and make your own rhubarb fruit leather to enjoy.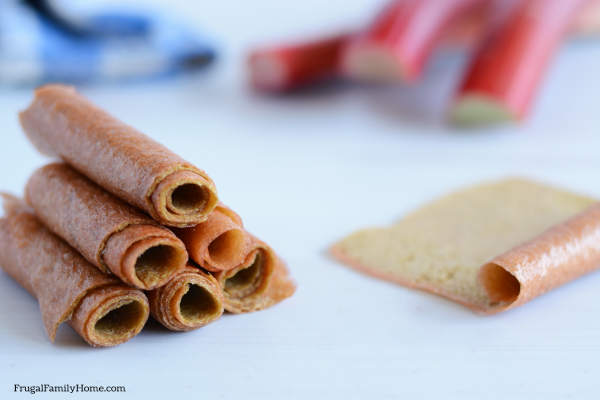 Fruit Leather Made with Rhubarb
A great way to use up that rhubarb coming in from the garden to make a tasty and healthy snack.
Ingredients
2

pounds

Rhubarb

chopped

1/2

cup

Unsweetened Applesauce

1/2

cup

Sugar

start with half and adjust to taste
Instructions
In a pot, add the chopped rhubarb. Then add a little water to cover the bottom.

Cook covered on medium until the rhubarb is softened. Drain most of the liquid off.

Using a hand blender, blend until smooth. Be careful not to splash as the rhubarb is hot.

Once the rhubarb is pureed. Add the applesauce and sugar to taste and mix well. The mixture should be slightly tart, as it will sweetened once dried.

Spoon the rhubarb mixture onto a dehydrator tray lined with a fruit leather sheet or parchment paper.

Smooth the mixture to make the edges thicker than the middle. This will ensure more even drying.

Dry at 135 degrees to 145 degrees for 4-6 hours. Or until the mixture is dry and can easily be peeled off the tray liner.

Cut into strips and roll. Store in an airtight container for up to a month at room temperature. For longer storage store in the freezer up to 1 year in a tightly sealed container.
Video
Notes
You can also dry fruit leather in the oven if you don't have a dehydrator. 
To dry your fruit leather in the oven, set the oven to the lowest temperature.

 
Line a cookie sheet with parchment paper, and spread with puree.

 
Dry at the lowest temperature for 4-6 hours or until fully dried.

 
Nutrition
Calories:
51
kcal
Carbohydrates:
12
g
Protein:
0.7
g
Fat:
0.2
g
Subscribe and you'll get Recipes
sent right to your inbox!
Click the button below and fill out the form.