For freezer cooking, I restocked my freezer with the meat that I purchased on sale. I don't know about you but I like to get the handling of the raw meat done right away. So once I put the meat into the freezer all I have to do to use the meat in a dinner is thaw and dump either into the crock pot or pan and cook. This way I only have to clean up once when packaging the meat for the freezer and that is it. Did I say I really dislike handing raw meat.
For this weeks freezer cooking I was able to find some round steak and extra lean ground beef on sale at Safeway on a buy one get one free sale. I purchased a beef roast at Albertsons and also on a trip to Costco I purchased a pork tenderloin to cut up into pork chops, cubes and pork roasts.
With the round steak I purchased. I cut the first one in half lengthwise so I could use it in a few round steak recipes I have. For those I just wrapped them up in plastic wrap and placed them into a vacuum sealed bag and sealed them up. I will cook them in the crock pot with either diced tomatoes or cream soup mix over them and serve them over noodle for a quick and easy dinner.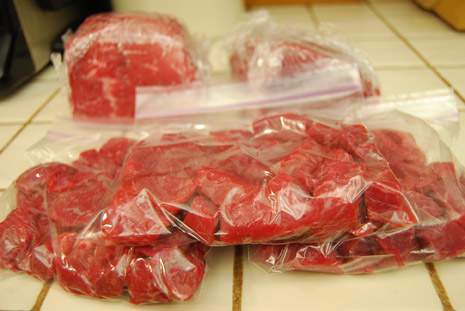 With the other half of the round steak I cut part of it up into cubes to use in my beef stew recipe. The other part of the round steak I sliced up into strips for a beef and celery dish I make. With the one round steak pack I bought I was able to get 4 dinners maybe even 6 dinners out of the one package depending on if we have leftovers when I make the round steak in the crock pot.
For the 5-lbs of ground beef I purchased I just cooked it up in my skillet. I love that is it was the extra lean ground beef as there was very little fat to drain off. I was able to get about 9 packages of cooked ground beef out of the 5 pound package. I don't usually put any seasoning in the ground beef while I am cooking it. I usually just add seasoning when I am re-heating it for our meal. By doing this I can use any of them for taco meat or spaghetti or in  a casserole dish. But I still get the time saying benefit of cooking it ahead.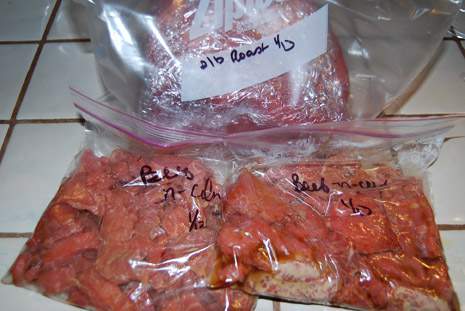 For the roast I purchased at Albertsons I cut part of it off to cut up for some beef and celery packages and another beef stew package. Then I packaged the rest of the roast for a pot roast in the crock pot. I should be able to get two meals out of the roast so that will give us 4 more meals out of the one roast.
My final freezer cooking was to cut up the pork tenderloin into two roasts and a bunch of pork chops. If you have never purchased a pork tenderloin and done this see my post here. The recipes I make the most from the pork chops I cut up are marinated pork chops and my grandma's pork chop recipe. To prepare the pork chops  or roast for the freezer I just package them in meal sized packages and freeze. I also cut some of the tenderloin into chunks for possibly stir fry or another dish. This is a new way to prep the pork so I will let you know if I find a great recipe that uses cubed pork in it.
I have tried a few freezer recipes using pork chops and pork roasts, but I always come back to packaging them up plain and then adding in the seasonings when I am ready to cook them. If I find a great recipe in the future I will be sure to share it.
I will just need to add a few whole chickens to my freezer and I should be stocked up for a while on meat again. Well at least until I find another good sale. 🙂
Do you do any bulk meat purchasing to keep your freezer stocked? I have found purchasing the meat my family eats, only when on sale really saves us quite a bit of money each year.
[signoff]