Pies, they are delicious but get a bum rap for being hard to make. But really they aren't that hard to make at all especially when you have the right tool to use. These 5 tools below and the crust recipe, will help you make pies with ease.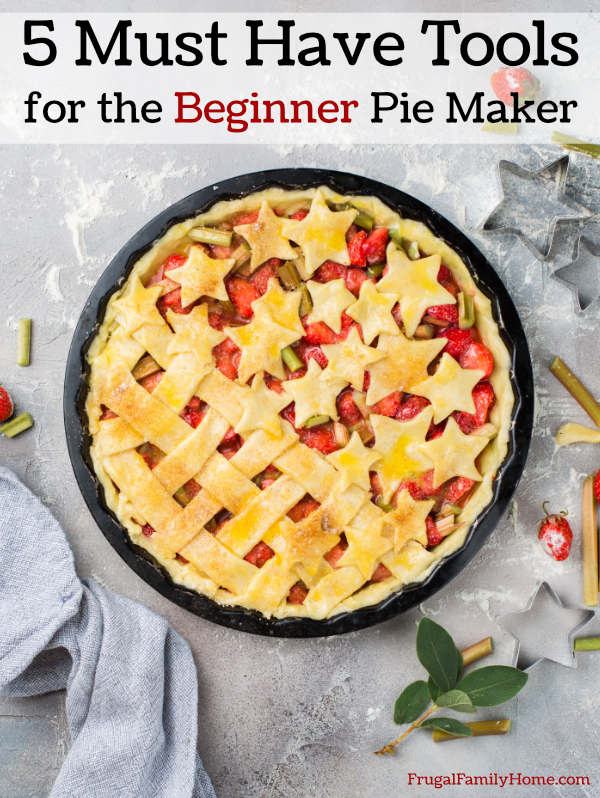 Growing up, I loved watching my great grandma made pies. She didn't need a recipe, she just knew how.
It seemed so effortless for her to make them. And they were always so delicious too.
I think the hardest part about making pies to making the crust. Yes, the crust. That always seems to be the spot where people have trouble.
Now you can buy store-bought crust but if you want to make your own pie crust, there are a few tools that can help.
If you need an easy pie crust recipe, grab this one. And watch the video tutorial too.
Now let's get to the tools that can be oh so helpful when learning to make pies.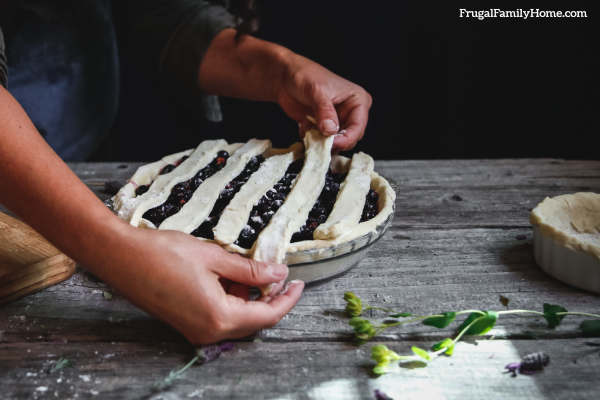 5 Must Have Tools for the Beginning Pie Maker
The first 5 items are the must have items for a beginning pie maker. The last 5 items are items that are helpful when making pies, but you can do without them if you don't have them or don't want to buy them now.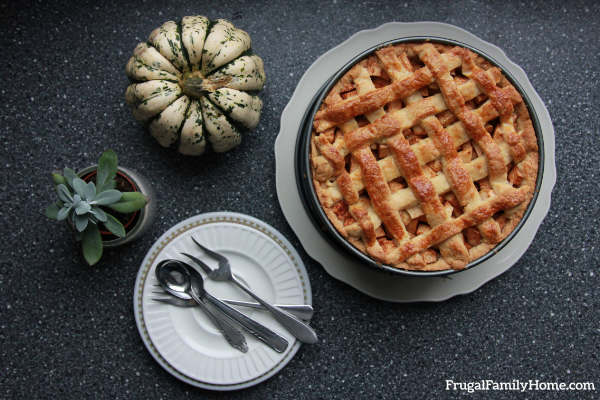 Some of the links below are my referral links. Which means as an Amazon Associate I earn from qualifying purchases and when you purchase through them I can make a little money at no extra cost to you. Thanks! See my disclosure policy for more information.
1. Measuring Cups
You need to measure all of your ingredients and having the proper measuring cups are a must. You need to have dry ingredient measuring cups and spoons. And wet ingredient measuring cups. And it doesn't hurt to have one of the push up measuring cups for the fat.
Metal Dry Ingredients Measuring Cups
Push Up Measuring Cup (great for butter or shortening)
2. Paring Knife
A small paring knife is great for cutting and preparing fruit for pie. Or for cutting pastry if you don't have a pastry wheel.
3. Rolling pin
You'll need a rolling pin to roll the pie crust out to the proper thickness. I have a nice wooden rolling pin. But some people like silicone rolling pin or a marble one. There are also metal rolling pins with thickness guides too.
4. Glass Pie Pan
You can use any kind of pie pan but I've found glass pie pans work really well. They are sturdy and don't fold under the pressure of a heavy pie. But you can also use heavy duty metal pans too. In a pinch you can use disposable pie pans but they can fold under the weight of a heavy pie.
5. Wire Whisk
A wire whisk is great for mixing the flour and salt before adding the butter when making the crust to make sure the ingredients are blended well.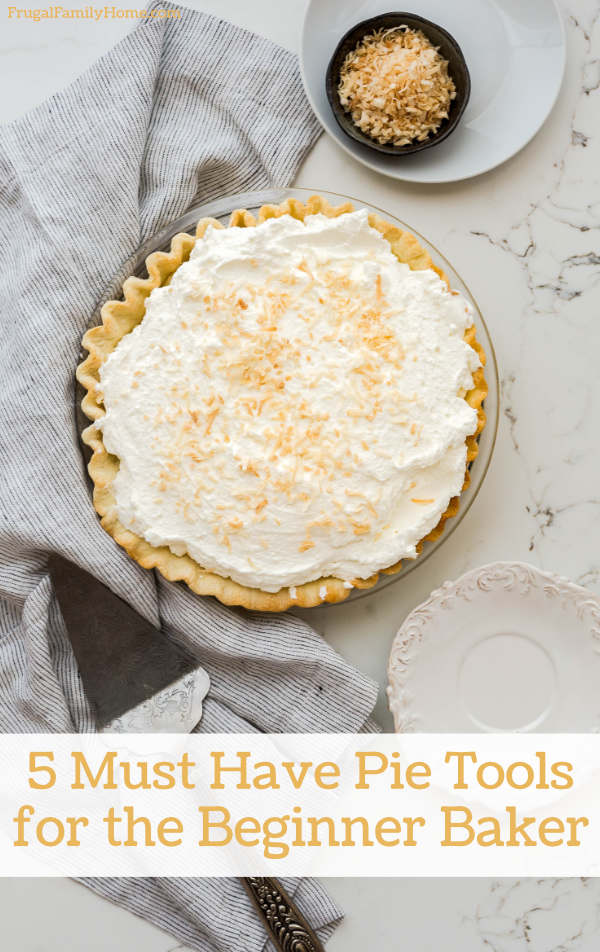 6. Pastry Cutter
This isn't a must have items, but it is an item that can be helpful. I like to use my fingers to cut in the fat but if you don't like to use your fingers, a pastry cutter is a great tool to have.
7. Crust Covers
You can leave your crust edging thicker but if you don't have thick crust edges, the edges are burn before the pie is done cooking. You can use crust covers to keep the edges from getting too brown, by covering them.
8. Bowl with Handle
When mixing the pie crust, it's nice to have a good sturdy bowl and one with a handle really is nice to have. I love mine not only for mixing pie crust and fillings but also for mixing other items too.
9. Cooling Racks
Once your pie is done cooking, it's good to place them on a cooling rack to cool down. But again this isn't one of the must haves, just nice to have.
10. Pastry Wheel
If you'll be cutting strips or other designs into your pie crust, a pastry wheel is a nice tool to have. But you can do quite a bit of cutting with a paring knife too.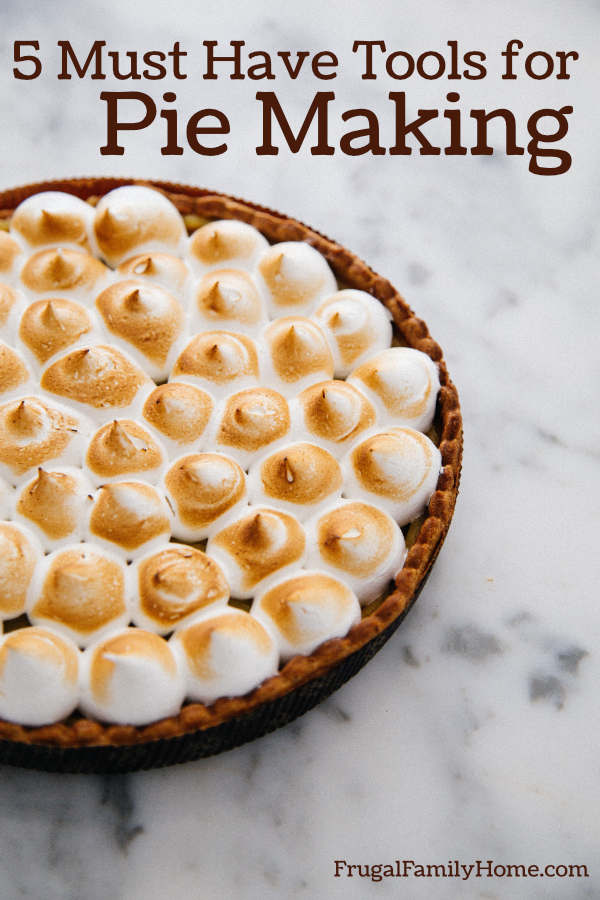 So there you have it the 5 must haves for the beginning pie maker. And 5 other items that they might find helpful. You could easily pick up the 5 essential items on this list and add it to a basket for a gift.
Then ask them to make a pie for you.
More Pie Related Recipes