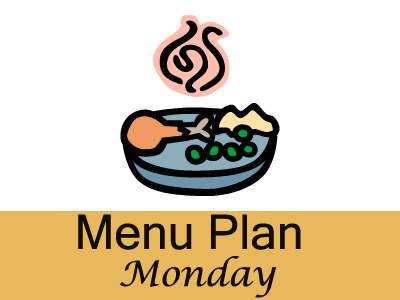 This week's I am trying out a couple new recipes again. I will be making a pork roast and stretching it into two meals. We will also be having breakfast for dinner which my kids always really like.
Our Menu Plan
Dinners
Hot Dog Baked Bean Casserole (new recipe) and Salad
Mini Meatloaf (new recipe), Mashed Potatoes and Green Beans
Tuna Patties with Tartar Sauce, Rice and Vegetables
Pancakes, Sausage and Eggs
Asian Lettuce Wraps, Rice and Stir Fry Vegetables
Pork Roast in the Crock Pot, Potatoes, Carrots and Gravy
Pork and Bean Tacos with Chips and Salsa
Lunches
Leftovers
Homemade Uncrustables with Fruit
Bean and Beef burritos, Chips and Salsa
Tuna Sandwiches, Chips and Fruit
Breakfast
Toast, Eggs and Oatmeal
Waffles, Sausage and Eggs
Mini Apple Muffins with Eggs and Sausage
What's cooking at  your house this week?
[signoff]