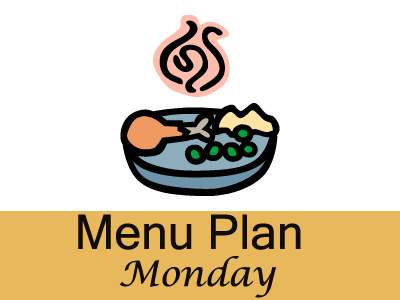 For this week's menu I am making a bunch of our family's favorite meals. Most of these are easy and inexpensive to prepare and I have linked up to the recipes just in case you want to try them out for your family. What will you be making for this week's meals at your house?
Here's the plan for this week,
Dinners
Sausage and Potato Skillet, Rolls and Fruit
Ham and Potato Casserole, Salad and Fruit
Island Chicken (freezer meal) Roasted Potatoes and Vegetables
Taco Haystacks with Fruit
Salmon Patties, Rice, Tartar Sauce and Green Beans
Pizza and Salad
Bean and Beef Burritos, Chips and Salsa, Salad
Lunches
Tuna Melts, Chips and Strawberries
Sandwiches, Chips and Apple Slices
Leftovers
Hot Dogs with Homemade Coleslaw
Breakfasts
Mini Apple Muffins with Nut Crumble Topping, Bacon and Eggs
Pancakes, Sausage and Eggs
Toast, Eggs and Oatmeal
 What's on your menu plan for this week?
[signoff]