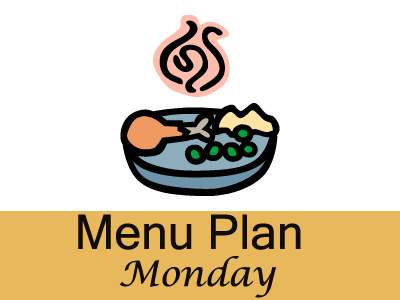 This week my menu is filled with some really easy dinners. Most of the dishes for dinner this week take less than 30 minutes from start to finish. Some weeks I just don't feel like spending a whole lot of time cooking so it is always good to have some quick and easy simple meals to make. Helps to save on eating out too.
For some re-stocking of the freezer this week I will be making some extra Cheeseburger Rolls. This little rolls are one of my son's favorites and keeping extras in the freezer is something that is hard to do.
Dinners
Stromboli with Salad
Chicken Pot Pie (freezer meal), Salad and Fruit
Spaghetti, Salad and French Bread
Marinated Pork Chops, Roasted Vegetables and Salad
Tuna Patties, Rice, Vegetables and Homemade Tartar Sauce
Cheeseburger Rolls with Goat Cheese, Salad and Fruit
Kielbasa Soup (Crock Pot Dish), Rolls or Biscuits and Fruit
Lunches
Leftovers
Soup and Crackers with Fruit
Sandwiches, Chips and Fruit
Breakfast
Baked Donuts, Eggs and Sausage
Bacon, Egg and Potato Skillet Dish with Oatmeal
Toast, Egg and Oatmeal
What is your meal plan for this week? Will you be doing any freezer cooking?
[signoff]