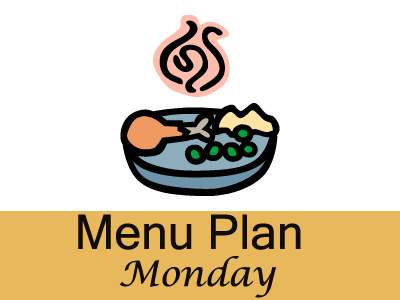 This week I will be using the bean and beef burritos that I made a couple of weeks ago for the freezer along with a few family favorites. I don't have a plan this week to add anything new to the freezer like I have the last two weeks. But if I do find some meat on a good sale I may just do an impromptu freezer cooking session. I will be sure to post about it if I do any freezer cooking this week.
If you are looking for a great batch freezer cooking book this is one I use often  Fix, Freeze, Feast book. The Cherry Skillet Chicken this week is from this book. I was able to borrow Fix, Freeze, Feast book from our library so be sure to check at your local library. I did end up purchasing the book as I really liked the recipes in it.
Dinners
Hamburgers and Baked French Fries
Kielbasa Potato Skillet with Fruit
Chicken Quiche, Salad and Fruit
Beef Stew (Crock Pot Meal), Rolls and Fruit
Beef and Bean Burritos (from the freezer), Chips and Salsa and Salad
Steak, Baked Potatoes and Salad
Cherry Skillet Chicken (from the freezer), Mashed Potatoes and Green Beans
Lunches
Leftovers for Lunch
Sandwiches with soup
Baked Potato Bar with Salad
Breakfast
Pancakes, Sausage and Egg
Waffles, Sausage and Egg
Toast, Eggs and Oatmeal
What meals are you preparing this week at your home?
[signoff]