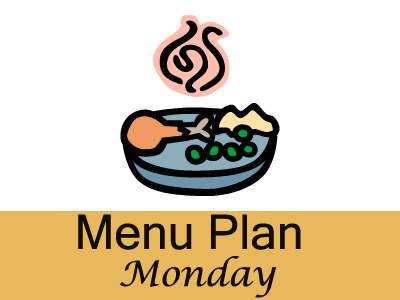 Menu Plan Monday
This week is another week of easy to prepare recipes. We will be hosting a barbecue for the 4th of July this year. My husband loves to barbecue and we all love hamburgers so it works out really well. Here's what our plan is for this week.
Dinners
Omelets, Hashbrowns and Toast
Pork Roast, Potatoes, Carrots and Fruit
Pork Tacos (using leftover roast), Refried Beans, Salsa and Chips
Hamburgers, Hot Dogs, Baked Beans, Fruit Salad and Green Salad
World's Best Chicken (from freezer), Mashed Potatoes and Green Beans
Beef and Celery over Egg Noodles with Fruit
Lunches
Leftovers
Tuna Melts, Fruit and Veggie Sticks
Bean and Beef Burritos, Chips and Salsa
Breakfast
Mini Banana Muffins, Eggs and Sausage
Toast, Eggs and Oatmeal
Pancakes, Eggs and Sausage
That's what's cooking at our house. What's on your menu plan?
[signoff]